Etsy vs Shopify: Which is the best platform to sell your products?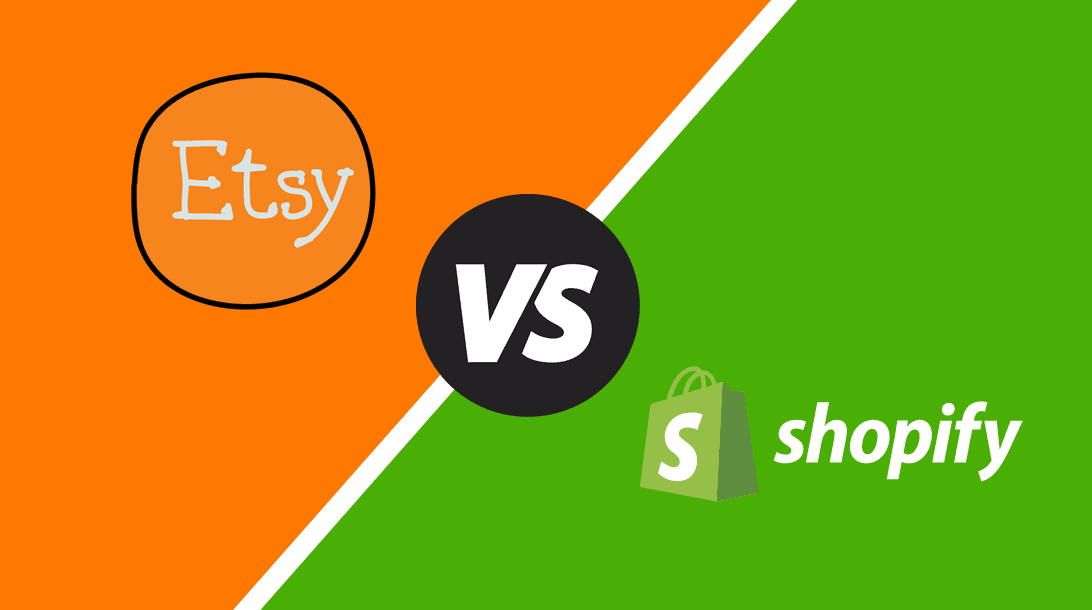 When taking your business online, a critical decision is picking the best platform to sell your products. Etsy and Shopify are both popular platforms that provide a market for goods & services online. Learning how Etsy vs Shopify compares could be essential to your online venture.
Selling on the internet is one of the easiest ways an individual or business can create an additional revenue stream. When comparing Etsy vs Shopify, it will be worth noting that they both represent different ways to reach out to potential customers. In most cases, you may have the opportunity to take advantage of both.
Below is an in-depth comparison of Etsy vs Shopify to help you pick the e-commerce solution most suited to your needs.
Etsy vs Shopify: An Overview
Whether you are an artist, crafter or creator, or a small business selling products, it is vital to choose the selling platform wisely if you are considering selling online.
| | | |
| --- | --- | --- |
| STATISTICS | | |
| Buyers | 39.4+ Million | 1,000,000+ |
| Sellers | 21+ Million | 500,000+ |
| Sales Generated | $3.9+ Billion | $135+ Billion |
| Years in Operation | Since 2005 | Since 2004 |
| Estimated Value | $604+ Million | $1.07 Billion |
| Countries | 83+ | 175+ |
Considering the effort (and time) you spend on setting up your eCommerce venture, it makes sense that you pick the right provider that not just caters to your current requirements but also suits your changing needs as you grow.
Let's look at each of the two platforms at first.
An overview of Etsy
Etsy was primarily established in 2005 as an online marketplace to sell handmade items. Though it has transitioned into a fully-featured e-commerce platform over time, its core functionality and mission remain unchanged.
It has added the facility to work with providers and third-party vendors in recent years. However, it retains the core categories for the products – vintage and handcrafted items and crafting supplies.
Etsy is a fantastic option for those who don't want to subscribe to some service but want to start selling online.
RELATED: Starting an Etsy Shop Checklist
With this marketplace, you have limited control of your shop. However, this limitation does have its advantages providing ease of use and simplicity, making it an ideal starting point for artists.
To start selling on Etsy, you simply need to upload your products as a listing, add descriptive titles and keywords and sit back to get discovered.
This platform offers a lot of convenience and visibility to merchants because it often ranks on the top of Google search results. Though you have little control over what listings Etsy displays in the searches, it is a great way to gain exposure without the need to create and promote your store.
What can you sell on Etsy?
The most common items sold on Etsy are handmade items. Etsy sellers often sell vintage items, homemade products and crafted goods.
An example is customized products for birthdays and gifts or unique items that you will not see elsewhere.
Etsy does have a policy restricting the types of items you can sell on this platform. Nonetheless, it has become a highly competitive marketplace for many businesses.
An overview of Shopify
Founded in 2004, Shopify is an e-commerce platform that lets you set up your online website. The platform enables you to choose the design for your store and offers many integrations to extend the store's functionality.
This makes it suited for those who already use software and systems for running the store.
Shopify is loaded with powerful tools that help build a brand, display products and market the business.
RELATED: eCommerce Startup Checklist: 6 Steps to your first E-Commerce Website
It is a robust e-commerce platform with beneficial options and features for small to medium-sized businesses. With flexible pricing options available, you can start with a small operation and grow to process a vast number of transactions every minute.
Shopify is listed among the top three e-commerce solutions globally and reported annual revenue of about $3 billion in 2020.
Most serious merchants prefer Shopify because it is easy to use, reasonably priced, and designed to scale your operations. It enables integrating your online store with social media platforms like Facebook and Instagram.
Merchants can create a complete e-commerce experience with this service and use over a hundred popular third-party payment gateways options. It offers its integrated payment processor to make things easier and more cost-effective. This method lets you save on transaction fees, although this is available in select countries only.
Creating a store with Shopify gives you better freedom with more than 100 themes to select from, most of them free to use.
Moreover, Shopify is certified to comply with Level 1 PCI DSS that keeps customers' financial and personal information secure without any additional charges.
RELATED: PCI DSS: 12 Requirements of the Payment Card Industry Data Security Standard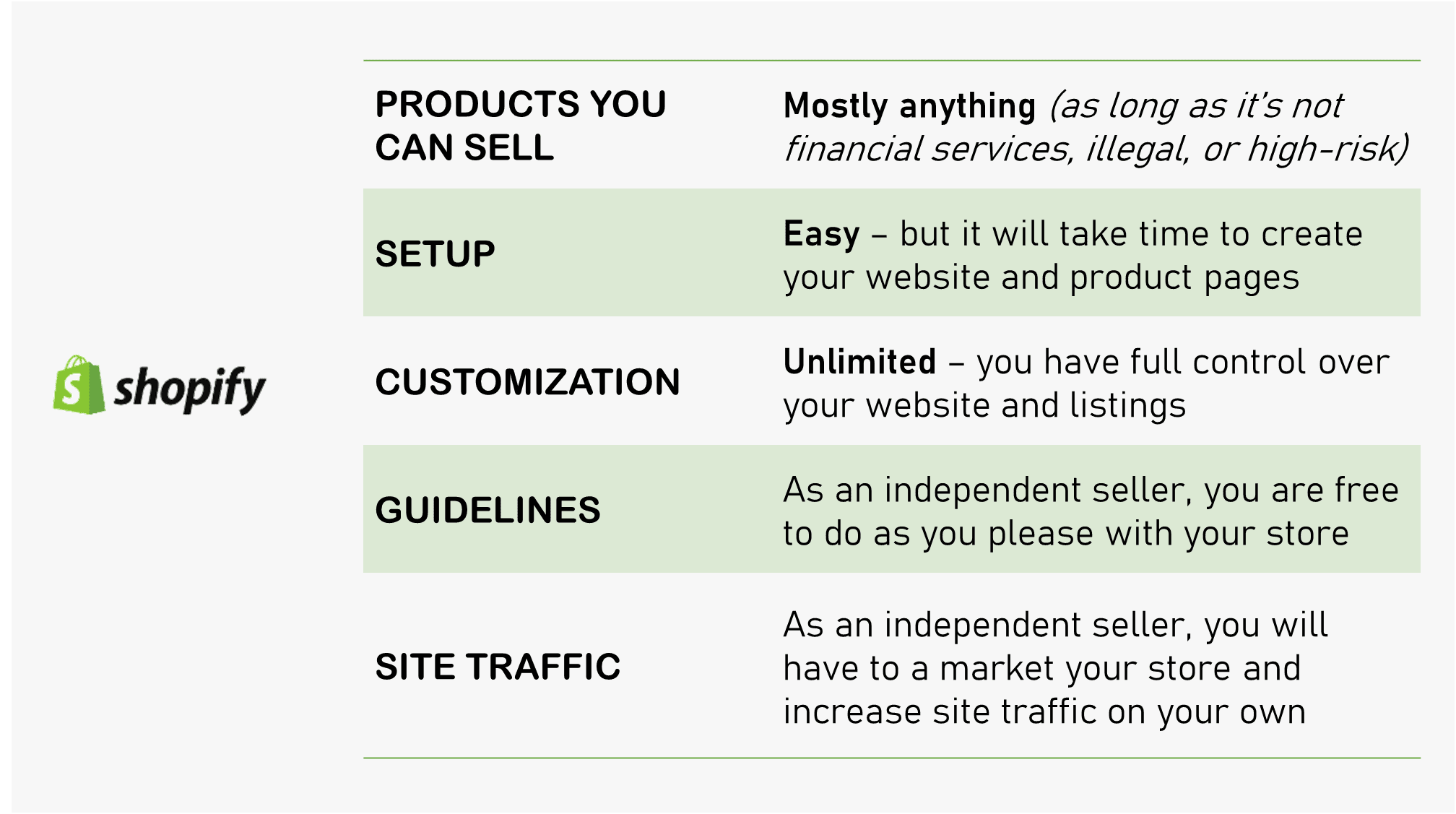 What can you sell on Shopify?
Shopify enables you to sell a wide range of products as long as you follow its "Acceptable Use Policy".
This marketplace allows you to sell physical and digital items you have created. Some examples of trending items sold on the platform include clothing, accessories, jewelry, water bottles, kitchen and bedroom furniture, etc.
Comparing Etsy vs Shopify
Etsy and Shopify are both online sales channels aimed at helping merchants expand their reach and sell out to people on the internet.
However, they represent two fundamentally different modes of reaching out to potential customers. Etsy is an online marketplace, while Shopify is a website platform.
A crucial difference between the two is that you get more exposure to a marketplace like Etsy than at your storefront.
Etsy already has an established audience and therefore suits sellers starting an online business. On the other hand, when you launch a new e-commerce site like Shopify, you need to build an audience and drive traffic.
RELATED: Etsy vs eBay vs Amazon: Which is the Best Online Marketplace?
So, should you sell on your website on Shopify or use an online marketplace like Etsy to sell your products online?
Below, let us perform an extensive comparison of the two options in different respects to get a good idea of which platform would work better for your business or why you should be selling on both platforms.
Etsy vs Shopify: Features
At the core, both Etsy and Shopify offer the same facility – inventory management and online selling.
However, it is impractical to compare the features of Etsy and Shopify directly. This is because one is an online marketplace with an established customer base. The other is a platform for building an independent online retail shop.
Etsy also has a different target market, i.e., selling vintage items, crafts, and art. In contrast, Shopify has a far broader target market.
Etsy is more geared towards small businesses and individual resellers and has easy-to-use features. On the other hand, Shopify is loaded with features that help businesses grow and boost conversions.
Consequently, the features for each of these platforms cater well for users within their contexts. The platforms differ in the advanced functionality and support to scale up as the business grows.
Etsy Features
Geared primarily towards small businesses, Etsy has offers easy-to-use yet less robust features.
The Etsy platform can be considered an electronic craft fair where sellers can set their tables in one place instead of creating different stores.
Being one of the highly ranked websites on search engines, Etsy gives you great exposure and traffic and reduces your cost of acquiring a customer.
It lets you manage your listings and orders and connect to the customers through the dashboard or app. However, unlike Shopify, users can accept payments only through the dedicated Etsy Payments. This integrated payment processor supports different payment modes, including credit and debit cards, Apple Pay, Google Pay and PayPal.
The most significant advantage of using Etsy is the simplicity and straightforward way of setting things up. You simply need to open the store, add products and start selling. Another plus is the platform's add-on option to help you set up an e-commerce website.

Shopify Features
Shopify comes with everything you need to establish, grow and manage an online business. The platform also gives you access to other sales channels and the e-commerce website you create.
If you already run a business, the POS feature can help bring together all the transactions under one system.
Shopify is a powerful platform for businesses in its integration with social media channels like Instagram and Facebook, allowing you to sell directly to a diverse audience.
The website lets you manage inventory and transactions from a single interface. This feature is handy if you sell on Amazon.
Shopify also offers you reporting features to present you with all the details to make informed decisions.
Shopify features a CRM to help you build your brand. It also has many marketing tools like integration with social media platforms, blogging, SEO and the facility to offer discounts and gift cards. As a cloud-based operation, your changes are automatically updated in the dashboard and app.

The Differences
Comparing the features of Etsy and Shopify, it is easy to say that Shopify outperforms Etsy in terms of functionality.
However, Etsy excels at the simplicity of setting up and exposure. It has some limitations compared to Shopify, with the latter offering a lot more like an integrated POS system.
Multi-Channel Selling
Shopify wins over Etsy in terms of multi-channel selling features.
Etsy marketplace doesn't offer any tools for integrating omnichannel selling capability. On the other hand, Shopify allows the seller to start small and later add sync and inventory on different channels like Amazon, Facebook and Instagram to boost sales.
With Shopify, you don't need a website to list on Instagram, create a Facebook shop or sell on Amazon.
However, you should engage your audience and build followers and convert them. Etsy takes care of these things but gives you lesser control over the process.
Search Features
This comparison will miss an important point if we don't talk about the powerful search functionality of Etsy. The platform has a prominently displayed search bar that can drive you much traffic. Etsy is one of the most ranked sites globally in web traffic.
There is not much to worry about optimization when using this platform because Etsy takes care of it. If you use descriptive titles and keywords for your listings, the products will appear in front of shoppers.
Though this functionality creates intense competition, it is a great way to gain exposure if you don't sell on other channels. You get an opportunity to be discovered, which is more significant for those who sell unique items.
On the other hand, Shopify requires search engine optimization efforts to get your store ranking on search results.
Store Design & Customization
When adding listings on Etsy, you can just work with text and images. You can add a description in the 'Details' section to highlight the features of your product.
Though you get limited control over your listing, the process is straightforward with this template. You don't have to worry about anything else.
Shopify gives you more control over your product listings. You get the features to design your website and product pages the way you think will appeal the most to visitors.
This platform has a user-friendly interface and several templates, giving you extensive options to make your store look its best.
Your store on Etsy follows the design and layout set by the platform. All the stores are designed in the same fashion with name, logo, description and product pictures.
RELATED: Thriving as an Ecommerce Store: Improving User Experience (UX) for your Website
While this is an advantage as you don't need to worry about design, it makes it hard to stand out from the crowd. You can rely on Etsy to use a straightforward, attractive design for your product listing and an excellent overall user experience.
However, Etsy gives you no option for store customization. All that is different from others is your product offering. This means it is not possible to build a strong brand identity on this platform.
This should not be a problem if you start or own a small business. But those who want to scale up would need to build a brand. Etsy does not facilitate this, while Shopify does.
When you create a storefront on Shopify, you get customization options to design a site that appeals to visitors. Shopify gives you more than 60 themes to select from to build and customize your website.
They cover almost all the industries from clothing to furniture and everything else. The theme also comes with features to benefit the industry chosen. Fundamentally, you can customize everything to your heart's content and create a truly unique brand for your online store.
So, Shopify is a winner when it comes to store design and customization if you want to spend time and effort building the website.
Marketing Tools
A significant difference between Etsy and Shopify lies in their marketing approaches to facilitate long-term growth.
Shopify allows sellers to integrate social media channels to start selling from multiple places on the internet. As your business grows, it also lets you run email marketing campaigns to promote your offerings.
Used correctly, these can be an effective tool for helping you build brand and loyalty.
But the problem is that you should make efforts to save your storefront from getting hidden.
On the other hand, Etsy gives a spotlight to your listing as it has millions of buyers already. People don't look for you but find your products on search results. Etsy also runs mandatory ads on Google, Instagram, Facebook and other channels.
While these ads can add up the cost, they provide exposure and help drive sales.
However, there is no guarantee that visitors will buy your product because Etsy has millions of listings. Moreover, you don't build your own brand; you work to build a presence on the platform.
RELATED: 5 Ways small business owners can increase traffic to their websites
On the other hand, Shopify provides tools that you can use to market your store on social media, build up your brand, and handle your SEO.
With marketing tools like SEO apps, multi-channel selling and email campaigns, you can increase your visibility across the internet and stay in complete control of your promotion.
Etsy does not give you this control but is more convenient for new sellers, allowing existing Etsy users to find your products and place orders.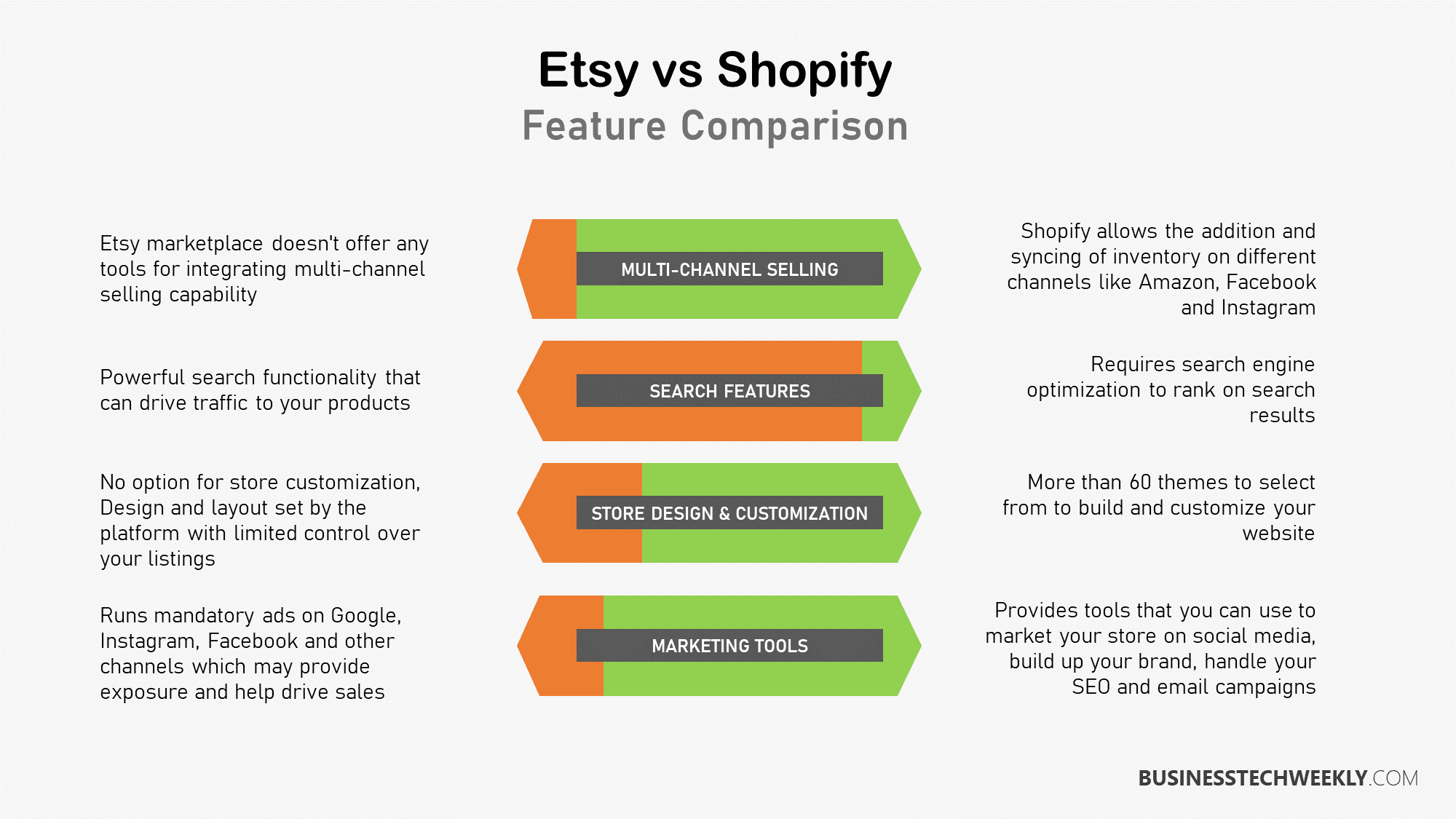 Etsy Vs Shopify: Sellers
Etsy and Shopify follow entirely different methods of selling online. One is an online marketplace, while the other allows opening an online store. Which of the two is a better choice for you depends on your requirements and goals. Here is an overview of ideal sellers for each of the two platforms.
Etsy
This platform is perfect for those who have some craft supplies, vintage or homemade goods to offer. It is also great for you if you are new to online selling and want some online exposure for your products.
It may also work for those short of resources to set up a big business. If you want to sell quickly to an audience available readily, Etsy might be the platform for you.
RELATED: Pros and Cons of eCommerce: What are the advantages and disadvantages of online retail?
Shopify
Shopify is more suited for seasoned online sellers with an established brand and product offering. It is for those looking to expand the product line and customer base.
You might need control over how your store looks and want resources to make this happen. Shopify can be the perfect tool to design your own webstore to expand your online business.
Etsy Vs Shopify: Ease of Use
Both Etsy and Shopify are designed to make online selling simple. In comparison, Shopify allows creating your online store quickly with all the tools required to run your business. It offers you all you need while keeping the interface user-friendly and clean.
It features a straightforward menu and easy-to-use buttons to make the setup process quick and straightforward. It also helps manage your store better with order tracking and inventory syncing.
Etsy, on the other hand, is super simple though less detailed. You simply need to create an account, pick a store name, load the inventory and fill out your details to start selling and earning.
RELATED: Top 5 Google tools to help you grow your small business
The platform guides you through every step and helps you set up your store in a few minutes. This is quite useful for beginners who want to start selling quickly.
With Etsy, you don't have to build a website like Shopify. You simply have to upload the products with pictures and descriptions, and you are ready to go. It takes no time on this platform to become an online seller.
Both Etsy and Shopify are straightforward to use. While Shopify is somewhat more technical than Etsy, the powerful tools make it relatively easy for beginners. Etsy is more straightforward and quicker to set up and allows starting an online business without much effort.
Etsy Vs Shopify: Pricing
Pricing and fees are critical considerations when selecting a platform for online selling. You certainly don't want to pay for features you don't need and can't select a plan that misses on required features.
Let's compare the pricing structure of Etsy and Shopify to compare how much it costs to run your business on these platforms.
Etsy
Though you don't pay a monthly fee with Etsy, they charge on each sale in the form of different types of fees which are the same for all the subscription plans.
You pay a 5% transaction fee on every sale, a payment processing charge of $0.25, and an additional 3% commission. For sales coming from offsite ads, the commission is 12-15 per cent.
There is also a recurring fee of $0.2 per product charged after every four months on the listing, helping you keep a watch on the life cycle of the products. The standard Etsy incurs no monthly cost beyond the listing, transaction and commission charges for each sale.
Then, Etsy Plus costs $10 per month and gives advanced customization options, credits for listings, and discounts on additional features.
Etsy Pattern is another add-on service priced at $15 per month for those who want to create an e-commerce site and is an addition to the Etsy storefront.
Shopify
Shopify has a monthly subscription plan that lets you choose from five options, including unlimited customer support. The advantage of this price structure is that you don't pay the listing fee and can sell many products without paying extra as the business grows.
Shopify Lite – This plan costs $9 per month with a transaction fee of 2.9% and an extra $0.3. With this plan, you can sell on your website and through Facebook.
Basic – You get a website for $29 per month and enjoy other features of Lite. This plan gives you two employee accounts and the facility to offer discounts.
Shopify – For $79 per month, you can save on transactions as the fee drops to 2.6%. You get the Basic plan features with the support for gift cards and up to five accounts.
Advanced – This plan costs $299 and lowers the transaction fee to 2.4% for online sales. With up to 15 employee accounts and advanced reporting, this subscription lets you expand your business.
Plus – Specifically designed for high-volume sales, the charges for this plan depend on individual needs. It is a quote-based plan that suits those who get thousands of transactions every minute.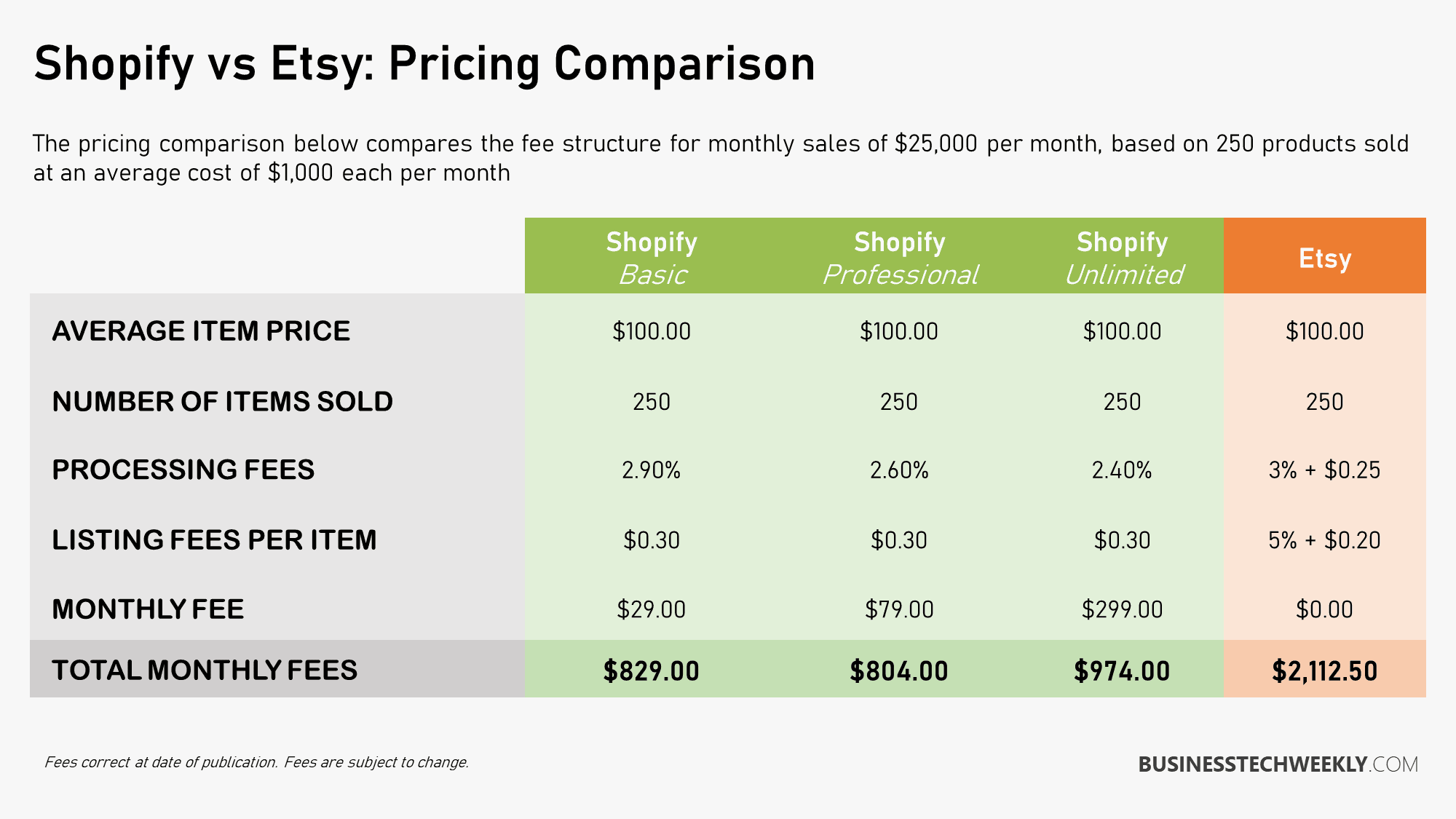 Etsy vs Shopify: Integrations
No e-commerce platform can do everything on its own. Sellers may need to use multiple integrations, plug-ins and third-party apps to enhance the functionality of their online stores. Let us see how the two platforms compare in this respect.
Etsy
As discussed earlier, Etsy has the basic functionality that makes it easy to get started. That also means you require multiple apps to customize the platform to your needs.
For example, it does not have integrated POS support. You should use a third-party app to achieve the functionality. While Etsy has many apps available to choose from, it cannot compete with the number of options Shopify offers through its app store.
Shopify
As Shopify caters to small to medium scale businesses, it gives you access to a robust app store hosting over 4,000 options.
There are over 1,800 apps to help you with your store design and many more to aid marketing, reporting, inventory and productivity.
Etsy vs Shopify: Ecommerce Tools
Let us see how the two platforms compare when it comes to tools available to set up an ecommerce store for your online business.
Etsy
This platform uses basic yet powerful features to make it easy to manage your online store. You can also use the app to handle things on the go. Etsy offers you some helpful advertising and marketing tools to improve visibility, attract customers and grow sales.
You can even share your listings across social media platforms, use third-party apps or create coupon codes. Overall, Etsy offers simple tools that work perfectly for selling handcrafted and vintage items.
Shopify
This platform gives you access to some of the best tools, with its sales features being the most outstanding. This makes it an ultimate choice for any business looking to grow.
The best thing about this service is that you can sell any number of products on any plan, and there is no limitation on what you can sell.
Here are some of the most notable features you get with every plan on Shopify:
Multi-channel selling
Discount codes
Abandoned cart recovery
Point of Sale app
Fraud analysis
Free SSL certificate
Multi-channel selling plays a big role in growing the customer base and gives a convenient shopping experience to customers.
Getting an SSL certificate implies that the store is safe for visitors and that their information is secure. Abandoned cart recovery automatically sends messages to those who leave their carts without checking out and encourages them to return.
Etsy vs Shopify: Security
Talking about security, it is worth noting that both Etsy and Shopify use PCI-compliant systems with SSL certificates. This means the store's security is not a problem on these platforms. All your customer information and payment data are secure on the site without paying anything extra.
RELATED: Website Security: Essential Best Practices every Online Business should follow
Etsy vs Shopify: Branding
Etsy gives you a universal shop design with limitations on how much you can customize the look of your listing. Though you get some facility to customize your brand with a logo and layout, everything remains within the set parameters. Whenever customers visit your shop, they are on Etsy and not your website.
On the other hand, Shopify lets you build and design your own store with a range of paid and free store themes that you can easily install on the site. This difference cannot be classified as an advantage or disadvantage for any platform.
RELATED: Thriving as an Ecommerce Store: Improving User Experience (UX) for your Website
Customers visiting Etsy are already familiar with the design and need not learn your website design. The platform also makes the necessary changes throughout the website depending on customer behavior to increase sales.
Etsy vs Shopify: Traffic
Etsy advertises on its own and drives traffic to the marketplace, including customers coming to your shop and buying your products. As most buyers search for a shop on Etsy to find what they need, you can easily earn by offering what they need.
For Shopify, you are responsible for driving traffic to your website. For this purpose, you should develop an effective marketing plan and implement it. The platform also offers you a plethora of features and tools to simplify the implementation of these methods but does not directly attract customers to your website.
Etsy vs Shopify: Help and Support
As you switch to online sales, you may need much help and support. If you don't know about website development, you will need much assistance through the setup procedure. Let us see how Etsy and Shopify differ in support and help.
Etsy Support
Sellers on Etsy can reach out to help in multiple ways. Here are the four basic modes of customer support available on this platform:
Phone or email
Constantly updated seller handbook
Success newsletter with tips on improving the shop
Community forums
Shopify Support
Shopify lets you reach out to customer support in five primary ways:
24/7 customer support via email, phone and live chat
Experts ready to help with e-commerce design, marketing and development
Discussion forums
Help Centre with tutorials, FAQs and user guides
Shopify community named Ecommerce University
Both platforms offer the resources you need to get started online. Shopify excels with its live chat facility and access to expert guidance, getting a slight edge over the other in this aspect.
Etsy vs Shopify: Pros and Cons
Etsy Pros
Ease of Use – A seller can start selling by registering for an account and uploading pictures and details of the product. This e-commerce platform makes it extremely easy to set up an online store.
Traffic – It is an online marketplace where customers search to find your products. Consequently, you don't have to worry about marketing or advertising your brand, simply relying on Etsy's popularity to grow your business.
Cost – You don't pay any extra monthly fee with the standard plan of Etsy. While there are listing and transaction fees associated with every sale, there is no subscription charge.
RELATED: Etsy: What are the Pros and Cons?
Etsy Cons
Product Limitations – The platform has restrictions on what you can sell in your store. It allows three categories of products – craft supplies, handmade goods and vintage items.
Transaction Fees – Etsy charges a 5% transaction fee and an additional $0.2 listing fee on every item sold on the marketplace. You also pay a standard 3% and a $0.25 processing fee on online transactions. Such costs can impact your bottom line as your sales grow.
Control – The format of Etsy does not give you much control over the branding or customization of the store. While you can add your brand logo and details, you cannot build a strong brand name on the platform.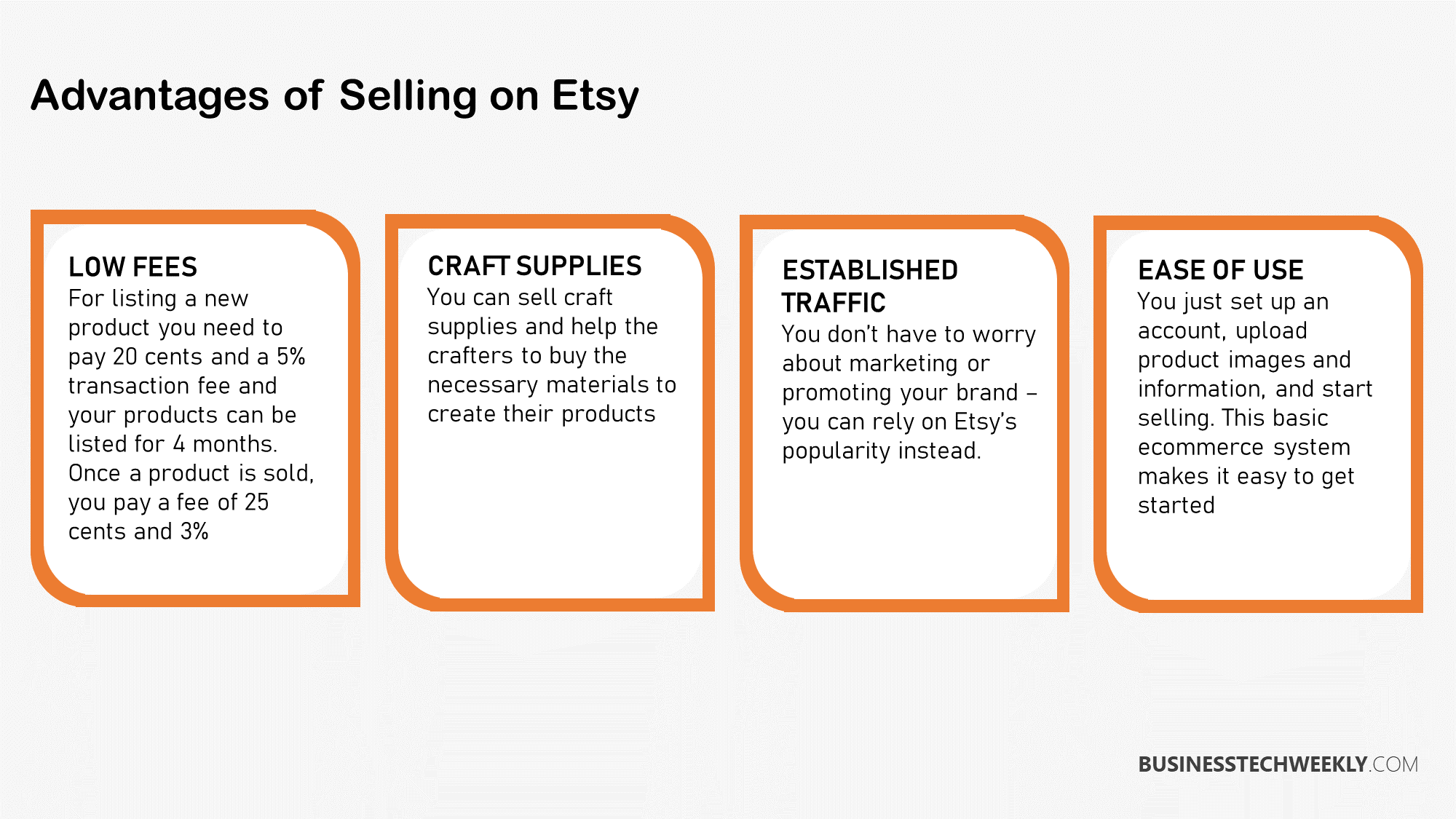 Shopify Pros
High Scalability – Shopify is designed to accommodate different business sizes – small to medium. You can add apps and upgrade your store with more features as your business grows. It also lets you control your branding.
eCommerce Tools – You can find some of the most powerful e-commerce tools on this platform. The inventory system helps manage and expand the business. You can also track inventory and orders.
No Restrictions – Shopify lets you sell physical goods as well as services. You can even add an app to start selling digital products. This platform poses no restrictions on what sellers can offer to customers.
Shopify Cons
Exposure – Etsy and other marketplaces are popular on search engines. However, for websites built on Shopify, the business owner should work to spread awareness among people so that they search for it. This means your exposure depends on how you market your store.
Add-Ons – Shopify also has support for the app store, where you can find several tools to expand and customize your store. However, this can add to the monthly cost for running your business, which may not suit small sellers or beginners.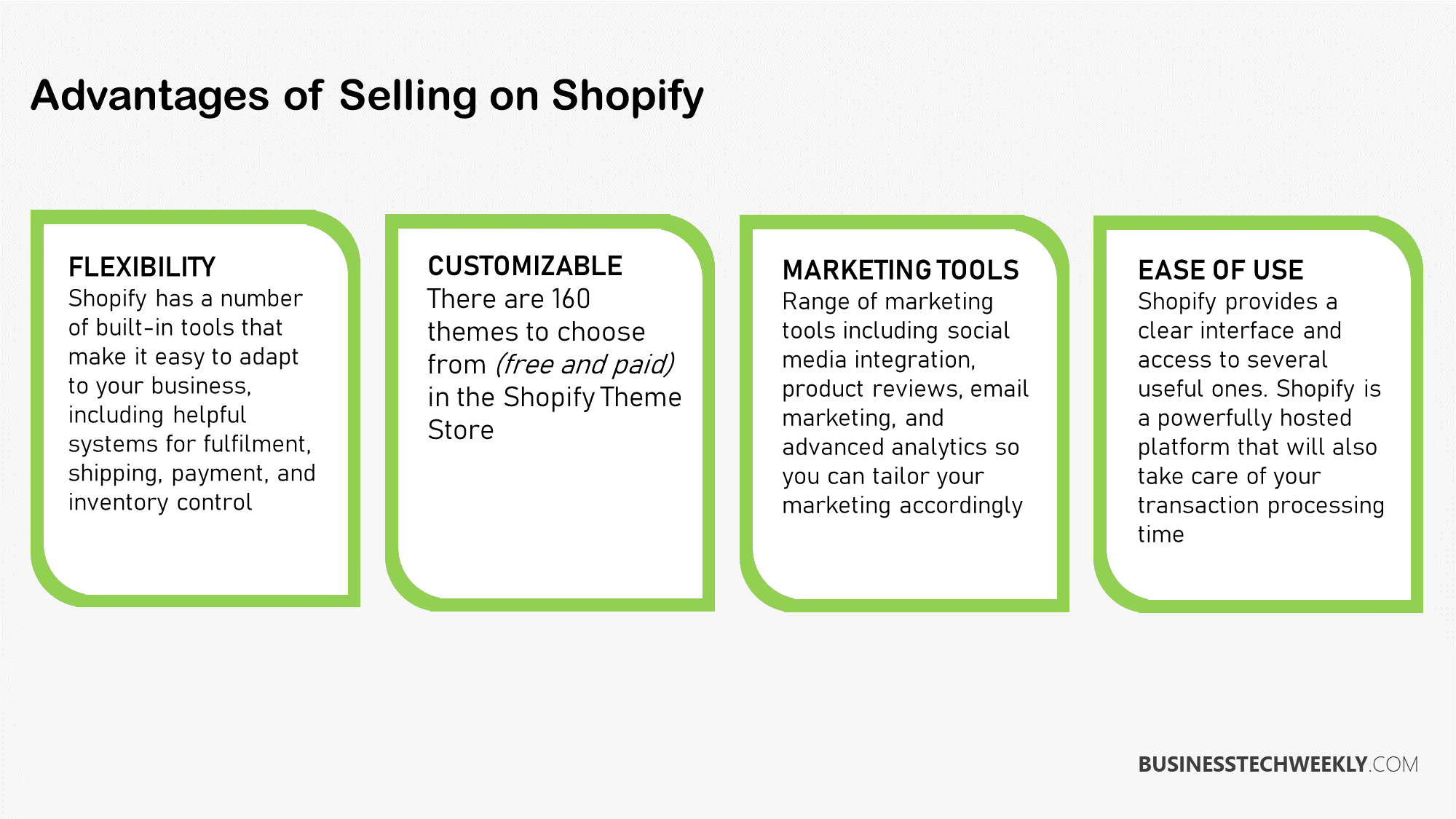 Etsy vs Shopify: Summary
Selling on a marketplace and a website both have their advantages. Offering your products on a popular marketplace is a great way to start an online business without much effort.
When you sell on your store built on a powerful platform like Shopify, you can control how it looks and performs to get better results.
We have analyzed the features, offerings, pros and cons of both Etsy and Shopify. Looking at the comparisons, we can say that the two platforms are unique and powerful in their own ways and cannot replace one another.
Etsy is a better option for new businesses or small stores, while Shopify is for those who want to establish and grow an online business. The best thing is that you can use Etsy and Shopify together.
As you enter the eCommerce world, you can start by listing your products on Etsy and later open a store on Shopify as you grow.
You can work on building a brand identity and growing your customer base. You can also focus on scaling your products while driving traffic to your store. And you can maintain the Etsy store for an additional source of revenue.
RELATED: How to boost your ecommerce sales with these crucial customer service trends
Overall, Shopify is the better selling platform from a general eCommerce viewpoint. However, these platforms vary too much from one another to recommend one over the other.
If you're selling a few homemade and want to try your hand at eCommerce, Etsy is the most suitable choice for you.
You can always set up an Etsy account and give it a go, or try Shopify's 14-day free trial before you buy.