Setting up an Etsy Business: How to start an Etsy shop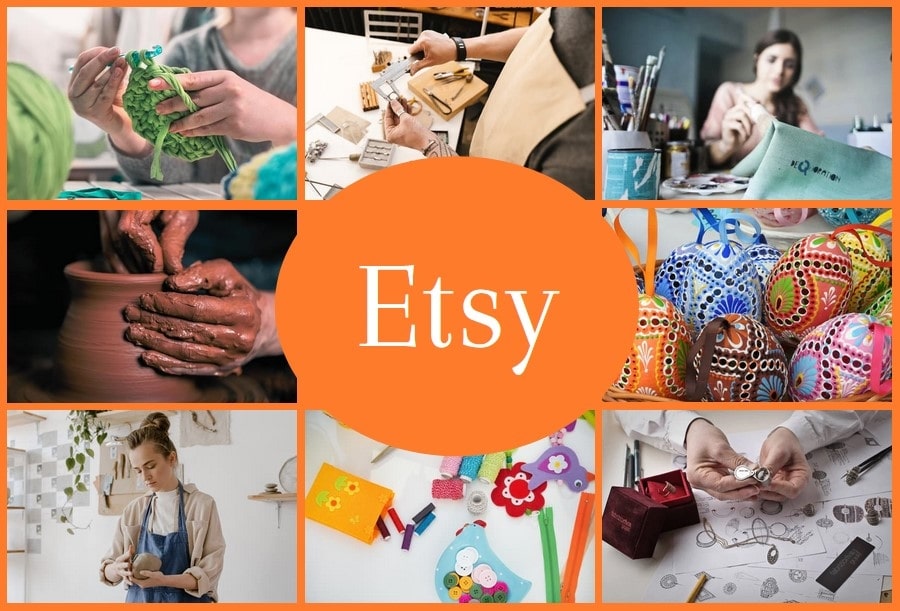 Ever since its launch in 2005, Etsy has grown to become one of the biggest marketplaces in the world, boasting over 55 million members and more than 50 million unique items for sale. With such a vast potential reach, it is a great time to set up your Etsy business and start an Etsy shop.
Below, we guide you through setting up your first Etsy shop and discuss the basics of the marketplace and how you can establish a successful Etsy business.
What is Etsy?
Etsy is a unique marketplace specializing in vintage items, craft items, and artistic goods that you won't find easily in other stores.
Buyers use this e-commerce platform to look for handcrafted products more than commercially sold goods from small and big brands.
| | |
| --- | --- |
| STATISTICS | |
| Buyers | 39.4+ Million |
| Sellers | 21+ Million |
| Sales Generated | $3.9+ Billion |
| Years in Operation | Since 2005 |
| Estimated Value | $604+ Million |
| Countries | 83+ |
Etsy is also an excellent platform for artists and art shops to showcase their skills and creations to a broader audience without having to create their website.
It is a store that offers the charm of art and craft in a convenient marketplace like eBay. It hosts a vast category of vintage items, as old as over 20 years, to appeal to those who like to collect historic, antique goods.
Users who browse Etsy listings can choose from handcrafted art pieces, handmade products for home and personal use, custom-made toys, made-to-order items, and vintage goods.
The platform offers a storefront where sellers can list their items by paying a charge. You can find a wide variety of collector products for an affordable price here.
Etsy occupies a specific niche that makes it the top destination for collectibles and art products globally. It is important to note that this company does not make any items.
RELATED: Selling on Etsy vs eBay vs Amazon: Which is the Best Online Marketplace?
It instead works as a mediator connecting buyers and sellers, offering them a fully-functional marketplace. It is based in Brooklyn, from where it executes the daily operations.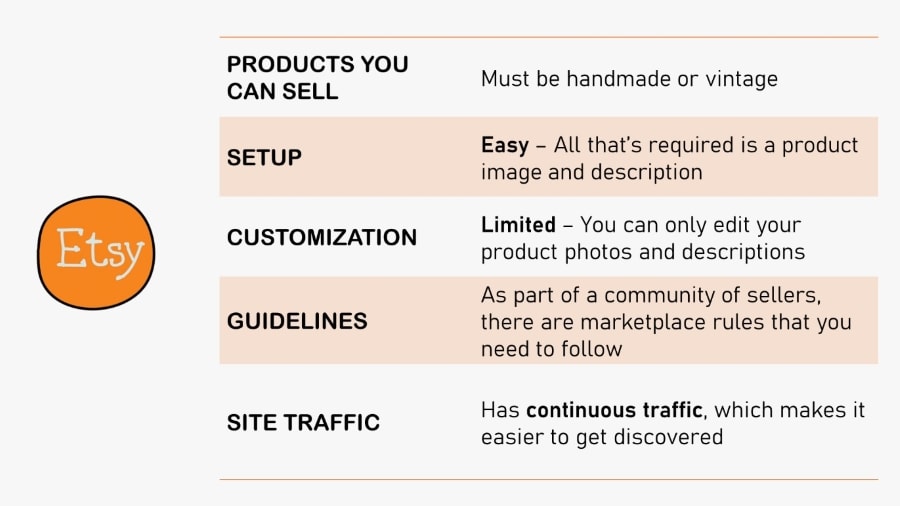 How much does it cost to Sell on Etsy?
Etsy seller fee is one of the most significant aspects of getting started with the platform. Like any other e-commerce platform, Etsy charges a seller fee associated with listing and selling.
Though you don't pay anything to register in the shop, you will need to pay to do business on the marketplace. If you use Etsy Payments, the store will deduct the fees automatically from your funds every month.
Any additional charges you owe to the store can be paid through a credit card if added to your payments.
However, if you live in a country where Etsy Payments are not supported, you will need to pay the monthly bill on the marketplace. Etsy charges different types of fees from the sellers:
Listing Fees
The primary charges paid to Etsy are those for listing the items on the shop. The store adds $0.2 to your payment account whenever you list an item. You pay this fee for each listing, whether or not it sells.
For this listing fee, the product stays in the store for four months, after which you need to renew it for an additional charge of $0.2 if you wish to keep the listing.
Transaction Fees
You pay a transaction fee (5% of the total cost of the item) to Etsy whenever an item is sold. The transaction fee is paid in your currency.
In case your payment currency is not the same as the listing currency, the company will convert the charges to your payment currency based on the current conversion rate.
Etsy also charges 2.5% fees for the currency conversion whenever required.
Payment Processing
If you choose to use Etsy Payments to accept online payments for your sales, the platform charges you a payment processing fee per transaction whenever you sell something. This fee depends on where your bank account is located.
Moreover, if you live in an area subject to value-added tax, Etsy will involve this tax in its payment processing and other types of fees.
Additional Charges
Apart from the above-discussed charges, Etsy can levy some other additional fees from you in some cases. The first is the fees associated with shipping labels that you buy through Etsy.
The charges for shipping labels can vary depending on the location and other factors. Secondly, there is a Square manual fee per transaction associated with selling in-person on Square.
Etsy also incurs some other charges like those associated with add-on services like ads. To use Etsy ads, you pay for the campaign on a per-click basis.
Moreover, a paid subscription plan on the platform – Etsy Plus- costs $10 per month and other fees. This plan offers a variety of advanced tools and features to help you manage and expand your business in this marketplace.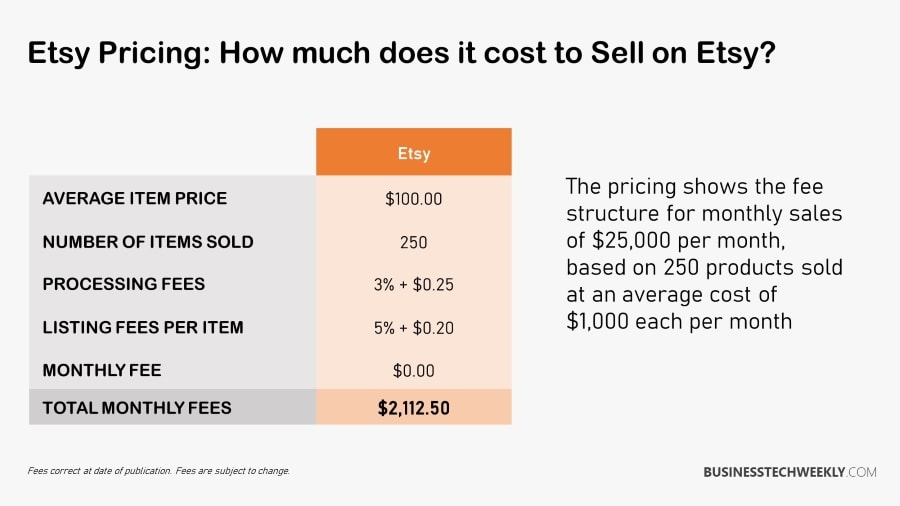 How to Open an Etsy Shop?
Though opening an Etsy shop involves multiple steps, the platform makes it easy for sellers to set up their online shop and make money.
It boasts a user-friendly interface that guides the seller through the entire process and intuitive features that remove the complexity of starting a business on Etsy.
RELATED: How to write an Etsy Business Plan
Register for an Account
The first step of building a business on Etsy is registering an account. It is as easy as clicking on the 'Sell on Etsy' link and entering a few basic details like name, email, and password.
The service also gives you a chance to create an account using your existing account on Facebook, Google, or Apple.
Moreover, if you already have an account with Etsy, you can log in and create your store by clicking on 'Open your Etsy Shop.'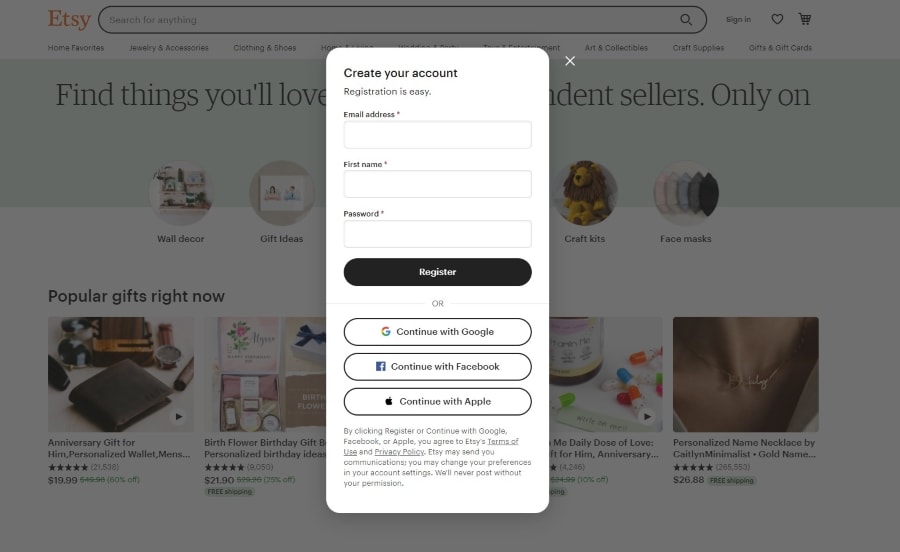 Set your Shop Preferences
Once you register an account and open the shop, you are taken to the screen for 'Shop Preferences,' where you can choose the basic settings for your Etsy store.
The first thing you set is the default language in which your items are described. You can then change the settings like currency for listing and your home country. Next, Etsy also asks you whether you want to sell part-time or full-time.
Select your Shop Name
When deciding your Etsy shop name, you can use your creativity to its best. Your shop name should be unique yet easy to remember and reflect what it offers.
It can be anything, as long as it meets the guidelines set by the marketplace. If you choose a name already taken, Etsy suggests other similar names available.
Here are some tips that help you pick the right shop name on Etsy.
Abstract Names – Such names can add a touch of uniqueness and make it easier for customers to find your store.
Suggestive Names – Use words and phrases that describe what you sell and represent your brand to make great names.
Your Name – When you use your name for the shop on Etsy, it becomes easy to change your products. While it is harder to find a shop name with just your name, you can add modifiers like 'workshop' and 'studio' to create a unique name.
Take some time to work on the shop name before launching it on Etsy because you can change it only once after starting.
If you have any plans of expanding the business to social media channels or a dedicated website, it is essential to do some research to make sure you can later find a domain name or business name matching your shop name.
See Etsy's tips for naming your shop
Brand your Shop
The Etsy shop you create is one-of-a-kind because none other will sell the same line of goods as you. This is why you should have a unique brand identity.
Your identity is how your customers perceive you and your shop. Whether you pay attention to it, your shop already has a brand. And if you make thoughtful choices, you can benefit better.
RELATED: ECommerce Branding: 4 Steps you must take for Growing and Scaling your Ecommerce Brand
Shoppers can find most goods at Amazon, Target, and other stores but prefer Etsy for its certain goods with a history.
To make sales on the platform, you should create an identity that conveys the story behind your products and builds trust and confidence. Ask yourself some questions like:
Who are your target customers?
What makes your offerings unique?
What are your brand values?
What is special about your Etsy shop?
What identity do you want the shop to showcase?
These answers will make the core of your brand. These brand ideas should inspire your Etsy store's logo, name, cover photo, and other aspects.
Name
A shop name should be unique, easy to remember, and brand-oriented. This would represent your business effectively and help you stand out from the competitors.
Remember to follow Etsy's requirements for shop name, and you will come up with a short and interesting name that best describes your offerings.
Avatar
The shop avatar is where the logo goes, and your brand should influence it. The type of fonts and images you select for the avatar decides whether your brand is casual or high-end. You can choose a complex logo to represent difficult handmade items. A minimalist logo best represents a simple style.
You should ensure that your logo represents your brand well and fits inside the platform's square field.
Cover Photo
A valuable asset is the top of your Etsy shop, where your cover photo or banner goes. This aspect of your shop sets the visual appeal and works to differentiate the shop from others.
Etsy lets you select a small banner or a big cover photo for the area. A cover photo is a better choice as it is visible from smartphones and computers. A small banner can be seen only from a computer.
It is advantageous to have a well-designed cover photo or banner to make the shop more appealing while creating a sense of professionalism, credibility, and trust. The most reputed Etsy shops use the cover photo to promote their name and products.
Create Listings on the Shop
Your listings on the shop are the core of your business. Creating appealing listings can help you achieve many sales in the first few weeks of the launch.
But what does a compelling listing look like?
Every listing on Etsy has three parts – titles, photos, and descriptions.
How well you execute these decide how good your listing is. Here is how you can master these components for super-effective, eye-catching listings.
Titles
The titles of your listings define the products to potential customers. The idea is to think like a shopper and use words and phrases they may use while looking for an item you are selling.
This would help make your titles descriptive. Adding more information to the titles increases their chances of being found.
Moreover, a descriptive title helps the viewer learn more about the product at first look. Use the titles to show how your product is unique and how it improves their lives even before taking a deeper look.
Make sure you use relevant, descriptive words to highlight the features of your product in the title to get them shining.
Photos
Product photography can be highly effective and can determine the success of an Etsy store. Shopping in online stores is quite different from that in person. While a brick-and-mortar store allows the buyer to see and examine the product, it is impossible to touch or feel the items sold in stores like Etsy.
This is why strong product photography is crucial to eliminate the uncertainty common in such forms of shopping. Pictures that exhibit the products that align with the customers' lifestyles make it easy to envision how it can benefit them.
Here are the recommended images you should consider including for any item you want to sell on Etsy.
A clear picture of the item in a well-lit condition
A photograph displaying different angles of the item to help viewers get a better idea
An image exhibiting unique traits of the product, making the texture, color, and techniques of the product clear
A photo that shows how big or small the product is. It is a good idea to style it with other well-known items or have models hold it in their hands
Try to include as many pictures as you would feel necessary to give viewers a complete idea of what it is and how it can help them.
Consider shooting in natural daylight instead of using a camera flash. Keep in mind that the photos should align with the target audience's interests. Finally, see that the products shine in the pictures.
Description
The final step in creating a great listing is to write a fantastic product description. This component gives you the chance to describe the product story.
Make sure you include the details that make the product unique. For any handmade item, don't forget to share the process of making it briefly.
Next, include information on how the product can fit into the life of the buyers and what benefits it can offer. Create a beautiful description of the product rather than just listing the features to see better results.
You can take a look at the product descriptions from your competitors to take inspiration on formatting and content.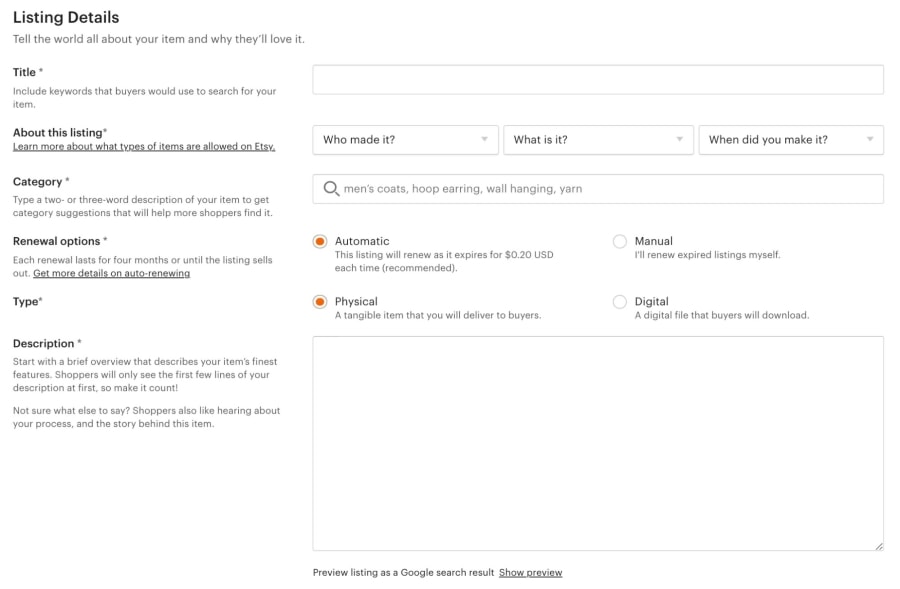 Complete the Inventory and Pricing
Once you have created your listing, you can enter the details of your product inventory in your store. You can put in the number of items, price, SKU number, variations, and tax.
You can have product variations in terms of colors, sizes, and materials and have pictures corresponding to those variants.
Etsy then asks you to enter the shipping price of your product and relevant details like shipping services used, country of origin, processing time, costs, item dimensions, weight, etc. You can even choose to get the shipping price calculated by Etsy based on the item details.
Once you have opened your shop, you can set up 'shipping profiles' to be able to update items with the same shipping processes instantly.

Set your Payment Preferences
After adding your products, you will need to set up your payment preferences on Etsy. The first thing you need to set is how you prefer to accept payments for your products.
You can choose from money order, check, PayPal, and 'other' or go with 'Etsy Payments,' the primary payment method for sellers. This option lets you use credit and debit cards, store credit, Etsy gift cards, etc.
At the time, Etsy required that eligible sellers, based on the location, for Etsy Payments prefer the same. To use this method, sellers should enter settings like address and bank account details to start receiving payments from Etsy.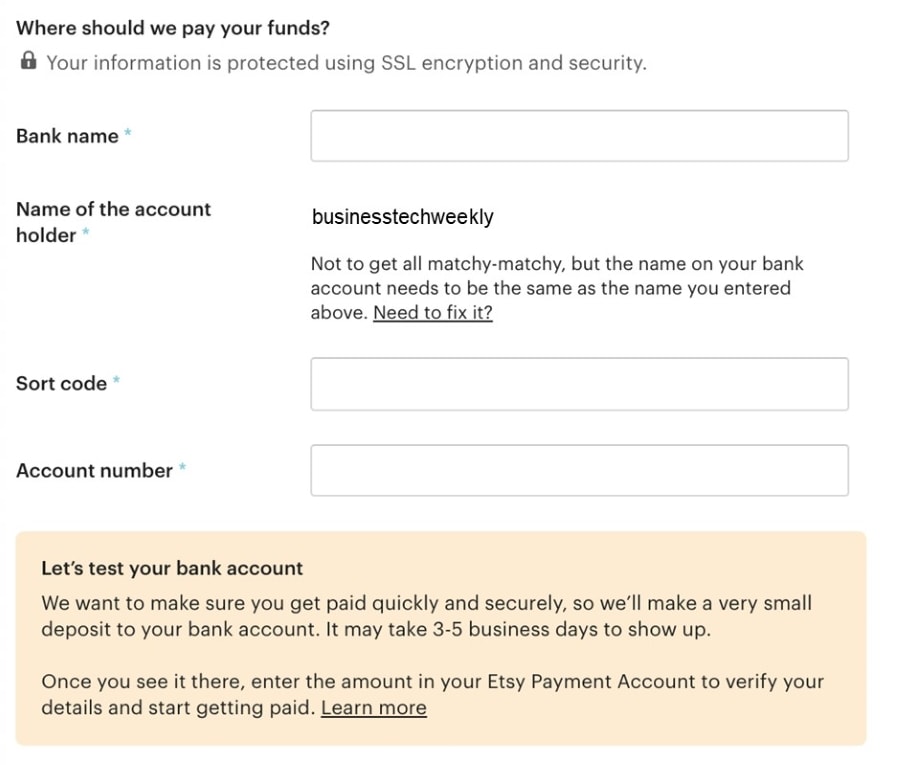 Talking about the billing, you may need to provide a credit card for identity and payment of fees. U.S. sellers can choose to enrol in auto-billing, where Etsy charges the selling and other fees automatically so that you need not worry about any monthly payments.
RELATED: Starting an Etsy Shop Checklist
Optimize and Market the Shop
Once you have opened your online shop, you can get started with selling. It is not as simple as an offline store; a digital shop must be appealing, easy to locate, comprehensive, and up-to-date.
Let's discuss how you can make sure your Etsy shop runs successfully once opened.
Add photo and description
Your store's profile is where visitors learn about the business and you as an owner. Use the bio to describe all you want the public to know about you and the shop.
You can share something about your background, qualifications, and interests and tell your mission, the story behind your offerings, and your unique traits.
Set the Policies
In this section, you try to answer your customers' concerns about the production, shipping, and payment processes.
You should inform an estimated processing and shipping time for your products to give buyers an idea of how quickly they can expect to receive the orders.
You should also mention the return and exchange policy and the payment methods you support. In case you have selected 'Other' in your payment setting, you will need to add information about this payment method.
Add 'About' Section
Much like a personal bio, Etsy allows you to have a bio for your store and gives you a limit of 5000 words to describe your business to your customers. The marketplace focuses on genuineness and transparency, so you can be upfront about the story without worrying about traditional marketing writeups.
To appear more appealing to the customers, you can include pictures and videos of your working space, talk about people who help you make your products or run the store, and link your website or social media handles.
Create Sections
Consider grouping your products into categories to help buyers easily navigate the items. When you create sections, your products will appear on the left pane of the homepage with listings under categories for easy access.
How to run your Etsy Business Successfully?
The real work on Etsy begins after you have opened the shop. You should consider several aspects and work on them to ensure your new online business goes as expected and turns out to be profitable. Here are some of the most effective strategies to run your Etsy business successfully.
Plan Inventory Strategy
Launching your Etsy shop is the first step. But it is essential to plan well for what comes after opening to be able to run a successful online business.
The key to success is maintaining the shop properly, and a well-stocked shop has the best performance. Hobbyists may stock the inventory as and when they like, but entrepreneurs serious about making money from Etsy selling should plan about stocking.
There are three different categories of shops on Etsy, each having its stock maintenance requirements.
Vintage Items
If you choose to sell vintage items in your Etsy shop, you may already have a collection of items to be sold. But, at some time, you will run out of stock. This is where you should shop for new items and invest in your business. It is good to set a shopping schedule to keep things running smoothly.
Though it is not easy to find high-quality vintage items, you must acquire new items consistently to ensure that you don't end up in a drought. A well-planned schedule also allows you to handle your purchase expenses over time, ensuring you can quickly cover the investment.
Handmade Goods
If you are engaged in making unique handcrafted items, they will surely give you more joy and the most difficult to keep stocked. You can add some staples that can be quickly made to the more time-consuming products to keep your inventory stocked up.
Another idea is to create an Etsy shop with custom listings. These made-to-order listings are great because you need not invest time or effort until you get paid for the product.
Crafting Supplies
Based on your experience level, you might already have a good stock of crafting supplies to keep your shop going. However, if you don't have a large inventory, you can consider entering into wholesaler relationships to sell more and earn a profit.
RELATED: How to Open a Second Etsy Shop?
Plan Shipping
Shipping is an integral part of running an online business on Etsy. There is no need to wait till the first sale to figure out your shipping strategies. Your customers already expect top-notch service from you. You should plan ahead of time for your shipping to ensure your customers don't have to wait for the order.
Fortunately, Etsy prioritizes shipping planning for sellers and offers a comprehensive system to help them ship quickly. You can use advanced tools available on Etsy to perform some of the most important jobs like printing shipping labels, tracking orders, and calculating shipping costs right from your shop.
Apart from this, focus on how you can deliver a personalized shopping experience. Pay attention to packaging material to ensure your buyer has a wonderful unpackaging experience and the item stays protected during transit.
Think about including a short personal note, a small gift, or a discount coupon to take the experience to another level. Whatever you do, stay true to your shop!
Market Your Etsy Shop
Simply launching a shop on Etsy does not mean sales and success. It may take some time and effort to build a loyal customer base and an online presence. However, there are several simple and effective ways to market your shop for quicker growth.
Ask for Reviews
Ask your friends and family to purchase your products and leave their honest reviews as you start. Online shoppers rely on reviews for safety in their online shopping. As a new shop, you might not have any reviews. Your friends and family might support your venture by sharing their reviews.
Word of Mouth
Any business strives for strong word-of-mouth marketing. You can benefit from a refer-to-a-friend campaign or even a discount coupon. The coupon can be applied to the first purchase by a friend you've referred.
You can further make the deal exciting by offering the original customer a discount on the next order if the referred friend makes a purchase.
Social Media
As a new digital business, you may want to benefit from the easy exposure social media marketing facilitates. Social media helps keep your customers updated about products, sales, and policies. It also allows building relationships with customers and incorporating trust among prospects.
A presence on Facebook and Twitter would help build a loyal audience and help new customers know you and your shop.
RELATED: How to Create a Successful Social Media Campaign
Fortunately, Etsy makes it easy to leverage the power of social media with a built-in tool that lets you update all the social media channels with products, announcements, listings, milestones, reviews, or anything else you would want to promote.
People prefer Etsy over others because of the connection to the business story. Use the social platforms to share the story for free and increase your sales.
SEO
Search engine optimization improves the shop's visibility on platforms like Google and helps drive sales. The SEO techniques depend on your target platform, and Etsy has its tactics. It all comes down to keyword research.
RELATED: Top 5 Google tools to help you grow your small business
Try to analyze what keywords people are searching for in different categories and use the most relevant keywords to help users find your products in their search results.
Website
Though you don't need a website to run an Etsy shop, it is a great tool to help your business grow. In this digital era, people give more credibility to businesses with a website.
If a customer tries to compare and decide between two similar shops on Etsy, one with a professionally designed business website indeed gets an edge over the other.
Apart from credibility, a website gives the customers another way to find your products. It also improves your chances of finding customers not on Etsy, expanding your reach.
A simple, easy-to-navigate website is all you need for promotional benefits. You don't need to add e-commerce capabilities to the site; just direct the users to your Etsy shop.
To get the most out of your website, ensure the design is an obvious extension of the Etsy shop. Any visitor should quickly identify that it is the same business.
Ensure consistency by featuring your Etsy shop logo and name on the website, using the same colors from the logo and banner, sharing the same pictures and descriptions of products, and matching the voice on the website to that you use in the store.
Tips for Successfully Selling on Etsy
Now that you know how to set up and optimize your Etsy shop, you should work on driving sales and boosting your visibility as a business. Here are some valuable tips that help sell successfully on Etsy.
Use Professional Product Photography
People want to see, touch, and feel the products before buying them. Therefore, you must provide your potential customers with stylish, well-exposed images shot from several angles. Etsy offers an app where you can upload pictures from your phone and make adjustments.
There are two main types of photography shots you should consider for your product. The first is hero shots that are close-ups of the products with a simple background. These are the main pictures of the product and should be captured in high resolution to let users zoom in.
Another type of photography shot is the lifestyle shot showing how a person uses the product. Here, the background is emphasized.
A great way to achieve a balance is to mix both styles and capture shots. Etsy permits a maximum of ten photos, so you should use them all to drive more sales.
Organize the Shop
Having great product photos is not enough to get guaranteed customers to the shop. The way you present the products in the store is also essential. Organizing the shop is key to making a good impression on buyers who come to the store.
Listing the products randomly doesn't bring confidence to your shop. It is necessary to put the items on the list in a specified order.
A seller should curate the shop thoughtfully, organize them into easy-to-navigate sections, and write detailed descriptions for the products to show the effort and commitment put into the business and the quality of the items.
On the other hand, a random collection shows the buyers that the shop owner has not put much effort and time into the store organization.
Make the Store Searchable
As discussed above, SEO on Etsy is a great way to make the store easy to find and drive customers. The platform has a dedicated SEO tool with rules that you should follow to do it right.
You should ensure that the title you select suits the product and includes relevant keywords. You should use maximum keywords in the shop name, product titles, tags, sections, and descriptions.
RELATED: How to Successfully Sell on Etsy?
Price the Products Right
Like any other business, your Etsy shop demands that you price the products competitively. While this will help your shop increase profit, it is a challenging thing to do. Fortunately, Etsy offers some tools and features for pricing the products.
There is no need to short sell. You can price the items to cover labor, material, production, and more expenses. The price should also align with the quality of your products.
Remember that Etsy is known to offer affordable buying options. So it may be beneficial if you tried to keep the prices low to avoid turning away the masses. Moreover, there are several fees Etsy levies from sellers, so you should account for these charges when pricing the products.
Record the Financial Details
An effective bookkeeping tactic helps understand what direction the Etsy business heads. Even if you are operating an Etsy store as a side business, you should consider keeping your business and personal finances different.
The best way to accomplish this is to have a dedicated credit card for the Etsy expenses. Keeping a record of your finances would also help you set targets and understand whether you incur a profit or a loss. The better you are updated on the financial numbers, the more informed decisions you can make.
Use Analytics
Several practical analytics tools help keep track of your Etsy business. Some of the items may be moving more than others.
Based on these data, you may want to increase the stock of high-performing items and drop non-performing ones. Tracking your store's performance also helps you improve the quality of the products and customer service for a better customer experience and reviews.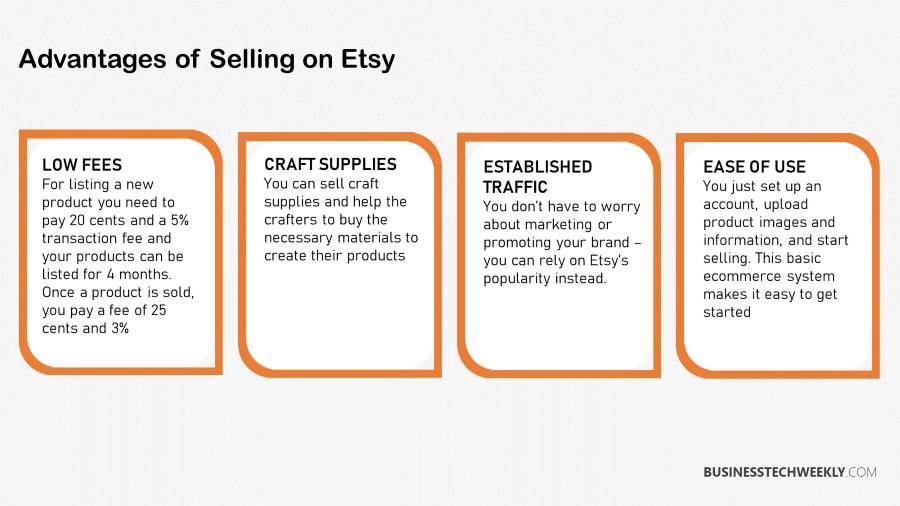 RELATED: What are the Pros and Cons of selling on Etsy?
Conclusion
Selling on Etsy is pretty simple with a user-friendly interface. However, the real work starts after you have launched the store. You need not panic if the store opens to a little traffic. Your Etsy shop may need some time to build a fan base like any other business.
Once you have made your first sale, continue interacting with the customers by responding quickly to messages, asking for feedback, and addressing their concerns.
You enjoy treating your customers well, but you also get amazing reviews that convey your trustworthiness and credibility to other buyers.
With millions of potential buyers and the ability to showcase your unique products to the world, Etsy is the right place to start a profitable, satisfying online business. We hope this guide helps you make the most out of this platform and its perks.