Top 5 Google tools to help you grow your small business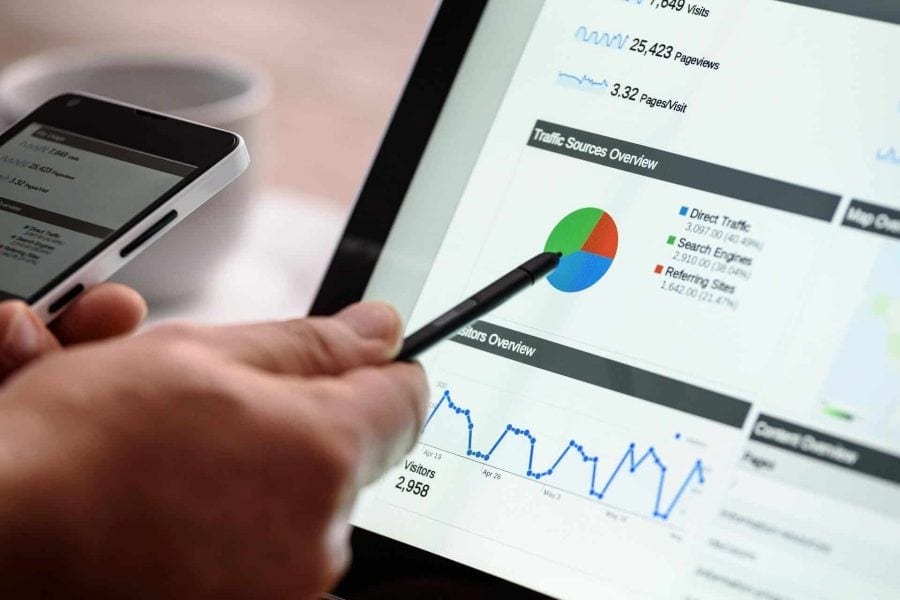 Marketing is a competitive sector, and online marketing, particularly for SMEs, is fiercely competitive.  Understandably, as a small business looking to grow, you need to take advantage of anything which can make your company more visible online.  Here is where Google tools can help you grow your small business.
Google has introduced many free and paid services and tools for business owners. These tools enable SMEs to make their website easier to find, track site traffic, and improve their search engine optimisation (SEO) and online advertising campaigns.
Here we have identified the top 5 Google tools which can help you promote your website online:
1.Google My Business
SMEs with a physical presence would benefit from signing up to Google My Business. By signing up, your business will be listed in the Google directory, increasing the likelihood of your business appearing when potential customers search in your area.
Consumers still tend to research online. For example, a vast majority of consumers in the EMEA (Europe, the Middle East and Africa) region who physically visited a store, state that they searched online initially. Yet, less than a quarter (23%) of small businesses have not published any contact details on their website, meaning that they could be losing business to their competitors.
Your listing can include details of your business such as operating hours, postal address, business phone number, directions, business description, pricing and menus. These details will appear when someone searches for your business on Google.  This increases the likelihood of potential customers clicking through to your website or calling your company to enquire about products or services.
Optionally, this tool also offers customer reviews, making you stand out in the market by attracting positive reviews and comments and encouraging loyalty. These reviews will also display on Google Maps and other Google services where SMEs are often featured.
2.Google Search Console
One of the most invaluable Google tools for a small business, Google Search Console is one of the best tools for improving search engine optimisation (SEO) of your business website.
A part of a set of webmaster tools, Google Search Console, provides you with essential domain name insights and its search trends. It also provides useful information and tools to help you improve the ranking of your website on the search engine.
This tool lets identify and fix crawl errors, and submit sitemaps to make it easier for robots to crawl and index website.  You can also check how many clicks you are getting for particular search terms. You can also search for rich cards, structured data and accelerated mobile pages.
3. Google Alerts
Google Alerts is an essential tool of Google which keeps you updated on a particular topic.
Using this tool, you can enable notifications about updates of phrases and keywords. Google Alert will allow you to monitor your keywords, and in real-time, provide with the relevant information whenever a topic of interest appears online.
The frequency of these alerts can be varied to suit your needs, which is handy as the alerts, generated by email, allow you to receive alerts at any time and anywhere.
Hence, you can use this tool to create a general overview and monitor elements directly related to your business.
You will be updated with industry news through this tool and be alerted whenever anyone mentions your brand, company name, content, product, social media profile.
Google Alert will help you get a better understanding of how your site and content are perceived.  This will allow you to look out for potential negative reviews that may harm your business.
At an advanced level, you can also use Google Alerts to monitor competitors, affiliates or social media influences and mentions.
4. Google Analytics
Google Analytics is a versatile website analytics tool. It should be at the foundation of any small business' digital marketing strategy.
As the name implies, Google Analytics provides valuable insight into how your visitors have reached your site.  It does this by providing metrics such as the source of traffic, pages with the most attention, time of day and more.
It reveals how users are interacting with your website, for example, which links and pages got the most visits, and which areas of your website are popular with your visitors.
This data helps you gain a detailed understanding of the nature of the traffic your website is receiving. This will allow you to assess if the right visitors are being driven to the target pages, or if your content needs to be optimised to achieve your marketing objectives.
The tool also allows you to ascertain if your marketing efforts are drawing in new visitors by displaying the number of returning visitors, source of referral, geographical location etc.
In addition to that, it also helps in tracking the sales and conversations across your website.
5. Google AdWords
Amongst all the Google tools required for growing your small business,  Google AdWords is the most popular.  As we know, the simplest way to increase the traffic to your business website is through pay-per-click advertising.
Search engine optimisation and social media marketing take time and skill to perfect.  However, pay-per-click, by allowing you to specify metrics and demographics you want to attract, gives you super quick results.  As a result, you can almost instantly drive traffic to your website.  Google will then display your advertisement to searchers according to your criteria. As the name implies, you have to pay Google for each click to your website.
Here are a few reasons Google AdWords should be part of your digital marketing strategy:
You will be able to check how much it costs to target a particular demographic, and you will pay the same cost for every click to the website. Consequently, this will allow you to measure which strategy is working and which is not from the detailed analytics you will receive in real-time.
Search engine optimisation, and content and social media work best over the long term, offering results once a sustained online marketing strategy has been developed and executed.  However, small businesses needing instant results can run short-term campaigns, evaluate keywords and phrases and reach new demographics. Pay-per-click is the best way for them to drive traffic to the website within a short period.
You can easily target the consumers which you want to reach, specifying factors such as location, device type (mobile or desktop), languages, gender and even the time of day they search on Google.
If a customer visits your site but didn't purchase anything, you can remarket it to them. They will find your message appear next time they look for the same product, which will increase brand awareness and boost conversions.