Selling on Etsy vs eBay vs Amazon: Which is the Best Online Marketplace?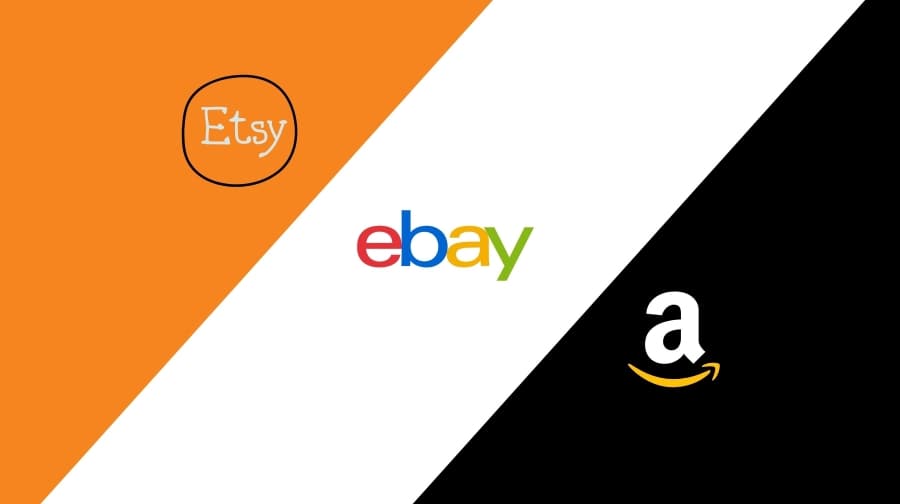 If you want to start selling online but don't know where to take the start, don't worry because we're here to help you. Here we'll compare different online marketplaces like selling on Etsy vs Amazon and selling Etsy vs eBay. After reading this guide, you'll be able to choose the marketplace according to your needs.
What is an Online Marketplace?
A place where vendors can sell their products online is called an online marketplace. Generally, an online marketplace offers more streamlined processes and better visibility. Therefore customers prefer it because they need the product and don't take an interest in the brand.
Some popular online marketplaces are:
Amazon
Etsy
eBay
Walmart
AliExpress
Instagram has also added the shop feature, and in the future, it will be the most popular online marketplace.
What are the Advantages of Selling on Online Marketplaces?
If you're starting selling online and being a small retailer, it's best to sell on an online marketplace. At the start, it's not the best idea to start an e-commerce website. More importantly, you can set your shop on any online marketplace in no time.
Moreover, these marketplaces allow you to target a specific audience.
When you choose a method like Amazon FBA, you can set it up in no time and can outsource order fulfillment.
Generally, online marketplaces are an excellent option for buyers and sellers, but the price competition is high. Customers can explore different options and find the vendor offering the product at a reasonable price.
Along with these benefits, there are some cons too. For example, you don't have control over your inventory. So, whatever marketplace you choose, consider its pros and cons.
Etsy vs eBay vs Amazon: Pros and Cons of Selling on Etsy
It's heaven for those online customers who want to buy handmade goods. So, it's the best way to target an audience worldwide. Let's explore the pros and cons of selling on Etsy.
Click here to sign up as an Etsy Seller
Pros
Cheaper than Amazon FBA: The listing and selling fees of Etsy are comparable to eBay. If you don't want Amazon to take care of your warehouse, Etsy is a better economic option than FBA. In the case of handmade goods, the profit margins can range from 30-50%. Therefore, Etsy is cheaper than FBA.
Target Audience: When people start selling on Etsy, they know what to expect. Moreover, they don't have to do extraordinary things to stand out. Handmade products mainly target women, so you should use the Etsy marketplace for selling if it's the case with your products.
Cons
No Customization: On Etsy, each shop looks identical to the other, so building a brand and standing out can be extremely difficult.
Massive Competition: you might witness that many sellers are selling products similar to yours. So it confuses buyers, and it becomes difficult for buyers to decide.
Five Questions to Ask Yourself Before Deciding
The below-given questions will help you know whether the Etsy marketplace is for you or not. If your answer to four questions is yes, then Etsy is the selling platform for you. Otherwise, don't waste time and move forward.
Will you be selling only handmade products?
Do you have all the needed resources for uploading products manually and individually?
Do you have products that will be on shelves for at least four months before the arrival of new ones?
Can you compromise some sales due to high competition?
Do you have any plans for building your web store in the future?
Answers to these questions can help you make the best decision.
Etsy vs eBay vs Amazon: Pros and Cons of Selling on Amazon
Without any doubt, Amazon is the number 1 ranked online marketplace globally. Buyers and sellers both love this marketplace. Indeed, the competition is high, but when you stand out in one way or another, you can keep your sales growing without the help of any other channel.
Click here to sign up as an Amazon Seller
Pros
Large Buyer Base: The monthly visitors of Amazon are double when compared to eBay. In simple words, it means there are more chances of visibility, attention, and sales.
Product Recommendations: When the buyers look for similar products, your product might appear under recommended purchases. When you tag your products correctly, it will improve visibility.
Amazon Trust: Amazon has become the world's most trusted online marketplace over the years. Buyers have immense trust in the Amazon brand, so being a seller, you can take advantage of it.
FBA: Fulfillment by Amazon is a revolutionary move for retailers. This option allows sellers to store products on Amazon's warehouse and save the storage cost. More importantly, FBA orders are shipped quickly, so it gives you another edge.
Cons
No Chance of Building Own Brand: It's the biggest drawback. When you sell on Amazon, only Amazon is the brand. It can be tricky when you're a reseller and want to build your brand. Unfortunately, you'll also face the same problem on eBay and Etsy. You can develop your seller page on these platforms to gain more visibility, but there is no chance to build your brand.
High Listing and Selling Fees: When you list and sell items, you have to pay fees to Amazon. In FBA models, the fee is high, and it can be a losing venture for small retailers.
Competition with Amazon: Sometimes Amazon decides to sell your products through its network, so it will leave no chance of getting successful for you. When there is a price war between Amazon and sellers, sellers often lose. In contrast, the conflict of interest doesn't exist on eBay and Etsy.
Poor Visibility: Several sellers sell products with the same ASIN. As a result, you will be lost among sellers who compete on price and have better ratings.
Lack of Direct Interaction with Buyers: Unfortunately, you won't get the buyer's database of Amazon. Customers will continue to buy from Amazon; it might be from your shop or others, but you'll have nothing to do with the buyer's base.
Five Questions to Ask Yourself Before Deciding
If you're thinking of using Amazon as a marketplace for selling, ask yourself the below-given questions:
Do you have enough profit margins to sell your products through FBA?
Is making a profit is more important for you than building a brand?
Do you intend to sell on Amazon for an infinite period?
Can you cut your prices to compete with others?
Can you fulfill orders in a quick and short time?
Etsy vs eBay vs Amazon: Pros and Cons of Selling on eBay
Operating for over two decades with billions of users. Without any doubt, it's worth considering a marketplace for sellers. Moreover, it has a high customer presence worldwide, so it's the best marketplace for you to build your brand.
Click here to sign up as an eBay Seller
Pros
Easy to Use Interface: The interface for listing products and viewing inventory is easy to use. Many retail sellers believe that you can start selling on this marketplace in a few hours.
Global Reach: Customers from all around the world make purchases from eBay. After listing your products on eBay, you get access to millions of customers worldwide.
PayPal Integration: PayPal is the globally accepted payment method, and you don't have to look for any other option. You can enjoy PayPal's seller protection as well.
Cons
Payment Issues: You might feel that you have made a sale, but some customers don't pay for it. As a result, you don't make money.
Varying Fees: This fee can go up to $250 based on the add-ons you choose to sell your product. So, if you're not sure or unaware of this fee, you may end losing all your profits.
Seller Favoritism: 180-day return policy of eBay is seller-friendly, and none of the other online marketplaces offers this. Indeed, sellers love and enjoy this feature, but it's not easy for buyers to keep track of products for a quarter of the year.
Five Questions to Ask Yourself Before Deciding
Before you decide to sell on eBay, ask yourself the below-given questions. If your answer to the four questions is yes, you can choose this marketplace.
Can you generate high-profit margins?
Will you be listing 50 or fewer products per month?
Can you sell products that can target a global audience?
Will there be any video tutorial for showcasing your product?
Are you interested in setting your store within the marketplace?
Etsy vs Amazon vs eBay: What Platform should you choose?
After assessing the pros and cons of Etsy vs Amazon vs eBay, you might be thinking of selling on all these platforms.
Thousands of sellers are already doing this. By doing this, you can maximize your returns. Remember, customer profiles on these marketplaces vary, and the majority of your sales will come from one of these marketplaces.