Dropshipping on Amazon and eBay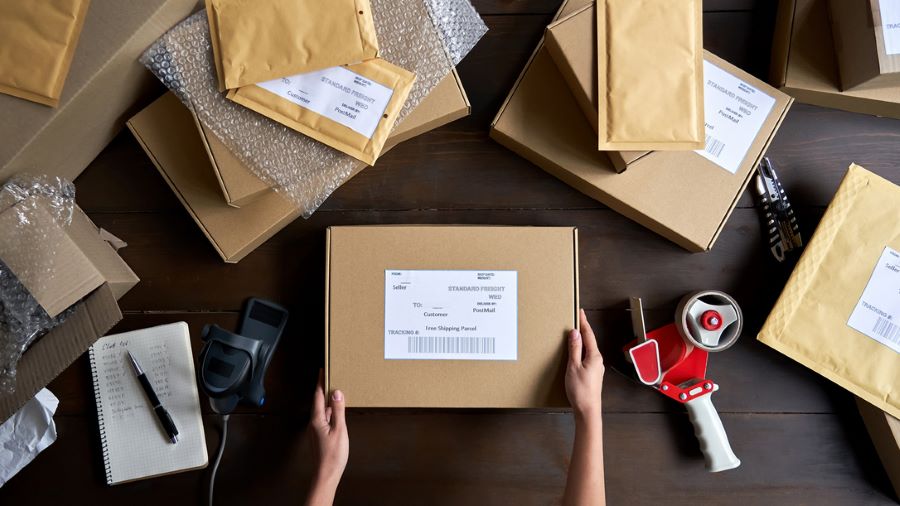 So, you picked your product range, secured suppliers, and set up a dropshipping business. The next step is to start selling. But how and where do you sell your products? Most dropshipping businesses begin with Amazon and eBay, but is this the best way?
Here, we explore the benefits of dropshipping on Amazon and eBay, as well as the drawbacks. We further explore how the next steps you can take to scale your dropshipping business once your dropshipping business is established on Amazon and eBay.
RELATED: 10 Global B2B Wholesale Marketplace Platforms to grow your Business
Dropshipping on Amazon
It's understandable why a new dropshipping business would want to sell on Amazon. With over $280 billion in revenue (in 2019) and over 300 million active users— using Amazon dropshipping as a sales platform for your business can result in significant returns.
Dropshipping on Amazon could be lucrative. The typical dropshipping margin is between 10% and 30%. Amazon deducts around 15% of your top-line revenue.
So, how can you get started with Amazon dropshipping? Through Amazon's Fulfilled by Amazon (FBA) service.
You ship your items to Amazon, which manages the inventory and ships straight to your consumers through this service. The advantage of this programme is that Amazon has some of the quickest delivery periods in the industry, which means your consumers will receive their items even faster.
RELATED: Amazon Supply Chain: Understanding how Amazon's supply chain works
The Benefits of Dropshipping on Amazon
The benefits of selling on Amazon include the ease with which you may get started, rapid access to a big audience, and the fact that you don't have to worry about marketing or SEO:
It's easy to get started – Amazon dropshipping requires sellers to create an account on Amazon's website as a vendor. Their Individual plan is $0.99 per unit sold, while their Professional plan is $39.99 per unit sold, regardless of the quantity sold.
You don't have to worry about marketing – Amazon has a monthly user base of 300 million. This implies that utilizing Amazon as a sales channel for your organization might result in significant revenue. By selling the appropriate goods at the appropriate pricing, you may attract new clients.
Amazon offers fulfillment warehouses – Additionally, Amazon has its fulfilment facilities, dubbed Fulfillment by Amazon, enabling you to supplement your dropshipping Amazon products with things of your own without worrying about packing, shipping, or shipping storage.
Drawbacks of Dropshipping on Amazon
You have to consider these cons when you think about selling products on Amazon.
Listing Fees – You have to pay a substantial commission on eBay to access an extensive network of buyers. Amazon's commission fee is in the 10% to 15% range and varies from product to product. When your Dropshipping profit margins are too small, it's not a feasible option because you'll have to pay a hefty amount of your profits to Amazon.
Amazon Have Access to Your Sales Data – It's the biggest risk because Amazon can see how much you're selling. Amazon uses this data and introduces products with its name. In this way, they push other merchants out of the game.
Lack of Long-Term Connection with Customers – You can't build long-term connections with customers when choosing Amazon as your Dropshipping selling platform. Amazon focuses on the products rather than customers because products help Amazon. Amazon never allows you to brand your business, communicate with your customers, and display your products. In this way, you can only make money but can't establish a long-term relationship with your potential customers.
No Customization – When you sell your products on Amazon, you might have zero to no customization opportunities. UI, branding, marketing, and everything are under the control of Amazon.
RELATED: Is Dropshipping Profitable?
Dropshipping on eBay
Since being established in 1995, eBay has been one of the world's most popular auction sites. eBay is a website where millions of visitors buy various items and where thousands of users peruse daily, often without a specific goal, in search of excellent deals.
This implies that you may reach a large audience without upfront funding, making eBay a very attractive marketplace for first-time shoppers, small company owners, and you.
Indeed, because it requires far less financial investment than a traditional shop, eBay dropshipping may be a good entry point into online retail for sellers just getting started or wishing to test some products.
Benefits of Dropshipping on eBay
Dropshipping, or fulfilling orders straight from a wholesale source, is permitted on eBay. Bear in mind that even if you employ drop shipping, you remain responsible for the item's safe delivery within the period specified in your ad and the buyer's satisfaction with their purchase.
RELATED: 10 Crucial Tips for eBay Trading
However, it is not permitted to advertise an item on eBay that has been purchased from another store or marketplace and ship it straight to your consumer.
eBay is still a terrific place to be for genuine dropshippers. Its marketplace sees massive amounts of business, users purchasing and selling items totaling $22 billion.
Getting Started Is Easy – You can immediately start listing your wholesale products when you decide to use eBay. Register yourself on eBay, add a listing, and you're all set.
Access to Large Audience – Like Amazon, you get access to a large audience on eBay. eBay is a robust market, and millions of people see your listing. Moreover, you'll get a decent amount on selling your products.
No Marketing or Promotion Required – When you're on the enormous platform of eBay, no marketing or promotion is required. In the Dropshipping business, the biggest challenge is marketing, and it's time-consuming. So when you're on eBay, it saves your time and effort.
Drawbacks of Dropshipping on eBay
Despite a rather difficult past with dropshipping, eBay dropshipping has several advantages. Consider it as a doorway to a life as an e-commerce entrepreneur. While it's unlikely you'll earn a six-figure lifestyle dropshipping on eBay, four or five figures is achievable.
While getting started is risk-free and inexpensive, there are several downsides to dropshipping on eBay as well:
Listing Fee – It's a serious drawback. Moreover, you'll have to pay a commission when your product is sold. In the Dropshipping business, the profit margins are already thin. When you pay these fees, your profit margin ratio is significantly reduced.
Constant Re-listing and Monitoring – eBay is an auction style platform, and you'll continuously have to monitor and re-listing the products. It's not an easy task. You can use software tools to automate the process, but it's not simple to list static products on an e-commerce platform.
Lack of Control Over Customization – You can design a selling page according to your own needs when you create your website. When you're on eBay, you have to use the eBay template. Moreover, it becomes challenging to develop a value-adding and professional page for your brand.
Lack of Long-Term Connection with Potential Customers – When you have your brand, there is a possibility that customers will buy from you again. On eBay, there is a possibility that the customer will never buy from you again. The market structure of these platforms is created to serve them.
The main focus of eBay is products, and they don't focus on merchants. You are restricted from communicating with customers, improving your store, and doing your store's branding.
You Can't Build an Asset – When you create your store, apply SEO practices to generate traffic, and get repeat customers, you can sell this business to someone else in a reasonable amount. On the other hand, when you sell on eBay, you don't build an asset that can be sold in the future.
Dropshipping with your Online Store
The best alternative to dropshipping on Amazon and eBay is creating your online store and selling products. For building a genuinely successful dropshipping business, it's the best option.
RELATED: Pros and Cons of Dropshipping
The Benefits of Dropshipping with Your Online Store
When you create your online store for Dropshipping, you can enjoy the following benefits.
Easy Customization – You can build your e-commerce store using a number of different platforms. Moreover, they offer you hundreds of customization opportunities to make an easy and compelling design. You have to add your products, and you're all set. Furthermore, they offer different payment gateways. It depends on the type of store you want to create. In most cases, you can establish your online store within one day.
More Control – You're the boss of your online store, and you have control over almost everything. You can create a customer-friendly environment. Moreover, you can customize the layout and design of your store. Well-organized and optimized pages attract more customers.
Mobile Ready – Selling on Amazon and eBay via mobile can be challenging. Building your online store on an e-commerce platform can help you build a mobile-responsive store. Moreover, you can control your store by using your mobile. Almost 30% of purchases are made using mobiles. So, ensure that your store is mobile-responsive. Moreover, you can manage your store on the go.
No Third-Party Fees – You have to pay 10 to 15% of each sale to Amazon and eBay. It helps you improve your profit margins. Moreover, you can make more money by starting an online Dropshipping business without paying a third-party fee.
Build an Asset – When you build an online store and start getting traffic, you can sell this store when you want at a handsome amount. By doing this, you can establish lots of online stores like this.
RELATED: Four Steps you must take for Growing and Scaling your Ecommerce Brand
Drawbacks of Building Your Online Store
Lack of Free Traffic – Amazon and eBay provide access to a large audience, so you don't have to splash out on marketing and promotion. On the other hand, you have to get paid traffic and promote your products when creating your online store. You have to hire an SEO expert to make your store SEO optimized. You'll have to pay an SEO expert, but it will help you in the long run.
Dropshipping on Amazon and eBay: Don't rely on a single platform
Do not rely solely on a single sales platform. Investigate more platforms as well. By including Amazon or eBay as one of several sales channels, you may increase your chances of success while avoiding risk.
Having your own online eCommerce store lets you expand your brand's audience by integrating other sales channels such as Instagram, Facebook Messenger, and Facebook Shops.
Additionally, if a buyer recognizes your brand from your website or your social media marketing efforts, they will be more inclined to purchase.