How to start an Amazon FBA Business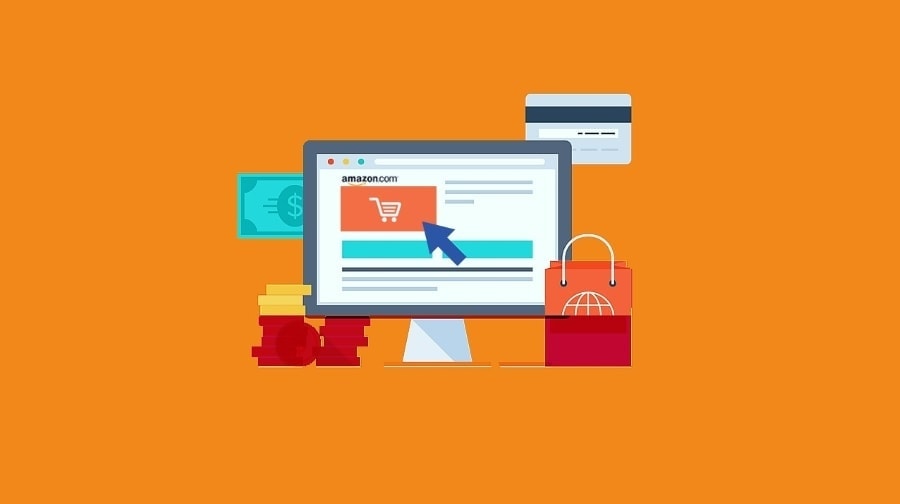 Amazon is almost synonymous with online retail, with a global reach spanning 15 nations and close to 3 billion users, selling everything from ebooks to groceries and leaving no stone unturned to ensure exceptional customer service.  Starting an Amazon FBA business gives you access to this lucrative market.
No matter what products you sell or the type of customers you target, you are missing out on plenty of opportunities if you're not making the most of Amazon.
Considering how easy they've made it for sellers to showcase, sell and ship their products with programs such as – Fulfillment By Amazon!
Here, we explain everything you need to get started with the Amazon FBA business, enabling you to learn and understand how Amazon FBA works and how you make the most out of this business model.
What is an Amazon FBA Business?
Amazon offers two main options to its sellers – FBA (Fulfilment by Amazon) and FBM (Fulfilment By Merchant). 
FBM is a system where the seller handles the packaging and shipping of orders. This system is ideal for sellers who want to expand their reach and create a more personalized approach for their consumers.
Amazon describes FBA as "You sell it, we ship it". What does this mean?  Well, this means Amazon takes care of the inventory on behalf of you, the seller.
You simply send the products to the Amazon warehouse, and it stores them.  When you get an order, it ships the product to the customer and takes care of the support. It also handles returns and rarely forwards specific queries to the seller.
With this system, the customer feels no difference between buying from Amazon and buying from the person selling products through Amazon.
Everything remains the same, delivery options, return policy as well as customer service. A seller can run a business and sell many products every month from a remote location anywhere worldwide.
How does Amazon FBA work?
Let us try to understand how Fulfilment by Amazon works.
Step 1. Send the products to Amazon Fulfilment Center
The products you want to sell should be listed on the marketplace. You label the items and ship them to the inventory through a carrier.
Step 2. Amazon stores them in the warehouse
As the products reach the inventory, Amazon scans the labels, records the details like dimensions and weight and takes care of the storage. An online service keeps you updated on the stock, and you can ship more products as and when necessary.
Step 3. Your product gets an order on Amazon
When somebody places an order for your product on Amazon, it picks it from the warehouse, packs it and ships it to the customer. Once the order has been placed, Amazon also takes care of the returns and support.
How much does FBA Cost?
Amazon FBA charges several different types of fees. The costs you can expect to spend to get started with this selling with Amazon FBA are as follows:
General Fulfilment Fees
The primary charges you pay for selling on Amazon are general fulfilment fees that depend on the weight and dimensions of the item. Small items that weigh a few pounds are grouped into four categories based on the weight and charged differently. Then, there are four more categories for larger products.
Storage Fees
Depending on the space you occupy in the warehouse, Amazon charges a monthly storage fee. These charges are higher for smaller products and increase from October to December.
Removal Order Fees
If you ask Amazon to return a part or whole of your inventory to you, it charges you removal fees that vary between small and oversized products. You can also request them to dispose of the unsold items. In both cases, you are charged on a per-unit basis.

How to get started with Amazon FBA
To start selling on Amazon, you simply need a seller account, a product and a way to get the buyer. Whether you are looking to jump into the game and don't know what to sell or are already selling products elsewhere, Amazon has a business model that fits your needs and preferences.
Let us look at the business models available to help you build a business:
Wholesale: Getting bulk products from distributors to sell on Amazon
Private Label: Making your own product brand or label
Reselling: Buying discounted products online and selling on Amazon
Dropshipping: Ordering products from a manufacturer who ships to the customer directly
Handmade: Crafting the items to put for sale
The most common business model used on Amazon is the private label, where you produce or find products and sell them under your brand or label.
Here is everything involved in this type of sales model:
Product Research: Find products with high demand and low competition to land on a profitable idea
Source Products: Find a manufacturer or supplier to get the product ready at the most reasonable price. You can ask the supplier to ship the items directly to the warehouse
Create Listings: List your products within your seller account and create a brand on Amazon
Marketing: Launch the product on Amazon and promote it using different methods to improve its visibility and ranking on the marketplace
Sales Management: Keep a watch on the inventory and sales to scale the business and increase profits
Finding the right Products for your Amazon FBA Business
The most concerning matter for most novices to Amazon FBA is what products you should sell.
You may wonder whether customers would want to buy what you are offering. Another concern is to price the products so that you make a profit while providing a good deal.
Here are some ideas to help you find winning products:
Instead of picking something that you like, rely on data for this decision
Believe in product research instead of rushing to order the products. Research requires some time and effort and is sure to pay off
Take advantage of advanced tools that help you find the right product with high profitability and demand and low competition
Finding Products with High Demand and Low Competition
Here is how you can analyze the products you consider for selling on Amazon.
1. Profitability
It is straightforward to measure the profitability of a product you are considering.
For each of the considerations, see whether you can source and ship it to Amazon for a lesser cost than its selling price. You can generally expect a profit of 1/3 of the selling price while the rest goes in landed costs and fees.
Landed costs are the accumulated charges for manufacturing and shipping the products to Amazon inventory. They cover inventory cost, inspection and preparation fees, duties and shipping cost. To this adds the Amazon fees like a referral, selling plan, storage and fulfilment.
The profit from a product ultimately depends on how much you can buy it for and what fees you end up paying.

2. Demand
Demand is a crucial aspect to consider when finding a good product.
When finding suitable products, your should research to determine whether people want a particular product.  For instance, consider what does the product achieve? How does it help the customer?
Also, look at the sales information to get a better idea of the demand on Amazon.
3. Competition
Next, you should evaluate the competition to determine whether there is a chance for a new seller for the same product.
The key is to find whether the existing products perform well on the platform. Use the metrics like the number of positive ratings and reviews to determine the competition.
You can find several product research tools that help with these metrics to make it easy to find the most profitable products to sell on Amazon.
What Products Sell the Most? The top categories of products with the highest sales on Amazon include: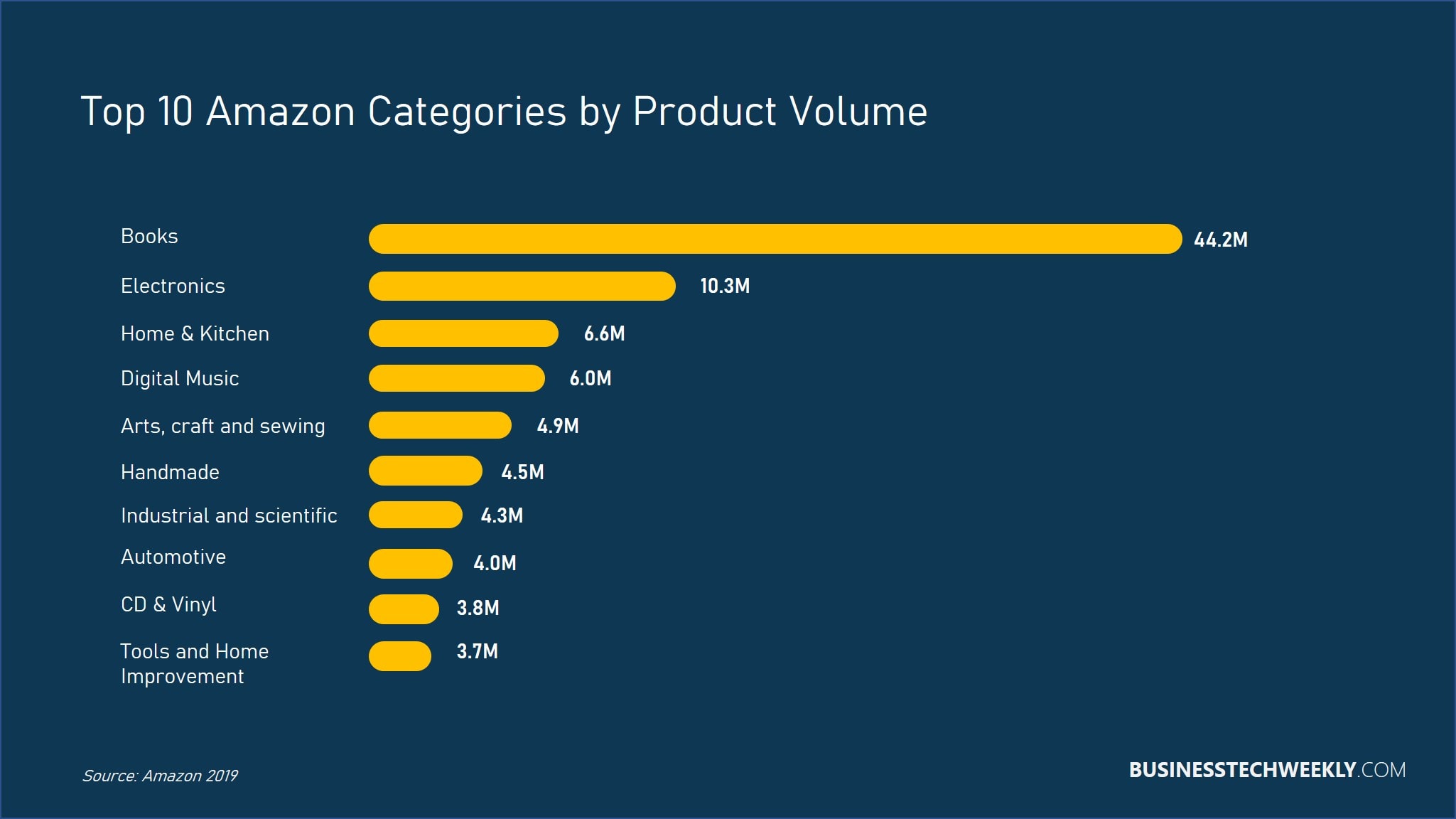 While it is a good idea to choose a popular category, consider whether it is too competitive. You certainly don't want to jump into a flooded market with no chance of ranking on the search results.
Starting your Product Research
Based on demand, competition and profitability, you can do some research and refine your product ideas.
1. Search the Database
It is possible to explore the whole catalog of Amazon with an advanced service like Product Database from Jungle Scout. You can easily search the products using filters to sort out product ideas.
Use filters like Sales, Price, Rating, Number of Reviews and Listing Quality Scores to narrow down products for further research.
Also, analyze the ease of sourcing, weight and dimensions, uniqueness in the market and seasonality of the products.
2. Track Products over Time
An effective product research strategy is to monitor the listings for a keyword over at least 3-4 weeks to get an idea of search volume trends. This type of tracking helps ensure the sales haven't spiked temporarily from the discount or other seasonal influences.
3. Improvement Opportunity
You should aim to find a product idea with good demand and profitability but the one where you can compete. You need to have a better or unique product that appeals to buyers who want something special.
You don't have to design a product from scratch. Instead, you could work with your supplier to make necessary changes.
For example, an excellent way to gain insight into what aspects of a product can be improved upon is to go through the 'Q&A' section and reviews for that particular product.
Your aim here is to determine what buyers like or dislike about the product. Look at the various aspects such as functionality, benefits, available colors and sizes, material, packaging, etc.
If you are particularly interested in a product, you can consider buying some of them from competitors to learn how you can improve your offering.
4. IP Laws and Legal Concerns
Amazon FBA is a real business, so there are so many checkboxes and rules. Amazon is serious about black hat behavior like trademark infringement and counterfeit products. Ensure you always find products you can produce and sell legally.
Patents – You cannot sell a patented product because somebody already has the right to its design, functionality and quality.
But how can you find out whether the product has a patent? You can always consult a lawyer to learn about these things. Alternatively, you can use Google or product listings to confirm a patent.
Trademarks – It is illegal to put some other company's trademark on your items. For example, you cannot name your private label shoe as 'Adidas' or use its logo on the shoes.
If in doubt, perform a trademark check with the responsible agency before finalizing a brand logo or name for your FBA business or products.
Other Restrictions – Do some research to find out if there are restrictions or certification requirements for any category of products. Some subcategories may need an additional certificate to sell.
Also, check if using the product could hurt or make somebody sick. Avoid picking high-liability products like cosmetics, supplements and electronics as well as dangerous products.
Simplicity of Sourcing
If you are an Amazon FBA novice, you would undoubtedly want to look for something that does not involve too many complications for production and shipping.
Here are the main factors you should consider when sorting through your product ideas:
Sourcing – Opt for products that required little to no modification. This way, you will have more supplier options and lesser details to worry about.
Shipping – Small, sturdy, small and light products can be shipped easily without any complexities. You don't want something that breaks along the way.
Importing – Producing and selling in the same country is not common among FBA sellers. As such, you will likely need to import your items.
Consequently, you should ensure that your product and business comply with any regulations regarding the items you can import from and to countries. A freight forwarder can inform you about importing your products.
How to source products for your Amazon FBA Business
Once you have filtered your options and figured out your product ideas, you can go ahead and find the suppliers. It is natural to find this a bit tricky.
A majority of sellers who are successful today initially had no idea of working with suppliers. However, with the advancement in technology and communication, the process is a lot simpler today.
Let us go through the process of sourcing your products to sell online on the Amazon marketplace.
Research the Suppliers
With hundreds and thousands of manufacturers available worldwide for any product you may want to sell. You should narrow down the supplier options to those who deliver the highest quality product at the lowest price.
Here are some ways to find suitable suppliers for your Amazon products.
Alibaba – Alibaba is a huge wholesale marketplace that helps find relevant products and their manufacturers. With this platform, it is super easy to get started with Amazon FBA business.
 You can find suppliers and factories from across the world displaying their items here, willing to work with you to create your unique product.
Jungle Scout – The Supplier Database of Jungle Scout makes it easy to look for manufacturers and suppliers from over the world to find the most genuine options to source your products. It has powerful search functionality that lets you lookup by supplier, company, product or even ASIN.
Agents – There are sourcing agents available online that help source products of the best quality and price. They often allow finding affordable options from different countries.
When you shortlist the suppliers, see that they provide high-quality products to help you get positive reviews and repeat sales on Amazon. Consider suppliers with at least three years of experience in making the same product.
Also, you want the price to be fair; any supplier quoting too high or too low is certainly a warning sign and should be avoided.
Also read: Supplier Management Best Practices
Get a Quote
Once you have the available supplier list, compare the options and narrow it down to a few you are most interested in working with.
Find their contact information from sources like Alibaba and send the contact mail. Wait for their responses and pick the top three options based on the communication.
You can email these three suppliers to request a quote for the product you are looking to sell.
Prototyping
When you have found the suppliers that can offer what you expect, you can order the samples. And you don't just want to resell the products; you may want to improvise and customize them. Though it can take time, it is all worth the effort.
You can get the designs professionally created to speed up the process. Alternatively, you can put your own suggestions and create custom products based on the design ideas.
Once you order the initial samples, expect them to reach within a few weeks. When they arrive, remember to perform a thorough quality check and confirm the utility and specifications.
If the product is different from what you expect, you can ask for modifications and revisions like adding a logo, adding or removing parts or adjusting the dimensions.
Negotiation
When you source from Alibaba.com, you can negotiate the price and often save up to 50-70 per cent on the asking price. Many suppliers have started realizing the importance of offering the best opening price, but it can take some time before you can avoid negotiating.
You can consider a few things before negotiating for the best price on Alibaba:
Your landed costs
Minimum order requirement
Lead time
The minimum order requirement is something that you should seriously consider when starting with an FBA business.
You might find a deal when you order 10,000 items, but it is not practical for something you haven't started selling yet. If it doesn't sell, you end up paying a lot of storage fees. It is best to start with a smaller quantity.
You may decide to sacrifice some of your profit margins to get the products delivered quicker, particularly when you are just starting. Some factories can take months to manufacture and deliver the items.
Packaging and Branding
Before placing a bulk order, decide whether you want a branded packaging for the products. If yes, get the design ready at this stage.
Acquire the packaging information from your supplier and pass it to the graphic designer. Make sure all your products are packaged in the same size boxes for flawless shipping.
Order and Ship the Products
When you find suitable product products, finalize the supplier and identify the order details to get them shipped. Getting your stock in bulk from the manufacturer to the FBA inventory may look complicated at first.
Every country has its own import/export procedures, and Amazon has some requirements that you need to fulfill when delivering the items.
Fortunately, several freight forwarding companies take care of this hassle to make it easier for you to ship the products to Amazon. There are some other vital steps in the process as well. One of the most important is deciding on the price. When you browse Alibaba, you can find factories selling bulk quantities of products at low prices.
However, pricing your products is not as simple as you might guess. It is crucial to have a clear idea of how much margin you want before talking to manufacturers.
Amazon's Fulfillment by Amazon Revenue Calculator covers all the expenses and helps you with pricing. You can add custom costs manually and calculate the margin and selling price.
How to create a listing Amazon
Your product listing on Amazon is where customers can find and buy from you. Your product listing is akin to your shop window display – which is why creating your listing is the most crucial part of starting your Amazon FBA business.
To create your listing, select the option 'Add a Product' under the inventory tab. Choose 'Create a new product listing' and pick the most appropriate category.
Keyword Research
Your listing must include the right keywords to ensure your target customers view your product. You can do this in several ways with the help of online tools.
These tools let you search the product to find keywords people use when buying such items. Using these keywords in the listing helps the product rank higher in the search results on Amazon.
Title
Find the most relevant keywords for the product which have high search volume as well. Draft an eye-catching title for the product whilst not stuffing it with keywords. Make sure you use the number of characters permitted and include the top high-volume keywords.
Bullet Points
The bullet points should be focused on informing the customers of the main features and applications of the product.
Keep the character limit in mind and use the remaining relevant keywords. Here are some tips you could implement:
Keep to the point while explaining the selling point of your product and its benefits. Talk about how the product helps and try to answer common questions about it.
Make the details are correct and based on what product you are listing. For example, if your product is a toy, you should make it fun and exciting. And if you are selling a tool, describe what it does and how it works, etc. Wherever applicable, include details like material, size, etc.
Description
This section allows you to add keywords and details that could not be included in the bullet points. You can share more about your business or anything else about the product you want the customers to know. Ensure the text is easy to read; use line breaks and paragraphs to split large content blocks.
UPC Barcode
Universal Product Code or UPC barcode allows you to create your Amazon listing in Seller Central. It is the barcode you usually see on packages. Purchase them directly from GS1, the agency that standardizes the codes.
High-Quality Images
Any customer looking for a product tends to look at the pictures before reading the description. It is therefore essential to have high-quality, informative images for marketing your products.
While you can always take the pictures yourself, it is always advisable to opt for professional product photography to present the product in the best possible way.
Make sure you follow all the requirements for photography given by Amazon. Include as many photos as permitted and ensure they present the product clearly with an idea of its usage and benefits.
Create the Listing in Seller Central
Once you have all the listing elements ready, creating your listing in Seller Central is a pretty simple procedure.
You just need to add the product and choose a category to list it. You also pick a subcategory and add title, brand name and UPC barcode.
The setup also has several other sections to help you add variations of the product. Add a description of the product, including images, keywords, and SKUs to track the inventory. Save the changes, and you will see the listing in Seller Central.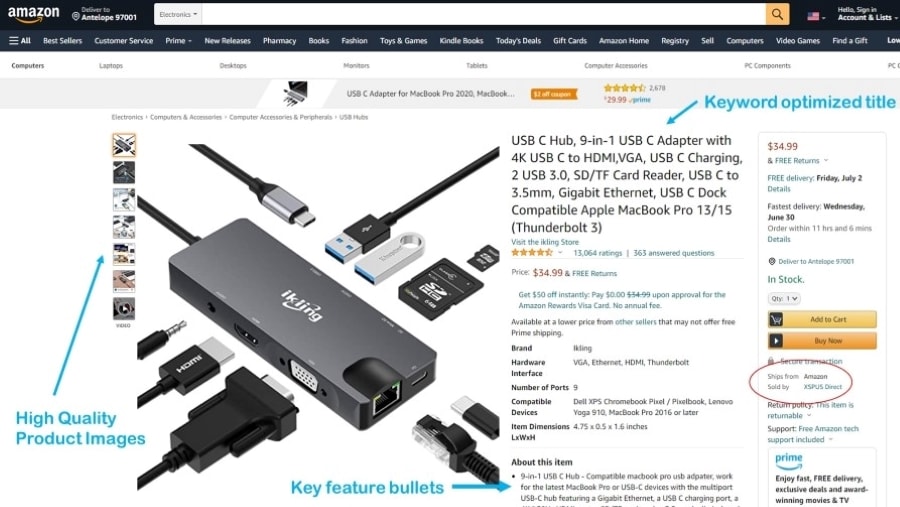 How to Launch a Product on Amazon
An effective launch strategy helps get sales for the product soon after your listing goes live on Amazon. Some of the most significant factors affecting your ranking include:
Sales history: The number of sales in a given period
Speed: The rate at which the product sells
Conversion rate: The number of visitors of the listing that make a purchase
Sales history is something sellers cannot influence. However, here are some valuable tips to optimize your conversion rate.
How to Improve your Amazon Conversion Rate
The first thing you can do to improve your conversion rate on Amazon is to optimize the listing with images, keywords and more. Secondly, you must price the products so that you increase sales while retaining a healthy profit margin. Lastly, it is to focus on getting maximum reviews for the products.
Let's explore each of these improvement options in more detail:
Pricing the Products
When you launch first launch the product on Amazon, you can consider these pricing methods:
Offer discount on the price – The new price after discount shows in bright orange color on the listing to draw attention from customers.
Offer a lower price – You can try and price your products in such a way that they are cheaper as compared to the competitors and earn you some profit as well.
Getting Reviews for the Products
A key challenge in operating an Amazon FBA business is getting reviews and managing them. Up to 95 per cent of customers who buy don't leave a review. Here are some tips to convince your customers to write reviews:
When you use the 'Request Review' feature of the Amazon order, an email is sent to the buyer requesting them to leave a review within 30 days. This is an effective strategy because customers are likely to leave reviews when asked by Amazon.
You can also run an email campaign to send emails requesting product reviews. While this is an excellent way to connect with the customers and ask them to post reviews, it is essential to see that you follow the rules and policies.
Another effective way is to be a part of the 'Early Reviewer Program', where you pay Amazon to find people who review your products. With this program, you can earn five reviews which are otherwise difficult to get for a new product.
Another alternative is to participate in the Vine program run by Amazon, consisting of verified users who provide honest opinions on the products.
How to Get Your First Sales – Marketing
There are a few strategies that you can use when launching the product to make sure you get your first sales quickly.
When you first launch the product, you have zero sales and zero reviews. And you also don't have a seller ranking. So, there is no reason somebody would trust your product to be something good.
Amazon's search algorithm is the driving force that determines which products are displayed to a user when they search for a product.
A new FBA business with no sales or reviews will not show up anywhere. But a new product with lots of sales in the initial days and good reviews will appear in front of people. The easiest ways to achieve this are:
Asking friends to review the product
Hosting a giveaway or contest
Sending free samples to reviewers
Paid advertising
Requesting previous customers to post reviews
Promote through a Deal Website
You can go to a website that offers deals and introduce a discount on the product price. Users would want to take advantage of the offer and head to Amazon with the code to buy your product, giving you your initial sales.
Pay-per-click (PPC)
Another strategy that works for initial sales is pay-per-click advertising. Here is how PPC works for your FBA business.
Pay-per-click is an internet marketing method where you pay to have users click on your product listing. It is an effective way to drive more traffic to the listing as you target users who are already on Amazon to buy.
Here are the three most popular kinds of PPC used on Amazon:
Sponsored Products – These ads are shown at the top and bottom of the search results and other product listing pages. Clicking on the ad takes the customer to your listing. Like other PPC ads, Amazon charges you a fee every time somebody clicks on the ad.
Sponsored Brands – These PPC ads are also meant for brand-registered users. These are the ads that show up on the desktop and mobile versions of Amazon at the top and bottom of the search results. These ads display the headline, logo and products. As the user clicks on your logo, they are directed to your landing page or store, where they see only your products.
Sponsored Display – Those who are brand registered can use this type of PPC ads to bring more people from outside Amazon to your product. Your product ad appears on other websites and apps to target those who looked at your listing or a similar product in the last 30 days.
Strategies to grow your FBA Business
With the right set of tools, you can prepare for future growth and success of your Amazon FBA business.
Here are some of the most valuable tips you can use to ensure your business keeps running efficiently and smoothly while giving you profits.
Optimize the Marketing Plan
Ensure that you optimize the marketing campaigns at regular intervals to have high-performance ads at all times. Use reports to get an idea of how different keywords perform, remove poorly performing keywords and focus on those that give better results.
Manage the Listing
Keep checking your listing regularly on the Central as well as the Amazon listing. Review the details and images of your products and ensure they look as they should. Keep a watch on new reviews and questions to get feedback for future improvement.
Expand the product line
The most efficient way to grow your business on Amazon is to leverage your experience to expand the product line. You can find product ideas in the niche of your existing offerings and look for low-competition keywords to boost your business.
Build the Brand
Focus on building a loyal customer base for your business to drive more traffic to your Amazon listing. Pay attention to the design and packaging of the product and use social media channels to promote your offering in a customizable manner.
If you opt for brand-registering on Amazon, you get access to advanced marketing features that help your brand stand out from the rest and improve conversion.
Related: ECommerce Branding: Growing and Scaling your Ecommerce Brand
Inventory Management
It is a good idea to keep stocks worth 3-6 months in the Amazon warehouse at any time to make sure there is always a balance of inventory and demand.
Next Steps
Almost anyone can reach a global audience with just a few clicks on the mouse. Amazon FBA has successfully managed to take out the complexity involved in global supply chains, effectively democratizing the markets, allowing sellers to focus on their products.
We have attempted to cover all the details in this post to help you learn how you can sell on Amazon and build a successful FBA business.
Amazon FBA Step-By-Step Guide
Read up about Amazon FBA and determine if it is the right business for you. Youtube has plenty of videos to help you understand how the Amazon FBA works.
Consider how much investment you are willing to put in – in terms of both time and money
Register for an amazon seller account
Pick a product sourcing strategy – partnerships, retail, online arbitrage or wholesale
Just start! Undoubtedly, you will make mistakes – but it is all part of the learning process
On Facebook, there are seller support networks and groups. You may need to pay for some, while the majority are free. When you're unclear about any aspect of Amazon FBA, these resources are a great help
FBA is a great solution for those who want to sell on Amazon without managing the inventory, packing and shipping the orders, and taking care of customer service. However, FBA is not a get-rich-quick scheme and requires effort like any other business.