10 Global B2B Wholesale Marketplace Platforms to grow your Business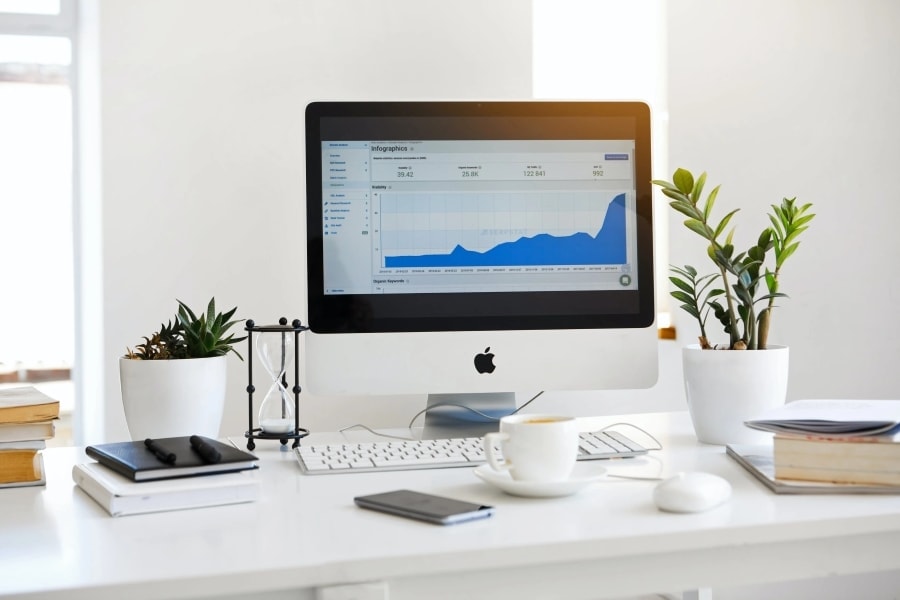 While the notion of a B2B wholesale marketplaces is not new, technology developments have significantly transformed how they work. Similarly, the rise of online marketplaces and ecommerce platforms has revolutionized how businesses operate in the digital B2B marketplace.
Additional eCommerce sales channels and business models have displaced traditional methods of reaching particular customers or retailers, with business-to-business (B2B) portals and online platforms used to source and sell products, and establish supply chain relationships.
Below are some of the fastest-growing and best global B2B and B2C marketplaces that help thousands of firms expand and reach their international and local clients worldwide. These online marketplaces, including niche and wholesale businesses, facilitate business growth.
Globally, the growth of digital technology has transformed the commercial and financial landscapes, especially for retailers. With the rise of online and e-commerce platforms, new business models have emerged to cater to the changing consumer behavior.
Customers and retailers no longer do business in the same way. Sales in niche marketplaces have changed the way consumers and businesses interact. There is more rivalry and daily fluctuations in inventory, supply chain and customer demand for retailers in the eCommerce sales industry.
Market demands have spawned new technology and internet enterprises. A corporation will offer wholesale sales to individual customers on niche marketplaces.
What is a B2B Marketplace?
A B2B ecommerce marketplace is a platform that connects buyers and sellers in niche marketplaces to facilitate ecommerce transactions.
This business model brings together customers in a specific industry or market, allowing them to conduct transactions conveniently on one website.
Because B2B ecommerce (business-to-business) refers to commerce between businesses, the shopping experience of B2B ecommerce marketplaces must fulfill businesses' supply and purchasing needs. These marketplaces cater to niche business customers by offering a full shopping process and diverse inventory.
B2B business models in niche marketplaces can be defined in various ways for ecommerce sellers. They are also known as b2b ecommerce, B2B procurement websites, sourcing portals, purchasing platforms, multi-vendor marketplaces, supply catalogs, and other terms in the niche fashion industry.
B2B marketplaces, like their B2C (business-to-consumer) counterparts, enable merchants to access a larger audience and extend suppliers' reach beyond their conventional footprint.
A B2C market, customizable platform such as Amazon, hosts retailers selling to end-users, whereas B2B marketplace sellers can be wholesalers, retailers, brands, or manufacturers selling products to other businesses.
Benefits of using a B2B Marketplace
Traders can safely export and import items without costly trips to other nations. The escrow trade function from Alibaba is one of the joys of digital dealing; with it, commercial businesses no longer have to incur the danger of paying large sums to import or export goods.
Other advantages that niche business-to-business transactions provide to the organizations engaged include:
Communication speed and security
Direct integration of transaction data into the company's computer systems
The likelihood of getting additional offers or demands, hence increasing competition
Depersonalization of the purchase to minimize any favor deals
Fewer commercial visits, a faster negotiation process, and so on
Top 10 Global Business-to-Business Marketplaces
Here, we list some of the best B2B portals to help you grow your niche business worldwide.
Below, we've provided all the essential features, benefits, and drawbacks of each B2B platform to assist you in your search experience in selecting the best one for your company.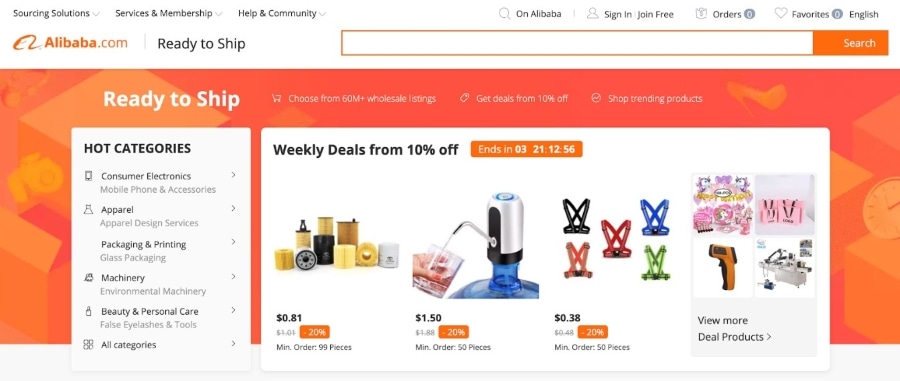 Alibaba Group is a Chinese private consortium specializing in Internet e-commerce, particularly in the niche of business-to-business, retail, and other business-to-consumer sales platforms. The company is headquartered in Hangzhou.
It provides online payments, a price comparison search engine, and cloud data storage. In 2012, two Alibaba websites dominated the niche market by handling a staggering 1.1 trillion yuan (170,000 million USD), surpassing the combined sales of eBay and Amazon.com.
The corporation primarily operates in the niche market of the People's Republic of China. The Economist magazine estimated in March 2013 that the consortium might be worth between $ 55 billion and $ 120 billion. In March 2014, the niche company had roughly 22,000 employees and approximately US $ 7.5 billion in revenue in 2013.
Alibaba is easily one of the world's oldest and largest niche online B2B platforms, with over 35 million members. According to the corporate summary accessible on its website, Alibaba is affiliated with ten companies in its niche: Alibaba International, Alibaba China, Taobao, Tmall, Juhuasuan, AliExpress, Alimama, Aliyun, Alipay, and China Smart Logistics.
Alibaba, a niche corporation, is known for three websites: Taobao, China's most prominent shopping site; Tmall, a niche online platform similar to Taobao but offering exclusive discounts and higher-quality products; and Alibaba.com, a niche platform connecting Chinese exporters with businesses worldwide.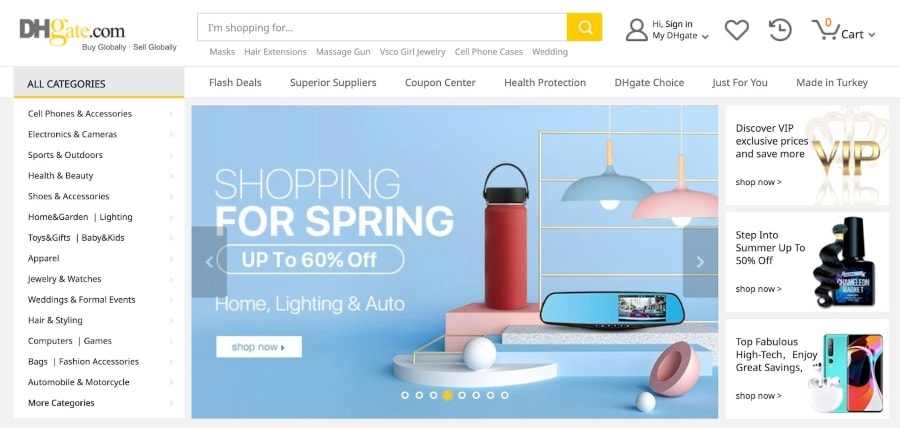 DHgate is a B2B website that allows international importers to purchase modest Chinese goods at wholesale prices in their niche market. Electronics, apparel, ornamental items, sports equipment, and other niche items can be found here.
DHGate is a global online marketplace specializing in a wide range of niche products. They offer over 30 million products across various niche categories, serving customers in 227 countries worldwide. With over 5 million customers worldwide, this niche ecommerce platform is one of the top 2100 most visited online pages.
DHgate provides a global vendor market, catering to a wide range of niche products like eBay and Amazon. At least one million small Chinese vendors use the service. DHgate.com keeps a close eye on providers and does not tolerate scams. It is, however, impossible to ensure that each source is legal.
Some DHgate suppliers offer CE, RoHS, and FCC certifications since some items in the United States and the European Union must adhere to these standards.
While many high-quality products are available on DHgate.com, we advise American and European customers to avoid specific items such as toys, electronics, baby products, autos, cosmetics, and chemicals.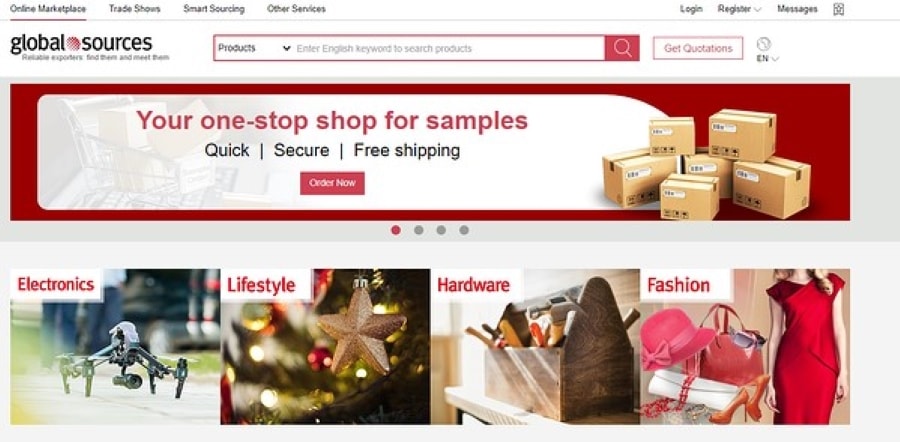 Global Sources, or GSOL, was one of the first B2B platforms listed on the NASDAQ. The B2B marketplace platform is well-known for its high-quality vendors from various industries. Many Chinese manufacturers prefer to pay a substantial fee to become a recognized supplier in this global marketplace platform.
Global Sources, founded in Singapore in 2000, encourages worldwide trade by bringing dealers and business buyers worldwide closer together.
Globalsources.com, like Alibaba, is a customizable ecommerce platform with a database of manufacturers and suppliers, primarily in China, to facilitate B2B e-commerce. This ecommerce platform is linked to the International Trade Fairs founded in Hong Kong.
These fairs feature the most well-known manufacturers, suppliers, and distributors from mainland China, Taiwan, and Hong Kong. According to Wikipedia, 95 of the world's top 100 retail chains use this network to communicate with suppliers and manufacturers.
Suppliers and manufacturers have a larger selectivity in the first digital commerce platform's genesis, development, and actuality. As a Hong Kong Trade Fairs member, most registered enterprises have considerable trade expertise with the West.
This enables these businesses to be founded on durability, functionality, design, customer service, and international trade regulations and principles. In other words, the offerings are more secure in various ways.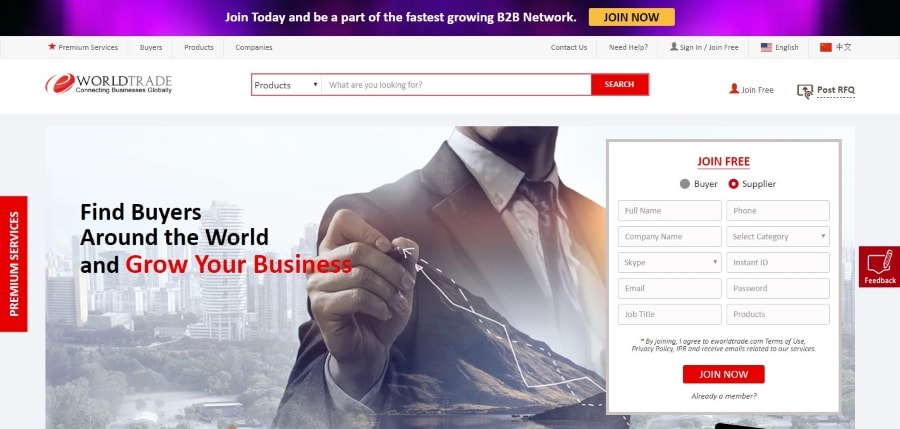 eWorldTrade is a new online B2B site rapidly expanding and providing a new and improved way for buyers and sellers to connect. Reckon Media LLC, based in the United States, is the parent company of eWorldTrade. Reckon Media LLC has extensive experience in digital marketing, media, and technology service provision.
This B2B site's headquarters are in Dallas, Texas, while its key operations are in Karachi, Pakistan. While it aims to improve trade links between China and Pakistan, the primary purpose is to assist Chinese suppliers, dealers, and manufacturers in reaching their target audience.
This global B2B online sales platform is reported to be one of the fastest-growing online marketplaces, with thousands of sellers, dealers, suppliers, manufacturers, and vendors joining every day and meeting potential clients worldwide.
Every day, thousands of manufacturers from various cities and countries register on the website, indicating that this platform would be a solid competitor to all other B2B platforms.
Everyone can become a reseller of various products and services through eWorldTrade.com marketplace. It has shown to be useful for small and large enterprises and manufacturers in China who want to expand globally.
5. EC Plaza
EC Plaza, another Korean e-commerce website, has been opened in four languages: English, Chinese, Japanese, and Korean.
ECplaza.net began as a B2B trading portal site in 1996 and has since become the number one online Trade platform, providing online and offline services to over 400,000 users.
This online B2B platform operates a B2B website and the platform offers various trade consulting and EDI services. It also offers offline trade-related services to SMEs based on export marketing.
Thanks to our worldwide network of local and nationwide partners and excellent brand awareness, we are expanding our business field to the global market by giving considerable value, such as new business prospects, cost savings, and convenience.
The website has an extensive global scope and over 4 million offers. Furthermore, our B2B website is at the top of the list of some of the most popular ranking services, including Rankey, Alexa, 100 HOT, and others.
ECPlaza, the world's leading wholesale B2B marketplace, provides information on wholesalers, importers, exporters, manufacturers, suppliers, and consumers of various items worldwide.
Suppliers can publicize their goods and services. Buyers may always find information, services, and products from multiple manufacturers, sellers, or global suppliers; this is a top B2B platform for everyone.
6. TradeKey
A large B2B marketplace that connects providers and buyers. It focuses heavily on Asian countries, particularly India, China, Pakistan, Taiwan, Malaysia, and Bangladesh.
This website provides three valuable services to its visitors. The first is the offer to buy; individuals looking for a particular product can reference this and request the thousands of suppliers on this platform, who will contact and offer their services to those interested in the purchasing process.
The second section is products, where you may find a wide range of products organized by wholesalers, producers, and factories looking to export their goods. The third category is companies, including a comprehensive list of suppliers, producers, and distributors.
It also allows you to become a reseller for its manufacturers, exporters, distributors, and other small and medium-sized businesses, allowing you to make unlimited commissions. Global Trading is the world's top and fastest-growing (B2B) online business-to-business platform.
It aims to connect buyers with small and medium importers, exporters, and businesses across the globe for international trade. With the app, you can search for new suppliers and connect with new potential buyers, no matter where you are.
TradeKey.com has proven to be a dependable online business platform for global commerce, focusing on wholesale trade, bulk imports, and exports.
For years, TradeKey's unique and effective commercial matching engine and efficient advertising tools have bridged the gap between suppliers and customers, manufacturers and importers from 240 countries worldwide.
7. HKTDC
HKTDC has over 120,000 high-quality suppliers from Hong Kong, China, and Asia represented on this platform. It assists you in identifying reliable suppliers by providing referrals from vendors from third-party organizations such as Dun & Bradstreet and Intertek.
Miniature Command Zone Small Command Zone – This platform allows you to be more flexible in your search. You may search through thousands of verified vendors and purchase high-quality products in smaller quantities. You can also compare pricing and minimum purchase quantities for fast and direct interaction with suppliers regarding payments and deliveries.
If you cannot find the proper vendor in our Online Marketplace or Small Command Zone, you can post a free purchase alert. Tens of thousands of our high-quality suppliers are standing by to meet your purchasing demands.
Business Meetings – Hundreds of face-to-face business meetings between buyers and pre-selected suppliers at trade shows throughout the year. These meetings between customer and supplier are a tried and true method of initiating and concluding commercial deals.
Buyer Incentive Program – Earn points for consulting or publishing buy alerts on HKTDC.com. You can use these points to get certain rewards to make your everyday search more enjoyable.

8. GlobalSpec
GlobalSpec, a major industry-specific search engine (engineering), is an excellent source for industrial products, specifications, and related services. A website for B2B engineering in the United States.
GlobalSpec is another catalog that primarily serves the B2B markets in North America and Asia. A significant proportion of the electronic sector stands out. It is a payment catalog with a sophisticated statistics system that allows customers to generate a list of possible new customers since it detects and debugs visits.
It is a specific directory with the advantage of requiring all users to register before using it. As a result, GlobalSpec.com distinguishes itself from other, more general directories. It also has a significant advantage in providing more information about visits.
Business to business is known in marketing as dealing directly with companies ("business to business"). It encompasses the commercial operations that the firms do amongst themselves and without relying on the final client.
In other words, businesses target other businesses rather than individual consumers in this marketing strategy.
9. Kinnek
Business-to-Business Market Kinnek is open to new possibilities. It connects SMEs with suppliers who offer the things they require at reasonable pricing. Based on its recent expansion, Kinnek raised $ 10 million from Matrix Partners and others to grow into new markets and vertical sectors.
Kinnek.com works because it is a buyer-driven market rather than a seller-driven one. Rather than having suppliers post all their available products, SMEs input what they want to acquire. The platform connects them with vendors who may be able to help them.
Kinnek uses an algorithm to determine which suppliers will most likely order and notify the goods. Suppliers then submit what and how much they cost, and buyers select from that list. It has increased liquidity but has also resulted in lower prices for clients.
While new to the field, the company grows at 30-40% monthly. Nonetheless, there is a massive supply market for small and medium-sized firms, and we are only touching the surface.
Nowadays, it concentrates mainly on several significant verticals such as bakeries, restaurants, food processing hotels, enterprises, other hospitality-based organizations, and small manufacturers and suppliers worldwide. However, it wishes to expand into other industries and become the one-stop shop for all small enterprises.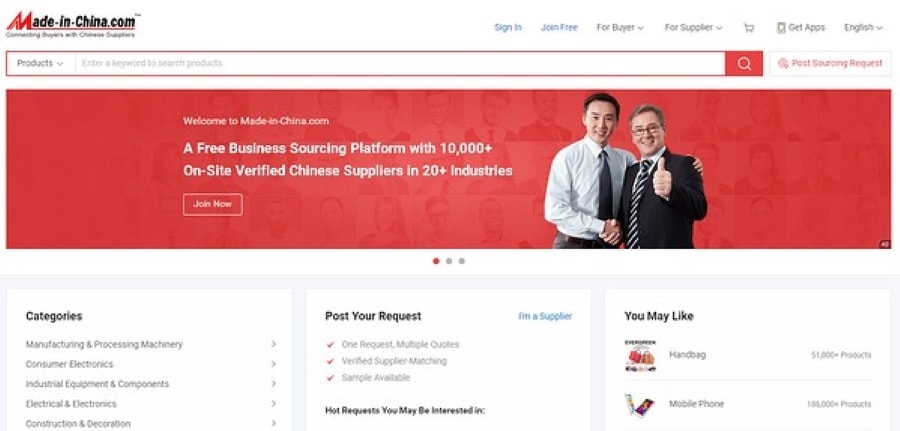 Run by Focus Technology, Made-in-China was launched in 1996 and is now one of the world's most popular and largest Chinese online B2B portals. The principal aim of Made-In-China.com is to provide easily accessible and better web-based trading solutions to boost Chinese trade worldwide.
Because each keyword only sells in the top 10, you may randomly rank your product information in the top 10. Of course, this will be dependent on your demands. You can supply different degrees of senior customer service representatives and members and help your product information to international buyers suggested.
The price is reasonable, the effect is positive, the inquiry mail is targeted, and the Made-in-China inquiry system is a one-on-one delivery mode.
Foreign buyers will see your product information after the inquiry mail is sent to your email address and will not be forwarded to your peers or competitors.
Alternative to Business-to-Business Marketplaces
Amazon Business
Amazon is the largest B2B e-commerce platform in over 14 countries, including Canada, Brazil, France, the United States, India, Italy, and Mexico.
With a vast workforce of 250K full-time experts, the corporation claims to be the leading entity in the e-commerce industry, offering the most creative solutions. Amazon offers a vast range of products – from Fire TV, Echo, and Tables to cutting-edge technology.
It has made improvements to its delivery services over the years. Furthermore, it owns the Delivery Service Partner (DSP) Program, which provides 20,000 branded vans to small businesses for pickup and delivery. It is looking for fresh ways to stabilize its B2B business.
It helps brands strengthen themselves to compete with the best. Amazon is undoubtedly the most successful B2B platform, as it is the safest digital platform with secure multiple payment systems and methods.
What types of B2B Marketplaces are there?
B2B marketplaces can sell goods, services, or reservations. They are also classified as vertical, horizontal, or global.
Vertical marketplaces often cater to a particular industry, such as completed products, services, or raw materials.
Horizontal marketplaces provide products from a variety of industries. A global market caters to customers worldwide, whereas a local market is limited to a specific geographic area.
Other words are used to describe marketplaces. The term "pure-play online marketplace"" refers to enterprises that show, sell, and fulfill products online but do not have an offline presence. Supplier-oriented or wholesale marketplaces illustrate scenarios with few suppliers but many buyers.
A buyer-oriented or eProcurement marketplace model is the inverse, with many vendors but few buyers. On the other hand, the few buyers are typically giant corporations or government-affiliated clients.
What are the revenue models of B2B marketplaces?
Marketplaces use a variety of monetization models. A marketplace B2B strategy may include one or a combination of monetization methods. The commission-based approach is popular, in which sellers pay the marketplace operator a commission charge for each product.
A membership or subscription-based marketplace model often costs the product portfolio seller a monthly or yearly fee. In contrast, a listing fee model charges the seller for submitting a product to the platform.
What are examples of B2B marketplaces?
Alibaba and Amazon Business are two well-known global B2B marketplaces. On the other hand, the marketplace movement rapidly spreads to new verticals, ecosystems, and locales.
Diplonova, for example, is a French-only service marketplace aimed at small enterprises.
An example of A vertical marketplace is FoodMaven. It is an online food services marketplace geared solely toward the restaurant and hospitality industries.
A horizontal marketplace distributes a whole quantity of discounts on a whole quantity discounts a particular type of goods or services to various sectors. A well-known B2B distributor, Grainger, launched Zoro, a horizontal marketplace for business supplies, equipment, and tools.
How to choose a B2B Marketplace?
To trade successfully on online B2B marketplaces, you must thoroughly research your business niche and market needs. After all, a top marketplace business will thrive only if it provides genuine, high value back to clients.
Begin with the fundamentals, such as conducting research and surveying your clients. This will assist you in developing the vision and critical differentiators for your market.
Once you've selected what revenue streams you want to achieve, you may look into the various monetization strategies and features you'd like to add to your marketplace.
Following that, you'll need to learn how to establish a multi-vendor market and an MVP (Minimal Viable Product).
An MVP is a minimalist version of your product designed to gather further input, confirm the need for your marketplace, and iteratively improve it.
The MVP model lets you add more features or pivot your strategy based on your consumers' desires before it's too late. Your B2B marketplace management system must be adaptable enough to help you throughout the full sales cycle process.
B2B Marketplace Challenges
Nowadays, purchasing large quantities of these products from places where quality and consistency are guaranteed is more practical.
So-called e-marketplaces or e-commerce sites of distributors with vast product ranges, thus covering all business needs in this category.
This strategic choice ensures that the proper items are chosen and satisfy users' needs. Still, it also allows you to go further in indirect sales and inventory management by executing optimization projects.
Technology revolution – The Internet has significantly impacted B2B wholesaling, making it more price competitive and creating a risk for inefficient wholesalers.
Furthermore, manufacturers and merchants anticipate that the Internet will reduce the number of intermediaries in the distribution chain.
For B2B wholesalers, failing to get digital channels to take advantage of eCommerce means they risk losing their desired business.
Global competition – Internet exploration accompanies international rivalry, which adds extra downward pressure on prices and disproportionately affects low-margin distributors.
However, if wholesalers can grow their business into a new market while controlling expenses, they will recover any lost revenues and possibly increase sales and profits overall.
Retail consolidation – The number of wholesalers providing supermarkets, home electronics, office supplies, and do-it-yourself materials has decreased due to national retailers' expansion.
Two types of wholesalers will fare well in the changes: those who will continue to grow and serve a diversified client base, specialize in specific markets and thrive in those niches.
Payment services – Payments play an essential part in the consumer experience. They must also adhere to international legal and financial laws. Compared to B2C marketplaces, the average order amount and purchase frequency in B2B markets might be relatively high.
Other distinguishing elements include the varied and allowed multiple payment systems and methods used in each country, allowing multiple payment systems, pricing differences based on the number of items, and variable payment terms per supplier.
This frequently results in a several-week wait between purchase and payment. Invoicing is also a significant challenge for buyers who wish to receive fewer invoices and quickly process them.
Supplier maturity – Besides potential business clients, B2B marketplaces must persuade suppliers to use their online platform and invest in this new sales medium.
Electronic marketplaces still face significant problems in convincing procurement departments. One thing is clear, and it is sure to accelerate industry growth: the digitalization of B2B trade is now in full swing.
The numbers speak for themselves: 74% of B2B purchasers stated they had searched online for at least half of their purchases, with 61% doing so on a mobile phone. However, B2B markets are not always the ideal solution despite their potency.
This is especially true for indirect purchases when product guidance and information both purchasers require are somewhat lacking on these platforms.
Global B2B Wholesale Marketplace Platforms: FAQs
How can businesses benefit from selling on Global B2B Marketplace Platforms?
Selling on a B2B marketplace provides numerous advantages business buyers, such as:
Expanding market reach and customer base
Cost-effective marketing and sales channel
Streamlined order management and fulfillment
Increased brand exposure and credibility
Access to valuable customer insights and analytics
What should businesses consider before joining a B2B Wholesale Marketplace?
Before joining a B2B marketplace, businesses should consider:
Marketplace reputation and credibility
Target audience and industry focus
Cost structure, including fees and commissions
Integration capabilities with existing systems
Competition and differentiation opportunities
Customer support and dispute resolution mechanisms
Can businesses customize their profiles on a B2B Marketplace?
Yes, most B2B marketplaces allow businesses to customize their profiles. They can typically include company information, product/service catalogs, pricing details, images, and contact information. Customizing profiles helps businesses showcase their offerings and establish their brand identity.
How can businesses optimize their presence on a B2B marketplace for better visibility?
To optimize the marketing costs of their presence in a B2B marketplace and improve visibility, businesses can:
Use relevant keywords in product titles, descriptions, and tags
Provide detailed and accurate product information
Include high-quality images and videos
Encourage positive customer reviews and ratings
Participate in promotional campaigns or sponsored listings
Regularly update inventory and pricing information
Are there any risks associated with using a B2B Marketplace?
While B2B marketplaces offer significant benefits, there are some risks to consider, such as:
Increased competition and price pressure
Dependence on the marketplace's policies and algorithms
Potential for counterfeit or low-quality products
Data security and privacy concerns
Limited control over customer relationships
Marketplace fees impacting profit margins
Can businesses negotiate prices?
Many B2B marketplaces allow businesses to negotiate prices with potential customers, buyers, or suppliers. Negotiation tools and messaging systems are often provided to facilitate communication and reach mutually agreed-upon terms.
How can businesses ensure a smooth transaction on a B2B Wholesale Platform?
To ensure a smooth transaction on a B2B marketplace, businesses should:
Communicate product specifications, quantities, and terms
Use secure payment methods offered by the marketplace
Maintain prompt and professional communication with buyers/suppliers
Follow the marketplace's guidelines and policies
Resolve any disputes or issues promptly
Request and provide necessary documentation for compliance (e.g., invoices, certificates)
Remember, a B2B marketplace software can be a powerful tool for businesses, but it's essential to understand the basics.
How does a B2B marketplace handle payment and transactions?
B2B marketplaces typically provide secure payment processing systems or integrate with trusted third-party providers. They facilitate transactions by offering options such as credit cards, bank transfers, or escrow services to ensure the security and reliability of payments.
Are there any membership or subscription fees for joining a B2B marketplace?
Some B2B marketplaces charge membership or subscription fees to access their platform and services. These fees may vary based on factors like membership level, additional features required, or transaction volume. It's essential to review the pricing structure and evaluate the cost-effectiveness for your business.
Can businesses integrate their existing systems with a B2B marketplace?
Many B2B marketplaces offer integration capabilities with popular ERP (Enterprise Resource Planning) or CRM (Customer Relationship Management) systems. This allows businesses to synchronize data, streamline operations, and efficiently manage inventory, orders, sales cycles, and customer information.
How do Wholesale B2B Platforms handle customer support and dispute resolution?
B2B marketplaces typically provide customer support channels, including email, live chat, or phone, to assist businesses with inquiries, technical issues, or disputes. They may have dedicated teams or automated systems to resolve disputes, ensuring fair and transparent resolutions for all parties involved.
Can businesses track and analyze their performance on a B2B Supplier Platform?
Yes, many B2B marketplaces offer performance tracking and analytics tools. These tools provide insights into key metrics such as sales volume, conversion rates, customer behavior, and other performance indicators. Analyzing this data can help businesses make informed decisions, optimize their strategies, and identify areas for improvement.
How can businesses build trust and credibility on a B2B Wholesale Marketplace Platform?
To build trust and credibility in a B2B marketplace, businesses can:
Provide accurate and detailed product information
Display certifications or quality assurance labels
Maintain prompt and professional communication
Fulfill orders efficiently and deliver on time
Encourage and respond to customer reviews and ratings
Offer exceptional customer service and support
Can businesses collaborate with other businesses on a B2B Wholesale Platform?
Yes, B2B marketplaces often foster collaboration between businesses. They may provide features like private messaging, request for quotation (RFQ), or joint venture opportunities, enabling businesses to connect, negotiate, and collaborate with potential partners, suppliers, buyers, or distributors.
How can businesses maximize their success on a Wholesale B2B Marketplace Platform?
To maximize success in a B2B marketplace, businesses should:
Optimize their product listings for search engines within the marketplace
Continuously monitor and update their offerings to stay competitive
Leverage marketing tools provided by the marketplace to increase visibility
Build strong relationships with customers through exceptional service
Stay updated on marketplace trends and adapt their strategies accordingly
Seek feedback and reviews from customers to improve their offerings
Remember, each B2B marketplace may have specific guidelines and policies, so you must familiarize yourself with the terms and conditions of the specific, marketplace platform you are using.
Regularly reviewing and adhering to these guidelines will help the sales team ensure a successful experience in the B2B marketplace.
How can businesses ensure data privacy and security?
Data privacy and security are crucial considerations in any B2B marketplace. To ensure data protection, businesses should choose a marketplace that implements robust security measures such as encryption, secure payment gateways, and compliance with data protection regulations. Reviewing the marketplace's privacy policy to understand how your data will be handled is essential.
How can businesses handle fulfillment and shipping?
B2B marketplaces offer various options for fulfillment and shipping. Businesses can handle fulfillment in-house or with third-party logistics providers (3PLs) integrated with the same marketplace software. Some marketplaces may also provide fulfillment services, allowing businesses to store inventory in their warehouses and utilize their distribution network.
Are there any restrictions on the types of businesses that can join?
B2B marketplaces generally welcome businesses from diverse industries and sectors. However, some marketplaces may have specific criteria or restrictions based on geographic location, legal compliance, or product/service categories. Reviewing the marketplace's eligibility criteria is essential to ensure your business meets the requirements.
Can businesses request samples or demos?
Businesses can often request samples or demos from potential suppliers on a B2B marketplace. This allows them to assess product quality, compatibility, or suitability before purchasing. Some marketplaces provide messaging systems or RFQ features to facilitate these requests.