Amazon Supply Chain: Understanding how Amazon's supply chain works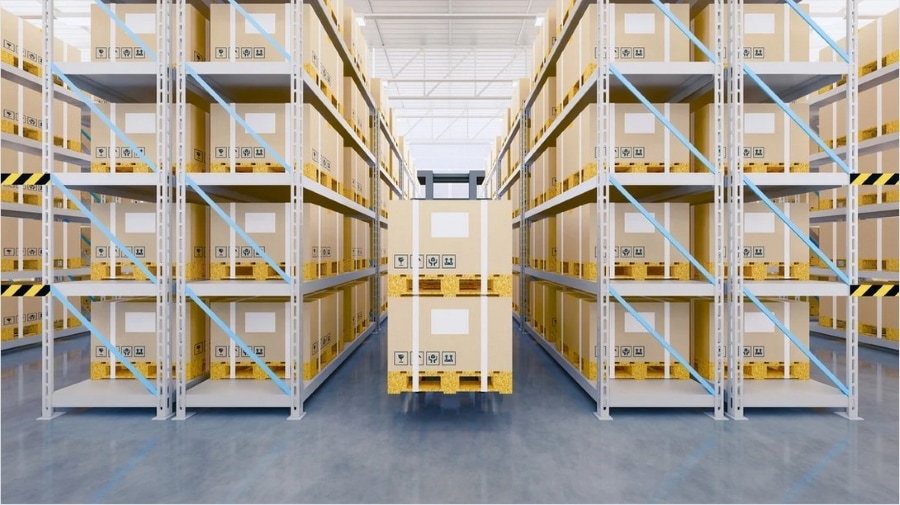 Whether you are a small or medium-sized business looking to scale your eCommerce operations, Amazon is one of the best examples to learn from to improve productivity, expand the reach, and maximize profits. Though several factors make Amazon the eCommerce leader it is today, one of the most critical elements to its success has been Amazon's state-of-the-art supply chain.
Amazon has one of the biggest and most efficient supply chain operations globally. While the basic model has remained the same since its inception, it has adopted newer technologies over the years to streamline its operations and improve its efficiency.
Below, we explain how Amazon's supply chain works and look at the key elements contributing to the company's success.
What is the Amazon Supply Chain?
The supply chain of Amazon refers to the entire process on the platform, right from product warehousing and inventory management to pricing and delivery. Over the years, Jeff Bezos and his team have devised new ways to optimize every part of the supply chain process, ensuring everything works efficiently and smoothly to guarantee customer satisfaction.
As third-party sellers contribute up to 55 per cent of the total sales Amazon makes, the company makes sure these sellers using the platform have multiple fulfilment options available.
Amazon FBA and FBM
when it comes to selling on the platform, Amazon sellers have two options:
Fulfilment By Amazon (FBA) – Amazon takes care of logistics and customer support in this model. Sellers send products in bulk to the fulfilment centres from where the company picks, packs, and ships to customers. This fulfilment option is ideal for sellers who handle small and lightweight products or cannot arrange for logistics.
Fulfilment By Merchant (FBM) – With this option, third-party sellers are responsible for listing their products and taking care of storage and fulfilment on their own.
There is also an FBA Onsite option where Amazon uses its warehouse management program to help sellers optimize their operations. Third-party sellers take care of the inventory of the products, but Amazon is responsible for picking the products from the inventory and selecting the best fulfilment method.
Amazon covers all the bases for different seller types by offering these two programs. Sellers who want to store, pack, and ship products on their own can use FBM, while others can go with the FBA.
Related: How to start an Amazon FBA business
How does the Amazon Supply Chain work?
Amazon has been known to reduce delivery times and even offer same-day delivery. This is because it recognized the need for super-fast delivery among customers. There are two main components crucial to the success of Amazon's supply chain – Amazon Fulfilment Centers & Amazon Delivery Fleet.
Amazon Fulfilment Centres
Amazon puts a robust fulfilment and logistics network to complete orders and meet the ultra-fast delivery expectations of over 110 million Prime membership subscribers. At present, it has more than 175 fulfilment centres across the world. Amazon also has approximately 500 warehouses near metropolitan cities globally.
Related: Crucial Tips for Selling on Amazon that every Seller must know
As the eCommerce sector experienced a boom in the past few months, Amazon has shown considerable growth. In ten months, it has hired about 427,000 employees to keep up with the increasing demand.
Third-party sellers have seen up to 60 per cent growth in sales, and the trend is expected to continue in the coming months. To respond to the growing demand, it will also open about 50 new warehouses and fulfilment centres in the United States.

Amazon Delivery Fleet
Amazon uses many logistics and delivery partners to deliver orders to customers on time. Trucks are used to carry boxes from fulfilment centres to sort centres. Then packages are sorted depending on the delivery speed and location. After this, the most efficient transportation mode is chosen to transport the packages.
Amazon uses an airplane fleet to meet the one-and-two-day delivery window offered to Prime members. The company uses vans, trucks, bikes, and even robots to facilitate timely delivery on the land. Amazon is presently working on drones to deliver products to locations near fulfilment centres.
What Happens When You Buy a Product on Amazon?
Let us understand how Amazon's fulfilment centre works to complete an order.
Receiving Products
Products are either stored into pallets manually or handled by machines at these centres. Freight is separated based on where it comes from, whether third-party vendors or Amazon facilities. Over half of the products sold on the platform come from small businesses and solopreneurs.
Product Storage
Amazon does not categorize its storage by type but instead stores everything randomly. There are yellow bins containing random items tracked by computers. The containers are then transported to associates depending on the size.
Picking Orders
When a customer buys a product, a robot brings pods of items to Amazon associates at the pick stations. The pickers read the screen, retrieve the product and place the product in a tote box.
Quality Assurance
A lot of quality assurance is required for the proper working of robots with humans. An item's physical location should match the computer entries so that robots can function well.
Packing
Finally, products are organized and sent to the pack station, where box sizes are chosen, and the amount of tape required to pack them is measured. Items coming from third-party vendors ship out in their original packaging, but Amazon works with them to reduce these costs.
Components of Amazon Supply Chain Strategy
While the process of buying from Amazon seems straightforward, it involves a few crucial elements that come together to ensure a smooth shopping experience.
Warehousing
A big factor behind Amazon's success, the warehousing strategy the company adopts is smart enough to make sure products are accessible from anywhere in the world. It hosts many warehouses and distribution centres near big metropolitan cities. Currently, there are 175 warehouses globally, the majority of which are located in Europe and North America.
Amazon stores its product inventory across these centres to quickly meet the demand. Such an extensive network of warehouses allows it to deliver orders to customers quickly and cost-efficiently. It also has mini-warehouses in smaller areas to ensure enough supply. All the warehouses are optimized from within, with five storage areas. Employees and robots can quickly find products and get them ready for dispatch.
Delivery
Amazon's delivery options are one of the most significant factors differentiating the supply chain from other eCommerce operators. The company offers two-day Prime deliveries, free delivery, and even the Prime Now option that delivers the products within two hours. Amazon uses a host of methods ranging from traditional to high-tech to deliver orders with lightning speeds worldwide.
Amazon has delivery trucks, vans, and even bikes operating in specific areas; it also leverages traditional routes like UPS and FedEx. Such a wide range of delivery strategies enables it to deliver faster, more efficiently, and easily to any location globally, even in rural and remote areas that traditional options don't cover.
Related: 10 Dropshipping Tips that will drive sales growth
Technology
Technology adoption is at the core of the Amazon supply chain strategy, helping it work efficiently and cut costs. The company relies on several automation and robotic solutions to pick, pack and ship orders. Such tools and techniques improve the delivery speeds and cut down the costs associated with warehousing and staffing, saving funds for other processes.
One of the biggest advancements in technology anticipated by Amazon is its Prime Air Drone Delivery. Though still in its development phase, the program will ensure 30-minute deliveries in some areas once operational. Customers with an Amazon-branded landing mat living within 15 miles of the nearest fulfilment centre can qualify for a delivery option.
Manufacturing
Amazon has discovered that it can benefit from manufacturing more popular products to increase its profits and provide cheaper options.
Currently, the company has started white-labelling products from sellers and offering options across categories that include everything from household goods and pet supplies to a lot more. This strategy allows Amazon to keep the entire lifecycle of products, from production to delivery, in-house.
Related: What are the risks of dropshipping, and how do you avoid them?
Pricing
Cost-effectiveness is one of the most crucial parts of the Amazon supply chain. One of the most innovative strategies is to segment the customers into Prime and Standard, offering varying service options at different prices. By creating additional shipping and delivery windows, Amazon keeps the flow of orders smooth, allowing it to respond to changes in demand without affecting the supply chain as a whole.
Amazon also uses such a pricing strategy for its FBA program. It understands that the large inventory can raise costs and slow down fulfilment. It, therefore, charges high storage fees for long-term usage from FBA sellers. This ensures that sellers only send sufficient inventory to meet the demand, and Amazon's costs don't rise.

Global Reach
Amazon operates 11 online marketplaces globally to let sellers grow their business worldwide, regardless of where they are physically based.
Businesses can introduce their products to millions of potential customers with these marketplaces located across Asia, Europe, and North America. When sellers register with one of these marketplaces, they get instant access to loyal customers who trust Amazon's experience.
Related: Which is the Best Online Marketplace: Selling on Etsy vs eBay vs Amazon
Final Thoughts
The Amazon supply chain works efficiently with its latest innovations to beat the biggest competitors. This retail giant has set an example for eCommerce businesses with its consumer-centric approach and use of technology.
Regardless of the industry it enters next, Amazon's unique supply chain strategy combined with innovations suggests that it will continue to rule the landscape.