Building a Social Media "Dream Team" for your Business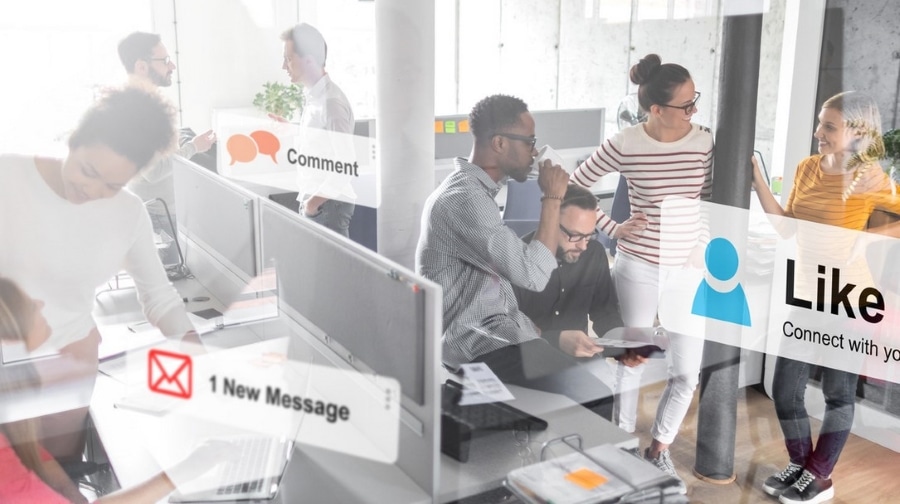 Social media is the new marketing frontier. Social media marketing is easily one of the most lucrative ways to connect with your buyers. While many small and medium businesses have achieved social media success, to truly take advantage, many businesses will likely need a knowledgeable and skilled social media team.
But how do you build a social media team that can drive your digital marketing strategy and deliver growth? How do you start, and what roles do you need to drive your business's social outreach?
Below, we identify precisely that. From your business needs to roles, types, and tools, we explore and determine what you need to build, expand and grow your social media team.
Why do Businesses need a Social Media Team?
For many businesses, social media is the number one medium they utilize to communicate and engage with their consumers and future customers.
Your social media team is in charge of everything to do with managing social media, from analyzing data to making content.
Most of the time, it will be a cross-functional team with people from all levels of the company. For instance, the marketing, finance, and legal teams will all be involved in some way with the activities of the social media team.
If you underestimate the resources you'll need to carry out a complete social media strategy, it could hurt your return on investment (ROI), harm your marketing operations, and strain your employees' time.
Social media recruiting strategies are very broad because they need to find people who are smart, creative, and good at working with others. The roles and responsibilities discussed below are very important, but they also need the proper structure for a social media team to work well.
Social Media Team Structure: In-House vs. Agency
There are numerous ways to construct a Social Media team. While agency teams are uniform, in-house and blended teams are structured based on the size of the company:
In-house Teams
Depending on the business's commitment to social media, organizational structure and size, and their role in the company, in-house social media teams can be further categorized:
Management Team: These are primarily involved in strategies and management and continuously collaborate with a social media agency. Their function is to give direction to the external agency and provide feedback and approval to whatever the agency's social media team produces.
Dedicated Internal Team: On the other hand, organizations, both small and large, may opt for a dedicated internal team. This may be because social media marketing contributes significantly to sales, or the organization is growing quickly and needs marketing personnel to continuously develop the brand.
Agency Teams
Social media agencies assist other organizations with their social media services. Depending on the organization's size, the social media agency may assign multiple teams to a single client.
A single social media team can manage multiple accounts if the companies are small. Sometimes, a company is so large that the agency assigns multiple social media teams to the account or creates a larger-than-usual team.
Typically, an agency's social media team comprises individuals who perform all tasks, most of whom work for dedicated accounts.
How to Build your Social Media Team
There is no ideal size for a social media team, and the size of your social team will be determined by a variety of elements, including your budget, overall digital marketing plan, available workspace, marketing technologies, ad budget, and so on.
Having said that, if social media is your primary source of sales or conversion, you may need to recruit more staff.
Define your Social Media Goals
Social media objectives are inextricably linked to business goals. Social media plays a vital part in marketing strategy and content production (and budget).
Setting your goals before finding candidates to fulfill them is vital. Goal-setting increases motivation and, thus, commitment toward those goals. Defining your goals and objectives will add clarity when recruiting staff and makes it easier to set objectives for each role – thereby making your goals more attainable.
Your social media strategy should be defined based on your business needs for the foreseeable future – ideally for the next six months or a year. They should be aligned with the needs of your business to give the expected results.
Establishing your social media goals will also help with defining your social media team size, the appropriate team structure, tools, and contribute to understanding what your content calendar will look like. Typical social media objectives include:
Brand awareness
Community building
Customer service
Engagement Traffic
Lead generation
Public relations
Sales
Evaluate your Resourcing Needs
Building a social media team requires a thorough grasp of your resource requirements. Resources can also extend beyond the confines of an in-house team.
The following are the essential elements that will affect your decision when forming a social media team:
Finances: Your budget affects how many people and tools you hire. It determines the project scope. Can your company support social media goals? How will you manage challenging months? You'll focus on essential duties if you're on a restricted budget. Before hiring an external agency, determine if your internal staff can manage upcoming assignments. Collaborate with your internal staff who know your brand's principles.
Resources: Resources might range from marketing tools to tangible items you own. Have you bought the correctly specified computer for your graphic designer? Do you require a proofreader and editor? Having your content created ahead of time boosts the efficiency of your social media team.
KPIs: You must also determine your capacity to manage such resources. KPIs aid in meeting goals promptly. No objective is attainable unless it is quantifiable. Plan out how you will reach your goals and how you will spend your resources.
Recruiting for Social Media Team Roles
The most important aspect of investing in developing a social media team is determining whom you need to include in your team.
Identifying the primary tasks and abilities necessary for your teams is critical before deciding on team size and establishing KPIs.The value of building a social media team is understanding whom you need to put in your team.
Understanding the key roles and skills required for your teams to decide on the team size and arrange KPIs is essential.
Social Media Manager
If you only have the budget for one person on your social media team, make it a social media manager. A good social media manager will have diverse skills and talents, allowing you to start implementing your social media strategy.
This role requires a comprehensive understanding of paid advertising and knowledge of managing social media platforms. This individual will be responsible for executing social media campaigns, creating content, responding to comments, researching and analyzing audience data, publishing material, and social listening.
RELATED: Choosing the right Social Media Platforms to grow your Business
Your social media manager should have industry insight and awareness of the latest social media marketing trends. As a general social media expert, you will find that the social media manager's tasks may overlap with others.
When a suitable individual is in this role, they can be expected to supervise community managers and social media analysts.
RELATED: Components of Digital Marketing: What is the importance of PPC, SEO, SMM, and Email marketing?
Social media manager responsibilities include:
Creating a social media strategy and performance goals
Individual team member goal setting and team management
Keeping in touch with top management and technological partners
Working on overall marketing strategy with other divisions
Typical Social Media Manager skills include People management, digital marketing expertise, knowledge and experience of prevailing social media management tools, client service (if working in an agency), and excellent communication skills.
Content Creator
This role requires the individual to be up-to-date on industry news and social media trends to create relatable content for your audience.
Primarily, the content creator should be able to understand your product or service and business and develop content that highlights and promotes your business through multiple media formats.
How the material is provided dramatically influences how the audience reacts to it and how people perceive your brand.
In larger organizations, a content developer may collaborate with the creative team. The type of content that is required will be driven by the social media networks you have selected. As such, as part of your social media strategy and goal, ensure to choose the right social media platforms your wish to promote your business.
Content creator responsibilities:
Researching market trends and sharing findings with the rest of the team
Keeping track of rival activities across all social networks
Content creation and publication Collaboration with designers on campaign execution
Content creator skills:
Experience with social media monitoring tools
Creativity
A detailed approach to research
Exceptional copywriting skills
Graphic Designer
A graphic designer focuses on social media imagery – these can include graphics for articles, tweets, infographics, or product imagery. They must pay attention to detail and use visual cues, and should be familiar with at least one design package.
Aside from technical abilities, they must be able to communicate with a content producer, ensure brand consistency, and adhere to brief requirements.
Community Manager
To communicate with the audience, community managers respond to comments, answer queries, and participate in social debates.
They also monitor social media and respond to any matter that may be useful to your business. Community managers are essential to your brand's commercial relationships with consumers and advocates.
They can sometimes use their personal accounts to give a more personal touch to the dialogue by providing product-related comments or questions gained from insights from your organization.
Community manager responsibilities:
Responding to audience feedback
Starting and developing customer conversations
Management of brand ambassadors
Brand metrics reporting to management
Community manager skills:
Exceptional interpersonal skills
In-depth knowledge of the company
Social media monitoring
Organizational skills
Social Media Advertiser
An advertiser is well-versed in budgets and social media platforms. He creates, adapts, and analyses sponsored campaigns to ensure that the company gets the most out of each action while spending the least money.
Advertisers must run ads across many channels, such as Facebook, Instagram, and Pinterest, while monitoring their effectiveness against predetermined targets. They are often quantitative individuals competent in doing A/B tests and statistical analysis. They are at ease translating those insights into practical outcomes.
RELATED: A/B Testing: Using Split Testing to drive Conversion Optimization
Paid specialists collaborate closely with the social media manager and content developer to fine-tune the most effective ad.
Next Steps: The key elements of your Social Media Team
Social media marketing success depends on your team. A strong team isn't only about the players' devices or skillsets and how they're motivated.
Successful social media teams have these elements. Your organization may already have experts in these areas. They can be trained to use social media management tools, so you may not need to hire them.
Project management: Without a doubt, this is one of the essential things on our list. Campaigns on social media are complicated and have many parts. Before they can go live, they need to be reviewed by the marketing, brand, and legal teams.
Without a social media workflow that keeps everyone on track, deadlines are missed. Make sure that one person is in charge of the whole project and that each task in the plan is given to a different team member.
Collaboration: One of our top priorities. Social media initiatives are multifaceted. Before going online, they need marketing, branding, and legal advice.
Technology: The team's tools determine its success. Technology should enhance your team's natural talents. Start defining technology partner requirements while you develop your marketing plan. If influencer marketing is part of your strategy, research the best implementation tools. Team leaders remove impediments and equip teammates for success. Social networking technology is vital.
Agility & Adapatibiliy: Every day, social media changes. Minutes separate trends. Your team will fall behind if they deliver one message. A social media team must change its ideas, learn from new data, and post content swiftly.
Business Acumen: Marketing on social media is lucrative. Thousands of new followers are worthless if they don't become customers. Social media requires creativity and spontaneity.