Wi-Fi Routers for Multiple Devices: What is the Best Wireless Router for Multiple Devices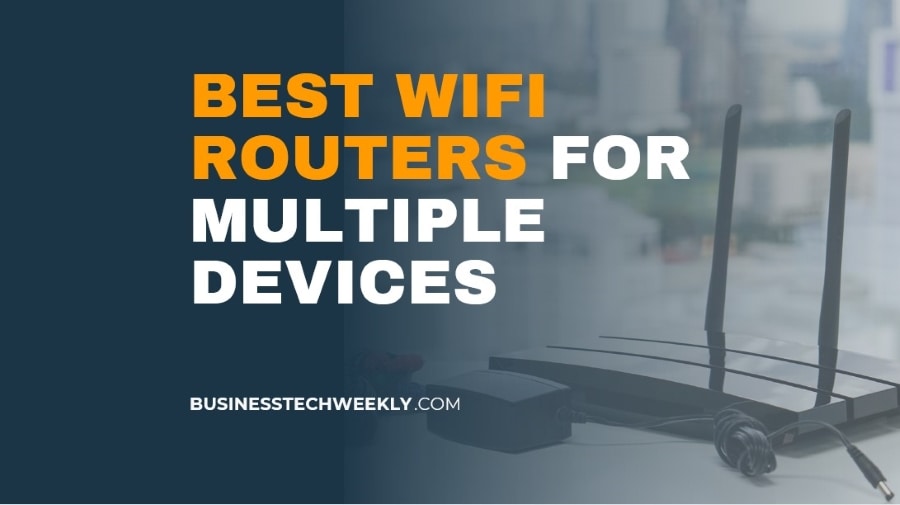 What are the best WiFi routers for multiple wireless devices? Nowadays, many individuals carry multiple wireless devices, from smartphones to tablets. In the office environment and considering the number of employees, the number of devices using WiFi multiplies quickly.
Surprisingly, this can be significantly more in your home office, with several smart devices, from TVs to fridges, also accessing your wireless network.
And with IoT, devices requiring WiFi access, both at home and in the office, will only increase, so selecting the best wireless router for multiple devices is, in all probability, a wise investment.
With a wide range of WiFi routers available, how do you know which router to choose – particularly one that can handle multiple wireless devices?
Fortunately, there are certain capabilities and features you can look for when making your selection. We cover these below and suggest some of the best wireless routers available for multiple devices.
Best Wireless Routers for Multiple Devices – The Top 3
What is the best WiFi router for multiple wireless devices?  We suggest the Netgear Nighthawk AX8.
The Netgear Nighthawk AX8 provides speeds of up to 6 Gbps (6,000 Mbps) and covers an area of up to 2,500 Sq. Ft. What's more, the 1.8 GHz quad processor, along with MU-MIMO and other technologies, is more than capable of managing up to 30 wireless devices at a time.
Here are the top 3 from our evaluation:
* Prices and data correct at time of publication. At optimum performance
How are Wireless Routers designed to manage Multiple Devices different from regular WiFi Routers?
Essentially, they're not that different at all. However, certain technologies allow some routers to perform and manage multiple devices far better than others.
Having lots of wireless devices concurrently connected to your WiFi router means multiple streams of data flowing to and from your router.
To manage this data traffic efficiently, a router needs technologies such as dual-band/tri-band WiFi frequencies, QoS, and MU-MIMO, to help minimize interference and congestion and increase the number of devices it can manage.
MU-MIMO (Multi-User Multiple in Multiple Out): This feature allows a Wi-Fi router to simultaneously communicate with multiple devices efficiently. It does this by decreasing the time each device has to wait for a signal, thereby dramatically speeding up your network
OFDMA (Orthogonal Frequency-Division Multiple Access): Introduced in the WiFi 6 standard, OFDMA enables a wireless router to establish multiple sub-streams within a given frequency. This approach allows simultaneous transmissions to and from numerous clients
QoS (Quality of service): QoS helps prioritize certain types of traffic when the network becomes congested. This allows certain types of traffic, for example, voice calls, to be prioritized over lesser "important" data transmissions such as downloads
Operating Frequency: Most routers are either dual-band or tri-band. As wireless transmission and receiver, each band represents are specific frequency the router can operate in. This allows WiFi routers to operate different bands and allow wireless devices to connect to different networks. This helps reduce congestion for a particular frequency, allowing for better and more consistent connections
CPU & RAM: Having a powerful CPU and ample RAM enables WiFi routers to process all the flowing data and ensure that wireless traffic is maintained at a consistent level to multiple devices
Several more technologies play a crucial role in ensuring a router can support many devices. Taking these into consideration, we have evaluated the routers currently available in the market and have shortlisted the best wireless routers for multiple devices for you.
What are the Benefits of a Wireless Router designed to manage Multiple Devices?
These technologies and features help numerous WiFi clients simultaneously connect and transfer data to and from your wireless router without any decrease in performance. Some of the other benefits offered include:
Reduced Congestion & Lag: Provide an ultra-smooth streaming experience across multiple devices, whether you are streaming 4K videos, video chatting, or even gaming online, with minimal lag and jitter
Reliable Coverage:  Achieve the strongest, most reliable WiFi coverage using powerful antennas and technologies such as Beamforming to focus signal strength on your devices
Improved Performance: Reach incredible speeds across multiple bands for faster streaming, and gaming like you have never experienced before
Seamless Roaming: Allows for an enhanced user experience by allowing users and mobile devices to move from room to room and automatically switching to the strongest Wi-Fi signal
5 of the Best Wireless Router for Multiple Devices
Netgear Nighthawk (RAX80) WiFi 6 Router 
With the foldable antennas giving it a futuristic look, this device is a BEAST and is easily one of the best WiFi routers currently available for multiple wireless devices.
Beyond the aesthetics, this device offers speeds of up to 6 Gbps dual-band WiFi, and is packed with all the features and capabilities you need to connect to multiple wireless devices, which this device does so effortlessly.
$399.99*
WPA / WPA2, Firewall, VPN
6,000 Mbps*
WiFi 6 Dual-Band
4x 1GigE
Suited for up to 30 devices*

Our View
A high-performance dual-band standalone wireless router, the fold-open wings each house two antennas. The AX8 features the latest beamforming technology and a theoretical top speed of 1.2Gbps in 2.4GHz mode and 4.8Gbps in 5GHz mode, which means this router can manage multiple wireless devices despite lacking the second 5GHz network found in tri-band WiFi routers.
This router delivers a robust WiFi signal through walls and floors, meaning that its performance in the real world is close to that in the lab, thereby ensuring a consistent and stable wifi signal for your multiple wireless devices over an impressive area.
* Prices and data correct at time of publication. At optimum performance
Quad-core processor
4 x 1GB Ethernet ports
Coverage up to 2,500 Sq. Ft
MU-MIMO, QoS, OFDMA, Beamforming
No Tri-Band
No Adjustable Antennas
ASUS ROG Rapture WiFi 6 Tri-Band Router (GT-AX11000)

Designed purely for speed, the ASUS GT-AX11000 ROG Rapture device lets you set aside 5GHz of broadband for gaming only, minimizing other traffic while accelerating game traffic and game packets.
Built with performance in mind, this device checks every box required for WiFi routers for multiple wireless devices, offering speeds of up to an incredible 11,000 Gbps, backed by a 1.8 GHz Quad-Core CPU and 1 GB RAM.
$449.99*
WPA/WPA2, WPS, VPN
11,000 Mbps*
WiFI 6 Tri-Band
5x 1GigE
Up to 30 devices*

Our View
As a tri-band wireless router, this device is more than capable of managing multiple wireless devices, transmitting three simultaneous signals (2.4 GHz up to 1,148Mbps, and up to 4,804Mbps on 5 GHz) that support the Wi-Fi 6 standard. The list of features doesn't stop there. The device also includes an integrated VPN, the ability to work with other Asus routers to create a mesh network, and a traffic analyzer.
When used with the ASUS AiMesh Wi-Fi system, it can provide continuous wireless connectivity for your multiple WiFi devices. The device also comes with ASUS AiProtection protection, which neutralizes and prevents online dangers, and ASUSWRT, which allows for more extensive management.
* Prices and data correct at time of publication. At optimum performance
Quad-core processor
4 x 1GB Ethernet ports
1 x 2.5GB Ethernet port
Coverage up to 2,000 Sq. Ft
TP-Link WiFi 6 AX3000 Smart WiFi Router (AX55)
For the budget-conscious, the TP-Link Archer AX55 is ideal, providing modest specs for a robust wireless router to manage multiple WiFi devices.
Offering dual-band WiFi speeds of up to 3 Gbps, 1Ghz Dual-core processor, and 512 MB of RAM means this device is more than capable of managing numerous wireless devices simultaneously.
$129.99*
WPA2, WPA3, VPN
3,000 Gbps*
WiFI 6 Dual-Band
4x 1GigE
Up to 40 devices*
Our View
Compact in size, the AX55 has four high-gain external antennas and Beamforming technology which provide strong, reliable Wi-Fi for managing multiple wireless clients while not breaking the bank. Offering next-gen Wi-Fi 6 speeds of 574 Mbps on 2.4 GHz and 2,402 Mbps on 5 GHz bands, this wireless device ensures smoother streaming and faster downloads.
Featuring 4 Gig ethernet ports are handy to share your internet connection with legacy non-wireless devices, while the USB 3.0 port allows for multimedia sharing across wired and wireless connections. Considering its features, this device provides excellent value providing stable and consistent WiFi performance for multiple device connectivity.
*
* Prices and data correct at time of publication. At optimum performance
Quad-core processor
Affordable performance upgrade
4 x 1GB Ethernet ports
Coverage up to 1,800 Sq. Ft
MU-MIMO, QoS, OFDMA, Beamforming
Netgear Nighthawk X6S AC4000 (R8000P) Tri-band WiFi Router
Packed with all the features necessary to operate multiple wireless devices, the Netgear X6S tri-band router delivers a maximum speed of up to 4,000Mbps.
Its overall performance is further enhanced by its ability to support MU-MIMO streaming, QoS and port aggregation, delivering consistent transfer speeds and maintaining a stable throughput even with several WiFi devices consuming the bandwidth.
$299.99*
WPA2/WPA3, Firewall, VPN
4,000 Gbps*
WiFi 5 Tri-Band
4x 1GigE
Up to 55 devices*
Our View
Built around a dual-core 1.8GHz processor and 512MB of RAM, this tri-band wireless router can theoretically deliver speeds of up to 4 Gbps (750 Mbps across 2.4GHz, and up to 1.625 Gbps on each of the two 5GHz channels). Two of the four gigabit Ethernet ports can be aggregated, doubling the throughput to up to 2 Gbps for top-speed streaming or file transfers.
The X6S can easily provide sufficient WiFi coverage for good-size areas of up to 3,500 sq. ft with multiple devices. As one of the few devices that offer port aggregation for top speeds, the device provides plenty of options for customization and performs adequately at middle-to-long distances
* Prices and data correct at time of publication. At optimum performance
Dual-core processor
4 x 1GB Ethernet ports
Port aggregation
Coverage up to 3,500 Sq. Ft
MU-MIMO, QoS, Beamforming
Linksys MaxStream EA9300Tri-Band WiFi 5 Router
The Linksys tri-band Wi-Fi router is a robust multi-client device, operating three bands to achieve combined speeds of up to 2.2 Gbps.
This device enjoys a strong quad-core processor (albeit only at 750 MHz) that, along with modest features such as MU-MIMO and beamforming, delivers a strong performance.
$249.99*
WEP, WPA2
2,200 Gbps*
WiFi 5 Tri-Band
4x 1GigE
Up to 25+ devices*
Our View
Utilizing three WiFi bands to ease congestion, the Linksys EA9300 can handle advanced, demanding applications for multiple WiFi devices without breaking a sweat. Capable of maximum data rates of 750Mbps on the 2.4GHz band and 1,625Mbps on each of the two 5GHz bands, the EA9300 provides solid throughput across numerous wireless clients.
The Linksys Max-Stream EA9300 is a solid choice for busy WiFi networks that need a third band. While not the fastest wireless router available, it delivers good throughput and file transfer speeds.
* Prices and data correct at time of publication. At optimum performance
Quad-core processor
4 x 1GB Ethernet ports
Coverage up to 3,500 Sq. Ft
MU-MIMO, QoS, Beamforming
Sub-1GHz CPU
Only 1 USB port
No support for WiFi 6
What to look for when buying a Wireless router for multiple devices
There are particular features to look for when selecting the best router for connecting numerous WiFi devices. Here you can learn what aspects you should consider and the key technologies to look for when choosing your WiFi router.
Number of Devices
With the advent of futuristic offices and smart homes, smart devices are abundant. Opting for a router that can only manage a handful of wireless devices simultaneously is, in many cases, likely to be a short-term fix rather than a long-term solution.
Many homes and offices have smart devices, such as thermostats, laptops, TVs, phones, washing machines, locks, and LED lights, so selecting a WiFi router that handles many wireless devices will be a sound long term investment.
When choosing the best WiFi router for your multiple wireless devices, make sure you select a device with high WiFi speed, a large CPU size, and features such as ODFMA, QoS and MU-MIMO.
Coverage Area
With many smart wireless devices, a vital aspect to consider when choosing the best WiFi router for your numerous wireless devices is the area you wish to cover.
So you need WiFi coverage in the loft or garage? If selecting a device for your business, what about all the corridors or meeting rooms?
Opting for lower coverage may save you money since these devices will have lower specifications and cost less than their more powerful counterparts.
RELATED: What is the best way to Extend your WiFi Range?
Internet speed
A crucial factor to consider when purchasing the best WiFi router for your various wireless devices is your internet speed. Simply buying a powerful router will not allow you to increase your Wi-Fi speed. Your ISP determines your internet speed by the tier/ plan you pay for.
Before you go and purchase a router with 6 Gbps speeds, please ensure to check the internet speeds you have subscribed for from your ISP. If you subscribe to a 300Mbps internet plan, that is the maximum speed you will receive from your router.
If that is the case, you should not waste your money on a router with multiple gigabit speeds.
CPU and RAM
Wi-Fi is used for video streaming, file downloads, data backups, online gaming, and other activities that require a large amount of data to be sent to and from the internet. As a result, wireless routers need far more processing power than previously.
When selecting your next WiFi router, you should know whether it has a single-core, dual-core, or quad-core processor.
If your aim is to implement a fast network that can handle multiple wireless network clients at once, we suggest you avoid buying routers with single-core CPUs.
A dual-core processor, which can handle more data and clients than a single-core processor, should be the minimum spec you opt for.
A CPU operating at 1.2 GHz is more powerful than a 900 MHz processor. The more cores the router has, the better the performance.
Similarly, your router should have at least 128MB of RAM, although we would suggest a minimum of 256 MB of RAM to maximize performance.
Operating Frequency
Your new WiFi router should at the very least be dual-band.
A Dual-band Wi-Fi router broadcasts the wireless signal on two or more frequencies. One of these frequencies is usually the 2.4 GHz band, which is compatible with the older wireless standards (Wi-Fi 4 /  802.11n) and newer ones (Wi-Fi 6 / 802.11ax).
The 2.4 GHz band is backwards compatible with older wireless networking devices and has vast coverage. It is, however, slow, and congestion is always an issue, especially in business buildings where everyone has Wi-Fi on this frequency.
Dual-band or tri-band routers also transmit wireless signals at 5GHz. This frequency range is much faster than 2.4 GHz and utilizes modern standards such as Wi-Fi 5 or Wi-Fi 6. (802.11ac or 802.11ax).
Congestion is less of an issue because the 5 GHz spectrum is used less than the 2.4 GHz band, although the coverage area is slightly less.
Fast a wireless network for multiple devices streaming at full HD or 4K, a dual-band or tri-band wireless router is the minimum specification you should select.
Wireless standards
Wi-Fi 6 is the most recent Wi-Fi standard (802.11AX). The 802.11ac standards came before it (Wi-Fi 5).
While either of these two standards are suitable for wireless routers designed for multiple devices, Wi-Fi 6 was designed to support more devices than earlier standards.
The issue with Wi-Fi 6 is that not many devices have been produced that are compatible with these standards.
As a result, a Wi-Fi 6 router is preferred due to its backward compatibility with older standards. These routers will provide you with a connection to many devices, more security, and faster speeds, among other benefits.
OFDMA
Orthogonal Frequency Division Multiple Access (OFDMA) was introduced in the IEEE's Wi-Fi 6 / 802.11ax standard.
This feature allows data transmission signals to be split into smaller signals. Your router sends these small signals directly to individual devices in your network. Because multiple devices can be served in the same transmission window, your router doesn't have to wait for medium access for every packet. This method of communication increases network speed and efficiency.
MU-MIMO
MU-MIMO (Multi User-Multiple In Multiple Out) is a great feature that allows more than one device to use MIMO technology simultaneously.
MIMO reduces the negative effects of the reflection of wifi signals by using two antennas. This helps improve connections and speed up data throughput.
MU-MIMO differs in that while MIMO could only be used by one device, MU-MIMO allows multiple devices to get the benefits of MIMO at the same time.
QoS
When your network starts to get congested, Quality of Service (QoS) will prioritize certain types of traffic that need a consistent connection (gaming, voice calls, etc.) over those that don't require such a constant connection (downloads).
RELATED: Understanding Quality of Service (QoS) in Computer Networks
Wi-Fi QoS is also known as WMM (Wi-Fi Multimedia).
Security
It's critical to secure your Wi-Fi router because all of your data traffic passes via it and every device connects to it. WEP (Wired Equivalent Privacy) and WPA (Wi-Fi Protected Access) are old security protocols.
WPA2, which the Wi-Fi Alliance designed in 2004, is the minimal standard to check for in a router today. It provides reasonably strong encryption but is not without flaws, so WPA3 was introduced in 2018.
WPA3 has various enhancements that overcome the shortcomings of WPA2. WPA3 also makes it much more difficult for hackers to crack passwords since they can no longer employ offline dictionary attacks, which involve rapidly guessing many possible passwords.
Best Multi-Device Wireless Routers: Comparing Specifications
Netgear Nighthawk AX8

ASUS GT-AX11000

TP-link Archer AX55

Netgear Nighthawk X6S

Linksys EA8300

Features
WiFi Speed*
6,000 Mbps
11,000 Mbps
3,000 Mbps
4,000 Mbps
2,200 Mbps
WiFi Standard
Wi-Fi 6
Wi-Fi 6
Wi-Fi 6
Wi-Fi 5
Wi-Fi 5
Frequency Bands

Dual-Band
Tri-Band
Dual-Band
Tri-Band
Tri-Band
WiFi Coverage*
2,500 Sq.Ft.
2,000 Sq. Ft.
1,800 Sq. Ft.
3,500 Sq.Ft.
3,500 Sq.Ft.
CPU
1.8GHz (Quad-Core)
1.8GHz (Quad-Core)
1Ghz (Dual-Core)
1.8GHz (Dual-Core)
716Mhz (Quad-Core)
RAM
1GB
1GB
512MB
512MB
256MB
No. of Devices*

30
30
40
55
25+
No. of Antennas
4
8
4
6
6
Security
WPA2/WPA3, DoS, Firewall, VPN
WEP, WPA/WPA2, WPS, VPN
WEP, WPA/WPA2, WPA 3, WPS, VPN
WPA2/WPA3, DoS, Firewall, VPN
WEP, WPA2
MU-MIMO
Yes
Yes
Yes
Yes
Yes
Beamforming
Yes
Yes
Yes
Yes
Yes

OFDMA

Yes
Yes
Yes
No
No
QoS
Yes
Yes
Yes
Yes
Yes
Other Features
Ethernet Ports
4x 1 GigE
4x 1 GigE
+ 1x 2.5 GigE
4x 1 GigE
4x 1 GigE
4x 1 GigE
USB
2 x USB 3.0
1x USB 3.0
1x USB 3.0
2x USB (2.0 + 3.0)
1x USB 3.0
* Prices and data correct at time of publication. At optimum performance
WiFi Routers for Multiple Devices: FAQs
How can I obtain the maximum WiFi speed when multiple users are connected?
While Wi-Fi is convenient, a wired Ethernet connection will always offer better performance.
You can also request that other users turn off Wi-Fi or utilize powerline adapters. Other options for maximizing bandwidth include employing Quality of Service (QoS) to focus Wi-Fi on your device or purchasing a better router.
RELATED: 5 Tips to super-boost your Wi-Fi
How many wireless clients be connected to a WiFi router?
A Wi-Fi router or wireless access point can theoretically connect up to 255 devices/clients. However, because the internet is shared among linked devices, this figure is much smaller.
Most routers recommend between 5 and 100 devices for optimal use, depending on the router's capabilities.
Overcrowding occurs when too many devices join your Wi-Fi network. Due to device competition, you will encounter lags, low-quality video while streaming or sometimes buffering, latency when gaming, and overall very sluggish surfing rates.
Can too many devices slow down my Wi-Fi?
Too many connected devices will undoubtedly affect performance and connectivity issues, such as delayed load times or the need to reconnect sometimes.
More powerful wireless routers with advanced features such as ODFMA and MU-MIMO may be able to mitigate these issues.
Which Wireless Router can manage 50 devices?
From our evaluation, the Amazon Eero Pro 6 Mesh system and Netgear Orbi Mesh System can handle 50 or more devices.
Will a better Router manage more Devices?
Yes, a better router can support more devices. The router should have a powerful processor and antennae to handle a greater number of devices.
It should also include technologies like Beamforming, QoS, and dual-band/tri-band WiFi frequencies. This reduces interference while simultaneously increasing router efficiency.
How many Devices can a Dual-Band Wireless Router support?
The number of devices supported is determined by the activity you intend to perform on your devices and the specifications of your router.
A dual-band router, such as the Netgear Nighthawk, can simultaneously support up to 64 devices,  but a single band router can only support 32. In addition, the devices must be within a specific range since each frequency (2.4GHz and 5GHz) can theoretically support up to 32 devices.
However, these values are conducted in lab environments and represent the device's performance under optimum conditions, and real-life performance may vary due to several factors.