Wireless Cable Router Modems: Best Cable Modem and WiFi Router Devices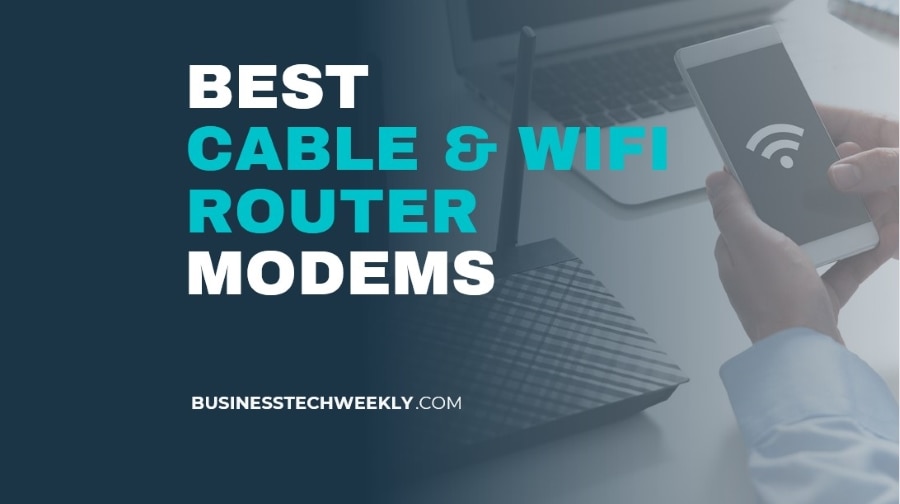 Whether you are working from a home office or are running a small home-based business, you need a robust Cable Modem and WiFi Router to deliver robust wireless internet connectivity.
Sharing your WiFi connection between numerous mobile devices may degrade the quality of your online experience. If you work from home and share your internet connection with family members, your WiFi service may suffer dramatically.
Replacing your existing cable modem, network router, and WiFi router with a single combo device, such as Cable Modem and WiFi Router, significantly reduces the number of cables and hardware footprint.
Cable and WiFi Router Modems come with a coaxial connection, and as these gadgets are packed with cutting-edge technology, they can dramatically improve your wired and wireless internet capabilities.
What is a Wireless Cable Router Modem?
Cable Internet is a type of high-speed connection that provides connectivity to end users over a cable television infrastructure. As a result, cable Internet access is typically packaged with TV channels, and the service is mostly provided by a local cable TV service provider.
To use cable Internet, you'll need two things: a modem inside your home and a coaxial wire or cable running from the modem to the cable modem termination system (CMTS) located on your Internet service provider's premises (ISP).
A Wireless Cable Router integrates these and other functions into a single unit. Furthermore, a Cable  and WiFi modem router combines four functions within a single device:
Cable Modem – Device used to connect the cable modem termination system (CMTS)
Network Router – To router network traffic to and from the internet to your local network
Network Switch – RJ45 Ethernet ports to distribute the internet connection service via wired connections
WiFi Router – WiFi capability to allow wireless devices to share the internet connection
The devices presented in this article are combination, or combo, devices, providing all of the functions listed above.
What is the difference between a WiFi Cable Router and a DSL modem router?
From a user/customer perspective, a DSL modem router and a cable modem router perform a similar function to one another. The main difference between the two is the type of internet connection:
Cable router modems have a coaxial (coax) type connection:

DSL modem routers have a RJ11 type connection:

The connections between a cable modem router and a DSL modem router are physically different, and depend on the type of internet connection you have from your internet service.
Why do I need a Cable and WiFi Router Modem?
In most circumstances, your internet service provider (ISP) would have included a cable router as part of your Cable-based internet service subscription.
These devices may be restricted in some manner, such as the number of available ethernet ports, WiFi range, compatible devices, or wireless capabilities.
Furthermore, the model of your Cable router may no longer be maintained by the manufacturer, making maintenance difficult and perhaps causing internet access troubles.
Ultimately, buying your own cable modem WiFi router is cost effective, allowing you to potentially eliminate your monthly cable modem rental fees.
By replacing or updating your Cable modem router with one of the types listed below, you can reduce the footprint of internet infrastructure, expand the number of wired and wireless devices connected to the internet, and boost WiFi coverage throughout your premises.
What is DOCSIS?
Your cable modem's speed is determined by the DOCSIS standard it supports and the number of channels it provides, albeit your ISP must also support these standards on the other end.
If your cable ISP only supports DOCSIS 3.0 (downstream capacity of up to 1 Gbit/s), purchasing a cable modem which uses DOCSIS 3.1 (downstream capacity of up to 10 Gbit/s) will not improve performance, but it may be a wise long-term investment.
Best Cable Router and WiFi Modem Combo – The Top 3
What is the best Cable and Wireless modem router?  We suggest the Motorola MG7700 Cable Modem and WiFi router.
The Motorola MD7700 provides data speeds of up to 800 Mbps on compaitable internet services. The built-in dual-band AC3200 WiFi router provides Wireless speeds of up to 3Gbps.  Housing 4 Ethernet/LAN ports, and a single USB 3.0 port, the MD3200 packs all the crucial features into a single versatile device.
Here are the top 3 from our evaluation:
What are the Benefits of Cable Modems and Wireless Router Combo devices?
There are various reasons to use a WiFI Cable modem router combo since it provides numerous advantages.
Cost Effective – Some ISPs charge a monthly leasing fee for a Cable modem in addition to the monthly rate for internet service. You can avoid paying this monthly leasing fee by acquiring a Wireless Cable Modem Router
Smaller footprint – Because all of the devices listed here are combo devices, you not only save space but also electricity. By acquiring a single Cable Modem Router with WiFi functionality, you may eliminate the requirement for a separate Modem/Router and WiFi Router
Simplified Management — Having a single device makes it easier to administer, debug, and maintain. You no longer need to handle separate modems and Wi-Fi routers. In the event of an issue, you only have to deal with one support line, which simplifies troubleshooting
Multiple Ddevice Connectivity – Wireless Cable modem routers provide Cable and WiFi access. If the device has a USB port, it can provide 3G/4G connectivity as a backup internet connection, guaranteeing you can always get online
Best Cable Modem and WiFi Router – The complete list
Motorola MG8702 Cable Modem + Wi-Fi Router (High-Speed Combo) with Intelligent Power Boost
Our vote goes to the Motorola MG8702, one of the better Docsis 3.1 modem router combos available.
Compatible with most service providers, including Xfinity, Cox, Spectrum, Suddenlink, etc. The cable modem is suitable for Gig or even Multi-gig plans and provides reliable speeds and wireless coverage.
$299.98*
WPA / WPA2
Cable: 800 Mbps*
WiFi: 3200 Mbps*
4 LAN + 1 USB
Suited for 800Mbps plans*
Our View
While other modem-router combos are available, only a few can compete with the Motorola MG8702 in terms of range, speed, and functionality. While this modem-router combo is compatible with most service providers, including Xfinity, Cox, Spectrum, Suddenlink, etc., it wins mainly because it is packed with practically every significant feature you need.
During testing, the MG8702 obtained close to 700Mbps in downloads and more than 15Mbps in uploads using Comcast's Gigabit connection. The dual-band Wi-Fi is excellent, with the Motorola MG8702 providing coverage up to 2500 Sq Ft. Because of MU-MIMO and sophisticated QoS for device priority, the modem-router combo can easily handle up to 40 devices.
* Prices and data correct at time of publication. Max. supported cable and WiFi speeds, actual speeds may be lower.
Easy to setup
Excellent WiFi coverage
DOCSIS 3.1
MU-MIMO & Beamforming
1x USB 3.0 with DLNA
4x GigE Ethernet ports
NETGEAR NIghtHawk CAX80S Cable Modem with built-in WiFi 6 Router
The Netgear Nighthawk CAX80 is one of the best high-tier modem/router combos options, offering great performance.
A high-end modem, promising a whopping 6Gbps speeds, nothing beats a Wi-Fi 6 modem router which comes with a plenty of ethernet ports, multi-ISP compatibility, and excellent coverage
$499.99*
WPA2 / VPN
Cable: 1 Gbps*
WiFi: 6 Gbps*
5 LAN + 1 USB
Suited for 1+ Gbps plans*
Our View
The CAX80 can achieve near band speeds of almost 700Mbps, with far band speads at over 100Mbps, regardless of the service provider. There is room for a 2.5G port for helping you handle multi-Gig speeds, if and when available, plus 4 Gig ethernet slots, and Link Aggregation support to pair two internet connections via separate IPs.
Features such as MU-MIMO, OFDMA, and 160MHz channels aid in the delivery of data to multiple devices. Despite not being a standalone wireless router, the CAX80 can cover an area of 3000 square feet, offering reliable connectivity.
* Prices and data correct at time of publication. Max. supported cable and WiFi speeds, actual speeds may be lower.
Supports Wi-Fi 6
DOCSIS 3.1
MU-MIMO & Beamforming
1x USB 3.0
4x 1 GigE ports
1x 2.5 GigE port
Slightly bulky design
Default encapsulation can lead to intermittent disconnection
ARRIS SURFboard SBG7600AC2 Cable Modem + Dual Band Wi-Fi Router
The ARRIS SURFboard SBG7600AC2 provides extremely good value for money packing in a cable modem (DOCSIS 3.0), a Wi-Fi router AC2350 (dual band), and 4-port Gigabit router into a single unit.
Achieving a maximum throughput of up to 600 Mbps, this device is capable of handling plenty of internet traffic, whilst providing your wired devices with fast ethernet ports for optimum speed, and providing your wireless devices the advantage of the built-in AC2350 Wi-Fi
$229.99*
WPA / WPA2
Cable: 1 Gbps*
WiFi: 2350 Mbps*
4 LAN + 1 USB
Suited for 500 Mbps plans*
Our View
Compatible with many U.S. Cable Internet Providers including Cox, Spectrum, Xfinity & others, the ARRIS SURFboard SBG7400AC2 comes with 32 downstream and 8 upstream channels, makes streaming and sharing seem easy. In addition, the four 1-Gigabit Ethernet ports provide ultra-fast wired networking, making it ideal for smart devices.
While the SURFboard SBG7600AC2 can manage internet speeds up to 600 Mbps, cable internet providers have approved this modem/router for different speed tiers. So make sure to check this device's compatibility with your internet provider's speeds.
* Prices and data correct at time of publication. Max. supported cable and WiFi speeds, actual speeds may be lower.
Excellent value for money
DOCSIS 3.0
1x USB 2.0
4x 1 GigE ports
Limited advanced features
No Wi-Fi 6 support
No MU-MIMO & Beamforming
NETGEAR Cable Modem Wi-Fi Router Combo C6250
Although the manufacturer has more powerful solutions meant for enterprises and officres, the Netgear C6250 gives value for your money doing an excellent job of managing multiple devices.
Capable of a maximum throughput in excess of 600 Mbps, this device can handle plenty of internet traffic, it works best with provider plans that provide up to 300 Mbps of speed, while the router provides up to 1600 Mbps wireless connection speed; ideal for streaming
$179.99*
WPA / WPA2
Cable: 680 Mbps*
WiFi: 1600 Mbps*
4 LAN + 1 USB
Suited for 300 Mbps plans*
Our View
The Netgear C6250 Wi Fi cable modem router combo ensures a rapid internet connection for your external devices (printers, storage drives, or game boxes) via two gigabit Ethernet ports and one USB connector. This DOCSIS 3.0 device includes parental controls and supports the wireless security protocols WEP and WPA/WPA2.
While it lacks the signal strength required for larger areas, its dual band frequency provides speedy wireless coverage for your office. Capable of 680 Mbps, the C6250 cable modem and WiFi router combo offers a wealth of advanced features for a reliable network experience with an incredibly user-friendly interface.
* Prices and data correct at time of publication. Max. supported cable and WiFi speeds, actual speeds may be lower.
DOCSIS 3.0
1x USB 2.0
4x 1 GigE ports
No Wi-Fi 6 support
No NU-MIMO & Beamforming
Motorola MG7550 Modem WiFi Router Combo with Power Boost
The Motorola MG7550 Modem with built-in AC1900 3×3 WiFi gigabit router provides the range, wireless speeds, and networking support needed for multimedia, Internet video and high-performance networking in a home or office.
This device has numerous benefits, such as minimizing internet latency and lag, quick installation, and, most significantly, dependability and durability.
$149.99*
WPA / WPA2
Cable: 686 Mbps*
WiFi: 1900 Mbps*
4 LAN
Suited for 300 Mbps plans*
Our View
With a 500Mbps internet subscription, the MG7550 can achieve maximum 2.4GHz speeds of over 120Mbps and 5GHz rates of up to 450Mbps. This wireless cable modem underpromises and over-delivers. The Power Boost, AnyBeam, and DFS capabilities expand wireless range and improve wireless performance effortlessly, allowing this device to manage numerous devices over 2000 Sq Ft.
While there are plenty of options for customization, they are not quite as many as those offered by competing products. However, this budget-friendly modem-router combo is the perfect pick for mid-range internet plans.
* Prices and data correct at time of publication. Max. supported cable and WiFi speeds, actual speeds may be lower.
DOCSIS 3.0
Beamforming
1x USB 2.0
4x 1 GigE ports
No USB port
No Wi-Fi 6 support
No NU-MIMO
NETGEAR Nighthawk (C7800) Cable Modem WiFi Router Combo
When it comes to specs, the Netgear Nighthawk C7800 is packed to the hilt, ensuring the best possible wired and wireless speeds with the right internet plan from the likes of Xfinity, Cox, or Spectrum.
This device makes attending conference calls for businesses, streaming online HD training videos, or using the internet generally a breeze, all without lag, latency, and stuttering problems.
$429.99*
WPA / WPA2
Cable: 2 Gbps*
WiFi: 3200 Mbps*
4 LAN
Suited for 2 Gbps plans*
Our View
The Netgear Nighthawk C7800 comes with two high-speed USB 3.0 ports located on the side of the device and four high-speed Gig ethernet ports to establish wired connections with multiple devices. Wireless connectivity provided by the built-in AC3200 provides up to 3200 Mbps WiFi speed and offers Beamforming and dual-band access, depending on your preferences and bandwidth requirements.
The Nighthawk C7800 covers an area of almost 3000 Sq Ft come while also providing DLNA support, ReadyShare support for USB connections, and enhanced security, courtesy of the WPA/WPA2 functionality.
* Prices and data correct at time of publication. Max. supported cable and WiFi speeds, actual speeds may be lower.
DOCSIS 3.1
4x 1GigE ports
2x USB 3.0
Adjustable antennas
Excellent coverage
ARRIS Surfboard G36 Multi-Gigabit Cable Modem & AX3000 Wi-Fi Router
As one of ARRIS' flagship products, the ARRIS Surfboard G36 is packed with features, such as Wi-Fi 6 support, Docsis 3.1, and multi-gig networking compatibility.
Suited for internet speed plans of 1.2 Gbps, this modem router is more than capable of handling HD multimedia streaming on multiple devices at a time with minimal congestion.
$339.99*
WPA / WPA2
Cable: 2 Gbps*
WiFi: 3000 Mbps*
5 LAN
Suited for 1.2 Gbps plans*
Our View
Achieving theoretical wireless speeds to 3000 Mbps, in our tests, the G36 managed 2.4GHz speeds of up to 220Mbps and 5GHz speeds of almost 950Mbps, covering nearly 3000 sq ft of area, with a varying degree of consistency. The 4 GigE ports, and a 2.5G port, are more than capable of ensuring your wired devices receive the best possible multi-gig speeds. The ports support link aggregation as well.
Spec-wise, the ARRIS Surfboard G36 is a perfect sub-$350 wireless modem router combo for a small office network to provide superfast internet speed for both wireless and wired devices.
* Prices and data correct at time of publication. Max. supported cable and WiFi speeds, actual speeds may be lower.
DOCSIS 3.1
4x 1GigE ports
1x 2.5GigE ports
WiFi 6
No USB ports
No MU-MIMO
No Beamforming
ASUS AX6000 (CM-AX6000) WiFi 6 Cable Modem Wireless Router Combo
Asus' powerful DOCSIS 3.1 Cable Modem and WiFi router device is based on AX6000 WiFi-6 technology, offering up to 6000 WiFi speeds.
Whilst slightly pricier than similar models on the market, the Asus CMAX6000's ability to handle multiple devices with ease and its superb performance make up for the cost.
$399.99*
WPA / WPA2
Cable: 1 Gbps*
WiFi: 6000 Mbps*
4 LAN
Suited for 1 Gbps plans*
Our View
Stylish and elegant with a heat efficient design, the CM-AX6000 is compatible with all the major providers and suited for plans up to 1 Gbps.
With four Gigabit Ethernet ports and four 4x internal antennas, the device offers, with OFDMA and MU-MIMO, 4.8 Gbps on 5GHz, and 1.2Gbps on 2.4GHz wireless bands, covering up to 2,500 Sq. Ft, making it easy to distribute and share your fast internet connection with wired and wireless devices.
* Prices and data correct at time of publication. Max. supported cable and WiFi speeds, actual speeds may be lower.
DOCSIS 3.1
4x 1GigE ports
WiFi 6
No fan design, minimal sound emissions
Pricey
No USB ports
No Beamforming
ARRIS SURFboard SBG10 DOCSIS 3.0 Cable Modem + AC1600 Wi-Fi Router
A budget-friendly wireless cable modem router, the ARRIS SURFboard SBG10 is a popular choice, offering simple installation and straightforward account setup, all in a robust device offering reliable connectivity options.
Featuring 2.4/5 GHz dual-band 802.11ac Wi-Fi (AKA Wi-Fi 5)concurrent multiple device connectivity and works with all major U.S. cable providers.
$114.99*
WPA / WPA2
Cable: 686 Mbps*
WiFi: 1600 Mbps*
2 LAN
Suited for 500 Mbps plans*
Our View
The ARRIS SURFboard SBG10 provides maximum download speeds of 686 Mbps and, in our opinion, is well suited for 500 Mbps plans from all the major service providers. Featuring WiFi speeds of up to 1600 Mbps and 2 GigE ports, the device provides decent connectivity options for both wired and wireless devices and is suitable for small home office environments.
Despite being priced at the lower end of the scale, this device stacks up well against some of its more expensive competitors and is just as capable for intense bandwidth wired and wireless applications such as HD Multi-Media Streaming and High-Performance Online Gaming.
* Prices and data correct at time of publication. Max. supported cable and WiFi speeds, actual speeds may be lower.
DOCSIS 3.0
2x 1GigE ports
WiFi 5
No USB ports/li>
No MU-MIMO
No Beamforming
NETGEAR Orbi WiFi 6 System with DOCSIS 3.1 Built-in Cable Modem (CBK752)
Netgear's Orbi DOCSIS 3.1 Cable Modem and WiFi 6 System provides high-performance WiFi coverage for up to 5,000+ sq. ft for multiple devices.
The Orbi WiFi 6 System offers blazing 4.2 Gigabit speed with WiFi 6 technology for uninterrupted streaming and HD web conferencing, and is suitable for internet plans up to 4Gbps from most cable service providers.
$649.99*
WPA / WPA2
Cable: 10 Gbps*
WiFi: 6 Gbps*
4+2 LAN
Suited for 1 Gbps plans*
Our View
If you're aiming to ensure reliable seamless WIFi coverage in a wide area with minimal dead zones, Netgear's Orbi mesh Wireless system provides coverage for up to 5,000 sq. ft. and easily expandable range (by 2,500 sq.ft.) with each optional Orbi Mesh WiFi 6 satellite.
Netgear Orbi WiFi 6 (RBK852) brings the leading mesh networking technology into Wi-Fi 6 territory, pushing a solid and reliable signal throughout your office while adding an extra layer of security.
* Prices and data correct at time of publication. Max. supported cable and WiFi speeds, actual speeds may be lower.
DOCSIS 3.1
4x 1GigE ports (base unit)
2x 1GigE ports (satellite unit)
MU-MIMO
Beamforming
Expandable WiFi coverage
WiFi 6
What to look for when buying your Cable WiFi Router Modem Combo
Choosing the right Cable Modem/Wireless Router Combo device is critical for ensuring dependable internet connections. Because of the wide range of Cable modem Wireless Router products on the market, it is necessary to analyse the characteristics required.
Here are some of the essential considerations make when purchasing a WiFi Cable modem router:
Compatibility
A device you choose must be compatible with Cable service. Make a direct enquiry from your DSP service provider or ISP to confirm its compatibility.
Check with your ISP provider
Your ISP provider that should allow the user to change their leased modem. While most of the providers allow the users to buy their modem, smaller DSL companies may not allow. Check the list of approved models by ISP which are compatible. 
Ports
The Cable WiFi Modem Router unit you are choosing should have high-speed Ethernet and be able to establish a reliable to connection with computer devices to ensure sataisfactory speed. Extra features such as USB ports play essentially an important role for multi-purpose functionality as well as easy use.
Additional LAN/Ethernet ports will allow wired devices, such as desktop computer, with ease.  Ethernet ports can also be used to extend your WiFi range to areas and zones where you may experience a weak wireless signal.
RELATED: What is the best way to Extend your WiFi Range? Extending your Wireless Network for the best coverage
Wi-Fi Settings
There are Cable Modems with Wi-Fi and without Wi Fi features. The modem with Wi-Fi facility allows wireless connection and is suitable to be kept at any place.
Every added feature to a modem comes at a considerable cost. Hence, it is judicious to invest in those features which you are going to buy.
Support for Internet Speed – For a fast internet, you must choose a router or modem that offers that capability. Purchasing a low-cost item may interfere with performance. Check for all necessary protocols before purchasing.
Wireless Network Standards
All of the equipment discussed in this article involve a modem and router, as well as WiFi. Most routers nowadays are dual-band, supporting both 2.4GHz and 5GHz wireless networking.
In general, the lower-frequency 2.4GHz has a longer reach, whereas the more contemporary and higher-frequency 5GHz can transmit more data faster.
While most new WiFi Cable modem routers are dual-band, double-check to confirm that your existing wireless devices are compatible.
Furthermore, the wireless network speeds supplied by the modem are frequently determined by the wireless standards supported.
Extras
Finally, many users will find the extras that come with the modem useful. Some Cable Modems with WiFi Router may come with extra capabilities such as QoS (Quality of Service) and VPN (Virtual Private Network) functionality and firewall support to improve the security of your Internet connection.
If any of these qualities are important to you, ensure sure the wireless cable modem router you buy offers them.
Ease of use
No matter if you are a novice user or a technical pro, you must be able to handle the device easily. Features like LED indicators help in monitoring the operations of the device. Easy-to-access ports and buttons, as well as a detailed user manual, are some of the features which a user should look for.
Cable and WiFi Router Modems: Frequently Asked Questions
Does the modem affect your internet speed?
Yes. However, your modem will not be able to provide a greater internet speed beyond what your service provider offers. As a result, even if your modem is faster than your ISP's broadband speed, the total speed you can achieve will never surpass that offered by your broadband.
Let's assume you have a 250 Mbps internet connection, for example. If your modem allows 350 Mbps speeds, you will most likely achieve 250 Mbps, but no faster. However, if your modem only allows a maximum speed of 150 Mbps, you will never be able to achieve a maximum speed of 250 Mbps.
What is a wireless cable modem and router combo?
A modem connects and converts one communication medium to another.
Your internet service could be delivered by phone lines (DSL), optical fibre (FTTP), or coaxial (cable), each of which offers a unique transmission medium that adheres to distinct standards. A modem would convert your ISP's transmission medium to an Ethernet standard.
The modem you need will be determined by the service you subscribe to from your Internet Service Provider (ISP).
The router is in charge of routing data to and from specified internet-connected devices. The router, for example, will transport traffic from your laptop to your email server or online address (URL).
A modem and router combination is essentially a device that combines the operations of a modem and a router into one unit.
What is a Wi-Fi Router?
A Wi-Fi router routes data to and from wireless devices. A wireless router, also known as a WLAN (wireless local area network) device or often a Wi-Fi hub, routes and handles data from wireless devices to the internet.
During a typical day, you might send and receive emails, watch internet video, or download files. These activities necessitate varying amounts of data transmission, which is handled by the wireless router.
What is dual-band Wi-Fi?
Dual-band Wi-Fi is a feature in which wireless routers simultaneously transmit the signal over two independent radio frequencies, in this case 2.4 GHz and 5 GHz.
Dual-band Wi-Fi increases wireless network speed by distributing available bandwidth across two frequencies rather than one.
RELATED: What is Dual-Band WiFi?
What does Mbps mean?
Megabits per second (Mbps) is an abbreviation for 'one million bits per second.' The bandwidth unit, which specifies how much data passes via the link in a second, is the fundamental unit for evaluating internet speed.
One Megabyte (MB), the file size unit, is equal to 8 Megabits (Mb). To download a 10MB file in one second, you'll need an 80 Mbps connection.
What is Beamforming?
Beamforming is a technology which allows the wireless signal to be directed toward a single receiving device rather than spreading the signal in all directions. The direct connection results in faster and more dependable than without beamforming.
What is MU-MIMO?
MIMO technology was developed to improve the number of concurrent users that a single access point can accommodate.
MU-MIMO (multi-user, multiple input, multiple output) supports concurrent users accessing Wi-Fi 6 and 6E networks in uplink and downlink scenarios. MU-MIMO is a substantial advancement over SU-MIMO (single-user MIMO) or just MIMO.
MU-MIMO technology is now widely accepted as an important component of the Wi-Fi 6 (802.11ax) standard, which evolved from the 802.11ac protocol. Older standards (such as 802.11b, g, and n) do not support MU-MIMO.
What does DOCSIS mean?
The Data Over Cable Service Interface Specifications, often abbreviated to DOCSIS, is a standard used by cable operators to provide internet access. Your cable modem's speed is determined by the DOCSIS standard it supports and the number of channels it provides, albeit your ISP must also support these standards on the other end.
Purchasing a DOCSIS 3.1 cable modem will not improve performance if your cable provider only supports DOCSIS 3.0, but it may be a wise long-term investment.
DOCSIS
Production date
Max. downstream capacity
Max. upstream capacity
Capabilities
v1.0
1997
40 Mbit/s
10 Mbit/s
First release
v1.1
2001
VOIP and QoS capabilities added
v2.0
2002
30 Mbit/s
Upstream data rates enhanced
v3.0
2006
1 Gbit/s
200 Mbit/s
IPv6 & channel bonding support introduced, downstream & upstream data rates Increased
v3.1
2013
10 Gbit/s
1–2 Gbit/s
channel specifications restructured, downstream & upstream data rates increased
v4.0
2017
6 Gbit/s
Increase in upstream rates from DOCSIS 3.1
How do Cable and DSL internet differ?
Cable internet transmits data to a cable television network via a coaxial cable. Although cable is typically faster than DSL, the biggest disadvantage is that you must share bandwidth with neighbours who use the same cable line.
As a result, your speeds would be severely decreased during peak hours when a big number of people are online. Cable internet speeds, on the other hand, are unaffected by distance from your ISP or Internet Service Provider.
Cable Internet has more capacity in most regions, but it is also a shared medium. DSL is not the same as a shared medium. Even with the shared medium of cable, most users experience improved performance.
Aside from that, cable companies may charge more. If you have a good DSL choice (speeds/price), it can be worth considering, especially if you dislike the cable company.
DSL stands for digital subscriber line. It is a type of link that transmits data across a telephone network using a telephone cable.
Cable is more more prevalent in the U.S. in UK and Europe, and Asia DSL internet technologies is more common.