What is Unified Communications & How can it Benefit my Business?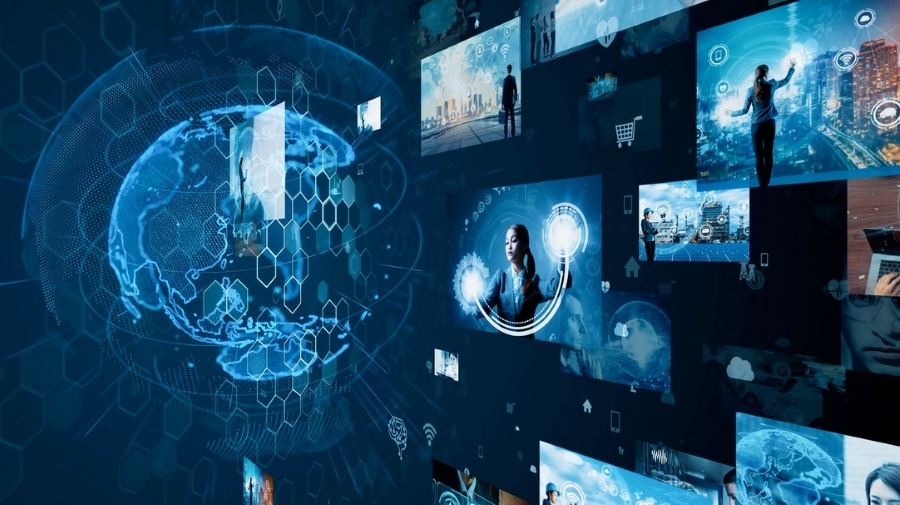 As businesses are faced with the new normal of flexible employee work hours, the concept of unified communications is getting more and more popular. Companies across business sectors are adopting this strategy to improve productivity and optimize processes while giving their workforce the flexibility they enjoy.
Switching to unified communications platforms is a smart move and has several benefits for businesses.
Let us try to learn what unified communications is and how it can benefit your business.
What is Unified Communications?
Unified communications is a platform that brings together email, messaging, screen sharing, phone, file management, video conferencing, and other modes of communication to deliver a seamless experience.
It essentially provides a central hub for collaboration across channels to improve productivity, reduce costs, and enhance the overall customer experience.
Unified Communications focuses on offering a single, consolidated system that organizations can use to facilitate communication, whether it is employee-to-employee or employee-to-client.
Some of the most popular examples of unified communications utilities include Slack, Microsoft Teams, etc. As these tools are hosted on the cloud, they are cost-effective and flexible for small businesses as well as enterprises.
RELATED: Unified Communications: Getting started with UC Technology
Benefits of Unified Communications for Businesses
As more and more businesses consider turning towards remote and hybrid working environments, it is a good idea to have a centralized platform that promotes seamless collaboration and improves productivity.
Here are some of the key benefits businesses can expect by implementing unified communications as a part of their communications strategy.
Improved Productivity and Efficiency
Any business would want to eliminate bottlenecks and improve operations. Using a number of applications to manage communications consumes time and affects efficiency.
Unified communications systems resolve this issue by offering a centralized platform for all the tools. As it is in the cloud, employees are not bound by time or location and can work comfortably from anywhere at any time.
By adopting this technology, organizations can get more out of their employees and get over the current challenges associated with the communication. With better collaboration capability, employees can accomplish tasks much faster and more efficiently.
Lower Communication Costs
Organizations that host communication tools on-site often spend a lot of their IT budget on this area. On the other hand, a unified communications platform uses the internet for everything which means it is more affordable.
Implementing this system eliminates the need to spend on separate services for video conferencing, calling, and instant messaging. Unified communications providers generally bundle the tools together and offer the service for a competitive subscription fee, thereby reducing the cost.
Adopting a unified communications system helps save in several ways. Firstly, there is no need to spend on building or updating any server infrastructure.
Next, whenever you want to add a user, you can quickly do it from your dashboard and need not make a service call.
Moreover, your monthly cost of communication is predictable, which means you can set and manage your budget better. Virtual meetings in place of face-by-face meetings help lower travel costs and other associated expenses.
Enhanced Customer and Employee Experiences
Customers like receiving prompt responses from a business; every company prioritizes providing a pleasant experience to customers.
Unified communications helps organizations achieve this by enabling employees to reach customers across a variety of channels. As employees can access interaction history and incoming messages from any device, they can tailor the responses better.
A unified communications platform also allows integrating the CRM software so that the customer support agent can instantly see all the information associated with the customer contacting the business.
This results in efficient communication, faster resolution, and a strong customer-brand relationship.
Remote Workforce
While the workforce continues to evolve forever, remote working has recently become a successful model for businesses and employees alike. Recruiting remote employees allows you to hire talent beyond geographic limitations.
However, organizations are often not sure about giving remote workers the tools they need.
Unified communications empowers a remote work environment by integrating every communication aspect into a single platform.
Your remote employees simply need an internet connection to connect to your network and use the features and data to work as if they were physically at the office.
Reduced Silos
Silos in an organization tend to scatter data across communication channels. A solid unified communications solution would help bring together all the corporate data in a single workspace by integrating the platform with the business software.
You can integrate the solution with your CRM to ensure that you have ready access to customer data and interaction history whenever required.
Improved Scalability
Another amazing benefit of unified communications is the ability to scale without problems as the business grows.
Traditional communication methods in an organization can make it difficult and even impossible without a significant investment.
As the solution is hosted on the cloud, it is easy to scale it according to your business requirements.
Each communication tool is integrated into a single interface, so adding users and features is quite simple.
Some providers would even offer you customized plans to give you the flexibility and control you need to expand your infrastructure without spending extra.
Final Thoughts
Unified communications offers many benefits to businesses looking to improve collaboration and improve experiences.
When done right, it enables organizations to access data quickly, exchange information efficiently, and transform the way employees and customers communicate and collaborate. It is a cost-effective communications approach that delivers great value for investment.