Video Conference Best Practices: 10 Tips to Improve your Video Conferencing Etiquette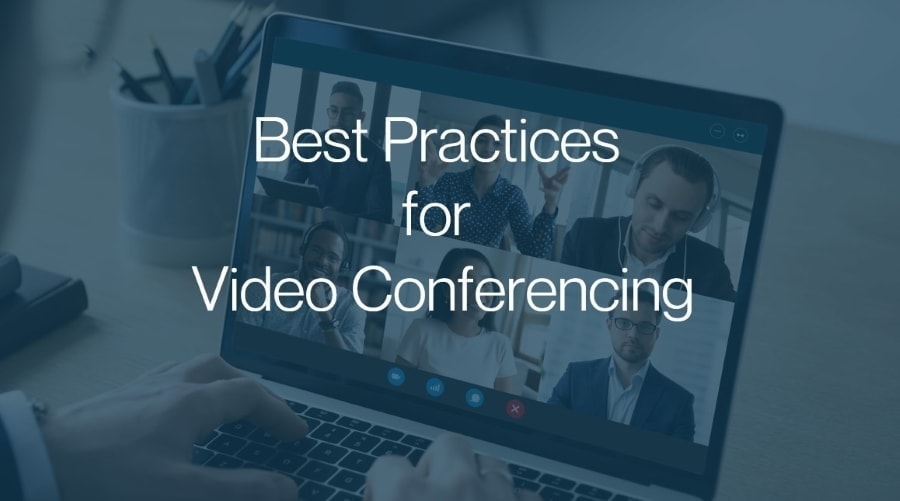 With the increase in remote working across the globe, video conferencing is now the norm for many employees. However, while video conferencing platforms have allowed people to connect remotely to collaborate, on occasion virtual meetings may not always go to plan. To help you avoid this, we provide best practices for conducting your video conference.
Numerous problems can arise during a video meeting, including an unreliable internet connection, unwelcome background noises, a distracting backdrop, or a low-quality microphone. Fortuantely, our 10 simple tips below, will help you avoid such issues in your next video conference.
10 Video Conference Best Practice Tips
Being unprepared is one of the worst mistakes a virtual meeting leader can make. Nothing is more frustrating than fumbling through folders, internet windows, or a poor internet connection while your participants wait for you.
Here is a summary of our top video conferencing tips:
| | | | |
| --- | --- | --- | --- |
| | Check your technology before starting | | Make sure you have adequate lighting |
| | Dress Appropriately | | Ensure you have a stable internet connection |
| | Have chargers and cables nearby  | | Organize your computer desktop |
| | Remove any distractions and clutter | | Turn off notifications  |
| | Create a schedule | | Mute yourself when you're not speaking |
Read our video conference best practices to learn how you can make video calls like a pro.
Ten Best Practice Tips for improving your Video Conferences
There are several ways to enhance the video conferencing experience. For instance, you might build a schedule, turn off your microphone when others talk, use noise-canceling headphones, set a backdrop, conduct technical checks before a call, and sit in a well-lit space, among other things.
Read on to learn how to improve your video conferencing experience.
1. Check your technology before starting
To begin, there are many considerations. Before you begin your video conference call, thoroughly test everything. You should run a quick test to ensure that your video conferencing software is performing properly.
If you need additional assistance, educate yourself about how to use Zoom or whatever device you're using before fumbling with the settings and complicating matters.
You may discover that your device's video quality is poor or its internal microphone is not working. If you participate in virtual meetings regularly, you may want to invest in additional video conferencing equipment, such as an external camera or microphone. Not only can you appear and sound more professional, but you will never again have to deal with laptop technical difficulties.
Too many open applications can cause your machine to slow down when you're on a video call. This is because the call itself consumes a significant amount of resources, even more so if you're using a lightweight laptop. If during a video conference the application begins to slow, it may help to close all other open applications.

2. Dress appropriately
Professional appearance means something different to each person. If you're uncertain, it's better to dress up rather than down. Bear in mind that the standard in-office dress code should still be followed, particularly if you're on a video conference with your boss or other people you're trying to impress.
Whether you're planning or conducting interviews remotely, you'll need to dress appropriately. If you normally wear business attire, wear one. Conventional interview protocol should not change simply because you are not speaking in person.
3. Have chargers and cables nearby
If you are using laptop or tablet to conduct your virtual meeting, its best to have the charger nearby.  The last thing your want is for your device to suddenly run out of battery during the meeting and switching off. Because of this, you can end up missing large chunks of an important video call.
A good tip is to have the charger nearby or keeping your device plugged into an electrical socket throughout an entire video call.
4. Remove any distractions and clutter visible in your background
Remote work entails a plethora of exclusive work "desks." Whether you work in a spare bedroom, a home office, a back patio, or a basement, it's important that your workspace is clutter- and distraction-free.
You'd be surprised how easily meeting participants can divert their attention away from the presenter and toward the colleague, particularly when children are running wild or dogs are playing with toys in the background. Consider the video box of each participant as a television. If something is happening in your box that isn't just you sitting and looking, you're creating a diversion.
This is also true of inanimate objects in your background. If you're in a bedroom, make your bed. Remove any embarrassing or non-work-appropriate things from the wall behind you if you're in the basement. Bear in mind that even though you're in your basement, you're still working. Make every effort to build a professional atmosphere for what you have.
5. Create a schedule
Disorganized video calls are a nightmare. Even more so when participants are continuously interrupting one another, the host is constantly switching subjects, or the call drags on for hours and hours. That is why planning is essential.
However, how can you ensure that a video call is arranged properly? A great way to accomplish this is to create a schedule that details the meeting's timings, speakers, topics, objectives, and other critical components. After making a schedule, you can email it to all participants before the video call and include it in the call's summary.

6. Make sure you have adequate lighting
Ensure that your video conference call location has adequate lighting. This means your face should be free of sun streaks and should not be backlit. Low lighting is also unfavorable.
If the space does not have adequate lighting, bring in another source of consistent lighting, such as your living room lamp or a newly purchased fluorescent ring light if you've invested in a more comprehensive home office setup.
7. Ensure you have a stable internet connection
As is the case for all forms of video streaming, a good and stable internet connection is needed.
Before the event, test your WiFi to ensure that it is capable of supporting video conferencing. If it is unable to do so, consider using an ethernet cable for a more secure link or a WiFi extender to extend your WiFi range.
Related: 5 Tips to super boost your Wi-Fi
If you experience internet issues, bear in mind that you can need to disable your webcam to boost your connection's overall efficiency. If the connection is truly awful, you may need to log out of the video call entirely and dial in using your mobile phone.
8. Organize your computer desktop before sharing your screen
There is nothing more humiliating than sharing your screen and discovering that you failed to exit a personal Slack conversation or that a dubious tab was left open.
Do yourself a favor and tidy up until the meeting begins. Ascertain that everything that must be brought up for the meeting is prepared and that everything that does not need to be brought up is hidden.

9. Turn off notifications
After clearing your screen and preparing for the meeting, you can disable all alerts. This prevents you from receiving any interrupting notifications or preview messages when sharing your phone.
Nothing is more infuriating than receiving endless pings from your social network, text messages, or lead scoring apps.

10. Mute yourself when you're not speaking
One of the most essential best practice tips for video conferencing – When you are not speaking, mute yourself. This is the first and most important rule in video conferencing etiquette.
Although this rule is straightforward in principle, it may not be so straightforward in practice. You'd be surprised by how often people fail to mute their microphones, subjecting their whole party of meeting members to distracting background noises.
When you're listening, mute yourself; when you're speaking, unmute yourself.
Video Conference Etiquette: The Do's and Don'ts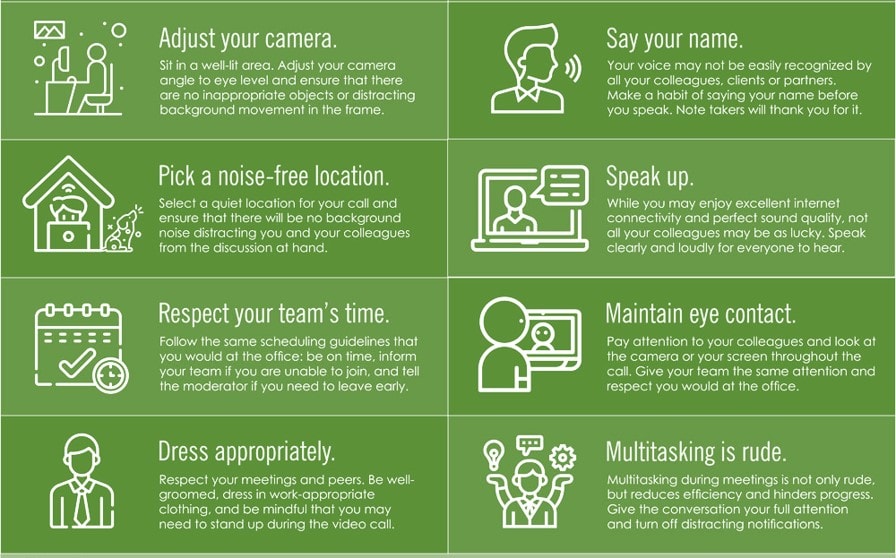 Video Conferencing Best Practice: Final Tips
Working remotely has many benefits, but it can be challenging to find your rhythm when you are no longer meeting with people in person.
Make the most of your next virtual meeting by following these 10 simple video conferencing tips and best practices. By doing so, you'll appear confident while getting your message across flawlessly.
Utilize all available video conferencing features to keep your remote team active, linked, and learning. There are chat boxes available if you don't want to disrupt an ongoing discussion, polling, screen sharing, recording options, branding features, and webinar modes, among other features.
These features augment your meetings in ways that are impossible to accomplish in person.
While Zoom and Skype are two of the most common solutions on the market, they have a number of key distinctions.  compare them all to determine which one is best for you.