Unified Communications: Getting started with UC Technology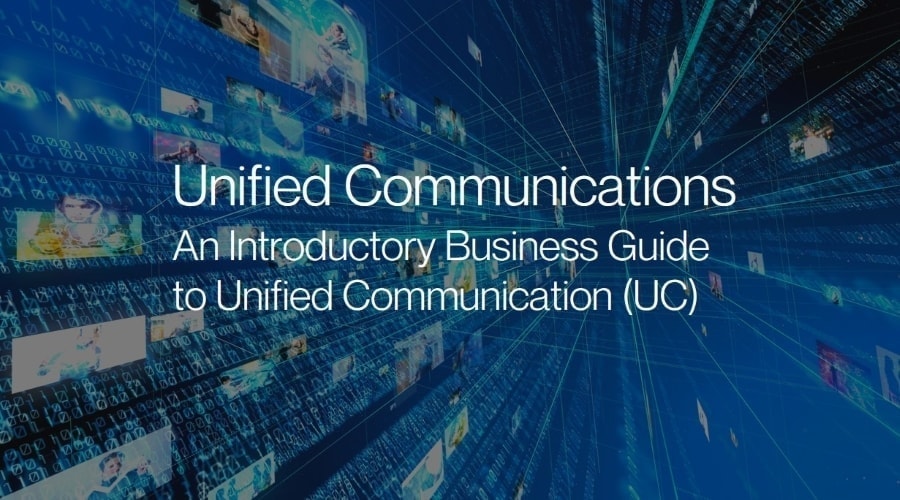 Today's world is rapidly undergoing a digital transformation. This technological evolution, driven in part by Unified Communications technologies, is fast ushering in a phase where employment is no longer restricted to a desk, computer, or phone. Employees are given the freedom to complete their tasks and showcase their skills and find new opportunities worldwide.
As trade becomes increasingly globalized, and with the experiences gained from the pandemic, organizations are finding new ways to accommodate users who want to get free from the limitations of wires and locations. While there are several powerful communication tools available for different business types, they lack the seamless integration offered by UC and often fail to keep pace at which the world innovates.
Below, we explain what unified communications is, its features, how it works, and the benefits UC technologies bring for businesses. This guide also covers considerations for buyers looking to invest in unified communications solutions, explaining some of the associated costs.
What is Unified Communications?
Unified Communications, or UC, refers to a collection of technologies that bring together all the ways a business uses communication and helps them interact with one another to improve business efficiency, productivity and collaboration.
It essentially refers to how different communication methods integrate and collaborate within a business. By unifying various communication technologies and tools, users can share and access information and collaborate more efficiently.
Regardless of the size and niche of the company, the right unified communications solution can boost productivity, improve collaboration, increase mobility and enhance user experience.

A business may use different channels for communication, including instant messaging, phone, email, video conferencing, fax and more. Unified Communications streamlines the communication among employees and integrates the tasks and projects of a business to boost productivity.
With the help of UC technologies, organizations can easily manage and integrate several communication methods to ensure a consistent user experience.
History of Unified Communications
In the mid-1990s, the concept of unified communication was first introduced as messaging started blending with real-time communication. Most organizations relied on the PBX (Private Branch Exchange) telephone system before this. They were run by local phone companies and required lines that routed calls from the office to the user.
As businesses started deploying Internet Protocol (IP) based systems, voice technology experienced an evolution. Technological advancements led to the development of VoIP (Voice over Internet Protocol) telephony systems capable of transmitting voice traffic across networks.
The increasing popularity of VoIP deployments through the 90s resulted in a decline of PBX systems. In addition, the power of IP telephony to support multiple phones on a network of computers opened possibilities for integrating computers and phones.
The idea of unified messaging was born to streamline fax, email, voicemail and text messaging. Looking at the demand for IP telephony in the 2000s, leading companies like Nortel and Avaya started modifying the traditional phone systems.
At the same time, Cisco and other providers created equipment to allow the placing of voice calls across networks. These solutions underwent an evolution throughout the decade and saw an integration of real-time communication methods like telephony, presence, instant messaging, desktop sharing, video conferencing, and more.
During the mid-2010s, cloud technologies evolved and a new service model named Unified Communications as a service emerged. Today, this service has become more mainstream, with cloud-based offerings gaining popularity from their cost-saving benefits.
How Unified Communications works
Though organizations may be aware of the benefits of unified communications, many don't understand how it works.
To leverage the benefits of UC, back-end UC platforms are required, which allow the integration of multiple communication channels and technologies to provide a robust front-end interface for users.
A UC system consists of two components – a robust back-end communication system and a fully-featured user platform. Here is what each of these components is made up of:
User Interface System
Voice applications for voicemail, voice calling and conferencing
Text applications to facilitate email, live chat, SMS and instant messaging
Web conferencing services for interactive whiteboards and meetings
Video tools for conferencing and telepresence
Social networking tools for collaboration
Back-end Communication System
Unified communication server
On-premise or cloud-based protocol
VoIP-enabled telephony with microphone, camera and headset
A multipoint control unit that facilitates video conferencing
A good combination of these components creates an effective unified communications system that helps businesses grow and profit from increased productivity, cost reduction and improved customer service.
Trends in the Unified Communications Market
As the need for flexible communication channels like video conferencing and instant messaging gets more important than ever, the UC industry evolves rapidly and becomes more popular. As a result, companies are realizing more and more how UC can help them serve their customers and employees better.
The most significant trend driving the adoption of unified communications is digital transformation. The rise of the digital workforce relies on the idea that users should access the required tools from any place and any device. Adding to this, the shift towards cloud communications gives the environment perfect for unified communications.
With an increasing number of organizations encouraging their employees to work remotely, workplaces breach boundaries to discover opportunities. UC is the only sure path to better productivity and interaction. Here are some of the market trends anticipated in the future of unified communications.
Rise of Global SIP – SIP has been rising as an intelligent and cost-effective tool that facilitates a starting point for collaboration services. The global availability of SIP means multi-national businesses can capitalize on worldwide interaction with cost reduction and easy management. The two essential facilities are now accessible as a single service.
Provision for Cloud – A part of the organizations already deploy their UC solutions in the cloud, and others consider cloud deployment for some of the features. Cloud-based UC is more scalable and flexible, and more cost-effective as compared to the on-premise deployment method.
Maturing of Artificial Intelligence – It is not only the product as a service trend that drives the ability of businesses to improve customer experiences. Automation and artificial intelligence are also becoming more significant, with features such as bots proving to be helpful in everyday communications.
Increasing focus on EX as CX – The market trends for unified communications often focus on consumer experience (CX) because it drives profitability. However, a UC system can enhance employee experience, too, thereby further enhancing the consumer experience.
Capabilities provided by UC Technologies
A unified communications system is essentially comprised of different components and features. The exact set of features a business would want in a UC depends on several factors and can vary between organizations.
However, there are some key features that several types of businesses would want in their integrated communications platform.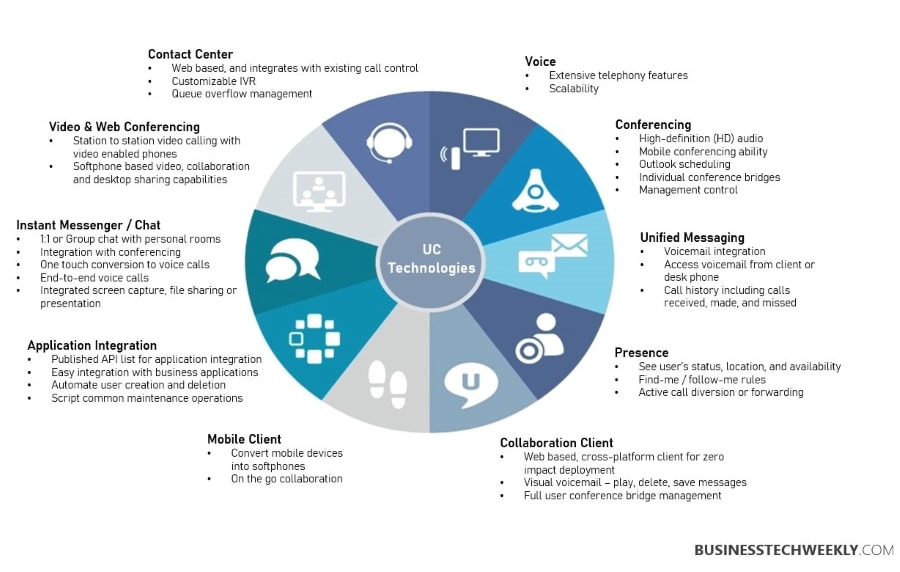 Unified Messaging
This feature allows a business to access the communication system easily. These applications have multiple components, and unified messaging means all the messages are delivered into a single inbox. This feature allows message interaction and management in a convenient, flexible manner. You also get the facility to share, respond or forward the messages. In addition, this type of system saves costs of physical servers for larger businesses.
Unified messaging features also allow accessing the conversations in multiple systems. While you access your email through the premise and cloud-based email system, you can also receive all the communication on your web interface and mobile devices. You must choose unified messaging systems that meet your business's security and compliance requirements.
Video & Web Conferencing
Regardless of the size of the business, face-to-face conversation is sometimes essential for business operations. When it is practically difficult to meet in person, a reliable video conferencing service is crucial.
Fortunately, real-time video has evolved from traditional phone calling and is a favorite feature for long-distance meetings and webinars.
Video conferencing is particularly beneficial for discussing complex subjects, especially when used in conjunction with desktop sharing.  It is also a valuable feature for international companies and in cases where traveling is difficult or restricted.
Presence Management
A popular feature of a unified communications platform, presence management keeps all the communications in a business organized in a single location. Presence Management is much more than just seeing who is online or offline.  Typically, services such as company directory, call status options, monitoring tools and extensions overview are covered by this feature.
Presence management allows staff to see and exhibit how busy they are during the day and enables organizations to keep track of call trends. Status indicators such as Out of the Office, Active, and Do Not Disturb can be set to inform colleagues and prioritize individual workloads.
Fax Support
Faxing, while "old" technology, is still used for document sharing, particularly where signatures are required. Unified communications support mobile faxing, OCR and other technologies, allowing documents to be faxed and shared in a digital format via email.
Mobile Apps & Softphones
Mobile devices have dramatically changed the digital landscape, altering the way we communicate with one another. Consequently, having a mobile app for your unified communications platform provides the ability to access all the system features through a smartphone.
Softphones let users extend their communication to laptops or computers, providing multiple channels for making calls.  Softphone offer users to tailor their working practices to their style and preferences, regardless of their physical location, by breaking the confines of the desk phone.
Mobile apps and softphones are beneficial for organizations that have or are planning to mobilize their workforce.
Direct Call Routing
Similar to unified messaging, this feature helps you ensure that a caller can always reach you. A phone number can be programmed to call different destinations to contact a specific individual, whether through a desk phone, mobile device, or IM. If the individual still cannot be reached, the call is transferred to a voicemail ending up in unified messaging.
Automated Attendants
Automated attendants transfer calls to an extension without ringing the receptionist. Callers are presented with a menu with simple instructions to direct them to the department or individual they require, thereby minimizing the possibility of missing calls.
Automated attendants can also route calls to mobile phones, external third parties, or an out-of-hours service.  This feature can be customized to provide callers with a welcome message, office hours, or even the latest offers and promotions.
Instant Messaging
Businesses are readily embracing IM services to improve communication and efficiency. Instant messaging is particularly useful for those businesses that use video conferencing. During conferences, these apps allow participants to communicate with each other in real-time and share documents.
IM applications make communication cheaper by working as a complement or alternative to traditional phone calls. You need not hang up the phone in case you need some information from somebody. You can use the IM app to contact the person as you continue the conversation, saving time and money in the process.
Desktop Sharing
Sharing desktop content with remote users aids collaboration and also helps remote teams to resolve any technical issues quickly. Desktop sharing is highly beneficial when used in conjunction with video conferencing.
Dynamic Lines
It is never easy to predict the call volumes for any given period, and you are likely to lose potential customers if they are met with a busy line when trying to contact your business. If your business is seasonal, with call volumes varying throughout the year, this can be more challenging.
Unified communications can help address such challenges through dynamic lines.  Also referred to as line bursting, dynamic lines allow organizations to procure the typical number of lines they need to meet the average call demand while providing the capability to increase line capacity during busy periods automatically.
Integration
Organizations will have their unique processes and business needs and use multiple systems to run their day-to-day operations. Consequently, being able to integrate their communications platform with third-party tools provides a significant advantage.
A robust unified communications system should serve as an organization's backbone, enabling third-party applications to integrate seamlessly with it.  Such a level of integration will strengthen the overall system and offer customization to suit that particular business.
Integrated Contact Center
A dedicated contact center solution is a facility to have.  However, integrating your contact center with your unified communications system will enhance its benefits. An integrated contact center will provide the ability to track customer interactions with your company, manage various agents, and monitor calls in a greater level of detail.
Benefits of Unified Communications Technologies
Unified Communications appeals to organizations of any size, from any industry.
One reason for this is that unified communications provide a single organizational communication platform to manage multiple communication channels. Such an edge makes firms more productive and gives them access to features that may be cost-prohibitive if procured separately.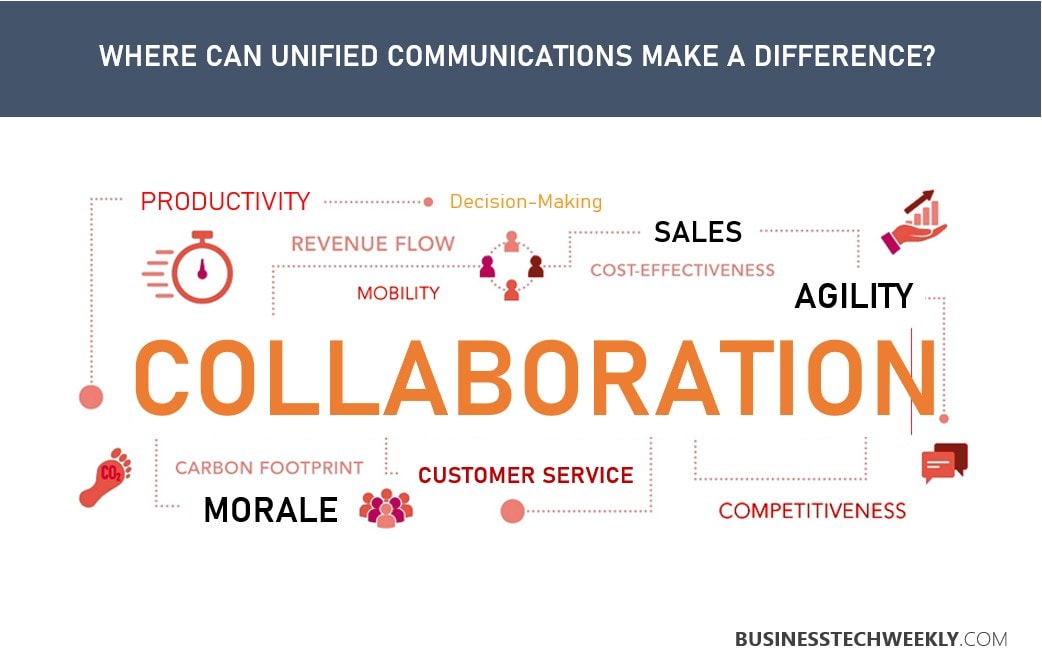 When done correctly, unified communications can provide the following benefits:
Improved Efficiency
A unified communications system reduces the number of channels used for interaction and collaboration, improving the efficiency of the employees as they have all the modes easily accessible through a streamlined interface.
Workers get easy access to all the resources whether they are sitting at a desk or on the move. The teams don't need to wait for emails or try to connect to telephony. They can leverage the benefits of advanced communication tools to boost performance and efficiency.
As firms grow, they can take advantage of the global talent pool by hiring staff from across the world. UC solutions can give your team easy access to tools and resources and allow remote working to save on costs. Larger enterprises often don't have the time to train their employees on a diverse range of devices.
A streamlined communications system makes onboarding easier and saves on costs, contributing to making the business more efficient.
Reduced Costs
A significant benefit of unified communications is the money it can save. Unified communications utilize cost-effective resources to provide savings to businesses, regardless of their size.
Smaller businesses have limited resources in terms of budget, technology and workforce. They are also under pressure to keep their costs low. UC can provide a cost-effective way to facilitate access to expertise from around the world. With more people working remotely, organizations don't need to spend as much as physical office space, ultimately reducing operating costs.
UC allows small businesses to benefit from improved functionality and productivity while saving on costs. Medium-sized companies also turn to UC to lower their operating expenditure while gaining reliable communication tools.
Unified communications can even deliver increased revenue to large-scale enterprises by saving them on managing and maintaining multiple channels that drain resources.
Increased Revenue
Unified communications (UC) enable organizations to improve their processes, simplify communication with customers by improving service, and ultimately increasing revenue.
When it comes to small organizations, a solution that is easy to manage and improves functionality while affordable is advantageous. These firms can realize an enhanced bottom line from savings passed on from an integrated communications system.
Mid and large-scale enterprises experience improved efficiency and processes, thereby increasing sales and revenue. The cost savings from this technology contribute further to making the business more profitable. These savings can be reinvested in developing newer products and serving customers better, contributing to the company's growth as a whole.
Improved Customer Service
Regardless of the industry, technological evolution has increased the expectations of customers in terms of service. Unified communications give the business the ability to deliver top-class customer service to meet and exceed such expectations. UC solutions make it easier to stay connected to prospective and existing customers from any device and location.
A high-quality UC platform allows SMBs to serve their customers better with advanced features that minimize flaws and downtime. As employees have a wide range of interconnected tools at their disposal, they have fewer issues to deal with and can resolve customer complaints faster, enhancing their experience and satisfaction level.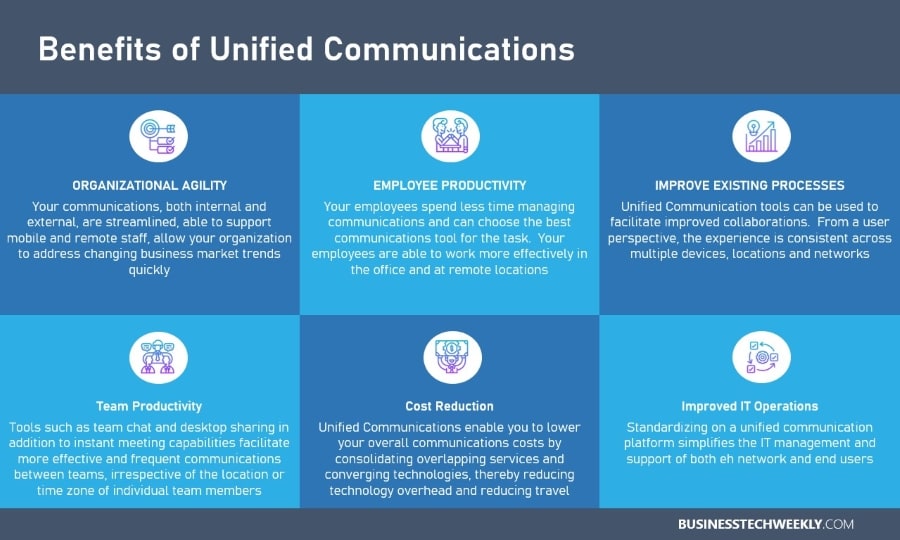 The Cost of Unified Communications
Unified Communications can provide an organization with significant value and cost savings over time.
With all the critical communication tools in one integrated system, a UC platform can lower bills from various providers, making management more straightforward and improving overall efficiency. With such a platform, your employees get an environment that enhances productivity, thereby improving the bottom line.
However, before deploying your UC platform, it is vital to understand how much is required to invest in a UC solution.
For most enterprises, the cost associated with unified communications is a critical factor in deciding which solution should be pursued. There are several factors that organizations need to consider to ensure it is gaining the value and benefits expected from a UC platform.
Such considerations include upfront, one-time and ongoing costs, the number of services you want to use, the size of your operations, the complexity of the UC solution and more. You should also consider opportunities to save or reduce maintenance expenses and weigh these against the cost of the UC platform.
Deploying Unified Communications Technologies on-premise
On-premise UC deployments generally have their advantages specific to certain organizations.  However, on-premise UC deployment often involves several hidden costs that may impact how you manage your budget in the future. One of the best examples of these hidden costs is the telecom charges for PRIs and local and international call costs.
An on-premise UC deployment will also have costs relating to the installation and maintenance of equipment and tools.  As a total cost of ownership model, an on-premise UC platform will require organizations to spend money on upgrades, licenses, and ongoing maintenance.
When you buy an on-premise solution, you select the features and functionality identified as applicable at the time. As the communication system evolves, you may find your requirements change and the need for additional software and tools with time, resulting in costs for standalone services.
Unified Communications as a Service (UCaaS)
Cloud systems deliver an entirely different experience compared to an on-premise UC solution, providing an edge over on-premise communications systems in this regard.
Cloud UC providers offer Unified Communications-as-a-Service (UCaaS),  providing essential capabilities for a monthly subscription.  This subscription typically includes maintenance, upgrades and a level of management suited to your needs.
UCaaS, as with any cloud service, offers agility, scalability and flexibility, allowing you to transform your communications systems into an integrated platform while only paying for the services you need.
For organizations seeking their first UC platform, these provide an attractive proposition, allowing companies to pay for fewer software and services initially and scale as needed.
A good UcaaS provider can help you reduce initial and ongoing costs, allowing you to reinvest the saved funds in other aspects of your operations.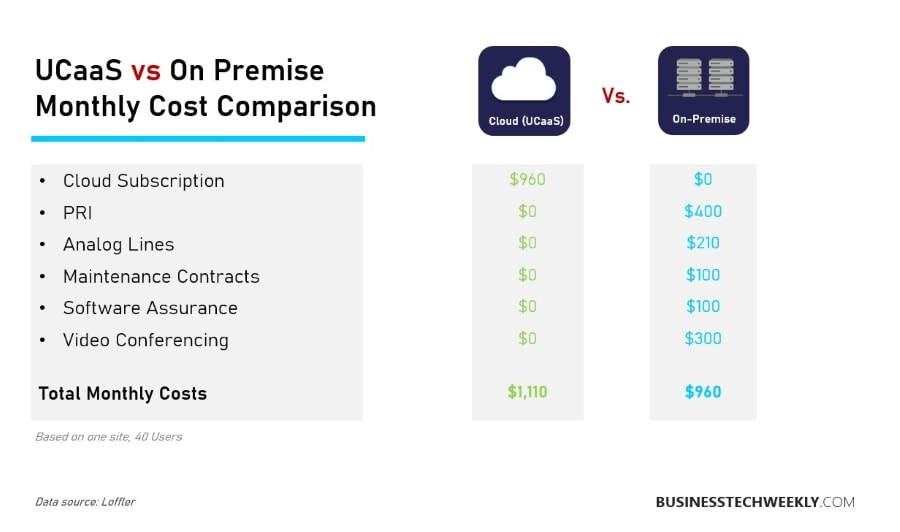 Unified Communications (UC) Buyer's Checklist
A unified communications platform should be your solution to effortless effective collaboration, providing cross-integration of your communication channels, such as IP telephony, instant messaging, screen sharing and video conferencing.
The unfettered growth of the telecommunications market has also led to an increase in the adoption rate for unified communications, opening up new opportunities for new and existing players in the industry. Some companies from outside of the landscape are also beginning to enter the arena.
As the marketplace for UC vendors continues to expand, it becomes significant that you find a technical supplier to work with to deliver your requirements.
The market for UC solutions has grown considerably in recent years and offers a wide variety of products and services catering to many organizations. Today, countless UC vendors are ready to support you in your search for a unified communications solution.
Related: Supplier Management Best Practices
Though the exact unified communications capabilities will vary depending on an organization's particular needs, here are some aspects of your UC platform your need to consider when deciding on a vendor.
UC Features
A powerful UC solution does so much more than just facilitating communication. It supports all the essential functions significant for modern-day collaboration and brings them in one place so that you don't have to waste time switching apps to keep up with the ways teams can interact with each other.
Today's workplaces rely on several collaboration tools, including VoIP, chat apps and video conferencing, text messages, calls, emails, and other traditional forms of communication. A good UC platform is capable of balancing old and new forms of communication with ease.
Each solution has its pros and cons. Instead of looking for an extensive range of features in one tool, you should make sure you invest in a platform that offers the functions and capabilities your teams can benefit from the most.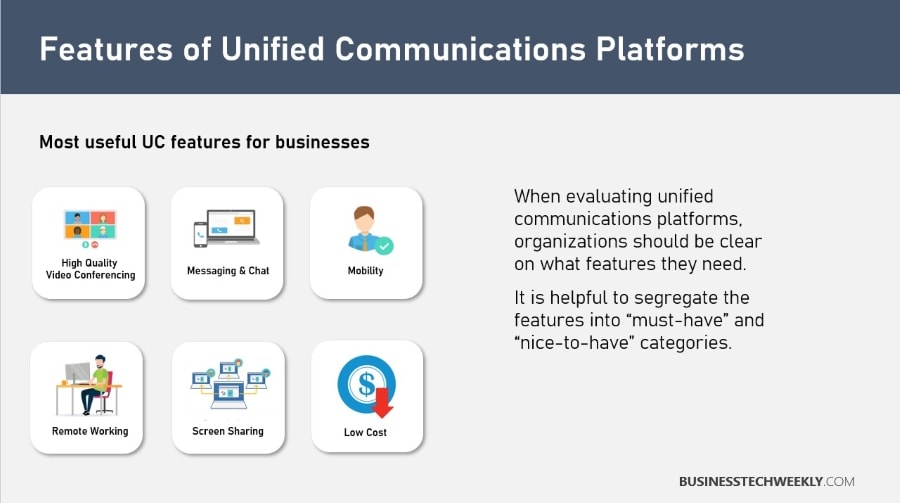 Flexibility
A unified communications platform is likely to evolve with your business. The features and functionality you need Today might be different from what your business demands in the future.
Considering this, you should look for a vendor that focuses on digital transformation and plans to introduce updates in the future. Check whether the provider is likely to give you growth opportunities whenever you require.
A flexible vendor is a better option for your UC needs to ensure you get the most value out of your investment.
Ease of Use
Finding the UC tools that cater perfectly to the needs of your business does not assure they will use them. Adoption by users is a significant concern amongst buyers of a UC platform. It is crucial to prioritize ease of use for any tool to improve the chances of its success.
Mobility
Ideally, your UC platform should provide that same functionality across desktop and mobile devices. Such functionality includes the ability to change your status, set the preferred extension, access work call details, provide options to divert, transfer, forward calls, and carry out conferences from your extension.
Key considerations for UC mobility includes support for phone number across devices, iOS and Android client apps, multiple call forwarding and merging, transferring calls between desktop and mobile devices, Wi-Fi calling, and a seamless transition between networks.
Integrations
Integration and interoperability with third-party applications are some of the core requirements of a unified communications platform. An open and extensible UC platform ensure your company can evolve its communication capability to meet its needs.
MS Outlook – With Microsoft office software ubiquitous amongst organizations, vendors whose UC tools can be used from Microsoft Outlook are preferred over others.
Business Apps – Though UC does not offer complete back-office integration to provide communications-enabled processes, it is a positive sign if your vendor promises such integrations in the future. Several providers, including Cisco, Avaya, Microsoft and others, have already bridged the gap between communication channels and business processes.
Other Applications – Some of the most popular platforms offer you an option to integrate Web applications and even emergency services. Check whether the provider enables you to use open-ended integration with enterprise applications.
CRM – A seamless integration between CRM and communications systems helps companies build a powerful image in front of customers, earning their trust and loyalty.
Customer Support
You should also ensure that you opt for a UC solution that offers the right level of customer support. Check whether the vendor you will work with is ready to help you work on your goals.
Ensuring your selected vendor can provide formal training, knowledge transfer, and training material to your users should be a fundamental requirement.
Low Cost
Your selected unified communications solution should be easy to manage and have a low maintenance cost – simple enough to be managed by yourself if necessary.
Sometimes, when you are on the quest for the right UC platform for your business, you have an idea of what you need. When you have to choose between competitors, a comparison helps weigh the pros and cons of each service to make the best decision.
Here are some questions you should have in mind when comparing options:
Why are you buying the system? Before you start shortlisting vendors, ask yourself what is that you want to achieve using UC. Ask how the system will simplify the workflow and improve the efficiency of your business. Based on your business niche, you may have your reasons and needs.
How will it improve customer experience? With an increasingly competitive market, customers are willing to commit to somebody who offers uniqueness in service. The UC solution can help you achieve this by unifying the workforce. With the correct information, communication channels and collaboration tools, your employees can not only get more satisfaction from their work but deliver the experience your customers deserve.
Does it support collaboration? Communication does not only mean connecting with customers. The system should allow the team members to interact and collaborate.
What is the deployment model? Each of the deployment methods has its pros and cons. On-premise and hybrid approaches provide better control at the cost of flexibility while the cloud excels at the two benefits but needs finding a reliable provider.
What are the communications trends important to you? Ask yourself whether the business wants the UC platform to deliver advanced functionality like 5G and AI or want the employees to enjoy something like BYOD.
Which IT systems will it integrate with? A few things are as important as integration in this modern age. Whether implementing from scratch or designing a platform to work with an existing solution, you want your UC to be flexible enough to integrate services that you use every day.
Is it future proof? Find out whether this solution is reliable and for how long. See if it will require you to update to something else or will update to meet your needs.
How does it prioritize privacy and security? In this era of cybersecurity, check how the vendor keeps the members safe. Consider whether the tool encrypts the communication and the standards it promises.
Next Steps
Unified Communications Solutions are a crucial part of digital transformation, an approach that businesses, regardless of their niche and size, around the world should adopt to remain relevant and keep their customers engaged and satisfied.
The right UC platform brings together everything the employees need to stay work, share and connect through a streamlined interface to boost productivity, reduce costs and improve user experience, ultimately making the business more profitable.