Top 5 cloud video conferencing platforms for SMEs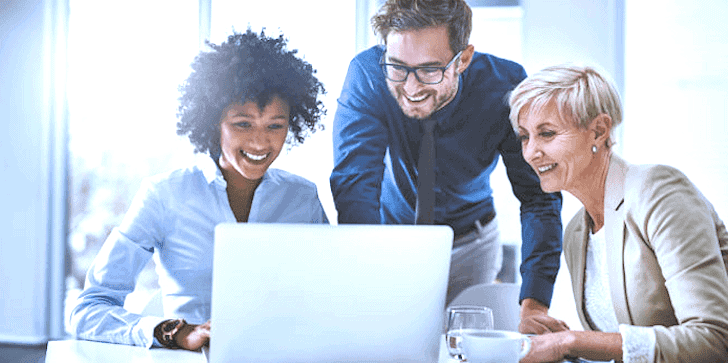 In recent years, the demand for video conferencing has significantly increase.  With an increase in globalisation and the gig economy, businesses are increasingly finding themselves needing to video conference with clients, customers, employees, colleagues and suppliers distributed across regions and countries.
For this demand to be met, video conferencing software has matured significantly to offer users a rich set of features and increased reliability.  However, the ease of use and flexibility you're looking for may vary between tools and video conferencing software that do offer a better class of service may do so at a premium cost.
With the advent of cloud services, cloud-based video conferencing has blossomed with the market valued at $3.31 billion and estimated to double in the next few years.  The market now offers a wealth of choice of video conferencing services to SMEs and there are a few notable options that stand out from the crowd for a variety of reasons.
In this article, we identify which video conferencing platforms your small or medium businesses should be considering. Specifically, we focus on cloud-based video conferencing tools suitable for small and medium sized businesses.
With a large number of vendors providing online video conferencing services, not all video conferencing software is suitable for small businesses.  As such, our team have based the selection on the following basis:
User-friendly
Multi-device compatibility
Budget-friendly
Secure
Variety of options
Here's a handy guide a rough abstract of our best variety (extra element for each and every of those are equipped beneath).
Top video conferencing tool for SMEs:
---
Note: – The current coronavirus outbreaks and the need for social distancing and reduced travel has increased the number of employees working remotely and from home.  As a result, the reliance on video conferencing services has increased with some video conferencing software providers adapting their plans and pricing as a result to offer some cost-effective and competitive options.
---
It's true that GoToMeeting was going under an overhauling in 2019 and now it comes back with new features. LogMeln acquired it from Citrix in 2016 and now have introduced it in to the market with easy to use interface providing suitable video conferencing facilities for small to medium businesses.
It can be run directly from your web-browser so you don't need to separately download the software in to your system. There are available apps for both phones and desktop. This software is free and is therefore mostly suitable for small firms. It comes with the feature of a video conferencing for 40 minutes with 3 participants allowing the user to share screen and chatting in between the call.
You can come over this restriction by availing a monthly package which un-limit the participants or number of hours. Their paid plans are all that offers HD video, dial-in conference line, web audio and feeds for up to 25 videos.
GoToMeeting has software SSL and 256-bit encryption ensuring your correspondence is secure with us. It is compatible with HIPAA which is very rare for such type of software. Their 24/7 live-chat support is also available.
Costs:
Free Tier: Free of cost for three participants which allows 40 minute meetings and audio and video calls.
Paid Tier: You can choose to pay between $12-$16/ organiser/ month. This would allow access to up to 250 participants, drawing tools, transcription, a personal meeting room, unlimited meetings, a dial in conference line and some other features too.
Pros:
Ideal for small team businesses
Free of cost trial
Rich-in features
HIPAA complied with strong security
User friendly software
Cons:
Free trial is only for three participants
Cisco Webex Meeting, the most famous tool is expected to get even bigger. Cisco's response to the current outbreak of COVID-19 is great as it allows its user a specific dedicated section for those small businesses  who need video conferencing facilities suddenly due to being forced to work remotely. Its approach is to support such businesses and provide them with free services for a period with the most generous package plan.
Costs:
Free Tier:  This free feature provides an unrestricted number of meetings allowing up-to 100 members to join the call for an unlimited time.  This has been recently updated from three participants and 40 minutes call respectively. The user is also provided with HD video options, up to 25 HD webcam feeds, call in audio, screen sharing, polling, calendar integration and 1 GB of cloud storage and much more. They secure their customer's information in the form of Transport Layer Security (TLS) and encrypt with 256-bit.
Paid Tier:  Their paid plan ranges from $13.50-$17.95/user/month. It allows 200 participants with up to 10 GB of storage in the cloud. The other features included in the paid tier are 24/7 support, analytics, an admin portal, customizable URL, the ownership of being able to assign alternate hosts, file sharing, MP4 meeting recordings, and recording transcriptions.Although the free version is attractive enough you may find that you need extras from this software. For instance, the 'Call Me' option is only available in the paid package; which allows the conference meeting to call individuals in their numbers. Their lowest-priced plan will give added cloud storage, allow file sharing, transcriptions, and recordings along with some other features.If you buy a monthly plan you get one month free and four months free if you opt for the annual subscription.
Pros:
Wide variety of features
Up to 25 HD streams
Military-grade encryption
Throrough support for beginners
Generous free packages
Cons:
"Call Me" option is not available in the free plan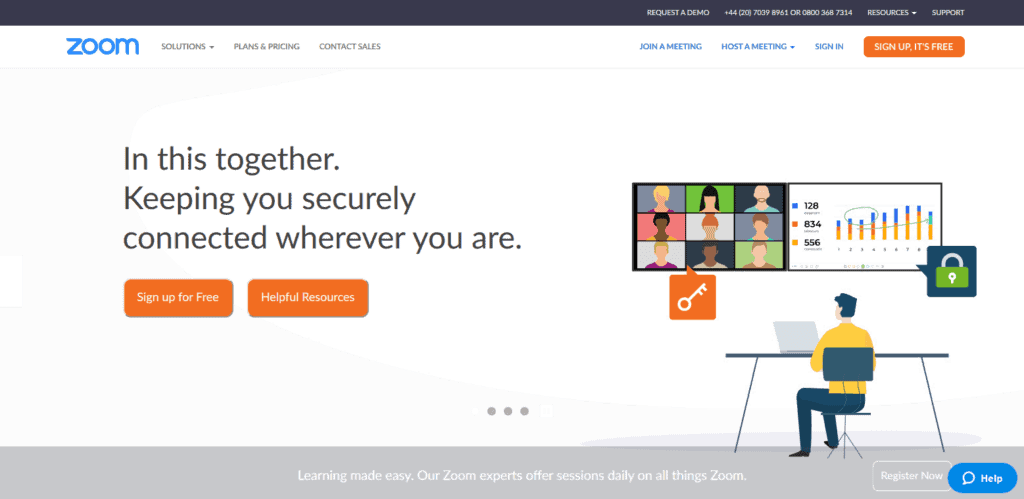 Zoom has been a famous and a favorite of many in the past few years and recently has seen a sudden growth in its market. It is the choice of many educational institutes as well as other medium-sized companies that are now being forced to operate remotely. You can expect a very intuitive interface from this software and it's wholly dependent on you on which package plan you chose to avail of its huge range of features.
Costs:
Free Tier:  The free features provide an unrestricted number of meetings allowing up-to 100 members to join the call as well as one-on-one meetings for an unlimited time. However, if the meeting is with more than two members, you can only make the meeting as long as 40 minutes. The user is also provided with HD video and voice option, screen sharing, private as well as group chat, co-annotation, white-boarding, breakout rooms, and a call-in facility.
Paid Tier:  Their cheapest paid plan is directed towards the small teams. The number of participants is the same as in free but it does remove the cap of 40 minutes and makes it unlimited for up to 100 participants. The other added features are user management features, 1 GB of cloud storage and additional admin controls. They protect their customer's data through (SSL) Secure Socket Layer and 256-bit encryption. Zoom is compatible with both mobile apps as well as desktop. Their premium paid option is $14.99-$19.99/member/month. These include 1000 participants, cloud recording, reporting, custom personal meeting ID, dashboard and admin feature controls.
Pros:
Superb free plan
Very reliable performance
Secured calls
Beginner-friendly
Cons:
Their add-ins are somewhat expensive
This software has been there in the video conferencing software's business as the very first provider providing HD video communication to its customers. Lifesize is said to have merged with a cloud contact corporation; Serenova. This feature entails that it is highly recommended to companies who are looking for a contact center solution as due to the outbreak of COVID-19 people are suggested to demote the face-to-face interactions.
Costs:
Free Tier:  This software is offering a free tier of up to six months.  In this, members would be allowed 25 participants in the meeting call and the meetings would be allowed to be 24 hours long. Those who opt for the paid plan, get a 14 days' free trial period.
Paid Tier:  For paid customers, one of the great attracting features of Lifesize is that it gives them a 4K video conferencing. This gives them an outstanding experience as it makes them feel that they are in the same room as their subordinates. Their cost is $12.95–$16.95/host/month. This plan allows for up to 300 participants and 1000 live stream viewers, unlimited recordings, live chat and phone support, a centralized management console and some other features.Lifesize can be used through either mobile apps or desktop on a web browser. It allows interference of other applications such as Google Calendars, Slack and some other applications. For securing their customer's data they use TLS (an upgraded version of SSL and 128-bit encryption (Not as secure as 256-bit but still).
Pros:
Free trial for a fortnight on paid plans
Best security of customer's data
Solid free plan
4K video with premium paid plans
Cons:
It's only free up to 6-months
As the name suggests, Google Hangouts Meet is the business version of the most famous Google Hangouts. This is another software provider that has boosted its basic packages during this pandemic situation of Corona Virus.
Costs:
Free Tier:  However, it is free only until July 1, 2020. The one thing that you have to note is that to use Hangouts, you need to be a customer of GSuite which cannot be purchased separately. Although GSuite prices are very reasonable and they offer a free trial of 14 days also.
Paid Tier:  So let us look at what are Google Hangouts Meet offer. They allow you 250 participants/call which is limited otherwise to 100 for the lowest-paid package. Live streaming can be done by as many as 100,000 viewers on one domain. Other features in this option include recording meetings with Google Drive and screen sharing. Although Hangout Meet has a dial-in-option it is only retained for Enterprise plan and not offered to temporary feature extension. You can use this software either on your browser preferably in Google Chrome as well as on the mobile apps available. It can integrate with other GSuite apps such as Google Calendar and Gmail. It secures its customer's data through 128-bit encryption.The paid GSuite plan is for $6–$25/ user/ month. There is no change in the set of apps that it can be integrated except it allows greater management features and additional security..
Pros:
Very easy to use
A Solid option for already users of GSuite
Everyone gets Enterprise features until July 2020
Cons:
One needs to have a g-mail account to access this