What is a VoIP Phone Number? Should my Business have one?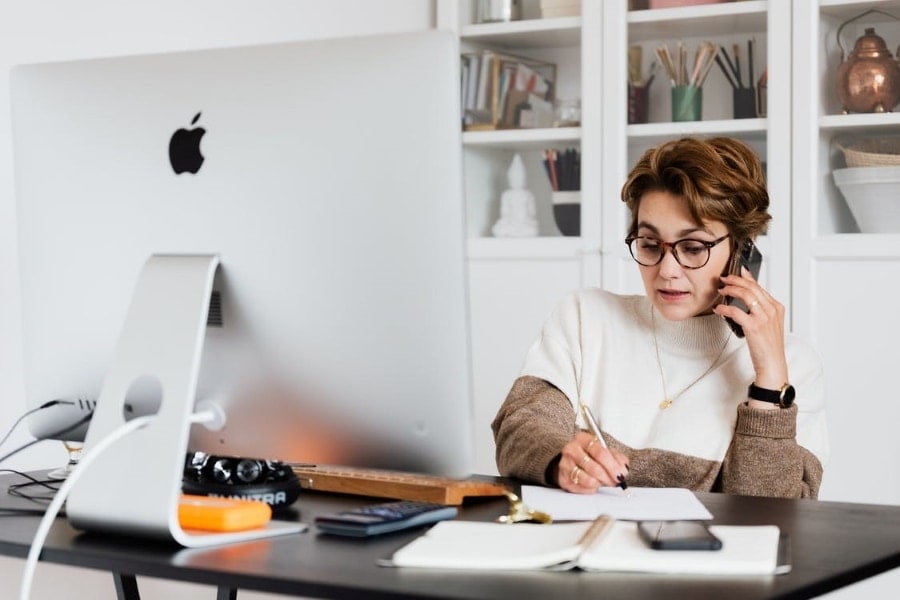 What is a VoIP Phone Number? Should my Business have one?
Voice Over Internet Protocol (VoIP) allows individuals and businesses to communicate through the internet instead of traditional phone lines. When looking at VoIP systems, you may have come across VoIP numbers. But what is a VoIP phone number, and do you really need one?
Using a VoIP phone number has several benefits for business owners, from easy scalability to cost-saving. Virtual phone numbers give the organization multiple numbers that ring to a single device.
Below, we explain what a VoIP phone number is and whether you should consider switching to VoIP for your business communications.
What is a VoIP Phone Number?
A VoIP phone number, also known as Voice Over IP, is like a regular telephone number. However, it is allocated to a person instead of being assigned to a device.
This number appears and works much in the same way as any other number. You can dial a string of digits to connect to the other person. But it can be used to call from any internet-enabled device, including a smartphone, tablet, desktop, or laptop, apart from a VoIP phone.
There is no learning curve associated with VoIP phones.  They can be easily set up for you to enjoy better capabilities, including instant messaging, chat conferencing and call forwarding across long distances.
The operating cost of this type of phone is lesser than traditional phones. It provides the convenience of establishing a presence across the world.
They come as plug-and-play devices that register themselves on the VoIP network to let you use the number just like a regular phone number.
How does VoIP Work?
VoIP is an internet-based phone system that digitizes and transmits conversations through the internet rather than traditional phone lines.
With this technology, a business can place a call anywhere in the world using a VoIP phone, cell phone, tablet, or computer. This means the technology converts any internet-based device into a phone.
You need an internet connection, a landline, and a VoIP adapter to make this possible. The adapter can be plugged into a computer router or phone socket to begin calling.
A business can get VoIP phone numbers for the staff even if they work from remote locations. The exact steps involved in getting started with an app or device depend on what options you choose.
How to get a VoIP Phone Number?
A business can get a VoIP phone number from a VoIP service provider. They offer service plans that are quite similar to regular cell phone plans. The price varies depending on the budget and requirement of the business. Most plans are up to 60% cheaper than standard telephone service. To get started with this system, you need to pick a VoIP subscription, confirm your VoIP phone number and select the devices.
If a business has existing phone numbers, it can use them with VoIP by transferring the service to a VoIP provider using porting. It is possible to port numbers from telephone service, Google Voice, cell phone, and other VoIP service providers.
Most providers let you use existing numbers or select new ones. Once you complete the basic steps, you can start using the service on your smartphone and computer.
Benefits of VoIP Phone Number for Business
The way traditional landline numbers are used hasn't changed a lot over the past years. They are used to make calls, send and receive voicemail messages, and provide additional features like caller ID.
VoIP phone numbers, however, offer several advantages to businesses, providing the right usability to save a lot of time and money.
Below are some of the main benefits of a VoIP phone number for businesses.
Flexibility
One of the most significant benefits of using a VoIP number is that it can be used on several devices.  Thereby delivering usability and mobility not available with other systems.
Businesses would find that such a phone service comes with several features that meet their needs. Virtual phone numbers offer instant messaging, conferencing, and other services at an affordable cost.
As VoIP service is not dependent on location, businesses can use virtual numbers to establish a global presence.
Moreover, it is easy to add numbers instantly with this system and use it for current requirements. New users can be added without any limitation, and your capability can be expanded as needed.
Also read: Benefits of VoIP: What advantages does VoIP offer businesses?
Low Investment
VoIP phone numbers utilize internet connection which brings down the expense compared to paying for traditional lines.
You can enjoy several additional features at a low monthly rate, including call forwarding, conferencing, call queuing, and more. You also get a toll-free number at no extra charge.
Internet calling supports various devices, which is why there is no significant initial investment for businesses. They can start using the service on devices they already own.
Better Voice Quality
With a good bandwidth and stable internet connection, VoIP phones generally deliver a better voice quality than traditional phone service.
VoIP transforms voice into a digital signal to eliminate any disturbance or static and sends it over the internet.
VoIP delivers HD quality performance with a compression technology that uses twice the bandwidth as a traditional call, translating to more clarity.
Versatility
Virtual phone numbers can be used on multiple internet-based devices. This makes it convenient for organizations as there is no need to deal with desk phones.
These numbers also make sure that you enjoy a seamless experience with any device you use to make and receive calls, one that resembles a traditional phone.
Remote Connectivity
An impressive advantage of VoIP for businesses is that it allows employees to carry their business phones wherever they go.
This is particularly beneficial to companies with employees working across locations. VoIP providers generally have an app that rings the employee phone when a client calls. With this app, the employees can make business calls from their smartphones on the go.
VoIP system thus gives more flexibility to employees and keeps them connected regardless of their location.
Scalability
Any business would want its communication infrastructure to scale as it grows. A traditional phone system would require adding hardware to expand.
Still, with a VoIP network, your ability to add users is only restricted by your bandwidth which you can grow as needed. The cloud-based solution makes it really simple to add phone lines whenever new employees are added to the organization.
Advanced Features
VoIP generally offers several additional features compared to traditional phone systems, making them great for businesses.
Though features vary between providers, the most common offerings you can expect from VoIP-based communication include:
Conferencing
Call recording
Instant messaging
Voicemail
Call waiting and forwarding
Speed dial
The best thing about these systems is that these features are included in your VoIP plan, so you need not spend extra.
Backup
When a business relies on telephone service, it suffers from significant losses if the system is down. A VoIP system is one of the best backup plans to consider.
As it is so cost-effective, there is no reason to avoid it, mainly if telephone services are not so efficient in your area.
Another case is when phone systems are down from a power outage. A VoIP phone will let you back up and start running by heading to a place with an internet connection available.
Also read: How secure is VoIP? Understanding VoIP Security Risks, Issues & Threats
Ease of Use
VoIP systems require little technical know-how to set up and get running. Most systems come as plug-and-play devices that make them easier to use than regular phones.
Moreover, with VoIP, you don't need any extra installations. Since all the transfers occur through software, it is much easier to maintain and troubleshoot this system.
Improved Productivity
By facilitating telephony anywhere globally, VoIP allows businesses to be more productive. Employees can efficiently multi-task, and companies can save a lot that would otherwise be spent on phone services.
The ability to call anybody across the world with an internet connection helps avoid the cost of commuting for meetings. Businesses can reduce travel needs with the advanced features VoIP systems offer.
Mobility
In this digital world of remote work and business travel, VoIP numbers can be lifesaving with the ability to carry the number wherever you go.
You also enjoy increased mobility regarding the number of connections added to a network. The VoIP number assigned to a user is geographically flexible, making it easy to move between locations.
You save the downtime and cost associated with installing new phone lines and changing numbers upon relocating.
Choice of Area Codes
Traditional phone systems use area codes to determine rates for long-distance calls. As VoIP numbers are independent of locations, business owners can avoid getting charged for such calls by picking an area code that doesn't belong to their actual location.
Such a feature also means a business can have a local number for credibility.
So, if your office is in Los Angeles and you want to extend your services to Florida and Texas, you can easily ask for local area codes for these states and need not have offices in these locations.
Toll-Free Numbers
The advances in VoIP technology have made it possible for small to medium-sized businesses to have a toll-free number so that customers can reach them from any corner without spending any money.
Depending on your service providers, you can choose from various toll-free numbers, either for free or for a low price.
Toll-free calling helps businesses eliminate the notion that they are limited by geography. And as you can ring multiple numbers on any device, such customer calls can be routed as necessary.
Final Thoughts
VoIP phone numbers deliver many enterprise-class features and benefits to businesses, small or big.
It requires no significant investment to start this telephony system, which gives convenience and flexibility to business owners and employees convenience and flexibility.
If your business has a network and bandwidth that supports VoIP phones, you can enjoy several benefits like reduced expense, ease of use, and advanced features that only large-scale enterprises could access in the past.