Finding a Technical Supplier for your Business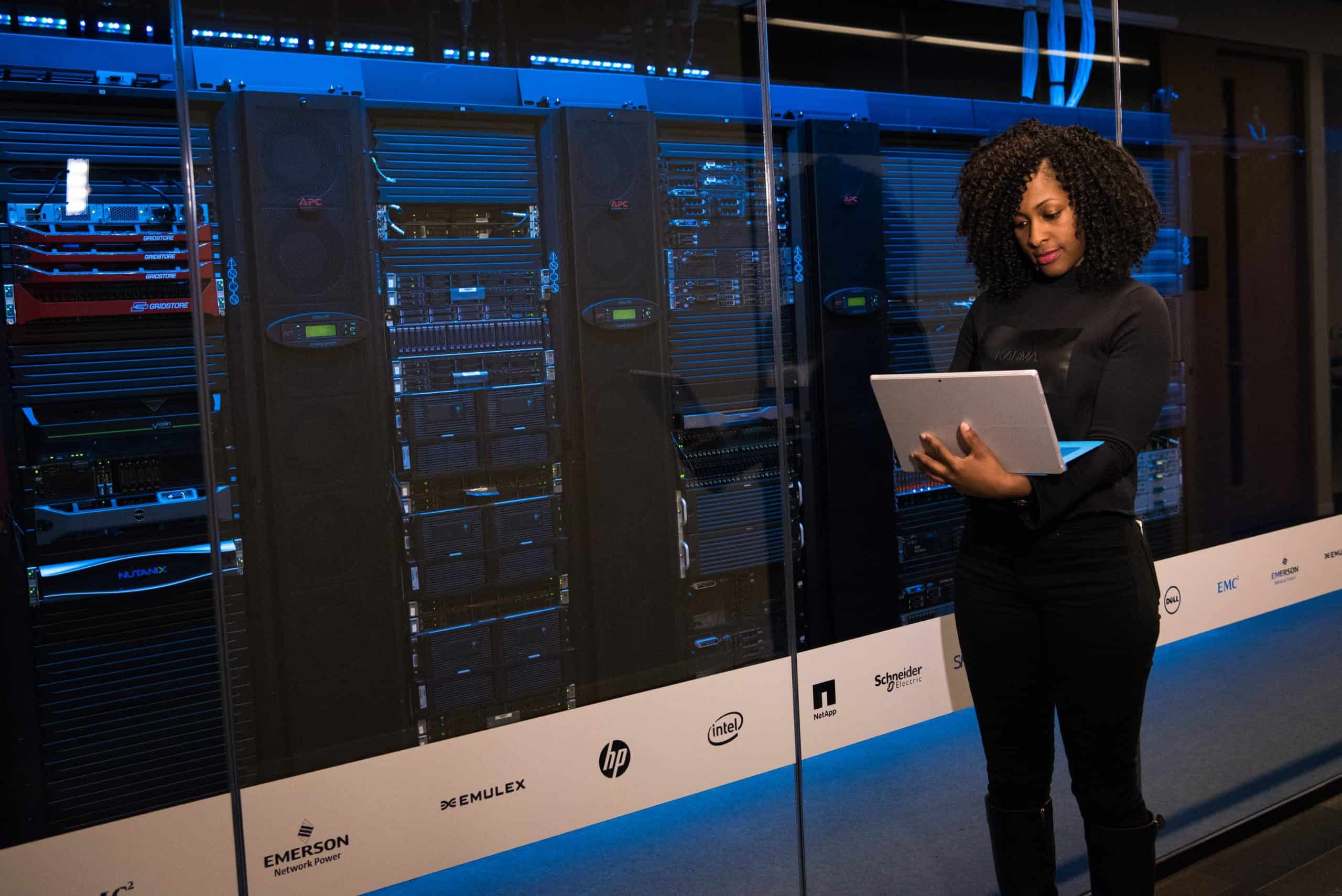 For many businesses, investing in technology can be significant outlay, not only in terms of money but also time and resources. Building in-house teams fully capable of utilizing this investment can be costly.  Consequently, many businesses, particularly small and medium enterprises, seek to appoint a technical supplier to exploit maximum value from their technology investment.
Finding and selecting a technical supplier can be a time-consuming process. Ultimately, you have to choose wisely, ensuring the technical vendor is reliable and well-suited for your business needs.
To help you find and choose a technical supplier, presented below is useful guidance detailing the different types of suppliers, the process for selecting a technical supplier, and what you should consider when evaluating potential vendors.
Different types of Technical Suppliers
There are several types of technical suppliers in the market.  Depending on your needs and budget, small and medium businesses have plenty of options to choose.  These technical suppliers can be categorized broadly into the following categories:
Manufacturers: Also referred to as OEM (Original Equipment Manufacturer). These typically manufacture and sell the product, offering a minimal level of service. If you are confident that you don't need advice, then this one's for you.
Resellers: Some resellers may offer add-on services, such as installation and configuration. However, in most cases, they are like agents or mediators for hardware or software manufacturers.
System integrators: These work with several manufacturers and offer organizations solutions designed to meet business requirements. These solutions are made up of appropriate hardware and software specific to your needs, to deliver an integrated, working system.
Specialist Suppliers: If you need specialized service in a specific area, specialist suppliers are your type.
IT/Technical Consultants: They will provide consultancy services regarding IT and help installation processes but will not provide maintenance services.
Finding potential Technology Vendors
The technical supplier selection process, including finding and selecting a technical supplier, involves everything from market research, pricing negotiation, establishing terms and conditions, and awarding the contract.
Several variations exist, however, broadly the vendor identification and selection has the following steps: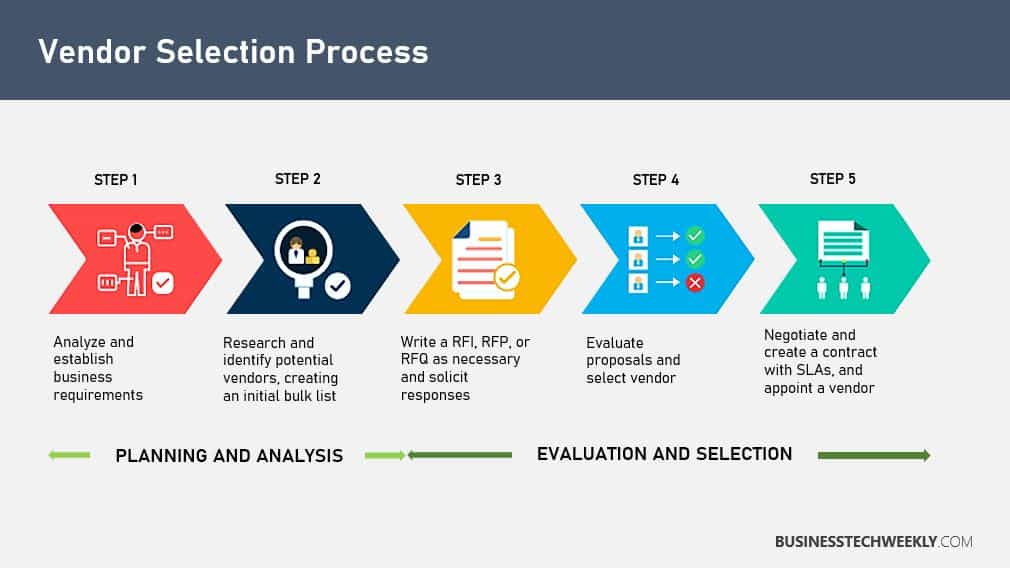 The planning phase is tailored to the individual organization and influenced by the internal policies and procedures, and if applicable, any regulatory requirements, for the acquisition of goods and services. During the planning process, the aim is to establish what products or services will be acquired through a technical supplier and identify a list of potential suppliers.
The second phase of the technical supplier selection, seeks to engage with the technical suppliers, evaluating proposals, selection criteria, with the aim of appointing an technical supplier.
Technical Supplier Selection: Planning and Analysis
The aim is to establish what your organization is asking a third party technical supplier to provide?
You should start by assembling an evaluation team that has a clear understanding of the business.  Once assembled, the team should take the following steps.
Step 1: Analyzing objectives and establishing requirements
Before purchasing anything, you need to understand what you are trying to achieve.  Are you looking to lower costs, or generate a new revenue stream?
Some factors you should consider are:
Business objectives and needs, such as growth, sales or cost reduction targets
Scope, in terms of both depth and breadth – locations, systems, technology, people
Your IT budget and financing preferences
The desired level of service
Lack of in-house technical or IT skills
One way of achieving the above is establishing your target or desired state. For instance, if you are seeking a new revenue stream through e-commerce, your target state may be to have a secure e-commerce website, with automated order processing and fulfilment.
You could compare this with your current or existing state, taking into account the above factors and conduct a gap analysis to establish your requirements.
Ideally, you should identify those requirements which are essential and which can be optional.
Your requirements, either non-technical or technical, should be documented. This document will help you compare the proposals later on.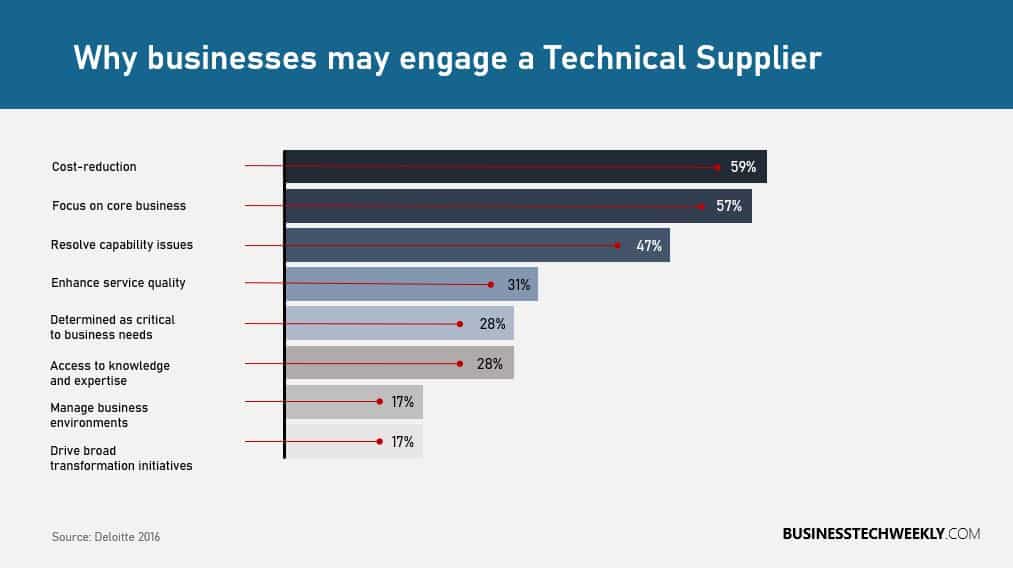 Step 2: Research and identify technical suppliers
After determining what you need, you need to research the options.  Which potential technical suppliers can meet your needs most efficiently?
The objective here is to identify an initial bulk list of technical suppliers which you can approach to perform initial queries and ask to submit proposals.
Sources of information include:
The technical suppliers' websites or our tech insight pages
Recommendations from trusted colleagues and trading partners
IT exhibitions, seminars and conferences
Trade magazines, associations and professional bodies
Research organizations, such as Gartner, which publishes a "Magic Quadrant" for several technical areas
From here, you can either shortlist the suppliers you wish to approach or approach all of them.  Some factors to consider are:
The size and location of the supplier
The type of relationship you wish to establish with a technical supplier
Based on reviews, the technical supplier's previous experience with the products or services you need
The technical supplier's ability to provide systems, services, and consultancy to businesses in your sector, of your size, and location
their technical support track-record and availability
In most cases, you could obtain indicative answers to these from the sources as mentioned earlier.
Technical Supplier Selection: Evaluation and Selection
In this phase, the purpose is to systematically and methodically, through elimination, reduce the number of technology suppliers to a handful of vendors, or even a single technical supplier.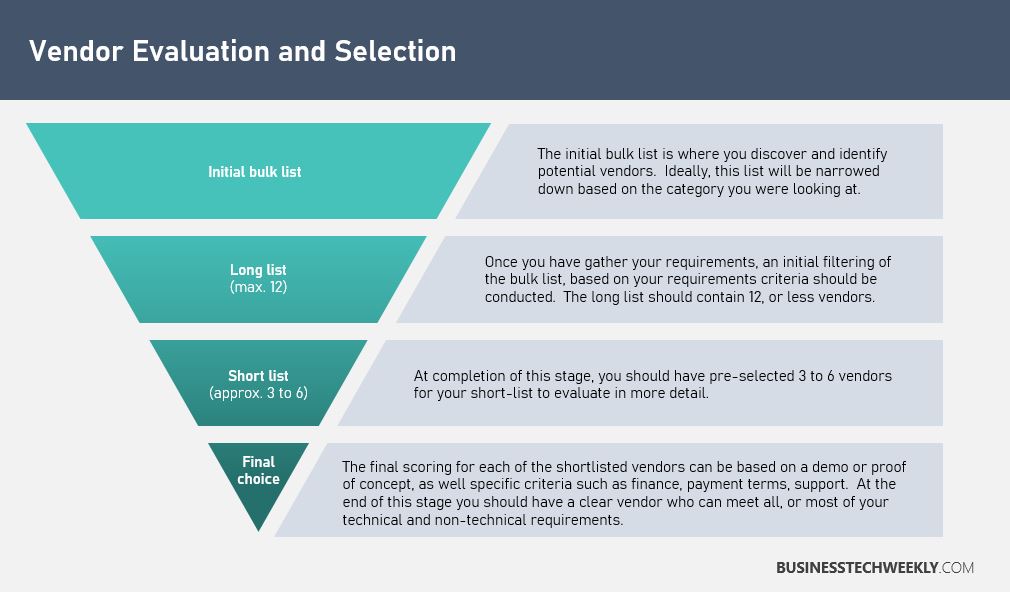 Step 3: Contacting potential suppliers
The purpose here is to obtain sufficient information from potential technical suppliers to further narrow down the list created in Step 2.
Most organizations opt for either a request for information (RFI), a request for quotation (RFQ) or request for proposal (RFP).
RFIs, RFQs and RFPs can be used independently or in combination with one another. Each of these serves different purposes within the procurement process, and it worthwhile taking the time to understand the purpose of each one.

You may find that starting with a request for information allows you to better understand the market and vendor landscape.  With the knowledge gained, you can progress to issuing an RFQ or RFP.
An explanation of each of these tools is presented below:
Request for Information – An RFI is a formal way of obtaining general information from technology vendors. An RFI is ideal if you are in the early stages of the buying process, or if you have vague requirements. Questions in an RFI should be open-ended and high-level, aimed at providing you with a general overview of the vendor landscape.
Request for Quotation – An RFQ is effectively a request for pricing and payment information. RFQs are used when obtaining pricing for a highly- specific solution. Typically, RFQs don not contain questions, as an RFIs or RFPs. Instead, an RFQ lists specific requirements, usually presented as line items, allowing the technical supplier to provide pricing.
Request for Proposal – RFPs are a structured and formal way of obtaining specific vendor information and pricing, helping you to compare vendors based on your priorities. An RFP allows you to detail the problem, or your objectives, and invites technical suppliers to propose solutions. An RFP contains internal information about your processes and needs, with specific questions. RFPs are issued when you have clear needs and are ready to buy, i.e. ready to move beyond discovery and into commitment.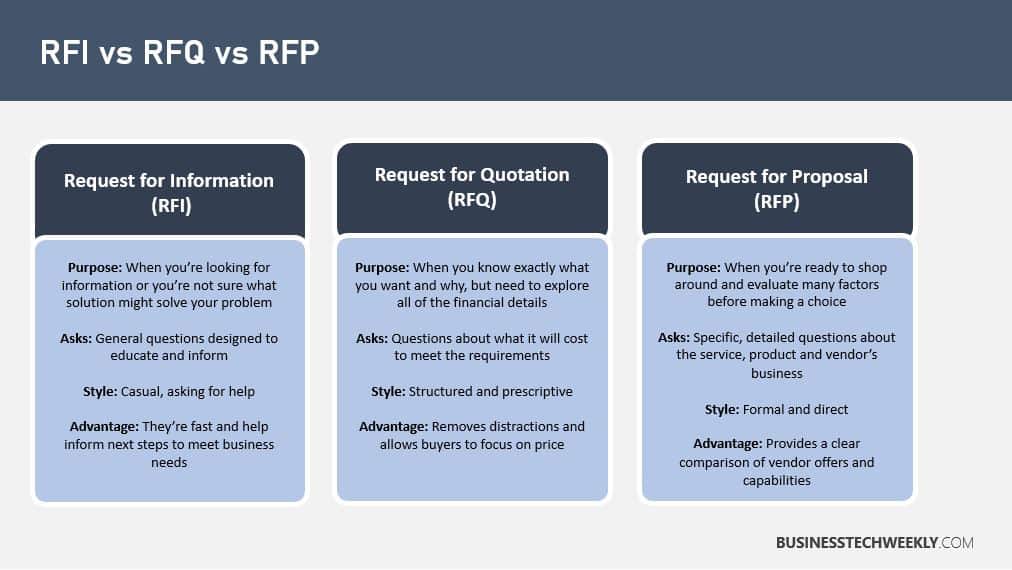 Depending on your shortlist (identified in Step 2), you can determine whether to issue a Request For Information (RFI) or a Request For Proposal (RFP) to the shortlisted suppliers. If opting to send an RFI, you will need to shortlist the vendors and issue an RFP.
For most small and medium businesses, the RFI and RFP are suitable.  Larger organizations who have the technical knowledge in-house, or are already working with a third-party, may find an RFQ more suitable.
After you receive the RFP, you have enough information to shortlist the candidates further.
Step 4: Evaluate the proposals and select the vendor
After soliciting proposals, and receiving responses, you need to evaluate them to shortlist 2 or 3 technical suppliers, or even a single technical supplier.
Several methods are used, usually in conjunction with one another, to evaluate the proposals, such as:
Rank the proposals – Which proposals meet all the essential requirements (identified in Step 1)? Any proposals that do not meet all of the essential or "must have" requirements can be eliminated.
Interview the suppliers – Of the remaining proposal(s), ask the technical supplier to attend an interview and present their proposal. Assemble your evaluation team, and collectively determine which of the remaining technical suppliers are most familiar with your business and its needs. Ask for references and contact the businesses similar to you for evaluating the supplier further.
Evaluate the solution – In case of a product, or service, ask if it can be demonstrated or trialled, either on-site or at the vendor offices. You may want to consider extending the evaluation to include users of the product of service.  If you are able to evaluate the product on-site, test the solution to check if change or negotiation is necessary.
Scoring Methodology
Throughout the evaluation, you should be scoring each technical supplier. The scoring methodology should be based on your requirements and will allow you to identify one technical supplier who best meets the criteria.
One option is to assess each proposal against each of your requirements using a scale of 0 to 0, with 10 being the highest, i.e. Excellent – Exceeds the requirement. Exceptional demonstration by the vendor of the relevant ability, understanding, experience, skills, resource & quality measures required to provide the services.
Each score awarded for each criterion will be multiplied by the weighting for that criteria. i.e. A requirement has a maximum award of 15%.  The maximum score that can be awarded is 10 (on a scale of 0 to 10).  The weighting for these criteria will be 1.5, 15% divided by 10.  A vendor scoring 3, on the scale, will be awarded 4.5% out of 15%.  Whereas, a vendor scoring 8, will earn 12%.
Depending on your business needs (as identified in Step 1), you may decide that the award criteria is as follows: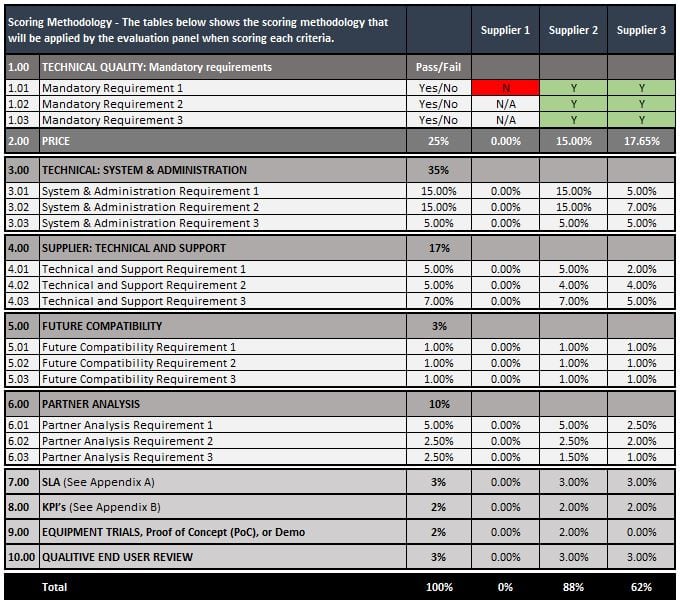 In the above example, Supplier 1 has not met a mandatory requirement and is therefore not assessed any further.
Of the remaining two proposals, while Supplier 3 scores better on pricing, the second technical supplier performs better overall.

Step 5: Technical supplier contracts and service level agreements
By now, you should have a single technical supplier that you are prepared to move ahead with and sign contracts.
It's not always necessary to focus only on the lowest possible price when negotiating contracts. You may want to negotiate other factors such as delivery times, payment terms or the quality of the services or product.
When entering a contract with your chosen technical supplier, make sure you check the terms and conditions and see that it's fair to both parties. After agreeing, make sure you document the terms in a written contract. Make sure the contract is clear, or else it may turn out to be very expensive.
You have to consider the system maintenance and support terms formally and the overall solution's cost.
Factors to consider before signing a contract
The nature of the contract will vary depending on service  or product you are obtaining from the technical supplier.  However, if we consider a contract for IT services, you may want to check whether you will receive:
On-site service calls – you may get a certain number of calls or a reduced rate
Preventive maintenance – Antivirus software or firewall services
Remote monitoring and diagnosis – check if you will need any more equipment
Telephone support – check if there are any limits
Warranties – check the warranty terms if it is included
Software upgrades – are the upgrades free, or will you have to pay?
Software support – will they provide support, bug fixes if you report problems?
User training – some suppliers may include a limited amount of training upon purchase, but some may charge extra
Manuals – Any manuals for the systems, or products the supplier provides
IT service level agreements (SLAs)
SLAs are typically refered to in most technical contracts.  Ensure to agree a service level agreement with the technical supplier to specify exactly what you expect from them.
A typical SLA could cover:
Scope – The details of the hardware and software
The range of services – The performance requirements from the suppliers
Service availability – The time the service will be available
Response times – Faster the response time, the greater the cost
Escalation procedures – how fast the supplier can move from off-site diagnosis to on-site support
Record keeping – how they document problems and solutions and keep records for dispute resolution
Performance review – how they maintain their quality over time
Supplier obligations – This includes providing spare parts, support staff qualifications, and the need to meet response times
Customer obligations – What you have to be responsible for. Example- informing the supplier about changes that affect the contract's scope and staff cooperation with the supplier
Termination of Agreement – The formal termination process- defined
Measuring Supplier Performance
Once you've appointed your technical supplier, it is crucial to measure their performance against the contract and SLAs.
Each measurement area should be linked to the original business objectives and needs, and be benchmarked against the SLAs.
To allow ease when measuring, it is important that supplier performance measures are SMART: Specific, Measurable, Achievable, Realistic, and Time-based.
Also, supplier performance measures should be limited to 4 or 5 critical-to-quality areas, not require excessive resource to manage, and motivate the supplier to meet and exceed targets.
For more information on managing supplier performance, read Best Practices for Effective Supplier Management.