IT Resilience: Ensuring Business Continuity during Disruptions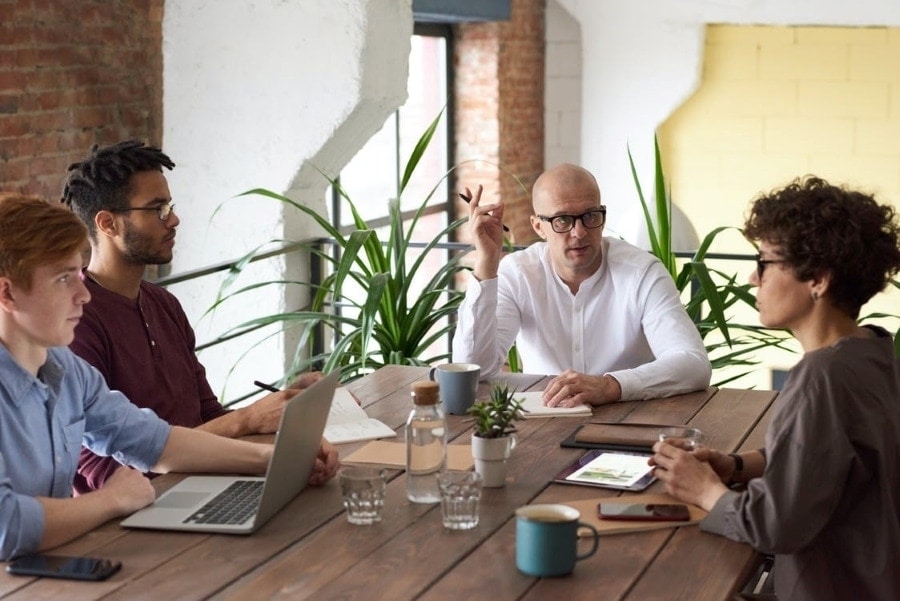 It is no surprise that we live in a world of continuous digital transformation that encounters numerous potential threats and risk events. There is no end to things that can get in the way of smooth business operations, from IT breakdowns and cyberattacks to supply chain issues and asset failures. This is where IT Resilience comes in.
If not adequately addressed, these threats can lead to disruption and even failure of the business. A consistent business continuity plan in place can give you peace of mind. IT resilience is the heart of a powerful strategy that makes sure business operations continue amidst disruptions.
What is IT Resilience?
IT resilience is the ability to handle any disruption to mitigate the risk of downtime and focus on more critical tasks. IT resilience is built through a set of tools and applications that automatically protect data from issues.
Disruptions can manifest in the form of natural disasters, planned attacks, and misconfiguration. IT resilience makes the organization prepared for planned and unplanned disruptions to ensure the business keeps moving forward. It also accelerates transformation within the business by allowing you to adapt to changes to prevent disasters.
An organization can maintain acceptable service levels beyond disruptions to its IT systems and processes with a solid IT resilience strategy.
The organization can focus on recovery, awareness, review, protection, and improvement to minimize disruptions to IT services, which can be highly expensive to the entity in this competitive business environment.

How do IT Resilience gaps impact your Business?
IT teams in any business today undergo much pressure. They require complying with regulatory standards, secure sensitive business information, and manage an inventory of physical and virtual assets while ensuring that technology supports business growth.
Achieving a balance between these priorities often challenges IT leaders, causing gaps in resilience at times.
Disasters directly affect business performance and degrade long-term competitiveness and sustainability. If the technology encounters a disruption, the business can suffer to a great extent.
This is why IT teams are concerned about the impact of not being resilient. Security compromises resulting in resilience gaps generally lead to loss of consumer data and customer trust. Sometimes, companies also fail to meet the current regulations.
Some other concerns arising from IT resilience gaps include a struggle with identifying the financial outcomes of disruption. Most organizations fail to calculate the impact of a cyber attack on indirect costs related to productivity and revenue loss.
It also gets difficult to determine the financial costs of response efforts.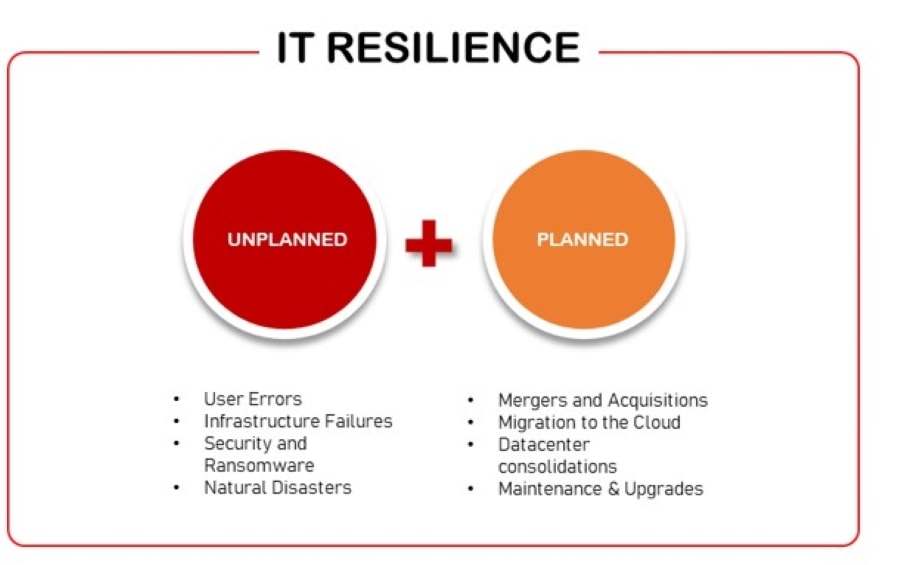 The Roots of IT Resilience Management
To grasp the notion of IT resilience, it's necessary first to define the concepts that preceded it—namely, disaster recovery and business continuity management.
Disaster Recovery Planning – Businesses are susceptible to misfortunes — natural catastrophes, cyberattacks, or just malfunctioning equipment. Prepare for the worst-case scenario to ensure a seamless recovery. This entails quickly resuming operations to minimize the impact on the bottom line. That is the goal of disaster recovery planning: to expedite the return to normalcy following a disaster.
Business Continuity Management – Continuity management in information technology (or business) analyses possible threats, weaknesses, and hazards. Continuity planning then establishes procedures to guarantee that business activities continue with the fewest potential interruptions.
Crisis Management – The method through which an organization responds to a disruptive and unexpected incident that threatens the company. Crisis management including addressing threats before to, during, and after they occur
IT continuity management is a step up from disaster recovery planning. The distinction is in readiness and, naturally, in superior outcomes. This concept is continued in terms of IT resilience.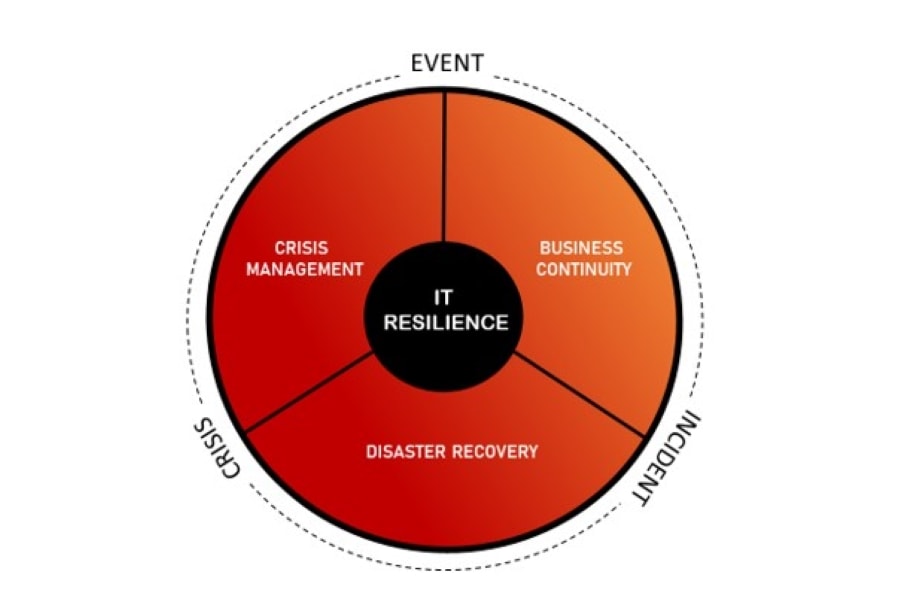 IT Resilience vs Business Continuity
While IT resilience – and indeed business resilience – may appear to be comparable to IT and business continuity on the surface, there are critical distinctions.
Continuity refers to the continuation of operations. There is no definitive end to the business, no terrible stumbling block. Continuity, on the other hand, does not imply that a firm will remain unchanged or prosper. Rather than that, continuity refers to the continued operation of a firm at an acceptable level.
Unfavourable occurrences will affect corporate operations. And most likely a detrimental effect. However, a resilient firm sustains minor damage. Additionally, it ensures the business's resilience to disasters, market shifts, and competition.
| | | |
| --- | --- | --- |
| CHARACTERISTICS | IT RESILIENCE | BUSINESS CONTINUNITY |
| DEFINITION | Refers to an organization's capacity to adapt to events and perform optimally in the face of external or internal threats or change | Refers to the identification of risks, vulnerabilities, and threats that might impair regular business operations and a mitigation framework to resume normal operations as quickly as possible |
| APPROACH | Stratgice risk management appoacjh | Process-driven approach |
| IMPORTANCE | Enables organizations to respond to, and address, security, risks, preparedness, and survival issues | Guides an organization out of an undesirable incident |
What are the Challenges in achieving IT resilience?
Many organizations IT resilience capabilities have dramatically increased over the previous 20 years due to various causes.
Disk storage and networking are comparatively much cheaper.  Consequently, the movement and storage of massive amounts of data have become more affordable, allowing designs to allow for component duplication and networking.
Virtualization technology has made IT systems and data more fluid across the IT estate they are hosted. Rather than being stuck on single servers, virtualization has allowed for far more resilience to equipment failure. Software for replication and recovery is far more advanced these days.
Whilst good news, it does present some fundamental challenges:
IT departments can become so reliant on technology that they cease planning for failure – This means they stop putting time and effort into preparations and knowledge for what to do if a catastrophic IT failure must be retrieved from backups
IT departments may get unduly focused on the prospect of physical failure; yet, a cyberattack is a different type of threat. For instance, most organizations will mirror a copy of their data between two data centres. If a data centre is replicated, a virus or data corruption is also mirrored, jeopardizing the data in both data centres. The organization must rely on backups stored at the third data centre. These backups must go back far enough to prevent the infection or corruption from occurring
Does the IT department properly comprehend the resilience and recovery of supplier-supplied IT systems? Understanding what your suppliers are responsible for and where you are responsible, for example, cloud service provider
IT Resilience in the Cloud
The cloud is a terrific thing for performance, agility, and improving the delivery of IT systems while lowering costs. Still, it is ultimately neither a standard nor a rubber stamp — it is a marketing word for distant data centres.
I've seen a troubling complacency among firms going to the cloud, with the belief that "it's the cloud, it'll work!" The reality is that you must study what you are purchasing and understand your cloud provider contract terms.
For example, what steps would they take in a recovery situation? And how resilient are they? Have they tested how they would back up and retrieve data? If possible, watch tests; otherwise, request test results, policy information, and a copy of their incident management strategy.
Cloud providers may focus on day-to-day projects, technology uptime and neglect more significant outages, such as a complete data centre failure.
Related: Using Cloud Computing to achieve Business Continuity
How can you ensure IT Resilience in your Business?
With increasing threats in the landscape, businesses should realize that preventing disruptions can be impractical and expensive. Instead, the organization should strive to build resilience into its IT to respond and recover from various events.