Business continuity and crisis management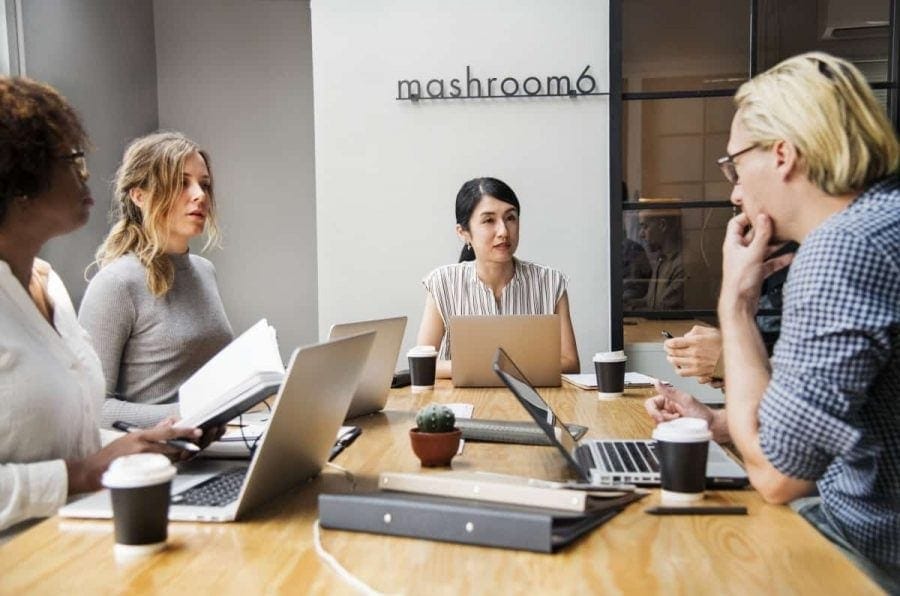 Unexpected events, such as fire, flooding, or pandemics, can affect businesses negatively.  Such events can lead to business operation failures, or the worst-case scenario – losing potential customers and even bankruptcy.  Planning for business continuity and implementing robust crisis management can help businesses overcome any unforeseen catastrophic incidents.
Here you will learn how business continuity forms the foundation crisis management. You will further understand how planning and preparing for any crisis allows businesses to implement strategies to reduce and minimize impact to their organizations.
What is a crisis?
Any disruptive event which affects a business's facilities, IT systems, data, personnel etc. which leads to a stoppage in production, can be defined as a crisis. A crisis of a catastrophic nature can impact business production, resulting in an impact on business reputation,  customer goodwill, profitability, production schedules, revenues, etc.
Crises could be major or minor in nature, and either internal or external. The severity of the crisis may result in your business exposed to adverse publicity. For any small or medium business which relies on customer goodwill and maintains good customer relationships, any adverse publicity could lead to a loss in sales and revenue.
Examples of potential business disasters which can be classified or lead to a crisis are:
Natural/environmental disasters – Unpreventable and entirely out of human control. for example, flooding or heavy rains and storms.
Technological disasters – IT system failures, corrupt software, faulty hardware, or malicious cyber-attacks are some of the examples.
Accidental disasters – Such as fire, gas leaks, or power cuts, etc.
Theft or vandalism – Computer equipment theft or vandalism can cause institutional damage possibly ruining any businesses' finances.
Power cut – Power cuts will, in most cases, stop all operations of any business. Power cuts can impact IT, telecom systems, crucial machinery, or equipment.
Fuel shortages – lack of fuel will be troublesome for the staff. Their work may be delayed and leave adverse effects on processing orders.
Restricted access to premises -An incident such as a gas leak could restrict access, bringing business operations to a halt.
Loss or illness of key staff – Lack of a critical member of staff can harm the business operations immensely. Leave, sickness, or any other absence, could have a severe impact on business operations. Small and medium businesses tend to suffer from impact from this more severely.
An outbreak of disease or infection – Epidemics and pandemics are unpredictable. Global, regional or even local outbreaks could severely hamper business operations.
Terrorist attack – Either local or abroad. Acts of terror could impact your employees directly or impact your supply chain.
Crises affecting suppliers – you never know what is in store for you during crises. have a backup plan in case the crises affects the suppliers
Crises affecting customers – what would you do if the crises affect your customers and they're unable to buy your products?
Crises affecting your business' reputation – how'd you solve any misunderstanding, rumours, or allegations about your products during the crises
You can read more about the different types of crisis here.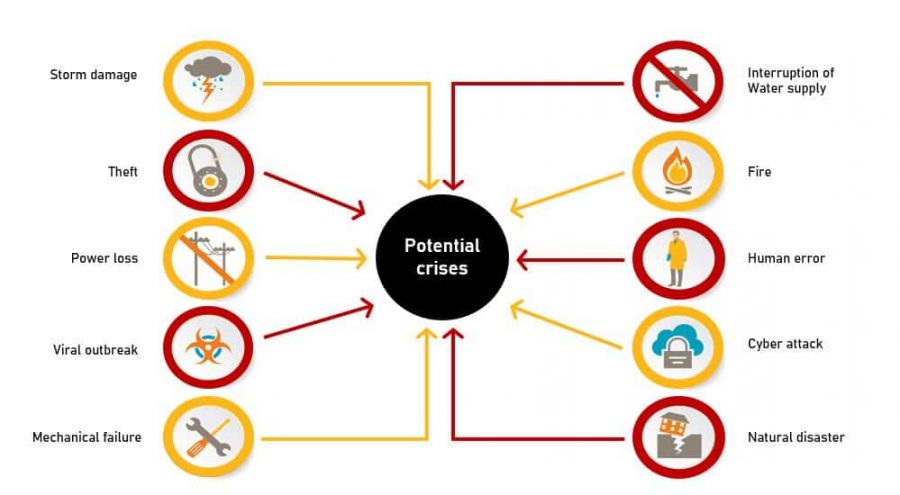 Even if you don't face all of the scenarios mentioned above, you should still have backup plans ready according to situations.
Crises often come without warning, rarely giving enough time to businesses to react or take decisions accordingly.  Therefore, businesses must implement business continuity and crisis management systems, processes and procedures to ensure any crisis can be handled professionally and competently.
Crisis management
Crisis management is the process of managing and dealing with crises. The process deals with all sorts of threats before, during, or after the crisis. It focuses on reducing the damage and prompt recovery.
Read more about how to reduce the potential impact of crises.
For any organization, business continuity and crisis management go hand-in-hand.  Your crisis management plan should be a component of your broader business continuity plan (BCP). Key elements to include in your Crisis Management Plan are:
Risk analysis
Activation protocol – how is the crisis management plan activated
Organizational structure/chain of command – does your organizational structure change in the event of a crisis?
Command centre plan
Crisis response action plans
External communications plan
Resourcing and responsibilities
Training
Review schedule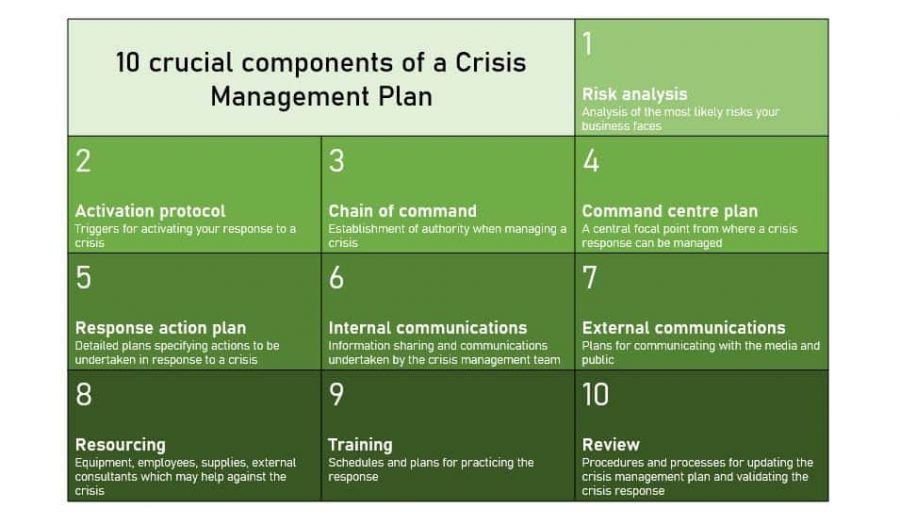 Crisis Management Planning
Business continuity and crisis management are closely related, with crisis management planning forming a part of the broader business continuity plan.
The Crisis Management Plan will typically detail the communication and decision-making elements of your business continuity plan. Once well documented, the Crisis Management Plan detail, enable and facilitate communication between all stakeholders.
It will further detail steps which are required for impact assessment, as well as interaction with media regarding the crisis, and any action to be taken to contain the crisis.

Factors to be considered for a Crisis Management Plan
Every crisis management plan needs to be tailored to a business' or organization's specific needs.  Fortunately, there is some commonality, and presented here are some of the common guidelines for formulating a crisis management plan:
Command Center – A Crisis Management/Emergency Operations Command Center should be established to function as the focal point for crisis management.
Contact list – An updated contact list for internal and external stakeholders to ensure communications are distributed to the correct audience.
Crisis Management Team – Comprising of senior managers with the expertise and experience to manage a crisis. The team should include employees with any specialized knowledge or skills which will be useful in combating the crisis.
Evaluation and corrections – Once the crisis has concluded, identified members of the Crisis Management Team should evaluate the response, and where appropriate, take corrective action to overcome any deficiencies.
Organizational responsibilities of the team – Every member of the Crisis management team should be assigned a specific task by defining their functions, duties and responsibilities during the crisis.
Logistics – Detail any logistical support required for notification, mobilization and resourcing the crisis centers.
Public relations – A clear external communications strategy to minimize 'bad press'. A specific team member or sub-team should be assigned for this.
Sub-teams – Functioning under the overall direction of the main team. The sub-team(s) will comprise of employees with specialist and varying expertise which may be required subject to the type and severity of the crisis.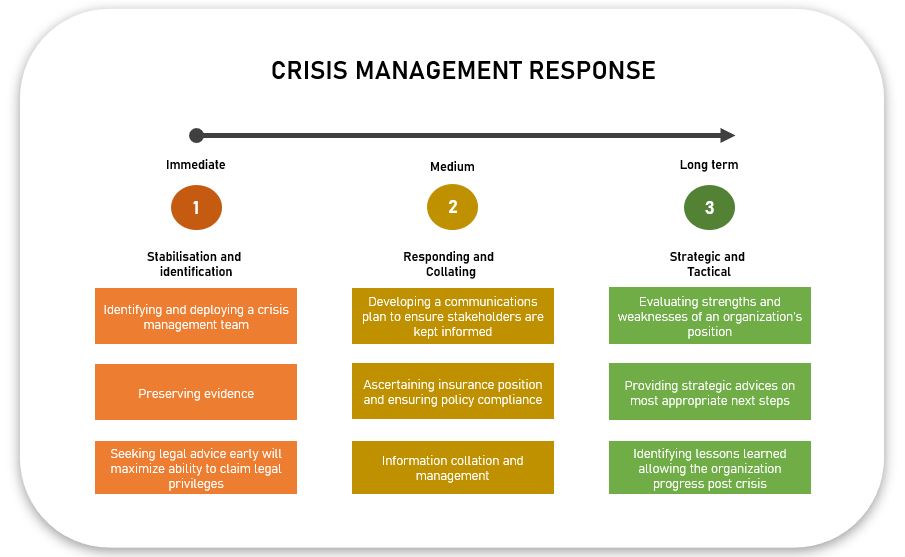 What is Business Continuity?
Business continuity focuses on ensuring an organization can continue to operate in the event of a disruption and set a path to return to normal business operations once the disruption or crisis has subsided.
Business continuity planning (BCP) typically consists of four stages, namely Risk Assessment and Business Impact Analysis (BIA), Developing of recovery strategies, Implementation of recovery strategies, and Testing, acceptance and ongoing maintenance of business continuity practices and procedures.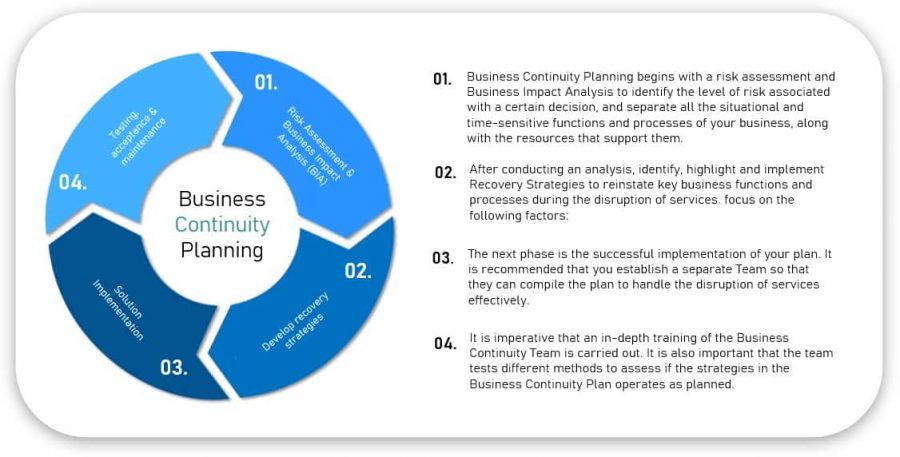 The pandemic is a perfect example of a global event which required businesses to invoke their business continuity and crisis management protocols.
In many cases, businesses activated their business continuity plans.  As lockdowns became mandatory and prolonged, crisis management strategies were instigated to ensure organizations could continue to operate.
Any business continuity plan must implement clear risk management strategies, setting set clear metrics for measuring success.
A business continuity plan must have an alternative to maintain customer service in case of a disaster or catastrophic event. These alternatives can include data backup, emergency office locations, and emergency IT administrative rights.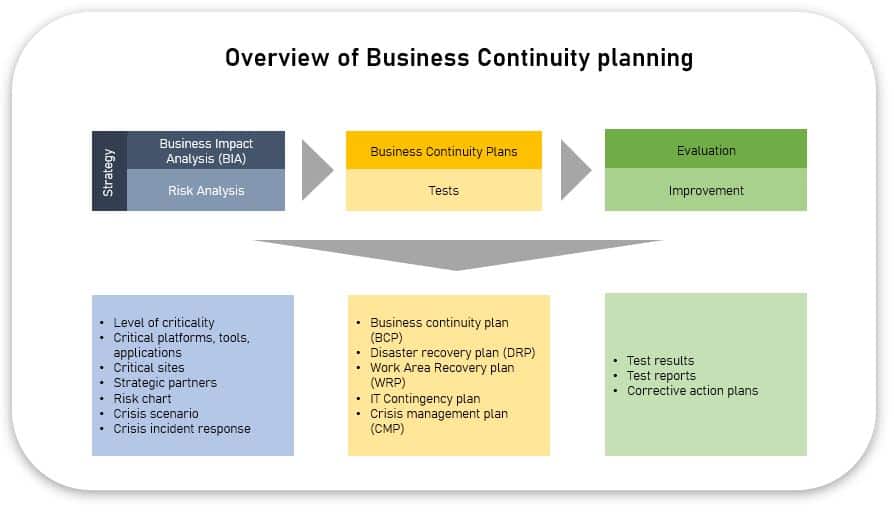 Business impact analysis
One of the first measures in growing a business continuity plan is the Business impact analysis – typically known as BIA. This process allows you to understand specific functions that are crucial to your successful business. Also, you become clear of what effects a disruption will have on them
What is Business Impact Analysis (BIA)?
Business impact analysis (BIA) gives you an idea of how your business will hold up during a crisis. You'll be able to pre-calculate the recovery time objectives for the services you offer. Also, you'll be able to figure out the number of resources you need to keep your business running unhampered.
Using this information, you'll be able to build the base of your disaster recovery and create your business continuity plan.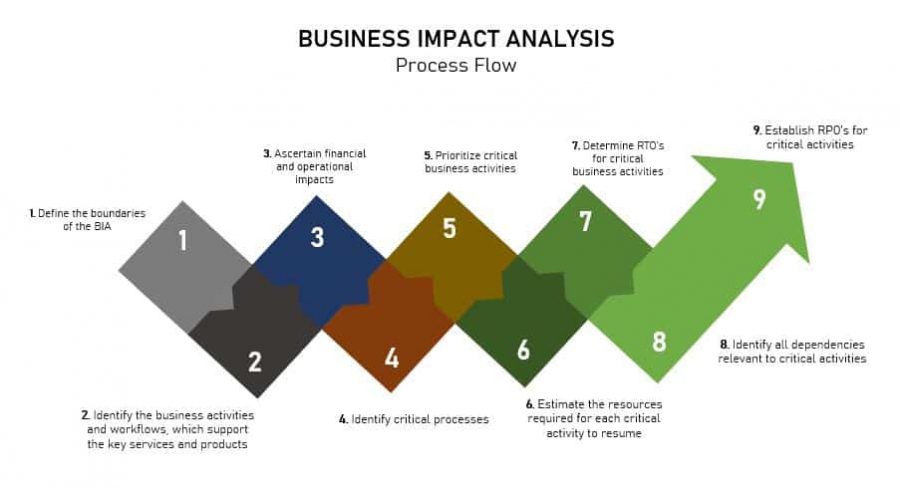 How to conduct a business impact analysis
Follow the steps below to perform a business impact analysis flawlessly :
detect all sorts of business procedures and functions
prioritize the crucial functions or procedures
consider and analyze the possible business losses
choose recovery solutions accordingly
consider all the existing independencies such as with IT systems
measure the potential impacts of all the operational chaos on people, procedures, and technologies
measure all the legal and financial consequences
create a list of the requirements for the recovery time
The output you'll get from doing these is the business impact analysis report. You'll find this report :
assuming the worst possible scenarios
considering the potential loss of your business during a crisis
identifying the volume of the financial and operational consequences from the crisis

Here are some of the impacts that a potential business crisis or loss functions can have :
the sales or income you lost
overtime, outsourcing, or any other higher costs or expenses
regulatory fines or contractual penalties
losing customers and major customer disappointment
dropping business reputation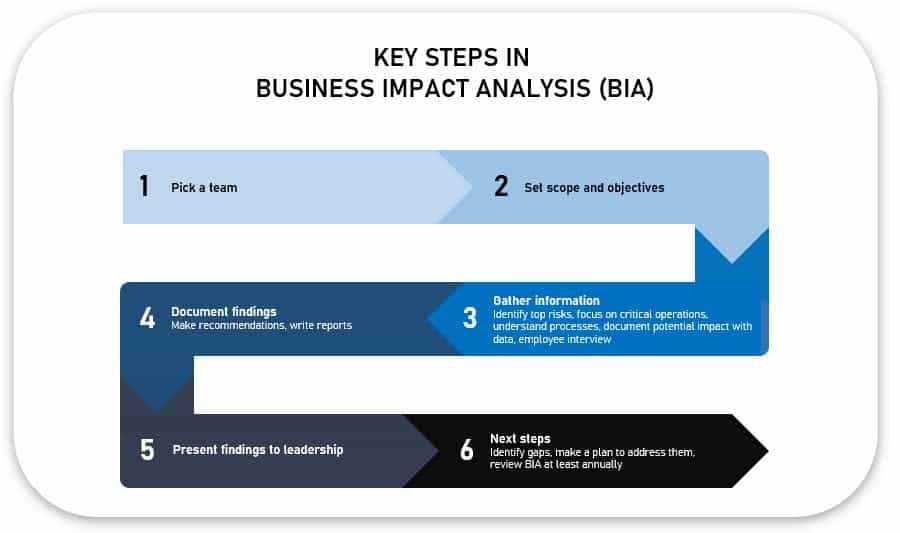 What is the difference between business impact analysis and risk assessment?
BIA and risk assessment both are business continuity tools. However, there is a difference between them.
You won't find BIA directly focusing on the odds of an event. Instead, it paints all the possible worst-case scenarios. Risk assessment analysis helps you with measuring the overall potential risks and threats to your business and the effects they might have.
BIA helps the risk assessment to quantify and prioritize all the risks found.
Read on to understand how you can evaluate business risks.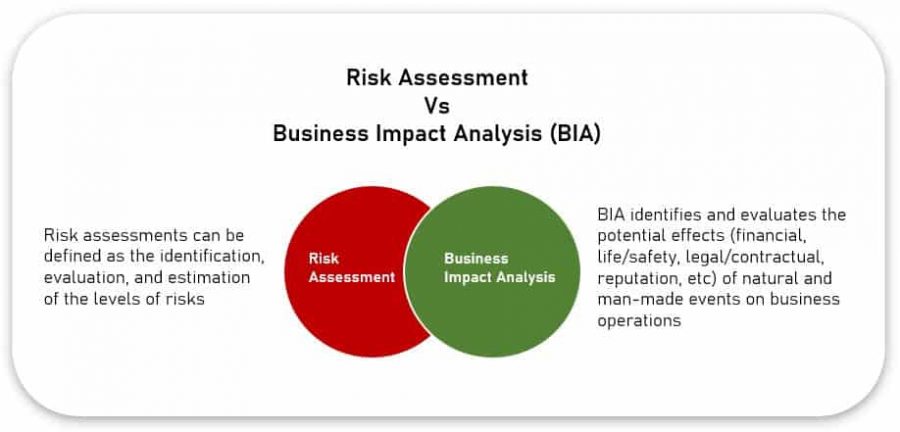 Minimizing the potential impact of crises
All businesses come with some risk and uncertainty. But that doesn't mean each one of them will be devastating. By taking proper measures, damages and losses can be reduced.
Follow the crisis-mitigating strategies below to prepare yourself and prevent small risks that can take a snowball effect later on and pose a danger.
Business premises –Having an adequate backup plan for the crises will help in the long run.  For example, planning for a flood can lower the risk and save your premises from potential damages.
Again, having proper electrical and gas safety measures can provide enough protection to your premises from an unexpected fire. Also, fire and burglar alarm installation will be helpful.
Have a contingency plan in case you're unable to use your premises will help you determine the feasibility of using alternative premises at short notice.
IT and communications – To protect your IT systems, make sure you install anti-virus, keep data back up, and ensure the right maintenance agreements. Paying an IT company to back up your data offsite on a secure server is also a smart option.
You can print the information of your customers and keep the hard copy in case the IT system fails. Check out these proven methods for IT risk management.
Employees – Consider training more staff with similar skills to use in emergencies. This way you won't have to depend on a particular set of people for getting something done.
You should also check if there are temporary cover available from recruitment agencies in case there's some medical emergencies or sickness. Take proper health and safety measures to keep the staff off risk.
Transport – Keep a record of your staff's transportation. If possible, establish a car-sharing scheme or facilitate the staff with the company's transportation to work and home.
You can also encourage them to use public transport. Provide sufficient facilities for the IT support systems and allow them to work from home.
Equipment, machinery, materials, etc –While using key equipment pieces, make sure you have them covered with maintenance plans that guarantee a swift emergency response.
You may find it challenging to gather particular materials during a crisis. So, reserving some mission-critical supplies and materials would be a great choice.
Also, have a list ready for the alternative supplies if your provider can't manage the goods or materials you'd need.
Insurance – Insurance is a significant part of the effective risk-management strategy. Check how you can insure your business and assets. Also, you will understand how to insure your business – people, life, and health.