Using Facebook Marketplace to grow your E-Commerce Business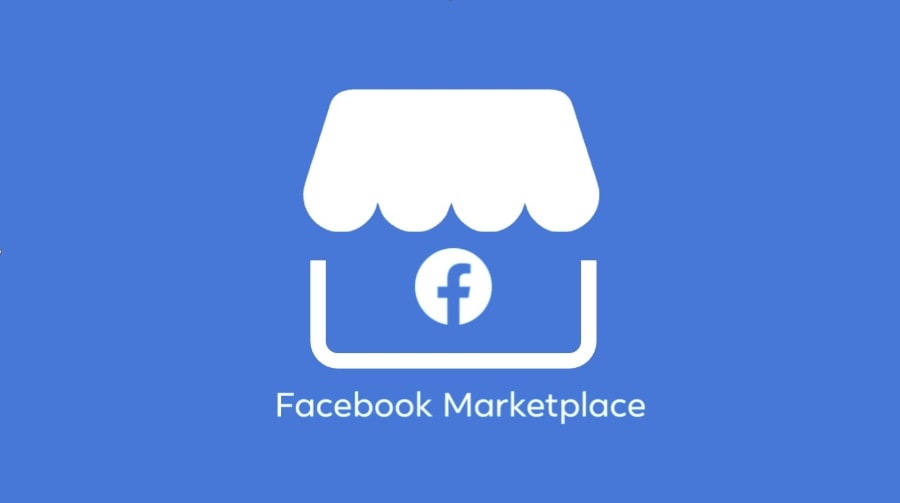 Are you looking for new opportunities to sell your products? To grow your e-commerce business, you may want to consider Facebook's Marketplace.
Countless individuals from all around the globe utilize the social network, increasing your opportunities to connect with people every day. However, it would help if you thought about organizing your store for maximum productivity.
Here we explain how you can sell on Facebook Marketplace to expand your e-commerce business.
What is Facebook Marketplace?
The Facebook Marketplace is a service and a space on the Facebook platform that enables users of this social networking site to advertise their goods or services for sale to other community members.
This platform has a variety of capabilities that enable users to see their own advertising and put them inside the Marketplace in an unpaid or paid capacity respectively.
When a user publishes a product or service, it is classified according to its category and presented to users according to the terms they have searched for.
You can input a price, description, title, quantity, and a few other features of the product or service you are offering via the platform.
The messages the consumer gets are sent via Facebook Messenger; however, you can include other contact information in the product description, such as your WhatsApp Business number or Instagram account.
Who Can Sell on Facebook Marketplace?
Comparable to Amazon and eBay businesses, anyone may begin selling used or new products on Facebook Marketplace.
This platform is designed for e-commerce businesses, entrepreneurs, sellers, artists, real estate, and other enterprises.
RELATED: Getting Started with Amazon FBA
Is Facebook Marketplace Free?
Listing items for sale on Facebook Marketplace from a personal Facebook account or a business page is free.
When a transaction is completed, Facebook automatically deducts a 5% selling charge or a flat 40 cents for products valued at $8 or less.
However, Facebook's parent company Meta has eliminated the regular selling cost for all items designated as dispatched until June 30, 2023.
How much do Facebook Marketplace Ads cost?
A business owner may use the Meta Adverts Manager to pay to run ads in addition to listing items for sale on Facebook Marketplace.
The exact cost of advertising on Facebook varies depending on a few variables. However, e-commerce businesses may keep costs under control by adjusting the budget they have available for Facebook marketing.
While the cost of advertising is determined by how many people click on the ad, the campaign will usually finish after the budget has been depleted.
The average cost per click for Facebook Marketplace advertisements in the United States is about 28 cents.
Why should you sell on Facebook Marketplace?
There are several advantages for e-commerce businesses selling goods via their Facebook page. Some people will get greater results from a Marketplace listing than other promotion forms.
Expand your Customer Base
Of course, one of the best reasons to use Facebook for your e-commerce business is to reach people. Facebook has more than 1.7 billion daily users and more than 2.6 billion monthly users, making it one of the most popular websites.
Even if your website is very popular, it won't get as many visitors as Facebook. Even though there might be more competition in the market, you can't ignore the fact that there are more people.
Selling on social media is a great way to grow your brand and get more people to buy items from your website. Offer information about your company's website when you purchase to get people to buy from you again.
One-on-One Communication
e-Commerce businesses can sell directly to buyers through Facebook Messenger and talk to them one-on-one. You can talk to potential buyers directly and respond to requests in real-time.
Messenger can help if a customer wants to know about colors and sizes or if you need to send something back. You can check your messages on your computer or phone to ensure everyone is happy with what they bought.
So, you can give them the information they need before they stop being interested. It also offers customers the security and confidence they need to buy items online.
Variety of Payment Options
One of the best things about Marketplace is that it lets you choose how to pay. Facebook doesn't offer any services for sales transactions on the Marketplace.
So, businesses can accept payments from Shopify, BigCommerce, PayPal, and bank transfers, among others. But we strongly suggest that you get paid in cash.
RELATED: Online Payment Options for Small and Medium Businesses
Liquidate Stock
If you sell on other sites like Amazon, Squarespace, or Shopify, you can use Facebook Marketplace to sell any excess stock.
You might have a seasonal item, like clothing or a calendar. When that season is over, you can sell what's left at a discount on Facebook.
The goods could then be sold to make room for new ones. You can also advertise the latest products on Facebook and your other channels.
How to Sell on Facebook Marketplace
Once you've decided whether or not to create a Facebook company for your e-commerce shop, it's time to think about how to sell your items. You'll need to establish a Facebook profile if you don't already have one.
To make use of the additional marketplace capabilities, you also need to build a business page for your e-commerce store. The page name should be consistent with your company's name so that you may create your brand on and off Facebook.
You can find out how to sell on the marketplace if you have a Facebook profile and page.
Know What You Can Sell
Despite the fact that you may sell a variety of items on Facebook, you cannot sell everything. To begin with, your Facebook shop cannot sell services or digital goods.
You also cannot sell animals or healthcare items such as first aid kits. The site also does not allow you to sell anything that violates Facebook's terms of service, even if they are not in the marketplace.
Here is a list of prohibited products for the platform:
Adult products or services
Animals
Digital products and electronic devices that facilitate the streaming of unauthorized content
Fraudulent, misleading, deceptive, or offensive products
Healthcare products services
Illegal, prescription, or recreational drugs
No commercial intent
Real money gambling services
Real, virtual, or fake currency
Products with overtly sexualized positioning
Subscriptions, downloads, or digital products/content
Third-party infringement
Tobacco products and related paraphernalia & Alcohol
Unsafe supplements
Weapons, ammunition, or explosives
Facebook also took the proactive step of separating its site's informative and commercial aspects. In addition, placements with no commercial intention are prohibited.
Facebook Marketplace is ideal for physical goods sales. However, you must ensure that your products will be sold.
Verify Demand and Profitability
Do some research before you start selling products on Facebook to assess product demand and profitability. Consider how much you may charge for items and if they sell on Facebook.
Some tools may be used to investigate items and prices. Then you'll be able to list items that are likely to sell so that you may expand your company.
Check out how many identical goods are already on the market and their condition and pricing. Compare it to your inventory to help you decide how much to charge for each item.
Manage Your Inventory
If you have a limited supply of an item, think twice before listing it on Facebook. You must not oversell an item between the marketplace and your website.
When you cannot fulfill an order fast, the consumer may complain. They may even post a negative review, making it more difficult for you to get new consumers in the future.
Consider if you should list an item on Facebook. You won't have to worry about someone purchasing identical goods from your website before you can remove either listing.
Take Photos
Take as many images of the merchandise as possible as you prepare to list your purchase. Ensure the lighting is excellent and there are no distracting elements in the shot.
Examine each photograph and choose the ones with the greatest image quality. To make the item seem even better, you may need to tweak them for lighting.
Then you'll have a selection of images to put with the listing so folks can get a sense of what the item is like. In that manner, you can assist individuals in deciding whether or not to purchase it.
Choose between Local Pickup vs Shipping
Another factor to consider is if you want to provide local pickup, shipping, or both. Both alternatives will help you contact more clients on Facebook, but they both have drawbacks.
If you provide local pickup, you must be cautious about payment and meetings to exchange the goods. Shipping, however, may be costly and dangerous, particularly if you sell fragile items.
Being able to ship products enables you to sell to those who live outside of your immediate neighborhood. Then you may broaden your marketing efforts and increase your marketplace company.
Creating a Listing
You now have products to offer as well as photographs of those items. You're certain you can sell them, so you're ready to start creating product listings. Take the following steps: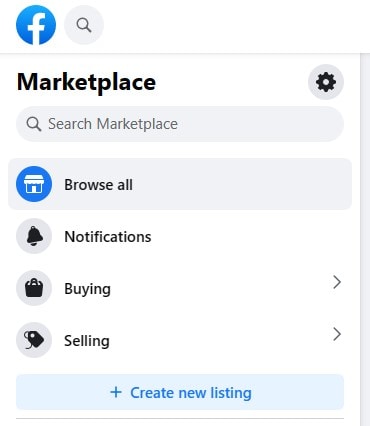 In Marketplace, click on "Create New Listing"
Choose the listing type, in this case, "Item for Sale"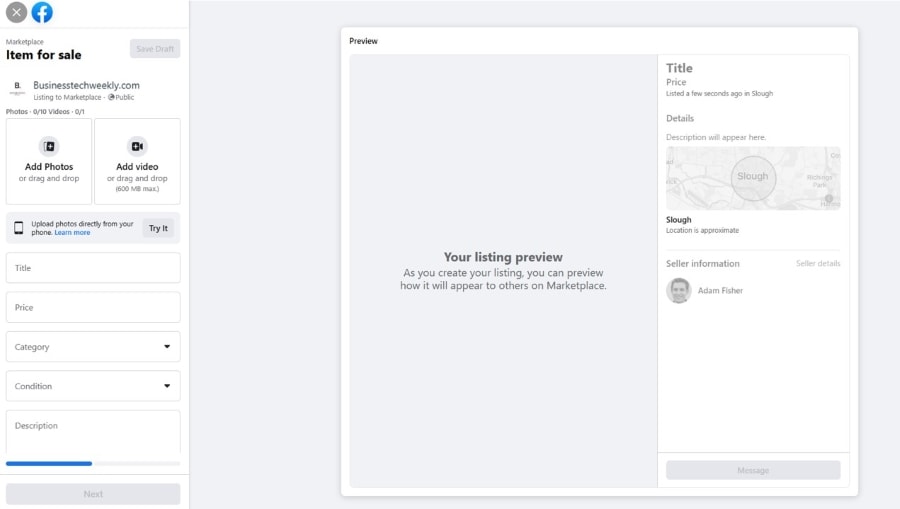 Add a title, quantity, and price
Add up to 10 photos
Choose a category and item condition
Insert a description
Product tags can be used to help people find the product
Select "Local Pickup" and/or "Shipping"
If you choose "Shipping", get a prepaid label
List the product on Marketplace and any groups
Finally, you may post the listing to be visible on Facebook. You may now sell the listing by promoting it on your Facebook page or profile.
Sharing your Listing
After you've made your listing public, start sharing it with your current audience. You may share the listing with friends through your own profile, but your page is also excellent.
The merchandise will then be visible to anybody who follows or visits your pages. That is a simple technique to attract those wanting to purchase anything.
You may publish your listing as a post on your page and share it many times to increase your reach. You may also publish the listing in relevant Facebook groups to assist in reaching individuals who need the goods.
Boosting your Listing
You might consider boosting the listing if you haven't received any replies or interest after a day or two. Boosting a listing is comparable to promoting any other post because more people on Facebook will see it.
You should, however, budget for the increase. Consider your whole company budget and how much money you have available. Then you may increase the listing for the appropriate time.
Paying to enhance a listing is an excellent strategy to attract customers. However, it might be costly, particularly if you have many postings. To enhance the possibilities of a sale, ensure you promote an item to the correct audience.
Communicate with Customers
Being able to connect with your clients is another critical aspect of selling on Facebook Marketplace. Messenger makes it simple to see and react to messages, which you should do as soon as possible.
A quick response might help you increase revenue and build customer confidence. Using messages enables you to address any questions regarding the listing and arrange a local pickup if you provide one.
You may also use your messages to address any issues or concerns about a purchase. You may deliver excellent client service while demonstrating that you care.
Renewing your Listing
In certain circumstances, you may be able to sell out of anything in a matter of days or weeks. Other items, however, may become accessible on the marketplace after a week.
If the second scenario occurs, you may renew your listing in order to move the product to the top of the market page. Then you may attract more customers and perhaps make a deal.
After the first week, you don't need to renew your ad to obtain a sale. However, it is a simple approach to increase views and traffic, which may help you sell the item faster.
Add and Market Listings Regularly
People may utilize Facebook Marketplace to get rid of unwanted stuff. However, if you want to use it for commercial purposes, you should have numerous postings live at the same time.
As your inventory grows, be sure to update new listings every month or week. You may also share other listings in your Facebook posts to reach a larger audience.
If a customer likes one of your products, they may wish to purchase more from you. Having a variety of items helps boost consumer engagement and revenue.
Should you be Selling on Facebook Marketplace?
Selling on Facebook Marketplace may be an excellent method to launch or expand your e-commerce venture. You should open a shop if you want to reach a wider audience or utilize Facebook seller features.
Then you can run your company with less worry and time. You may instead concentrate on selling and fulfilling orders to clients.