Website for Small & Medium Businesses: How to Build a Business Website in 5 Steps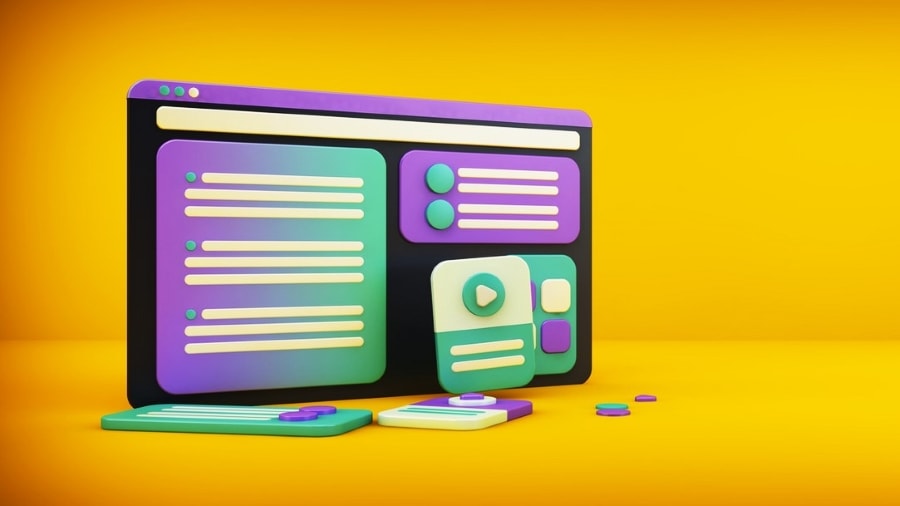 Numerous considerations must be made when developing a business website, and many may consider launching a website for small businesses daunting.
The entire process – from picking which website builder is most suited for your business to determining the costs required to bring your website live – can be quite intimidating if you don't know where to begin.
However, developing a business website does not have to be a stressful experience. We've put together this guide to support you in understanding how to create a website for your small business, covering the fundamentals needed to establish your online presence.
How to create a Business Website in 5 Steps
As a small business, you may be hesitant to splash out on outsourcing to a website designer to develop your business's online presence. However, creating a website for a small business on your own may appear complex and time-consuming.
Fortunately, neither is entirely accurate. Some beginner-friendly website builders ideal for small businesses can allow you to develop a stunning website without prior knowledge. Moreover, many of these tools are inexpensive.
Let's review the steps to create a website for your business:
1. Determine the purpose of your website
Before you begin, it is sensible to determine the purpose of your website so that you may integrate design elements and techniques that will support you in achieving your goals.
Understanding the aim of your website from the beginning will benefit it in the long term. This makes it easier to determine which design, features, and options your site needs and which pages and material you should develop. It will even help when selecting a domain name for your website.
When embarking on creating a website for your small business, ask yourself the following questions:
What information do you need to convey to visitors to your website?
What actions should your website visitors take (e.g., buy things online, visit your physical store, seek a quote)?
How will your products or services be displayed?
Do you require an online portfolio of previous work to exhibit your worth to prospective clients or customers?
Website for businesses typically provide information about your organization or as a direct platform for e-commerce. Whether you construct a simple website explaining your business or a more complex e-commerce site, you must make it straightforward for the visitor to find the information they are looking for. Your website visitors should not have to dig around to determine if your organization can meet their needs.
Consider your website users
Before constructing a new website for your small business, take a step back and clarify who this new website is intended for.
There are various methods and tactics for defining your ideal customer, but answering the following questions will help:
What are your customer's urgent needs? What issue must they address straight away?
What are your customer's compelling desires? What direction do they wish to take?
What do your customers want to achieve from working with you?
You can now promote yourself as the solution to this problem. You can talk directly to your ideal client's wants, needs, and desires and communicate in a manner that makes them feel understood.
Whether you construct a simple website explaining your business or a more complex e-commerce site, you must make it straightforward for the visitor to find the information they are looking for. Your website visitors should not have to dig around to determine if your organization can meet their needs.
Once you know whom you're talking to, you can build your small business website around them so that when they visit your site, you can make an instant connection with them.
2. Get a Domain Name
A vital aspect of any website is its domain name. It is the URL you will share with current and future clients and promote on social media. As a result, you want it to be detailed and easy to remember and fill in. To avoid customer misunderstanding, keep it short and eliminate abbreviations, acronyms, and numerals.
Most small firms utilize their brand name and a top-level domain (TLD) extension such as ".com". With so many.com domains already registered, it can be tough to get the exact domain name you want.
TLDs such as ".net", ".biz", ".org", location-based TLDs such as ".us" and ".uk", and professional designations such as ".pro" are also available.
You may be prompted to register your domain when signing up for a plan (such as Bluehost). It could happen, for example, if you choose a paying plan after developing your site in a site builder's free trial or version.
Here are three methods for registering a domain name:
Domain registrars: Domain names can be purchased for around $12 to $15 per year from top domain registrars such as Namecheap  
Web hosting plans: Most hosting plans from web hosts like Bluehost and Hostinger provide a free domain name
All-in-one-site builders: Similarly, many paid plans from website builders such as Squarespace, Weebly, and Web.com offer a free domain name
4. Building your Small Business Website
Customizing your chosen template is the next step in small business website design. This involves changing its pages, adding extra pages, eliminating unnecessary pages, and customizing the site's top and footer.
Each platform has its own set of site design tools, some of which are more user-friendly than others. Web.com, for example, is well-known for offering the most customization and creative freedom.
Webpage Basics
A good website may have several pages dedicated to various parts of your business, such as a complete inventory of your products or services or a blog section for corporate updates.
Here are a few web design basics to consider when tailoring your website:
Header: Most small business websites have a logo (or name), the main navigation menu, and a contact method (phone number or a link to a contact form), in the header.
A search box in your site's header will help visitors find content easily.
Footer:Along with the header, the footer appears on all pages of your website. Footers frequently include an email sign-up form, brand details (logo, business name, and tagline), contact information, links to social media marketing accounts, top web pages, products, or sections, and other information such as your operating hours.
The footer area is an alternative location for a search bar to help website users find the content they need.
Home page: This is the page most site visitors see. It should feature simple navigation options to help site visitors find the material they're looking for and a basic call to action that speaks to your target demographic.
For example, home pages frequently include high-level statistics such as the number of customers served or years in business, accolades, and memberships. It's also usual practice to have testimonials on home pages to entice people to conduct business with you.
About Us page: An About Us page, while not fully necessary, is another technique to convert site visitors. It's an opportunity for you to engage with people by using your brand's purpose and vision, tagline, values, and so forth.
On this page, many small firms offer information and images about top management or the staff. It's also an excellent location to post links to your company's press releases and highlight significant accomplishments.
Contact Us Page: In addition to having contact information in your header and footer, you should develop a dedicated contact page with additional contact options, such as a contact form. Consider including a live chat function on your website.
Various live chat plugins are available for download and installation on WordPress. Most plans, including the free ones, include website chatbots.
Privacy Policy and Terms & Conditions Pages: A website's privacy policy explains how it gathers, uses, distributes, and sells visitor data. If your website collects personal information (names, email addresses, credit card numbers), most legislation requires a privacy policy. Being honest with users about how you acquire and handle their data is a recommended business practice in today's digital world.
Your terms and conditions is basically a contract between you and your website's users. Arbitrators will evaluate it in a legal dispute to see if each party acted with their rights.
Frequently asked questions (FAQ):Including a FAQs page is advantageous because site users may get answers to frequently asked issues without contacting you directly, and they can get responses anytime.
Blog Pages:Creating a blog is a solid content marketing strategy to drive traffic to your website. Blog pages can include, so create this page with numerous parts customized to your customer profiles and personas (such as a set of featured articles, topic-specific posts, and recent posts).
Web.com's site editor is one of the most user-friendly, especially for beginners. Squarespace's elegant templates enable you to create a small company website that is both professional and visually appealing. Weebly's site editor is less user-friendly, but it compensates by providing sophisticated ecommerce in all plans, even the free ones.
If you're using WordPress, your theme may have prefabricated pages that you can alter, or you may have to create each page from scratch. WordPress' site-building features are neither user-friendly nor intuitive.
You can, however, shorten your learning curve by installing a WordPress website builder or signing up for a Bluehost plan, which both include a WordPress page builder as part of their hosting packages.
Website Design Guidelines
When designing your website, it would help to ensure that each page supports the central goal of the site, has a clear purpose, and includes a call to action (such as "learn more," "sign up," "contact us," or "buy this").
Be clear about what your business does: Lead with a clear, short statement that summarises what your company does.
Visitors to your business website should be able to comprehend what you do within seconds of landing on your webpage. A few well-written pages outperform many poorly written ones.
Place strategic calls to action (CTA): CTA typically works best when they correspond to the information on the page.
For instance, a "contact us to learn more" button makes sense on the "about us" page, while a "purchase now" button may be more relevant on a product page.
Automate speed improvements: A fast-loading website is vital for the overall user experience. Certain plugins will cache elements of your site, so users don't have to download anything more than once. Fortunately, many leading platforms and website builders have built-in website caching functionality.
If you opt for WordPress as a platform, you may need assistance from a web development partner for some of the more technical parts of caching and compressing data. WordPress plugins such as W3 Total Cache for WordPress or WP Super Cache compress files helping visitors navigate your site more rapidly.
Refrain from using stock photos: The simplest way to transform an excellent site into a mediocre one is to use tacky stock photography. If you need photos for your page, it's ideal to utilize images of your actual team or office.
5. Test & Launch your Business Website
Examine your site before publishing. Check how it looks and behaves on desktop and mobile. Check for typos and broken links as you go through your material.
Don't overlook loading speed, as over 40% of visitors will abandon a slow site, which can also harm your search rankings. If you notice that your website takes too slow to load, try compressing or lowering the resolution of your photos. Click "Publish" to launch your website when everything is in place.
You only need to follow two fundamental rules when publishing your website for the first time:
Test Everything. Examine each page you built for your website. Read the content, press the buttons, and fill out the forms. This quality control check will guarantee that your site functions appropriately when your first visitors arrive.
Don't Wait for Perfection. The most critical aspect of your website is whether or not it is operational. Creating a website for the first time is an educational experience.
You'll inevitably dislike something about your website. But perfection doesn't exist, so there's no point in waiting to publish after you complete an initial round of testing.
Creating a Website for Small Business: Analyzing and Optimizing your Website
Your website is now online, but there are a few more things you can do to maximize its potential. Here are some steps for analyzing and optimizing your small business website.
Install Google Analytics
Install Google Analytics, Google Search Console (ideally via Google Tag Manager), and Bing Webmaster Tools to assist you in evaluating traffic and site performance.
Here are some of the metrics Google Analytics tracks:
How many people visit your site
How many countries do people visit from
The devices your website users have accessed your website from
Whether people abandon your site immediately (or 'bounce')
The duration website users stay on your pages
Where you get traffic from (such as Google or social media)
This information is critical for understanding how visitors interact with your website. Are consumers spending a long time on your site or leaving immediately? By understanding how your audience behaves, you can make changes to make them happier and make your site more successful.
Some website builders, such as Squarespace, include a built-in Google Analytics integration, making it extremely simple to set up Google Analytics.
Setting up Google Analytics is completely free — here's how to get started:
Go to http://www.google.com/analytics/ to learn more.
Click the "Start for free" button.
Set up a property — in this case, your website – so Google Analytics knows where to gather data.
Create a reporting view to allow you to filter the information you see.
Google Analytics will provide you with a tracking ID; copy or make a note of it
Follow the instructions to add your tracking code to your website
You can do much more with Google Analytics, but these are the fundamentals.
Several website builders also provide their own in-house reporting tools to assist you in tracking the progress of your site. If you don't want to use Google Analytics, you may use your builder's analytics tools, but remember that the findings won't be as detailed or in-depth.
Run a Speed Test
You can run a site speed test soon after releasing your website. Slow-loading websites are bad news since they annoy visitors and are frowned upon by Google – a delay of even one second in page response can decrease conversions by 7%!
You may determine whether you need to adjust your site by seeing how quickly it loads.
It is simple to perform a site performance test. Of course, you could simply load your site and time it, but that's not particularly accurate unless your website takes an eternity to load. Use a free online tool like Pingdom, Google PageSpeed Insights, or GTmetrix.
Simply enter your URL into the tool, then sit back and relax while it assesses your site for you. Your website will be given a speed rating, as well as tips on how to improve loading times.
Optimize your Business Website for Search Engines
Your small company website must be search engine friendly to be easily found in online searches. While search engine optimization (SEO) may appear complicated, many SEO methods that help your website rank higher on Google are straightforward to implement.
Using Keywords
Optimize each of your website pages for a different, specific term. Top keywords can be determined utilizing inexpensive and free keyword research tools to learn which phrases your target users searches for when looking for a company like yours.
Utilize the keyword in the page title, one subheading, and a couple of times in the page's content to optimize a web page for your chosen keyword. It is also advisable to put it in the page slug.
Similarly, include a meta description with the term on the page. When your material appears on search engine results pages or SERPs, it will be emphasized in bold.
Most website builders make these tasks simple, with choices available at the page level. To optimize your title, slug, and meta description for online search, you'll need an SEO plugin like Yoast SEO in WordPress.
SEO Tips
These on-site SEO methods will help increase your ability to rise to the ranks as you create your business website. Here's some tips to get you started with SEO:
Select the right keywords: Choose keywords relevant to your company that potential clients are looking for online. Several SaaS tools can assist you in identifying, analyzing, and tracking these keywords.
Publish fresh content: Regular content updates indicate to search engines that your site is relevant for the targeted keywords.
Choose themes relevant to your business and exciting for your industry to establish yourself and your company as thought leaders in the field.
Place internal and external links: Internal links are links on your website that go to other pages, whereas external links are links to popular, authoritative websites. Place these links around your website in strategic locations.
Make sure the links make sense, suit the context, and add value to the reader's experience; otherwise, linking may work against you.
Optimize images: Compressing images and video to minimize their loading times will ensure quick loading, and your site's overall performance is slowed.
Image and video metadata, such as tags and descriptions, is another opportunity to work on your keywords and notify search engines about the images.
Maximize your site speed. Pages should load quickly, ideally, within a few seconds. To determine whether your site is functioning optimally, utilize free site performance checkers such as Google's PageSpeed Insights.
Analyze Google Analytics
Now that your site is running, it's time to examine the data gathered in Google Analytics.
Perhaps you've already looked at your Google Analytics dashboard. Don't be concerned if you were unsure about what you saw or if you took one peek and immediately closed it. We understand that Google Analytics can be perplexing, especially when you're just starting.
To get you started, here's a brief and basic explanation of what's available in each section of your menu:
Audience reports: This is where you will find your visitor information, such as age, gender, interests, location, language, frequency of visits, and device used.
Acquisition reports: Under the "All Traffic" category, you can learn how your visitors arrived at your site. You can also review traffic from social channels under the "Social" section.
Behavior reports: This provides information about your content. Examples include the most popular pages, the pages that users land on initially, and the pages from which most visitors exit your site.
While Google Analytics offers far more, this will help you get started and understand what each component is showing you.
Mastering Google Analytics will provide valuable data about your website, enabling you to make insightful decisions based on the information.
RELATED: 5 Google tools to help you scale your online business
Implementing a maintenance plan for your SMB Website
A website should not be developed and then abandoned. Websites must be appropriately cared for and maintained. Without it, they become obsolete, dangerous, and a sanctuary for hackers.
Here are some pointers for developing a maintenance plan for your small business website:
At least once a month, review Webmaster Tools data and have any critical issues notified to you in real-time
Use traffic statistics to understand more about your target audience so you can better serve them
Make use of performance data to optimize and correct warnings and faults.
Ensure that all software is constantly up to date
Run security checks to ensure your website is malware-free and has not been compromised.
Use "split testing" to check whether certain variations of your website improve performance. For instance, having two versions of a particular landing page with different photos and wording – lets you discover which version has a greater conversion rate
Continue to plan, create and schedule high-quality content
Discover new and successful ways to sell your company online
Allow website visitors to submit comments on your site
Continue to monitor your competition's web presence to see what they're doing and whether they can work for you
Ensure that your website is backed up in numerous methods at least once daily and for at least ten days
Website for Small Businesses: FAQ
How much should I plan to pay to build a business website?
According to studies, a small business website costs an average of between $4,000 and $10,000. This variation is attributable to the business type and the effort the business owner is willing to put in.
The difference in price between taking your own images and hiring a professional photographer can be several hundred dollars. The same may be said for competent copywriting for web content and other applications.
What should I include on my website?
Your website should answer and inform the audience of, "Who are you, what do you do, and how can you be reached?." Your website should also offer the products or services you sell and a straightforward method for clients to make online purchases.
Businesses may wish to incorporate mission statements, reviews, testimonials, and a constantly updated blog with helpful industry insights.
How can I grow the traffic to my website?
You can generate website traffic using various website marketing strategies, including sponsored and organic strategies.
You can generate organic visitors through internet searches by implementing a content marketing program and adhering to SEO best practices. Organic traffic can also be generated through social media marketing.
You can also generate sponsored traffic using Google Ads, paid social media advertising (such as Instagram or Facebook ads), Yelp, and other directory sites.
RELATED: Digital Marketing Strategy Basics: Creating a Comprehensive Digital Marketing Strategy  
Will my website be secure?
Hosting and coding a website are the two most serious security risks. Bluehost, a web hosting platform noted for its speed, performance, and security, detects security threats in real-time, provides free SSL certificates, and continually monitors and patches the WordPress installation.
Unsecure plugins are another risk with WordPress websites. Plugins are extensions to the WordPress codebase that provide a site's functionality. However, plugins can add vulnerabilities to your site. Only use the most trustworthy WordPress plugins, such as WooCommerce and Advanced Custom Fields.
RELATED: Website Security: Essential Best Practices every Online Business should follow
Will my website be mobile-friendly?
The days of mobile-only websites are over. Modern websites are responsively developed, providing an ideal website experience regardless of screen size.
Flexible content blocks that shift as the screen changes, larger buttons and menus for touch navigation, and design features that scale down for mobile screens are all examples of responsive design.
Speed is also an issue with mobile devices, so a smart, responsive website is designed to load quickly on all devices operating on various internet connections.
What is the best free website builder for small businesses?
Using a free website builder as a starting point may suit many small businesses and startups. You'll need a paid plan on a custom domain to ensure your firm appears legitimate and expand its online brand presence.
Wix is a popular website builder for small enterprises, while Weebly is a fantastic free ecommerce platform.
Is Wix a good website platform for small businesses?
For small enterprises, Wix is a great website builder. In addition to sophisticated native tools, there is a substantial app market for extending capabilities. Try out the templates and site builder for free. Select a premium plan that includes hosting, a domain, an SSL certificate, and more.
Plans beginning at $16 per month or $27 per month for robust ecommerce and tools for online stores, restaurants, appointment booking, and events are scalable as your business grows.
Next Steps
An internet presence is vital if you want to reach a larger audience. As a small business owner, you might not be able to afford to outsource web development.
Fortunately, you can design a website quickly and affordably with user-friendly systems such as WordPress, Squarespace, and Web.com.