Selling on Amazon: Comparing Amazon Individual Seller vs Professional Account plans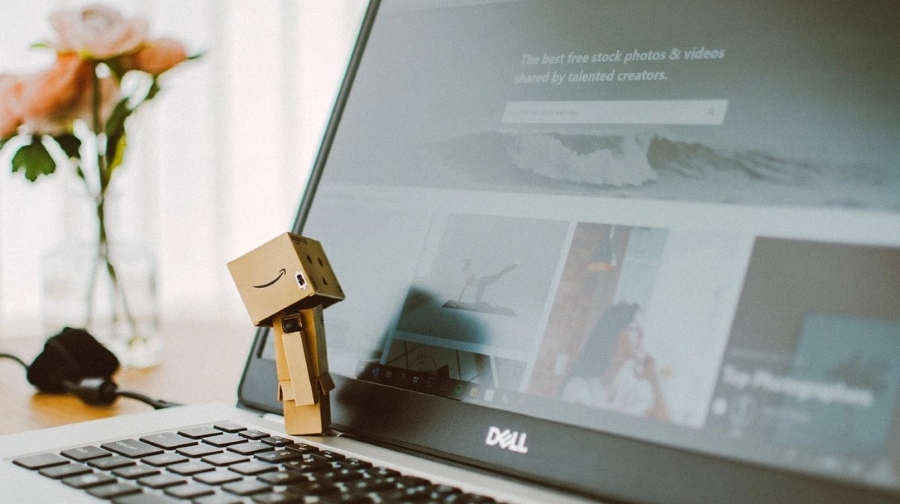 Selecting a seller plan is a significant decision you must make as an Amazon FBA seller. You have two options: One is individual, and the second is professional. In this article, we'll compare Amazon's Individual Seller vs Professional plans in detail, comparing their differences and features.
RELATED: How to start an Amazon FBA Business
Below, we explore seller plans, at the end of which, you'll be able to decide which plan is best for you.
Key Differences between Amazon Individual vs Professional Seller Plans
The primary differentiator between the two plans is your expected sales volume. Individual Amazon seller plans are best for those expecting only 40 or fewer sales per month.
In contrast, Amazon professional accounts are ideal for sellers projecting more than 40 sales per month.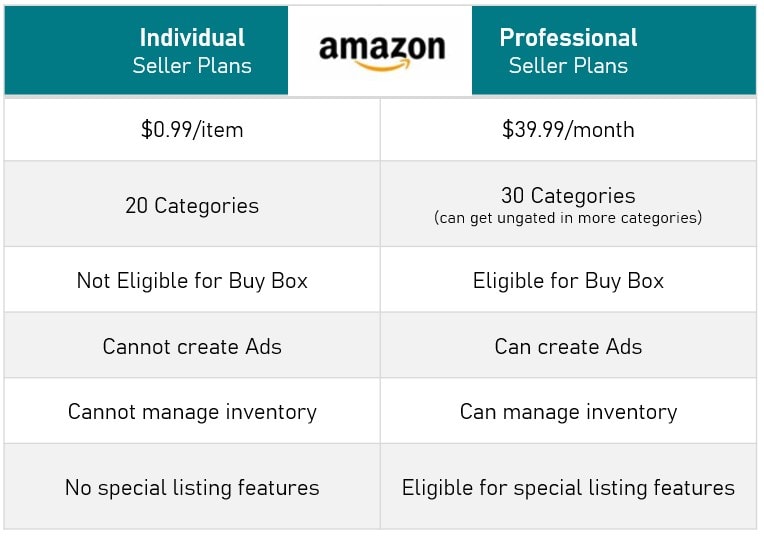 Before choosing any plan, answering a few questions about your business is essential.
Are you expecting to sell more than 40 sales per month?
If the answer is yes, then go for a professional seller plan. Here are some good reasons for choosing this plan:
As mentioned in the above table, the professional plan is $39.99. On the other hand, individual plans don't have a monthly subscription fee. However, individual sellers are bound to pay $0.99 for the sale of each item. People with professional seller plans do not need to pay this fee.
For example, if an individual seller sells 41 items monthly, they will have to pay $40.59 in seller fees. In contrast, a person with a professional seller account will only pay $39.99 per month regardless of the number of sales.
Remember, these fee calculations don't include special, referral, and fulfillment fees, which are the same for both plans.
RELATED: Crucial Tips for Selling on Amazon that every Seller must know
Are you planning to sell in Restricted Categories?
Both individual and professional sellers are allowed to sell in categories. Having a professional seller plan gives you access to additional ten categories. These are:
Business to Business (B2B) Products
Automotive Parts and Accessories
Collectibles Coins
Fine Jewellery
Fine Art
Fashion Jewellery
Grocery
Industrial and Scientific
Food and Gourmet
Professional Services (Video, DVD, Sports Collectibles, Watches, and Blu-ray.)
Moreover, if you have a professional seller account, you can also sell collectible books. You must choose a professional seller account if you want to sell in any of these categories.
Are you interested in winning a Buy Box?
It's probably the biggest advantage that professional account holders can enjoy. There are certain factors to win Buy Box, but professional account holders always have to chance to win Buy Box.
Do you know about Buy Box? Buy Box is a section of the listing page that allows buyers to add your products to the cart.
In contrast, when using individual seller plans, the buyer must go through several steps before proceeding to the cart. It can be time-consuming and frustrating for buyers. Surprisingly, 82% of buyers purchase through Buy Box.
Do you want to advertise or sponsor your products on Amazon?
Professional sellers can enjoy this advantage. They can create sponsored listings on Amazon. Amazon offers a Pay-Per-Click advertising option to professional sellers to boost sales because Amazon shows their products at the top of search results.
It allows sellers to generate more sales and earn more profit. In contrast, Amazon's individual sellers don't have the option to advertise products on Amazon.
Other features of Amazon Professional Seller Plan
In a professional seller plan, you can sell unlimited products and get an advantage of selling in additional categories, and you can enjoy some other benefits as well, such as:
You can manage inventory through reports, spreadsheets, and feeds.
Calculate sales and taxes on your orders
Create gift services, promotions, and other unique listings.
You can allow access to other users.
Why do you need to become an Individual Amazon Seller?
When selecting the seller plan, you need to ask yourself how much you want to involve in the Amazon business. Individual plans are best for people who want to sell their extra items present in the house.
Moreover, it's an ideal plan for those who want to give Amazon business a try before expanding their business to private label. You can access Amazon's seller dashboard without paying the monthly subscription fee.
Which Amazon Plan is right for you: Amazon Individual vs Professional Seller Plans
Whatever plan you choose depends on what you are trying to sell on Amazon in the first place. If you're planning to get rid of a few extra items and want to test how it works, go for an individual account.
If you're planning to build an Amazon business and make it a regular income stream, signup for a professional seller plan. I think that's enough explanation to help decide the seller plan.
Let's discuss both these plans in detail.
Amazon Individual Seller Account
It is a plan in which you can access basic listings and tools for order management. Moreover, individual sellers can create one listing at a time by finding the matching products on the existing page or creating a new page in the catalog. You only pay a fee in this account for the products you sell. The selling fee for each product is $0.99.
Other fees like referral fees and fulfillment fees for FBA sellers are the same for both plans. In individual seller plans, Amazon can decide on the shipping services offered to customers and the shipping rates in individual seller plans.
Advantages of Individual Seller Account
You don't have to pay a monthly seller fee.
For starters, it's best because you only pay a fee for the products you sell.
You get Amazon FBA Course options and keep learning before upgrading your plan to a professional one.
Disadvantages of Individual Seller Account
You lose more money when your estimate doesn't work and you sell more than 40 items. As you know, in a professional plan, you can sell an unlimited number of products for just $39.99 monthly subscription fees.
You can't sell in restricted categories and lose a chance to start selling in additional ten classes.
You can't upload multiple product listings at a time.
Unfortunately, you can participate in winning the Buy Box. As mentioned earlier, over 80% of purchases are made through Amazon.
After evaluating the pros and cons of Amazon's individual seller account, you can decide if it's right for you or not.
Amazon Professional Seller Account
In this plan, you must pay a non-refundable monthly subscription fee regardless of what you sell or list on Amazon. In a professional seller plan, you don't need to pay a fee for each product's sale. All other fees are the same as that of an individual account.
After choosing this option, you can access inventory management tools, manage inventory through feeds and reports, and upload batch files to manage orders. For medium-to-large scale businesses, these tools are best.
In this plan, along with monthly fees of $39.99, you also have to pay fees like closing, referral, and fulfillment for FBA sellers. If you're aiming to build a profitable business, you need to choose this one. People who choose this plan can enjoy the following benefits:
Chance of winning a Buy Box.
You can upload multiple product listings.
You get access to advanced tools like SellerZen and Repricers.
It allows you to sell in restricted categories.
You get access to advanced tools for inventory and order management.
Disadvantages  
Not ideal for sellers who are in starting or trying phase.
When you try to switch from an individual seller plan, your account might get suspended.
After looking at the pros and cons of an Amazon professional seller account, we can say that it's still a good option because, at just $39.99, you get access to advanced Amazon tools and a large customer base. More importantly, you're eligible to win the Buy Box.
RELATED: Boost your Amazon Sales in 10 Steps through Social Media Marketing
Comparison of Amazon Individual and Professional Seller Plans
This comparison table will give you a better idea of the features of both these plans.
Amazon Individual Seller vs Professional Plans Comparison

The below table summarizes the differences between Amazon Professional and Individual plans
Selling Plan Features
Professional
Individual
$39.99 monthly subscription fee
$0.99 per-item fee when an item sells
Create new product pages in Amazon catalog
Manage inventory using feed, spreadsheets, and reports
Manage orders using order reports and order-related feeds
Use Amazon Marketplace Web Service to upload feeds, receive reports, and perform other API functions
Amazon-set shipping rates for all products
Seller-set shipping rates for non-BMVD products
Make listings inactive when you want to stop selling for a period (for example, during an emergency, vacation, or you cannot fulfill further orders)
Promotions, gift services, and other special listing features
Eligibility for listing placement in the Buy Box
Ability to calculate U.S sales and uses taxes on your orders
Access user permission/grant access rights to other users
Which Seller Account type is Best for you?
Consider these factors and decide which one is best for you.
Amazon individual seller plan is best when:
You don't know what to sell
You're not expecting more than 40 sales per month
There is no need for multiple product listings
You're not planning to advertise and don't need access to advanced tools
In contrast, a professional seller plan is best when:
You're projecting or getting more than 40 sales per month
You're interested in winning the Buy Box
There is a need to have access to advanced tools
You're planning to sell in restricted categories
You want to use the Amazon PPC option for advertising your products
So, you better know what you want to sell and how to start.
RELATED: Dropshipping on Amazon and eBay
Can I Upgrade or Downgrade my existing Amazon Seller Account?
Yes, you have both options, and you can do this anytime. An upgrade means you'll switch to a professional account from an individual one, and downgrading means switching to an individual plan from a professional plan.
The process is simple. Just follow the below-given steps:
Go to your Amazon seller account and log in to your account.
Go to the bottom of the page, and you'll see the settings.
Click on Account info.
Go to the service section and click manage
Choose the upgrade or downgrade option from the type of account.