What are the best types of Phone Systems for Business?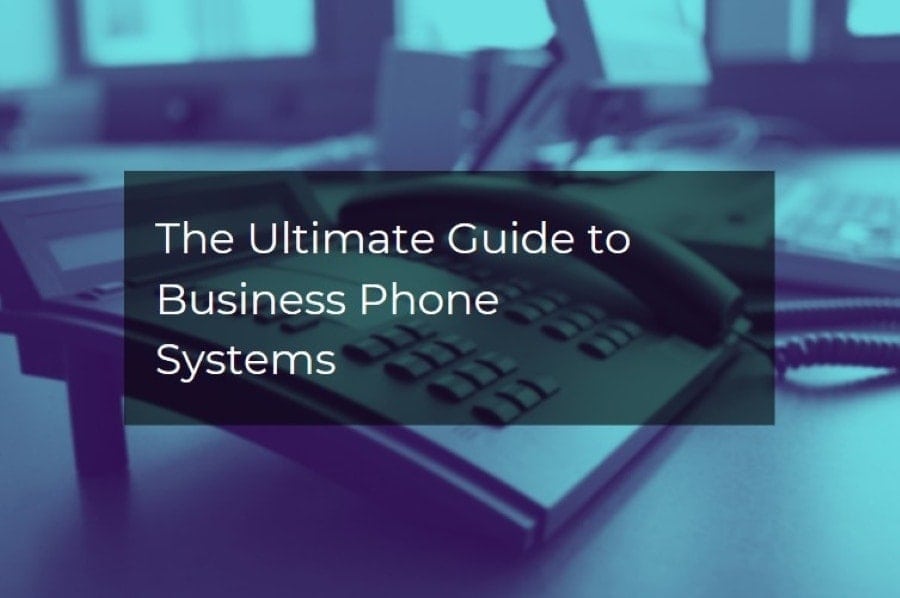 Communication is the heart of and the most effective way of conducting business. For most start-ups and single-employee businesses, a mobile phone may be sufficient.  However, organizations with more users may find that a professional business phone system is more suited to their needs. With so many types of phone systems on the market, organizations may struggle to identify the best business phone systems for their organization.
Presented below is straightforward and impartial guidance to the types of business phone systems available for on the market today.
Why does your Business need a Phone System?
As organizations grow and existing enterprises with more than a single employee, the demands on their existing phone systems are likely to become a hindrance to business productivity.
A business phone system allows a level of professionalism by providing a landline number and helps improve communications for small and medium business by providing an array of advanced features.
There are plenty of types of phone systems available on the market today.  The best phone system for your business will depend on your needs and office space. However, there are some essential features that you need to consider:
Multiple lines – Allows you can connect calls with more multiple customers simultaneously
Visual voicemail – Enables you to get messages even when you're away from the office
Conference call – Allows you to connect with multiple people in a single call
Automated features – Permits for the automated redirecting of incoming calls to the right extensions
Hunt groups – Ensures that incoming calls are routed to an available line
On-hold messages – Provides the opportunity to educate and inform customers whilst they wait
Business phones are designed to deal with the complex needs of call routing and customer service calls to ensure that the right person is on the line, offering many more capabilities than a standard residential telephone service or a mobile phone.
When reviewing phone systems that may be suitable for your business, you will find four types of phone systems dominating the market:
Multi-line Phone Systems
VoIP (Voice over IP) Phone Systems
PBX and IP-PBX Phone Systems
Cloud-based Phone Systems
The main differences between all these types of phone systems are cost, technology, and service provider.
Best types of Phone Systems for Business
To make the selection process easier, presented below is further information about each the different types of business phone systems:
Multi-line Telephony Systems
A multi-line phone splits the line coming into your business into multiple lines, allowing two or more phones to perform calls simultaneously via the same connection.
Basic 2-line phone systems have separate desk phones, allowing two individuals to be on different calls simultaneously, for example, two receptionists. More complex 4-line phone systems enable more individuals to be on call at the same time.
When purchasing a multi-line phone system, you need to consider how many users you have on your system and how many phone numbers the system can support.
If you decide on this type of phone system, you should purchase one that allows your business to grow without paying for more than you need.
Learn more about multi-line phone systems
Multi-line phone systems are popular with small or home-based businesses and businesses in the early stages of growth, seeking to enhance their customer service and improving communications.

VoIP Phone Systems
VoIP can improve your business's communication and productivity. Voice over Internet Protocol (VoIP) differs from traditional phone lines, operating over a broadband internet connection rather than copper wires.
VoIP phone systems are easy to install, cost-effective, and scalable when you have the right business internet service set up in place. VoIP phone systems offer advanced features like call forwarding to a mobile device using a mobile app and a virtual receptionist to manage calls.
These type of phone systems also have unique phone numbers for handling toll-free numbers and routing calls to employee-specific extensions like multi-phone systems. VoIP phone systems are particularly advantageous over other systems since they require less hardware and capital expenditure.
While the service quality depends on your bandwidth performance, VoIP phone systems offer the advantage of retaining all calling features and voicemails within the network.
Our VoIP phone systems guide covers commonly available features, advantages and disadvantages of a VoIP phone platform, and the types of businesses that can benefit from VoIP phone systems.

PBX and IP-PBX Telephone Solutions
Private Branch Exchange, more commonly known as PBX, is a private phone network for offices. Traditional PBXs work using analog phone lines systems to route incoming and outgoing calls.
PBXs are generally operated by the business (or a service provider) rather than the telephone company. PBX phone systems work by passing each line through a centralized hub unit, rather than having separate lines for each phone in your office. With fewer lines, businesses can decrease costs for their organization.
Standard PBX systems provide many calling features, including auto-attendants, call forwarding, call waiting, hold music, routing to extensions, voice mail and more.
You may consider the PBX model as an automated version of a human telephone operator.
With the advent of IP technology, IP-PBXs have replaced the more traditional analog phone line based PBX.  IP-PBX phone systems can either be virtual (hosted) or on-premise.
In either case, IP-PBX based phone systems use the internet to provide automated, fast, cost-effective and easily scalable option equipped to handle several telecom demands.
Learn more about PBX and IP-PBX phone systems

Cloud-Based Telephony
Cloud-based phone systems can either be a hosted PBX system or a VoIP system.
Taking advantage of cloud technologies, this type of phone system takes your infrastructure off-site, remotely managing call routing and signal processing for a low monthly fee.  This not only saves you money and time but also provides a scalable and effective solution.
Hosting your business phone system in the cloud has several advantages:
Cloud-based systems are completely off-site, saving you office space and costs
It is scalable and can grow according to your business needs
It's a cost-effective solution
Your organization won't have to worry about the maintenance cost since cloud-based Phone systems are hosted and managed by a third-party
The downside of cloud-based telephony systems is that you will need to choose a reputable hosting company since you rely on the hosting company to maintain uptime and keep things running smoothly.
Cloud-based phone systems offer easy scalability, making it a very cost-effective option.

Factors to consider when evaluating Business Telephony Solutions
Evaluating the best phone systems for your business can be complex. You must choose a business phone system which can cater to your business requirements.
To help you out, here are some questions you should be asking:
Is a physical phone system with desk phones the best option for your business? Would your business function as effectively with a virtual phone service instead?
If choosing physical phones, what type of service does your business require?
Would a traditional landline telephone service provided by a local or regional phone company be more suited for your business operations?
Would a VoIP (Voice over Internet Protocol) phone system better serve your business needs?
If choosing a VoIP phone system, can you locate the system at your business premises? If not, would you need cloud-based hosting instead?
Choosing the Best Phone System for your Business
For many single-employee businesses, a virtual phone number forwarding all calls to a mobile is sufficient.  While effective, this single line solution is not easily scalable as your business grows.
If the single line were to fail, your customers may not be able to get through, potentially leading to lost sales. Investing in another mobile prevents you from easily transferring calls from one mobile device to another (or from one staff member to another).  
With technology advancing day by day, determining the best phone system for your business a complex process. In addition to certain factors such as ease of use, productivity and business presentation, you also need to consider factors, such as:
Service Availability – and the service provider must be in your area
The total cost of ownership – up-front costs and any additional fees. For a new service, you are likely to have to pay activation charges as well
Contract period – It doesn't matter whether you have a contract of one, two, or three years; you must know what you're committing to
If your business is undergoing a period of growth, and you are struggling to juggle multiple employees and a business phone system that no longer meets your business needs, it's probably time to upgrade your phone system to take your business to the next level.