What is the primary goal of business continuity planning, and how to achieve it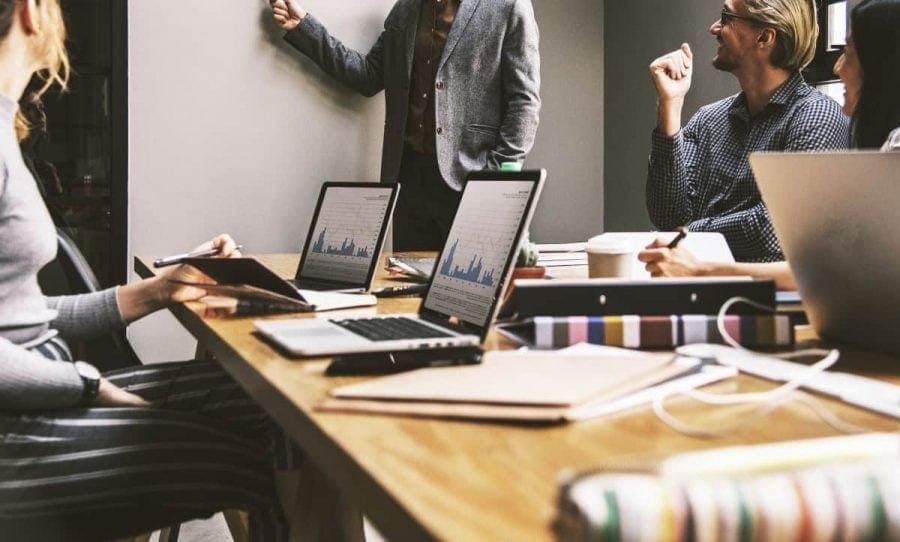 Disaster often strikes without notice. Even with some prior warning, a multitude of factors can cause the best of intentions to result in errors, and mistakes when faced with disaster.  Every incident is unique, and understanding what is the primary goal of business continuity planning can ensure your business can respond to every disaster with a tailored and measured approach.
Below, we explain exactly what is the primary goal of business continuity planning, how to create a business continuity plan, and what measures you need to put in place to maximize your organization's chances of success during a disaster.
What is the primary goal of business continuity planning
To overcome any crisis, and minimize any impact to your staff, customers and the business, you need a robust business continuity plan (BCP).  Having a BCP demonstrates to your customers, insurers, investors, and stakeholders that your business is robust enough to overcome any disaster that it may face.
So, what is the primary goal of business continuity planning?
A business continuity plan presents how the business will proceed during a crisis. It is considered a blueprint for an organization to maintain continuous business operations during disasters, emergencies, and other business disruptions, and get back to normal business operations as early as possible.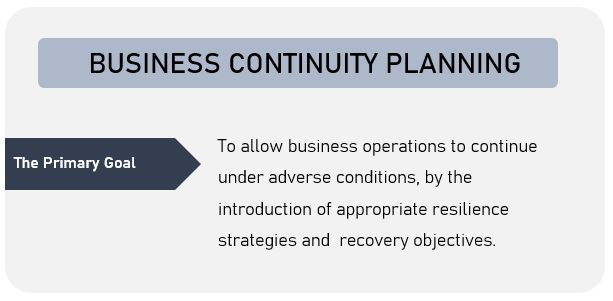 What are the objectives of business continuity planning
Now we understand what the primary goal of business continuity planning is, let's take a look at some of the objectives that businesses can achieve through business continuity planning:
Operations continuity assurance during disruption – Ensuring your business has the capability, systems, protocols, and practices in place to mitigate most probable forms of disruption
Improved mitigation of risks – By establishing risk management strategy and regular appraisal and assessment of existing, and new risks, businesses can improve the mitigation of risks.
Robust platforms continued operation – Making sure your organization has the necessary platforms (infrastructure, resources, technology, capacity), to operate in the event of a catastrophic disruption.
Improved commercial health, and competitiveness – Developing the capability of the organization to ensure it can operate more effectively, and better serve its customers, than its competitors during a catastrophic event.
Reducing the risk of financial loss – Increasing financial stability by ensuring the business can overcome any catastrophic event cost-effectively.
Improved customer confidence and reliability – Ensure the uninterrupted availability of all its critical services and products in the event of a catastrophic incident.
Secure contribution to the national economy – Through continued contribution to the local, regional and national economy, businesses can support local employment and industry.
Increase capability to manage business-impacting disruptions
Increased resilience against disruption, to protect sales, production, employees, customers
While the terms business continuity and disaster recovery are closely related, they a different.  Typically, disaster recovery is associated with the technology function of your business.
See also: Business Continuity vs. Disaster Recovery
Your disaster recovery plan should form a core component of your business continuity planning and strategy. This approach puts the emphasis on the whole business, not just on technology alone, reinforcing the concept of continuity of all key business processes, beyond information technology systems.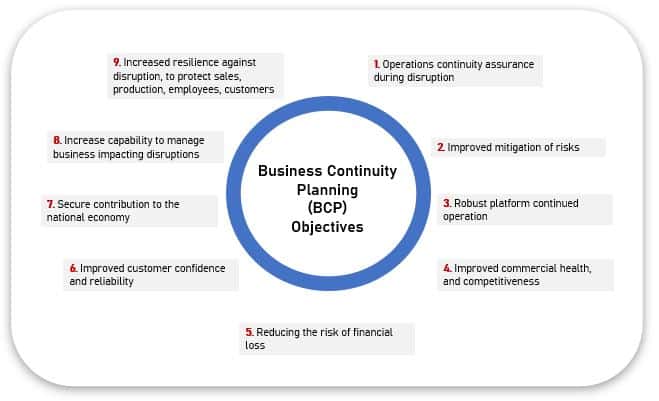 The primary output from the business continuity planning process is a Business Continuity Plan (BCP). The BCP comprises many elements which, collectively, define the approach an organization should take to recover to normal business operations.
See also: Understanding Business Continuity
Why business continuity planning matters
So, we understand what the primary goal of business continuity planning is, and we also understand some of the objectives that a business can fulfil through business continuity planning.  But why does business continuity matter, and what are the advantages for your business?
Businesses strive to remain competitive regardless of whether they are a small business or medium organization, or the industry they are in. For your business, it is crucial to retain and maintain your existing customers while simultaneously growing your customer base.
What does this have to do with business continuity planning and achieving the primary goal and objectives?
Having the capability to manage any adverse incident effectively can positively affect your business' reputation and market value, increasing customer confidence.
At a basic level, there is no better test of your capability in serving your customers then than immediately following an adverse event.
Most businesses have several disaster recovery solutions available, ranging from data backups to data recovery. But what recovery processes do you have for the remainder of your business processes and workflows?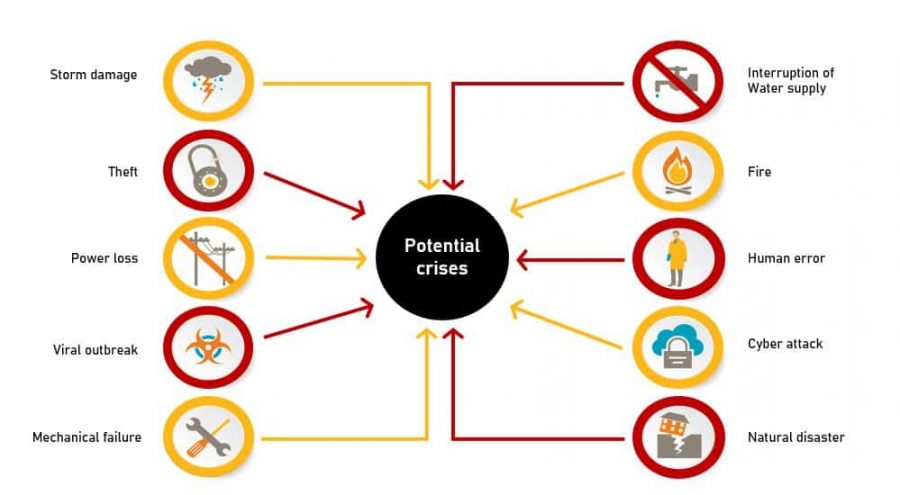 There is an increase in consumer and regulatory expectations for security today. Organizations need to understand the processes and workflows within their business and the impact of the loss of these processes in the event of an adverse incident.
Disruptions to an organization's operations can be very costly, both in the short the long term. They can adversely affect the market value and consumer confidence.
If in the event of a disruptive event, customer experience is negatively impacted, then those customers can quickly abandon the organization permanently.
Building your recovery strategy around these processes can be mitigated through business continuity planning:
Risk mitigation and risk management strategies – The best way to reduce the impact of a disruption is to avoid it. By implementing, or adjusting, existing work processes and procedures, businesses can often significantly reduce the impact of any disruption or even avoid altogether.
The protection of crucial business functions and assets – In the event of a significant disruptive incident, you need to take swift action to protect essential functions and assets in your business. For example, in the event, your supply chain is disrupted, you should have in place alternative sourcing solutions to minimize any interruption to service delivery.
Steps to restore impacted operations and assets as quickly as possible – Any protective measures, such as sourcing from an alternative supply chain, should only be temporary. What you should be aiming for, and as per the primary goal of business continuity planning, is for your business return to normal operations, at the earliest opportunity.
Business continuity planning can help your business react in an efficient and effective manner to unplanned disruptive incidents and events, reducing losses and impact on your business' ability to operate.
Advantages of business continuity planning
Many businesses are facing deliberate and accidental damages. These damages can cause significant disruptions in the operations and interfere with preparing for emergencies.
That's why we have business continuity planning. It helps you with the recovery strategy, prepare for the unexpected incidents, and show you the ultimate benefits.
Importance of business continuity planning
Whatever problems you're facing with your business, you are bound to end up with some consequences for the best or the worst.
While you can't altogether avoid getting hit, you can at least try to reduce the effect by executing a clear and comprehensive business continuity plan.
A perfect plan will help you survive. Make sure you throw your plan out there and test it. Don't forget to see how you can minimize the potential impact of crises.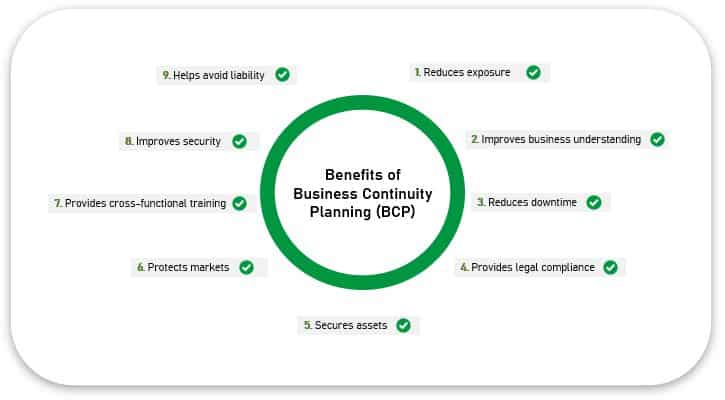 Key benefits of business continuity planning
While we're at it, let's see how business continuity planning can help you:
keeps your business trading during and after a crisis
recovers operations more quickly after interruptions
reduces expenses and duration of any disruption
reduces risks and financial exposure
builds considerable seller-customer confidence and trust
safeguard company reputation
develops confidence within the business
complies with regulatory or legal requirements
insures against otherwise unacceptable risks
saves lives, if dangerous events (such as a fire) occur
How to write a business continuity plan
You may find the basis for business continuity planning to be two linked, but distinct practices :
Priorities and deadlines for activities are BIA's territory. While risk assessment is limited to drawing the possible scenarios, the effects, and the danger.
These two provides you with the most reliable information you can use to develop your continuity plan.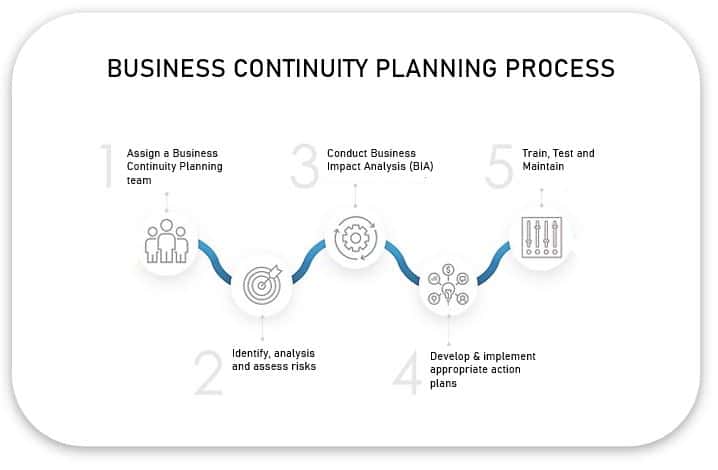 Your business continuity plan (BCP) should outline the course of action you need to take to restore business functions as quickly as possible.
Business continuity plans are tailored to specific business workflows and processes, with each BCP unique to each organization.  However, there are some common steps that businesses undertake when developing business continuity plans:
Assignment of a business continuity planning team – The business continuity planning team, will coordinate the activities required to assemble and develop the plan. The contact details of for each member of the team should be documented, as well as the role for each team member within the management structure.
Risk analysis and assessment – The first step is to identify potential areas of risk, the likelihood of that risk occurring, and the level of impact that risk will have on the business. Read more about IT risk and technology risk assessment methodologies.
Analysis of the potential impacts of disruptions – A business impact analysis, or BIA, assesses the impact that any risks would have on a business' operations. It will also ascertain any financial impacts too. This analysis helps the business continuity planning team to prioritize the plan's sequence of events, and determine restoration timelines, in terms of RPO and RTO.
Strategy development – The protection and restoration of business functions, process, and procedures will be a core part of the business continuity plan. The team will need to coordinate, identify and document action plans to address each type of risk. The action plans need to be tailored to fit specific scenarios, such as a natural disaster, as well as a specific business unit.  Disaster recovery plans fall into this step.  For instance, if a flood was to damage critical computing equipment, the IT department may need to restore data from backups.
Training, testing, and exercises – It is crucial to test the plan to evaluate the plan's feasibility. Exercises will help the business continuity team to identify potential issues, as well as familiarizing them with the content of the plan. Training activities must be performed regularly to ensure that team members stay competent and proficient.
Regular revisions – Your business continuity plan should be continually updated, and where necessary revised, to maintain its relevance and usefulness. For instance, the plan may identify the use of software or personnel that are no longer available. Without an updated plan, any business continuity effort could be compromised.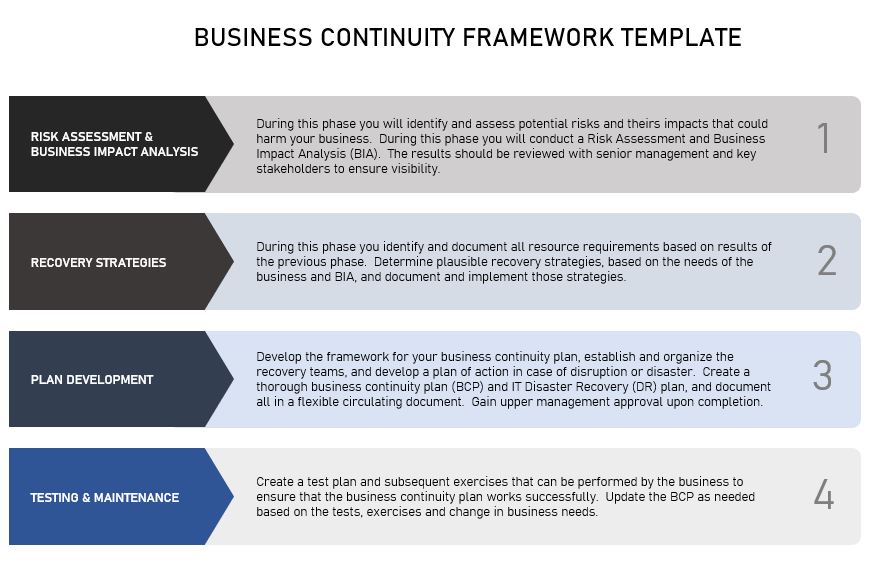 What should a business continuity plan include?
The nature of the solution will depend on the type of disruption.  Try covering the following areas:
Emergency response – your priority should be the welfare of the suffering people before doing something about the crisis. To ensure them the maximum safety develop incident response flowcharts or checklists, evacuation guidelines and procedures, list of relocation sites, etc. After assuring safety to each and everyone, you can now start measuring the damage and restoring procedures of your business.
Crisis management – decide the information flow to media, stakeholders, staff, etc. Agree on the communication protocols, determine managing the loss event, and make sure you have enough resources to support the recovery. Prepare yourself for the possible media interest. If required, consider appointing a spokesperson for any media queries, being clear and transparent by communicating with staff, customers, and suppliers before the media.
Business recovery – Inform BIA's detailed operational plans for critical functions and assets. To restore essential operations, identify the resources and the personnel you may need help from. Make sure all of you agree on the followable strategies and responses to reduce the loss of business. Make a plan that's clear enough to get through everybody, and they can start taking actions immediately in emergencies. You can also try training them beforehand to deal better with such a situation. This will build a reflex in them with their assigned task.
Key contacts – create a list for both the internal and external people and organizations to reach them instantly for help. Also, assign them with roles you need them for during the crisis. Such as details of key staff, critical suppliers, local councils, neighboring businesses, police, utility providers, landlords, or insurers. Including details of service providers like glaziers, locksmiths, plumber, electricians, and IT specialists will also help. Don't forget to include maps of your business premises' layout as it'll help the emergency services to start taking actions faster.
However, despite these plans, you need to consider the fact that there could be different disruptive situations that call for a different response. That's why you need to keep several alternatives to address different disaster scenarios, whether it's the worst-case events or the partial outages.
Business continuity plan templates and tools
You have two options to start your business continuity plan with. Go from scratch or get some help from online templates. To find your best suit, you might need to customize the plan according to your business needs.
You can get some help from GOV.UK's business continuity management toolkit (PDF, 569K) [8] and get yourself a tailored plan according to particular circumstances of your business
Difference between disaster recovery and business continuity
You can run into a lot of technological incidents during a crisis. To recover your business from the damage, you need a disaster recovery plan. This plan will help you restore the destroyed data and applications due to the data center, servers, or IT infrastructure damage.
Use the disaster recovery plan besides the business continuity plan to get the necessary strategies to handle the risk.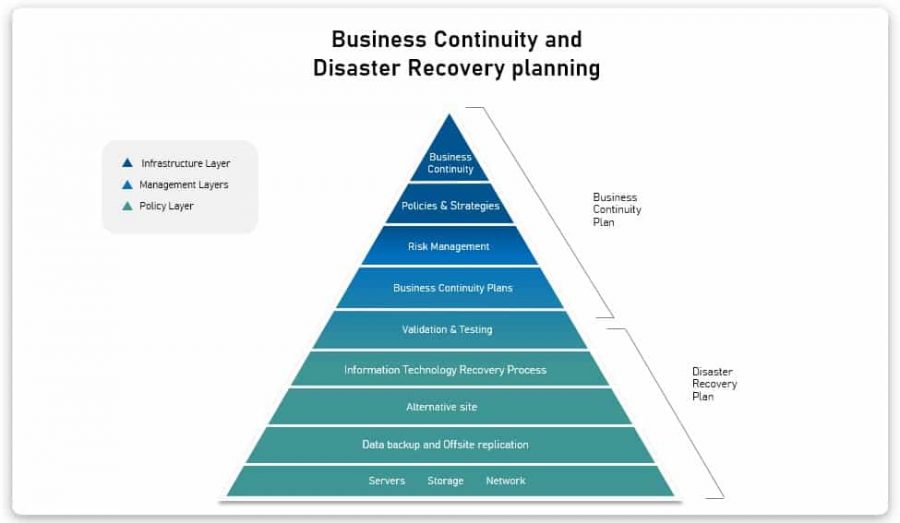 Business continuity and insurance
Continuity planning relates very closely to business insurance. You'll find that most of the insurers consider business continuity to be a prerequisite for providing cover. To get more details, check out business insurance.
Testing your business continuity plan
Business continuity plans must be working documents which has to be written, updated, and tested daily to check the performance. Regular testing of your business continuity plan will provide an indication of performance during emergencies.
For effective testing, you should test it against something more plausible than hypothetical scenarios. Doing this will also help you figure out and fix some things before the test, like:
agreeing on clear testing criteria and procedures
agreeing on the procedures of documenting the findings
determining the process of correcting problems that arose during the test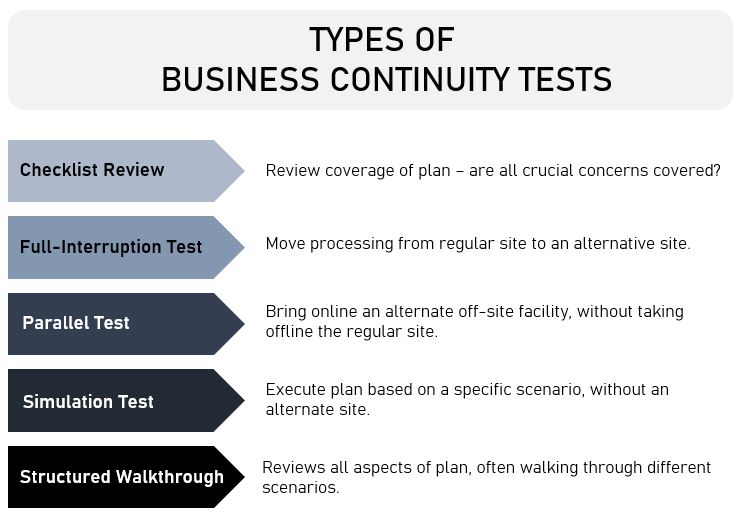 Why should you test your business continuity plan?
To understand and verify that your plan is useful and fulfilling its purpose, you must run a thorough and careful. Doing this, you'll be able to:
properly train your staff involved in the recovery of the business
figure out which part of your plan needs more strength
demonstrate your company's recovering ability
You may consider outsourcing certain functions of your business to a third party. If you do, you'll need to evaluate the adequacy of their business continuity plan and the compatibility with your plan.
How to test business continuity plans
You can run a few tests to estimate the effectiveness of your plan. For example:
checklist tests
table-top exercises
structured walk-throughs
scheduled simulations
full recovery / interruption tests
Now, besides running these tests, it's vital that you take care of all the essential details involved in the plan, such as the correct contact information. If there's something wrong with a phone number, then it can take a considerable chunk out of your precious time to find the right one and eventually resulting in a late response to the crisis.
How often should you test your business continuity plan?
It depends. You'll see many businesses testing their continuity plan more than two times a year. You need to consider a few factors when concluding how often you should test the plan.
Factors such as the type of your business, turnover of staff, and changes in the procedures and technology used in your business, all need to be taken into account when determining the frequency for testing.
Maintain your business continuity plan
Creating and testing the plan may require a considerable amount of effort and time. But there's more to it. You must update the plan daily to consider your business' everchanging circumstances. Take moving into new business premises, for example.
The previous plan might not have anything in common with the new premises, which can be threatening as you face completely new sorts of risks. You'll have to make a new plan and include a newly drawn map for the emergency services and also amend the contact numbers.
This can help review your business continuity plan annually and completing this review beside testing will ensure the maximum efficiency of the plan.
Business continuity standards
To understand the accuracy and efficiency of how your business continuity plans and procedures align with the best methods out there, you should measure them against and international standard.