Business Continuity vs Disaster Recovery – Understanding the difference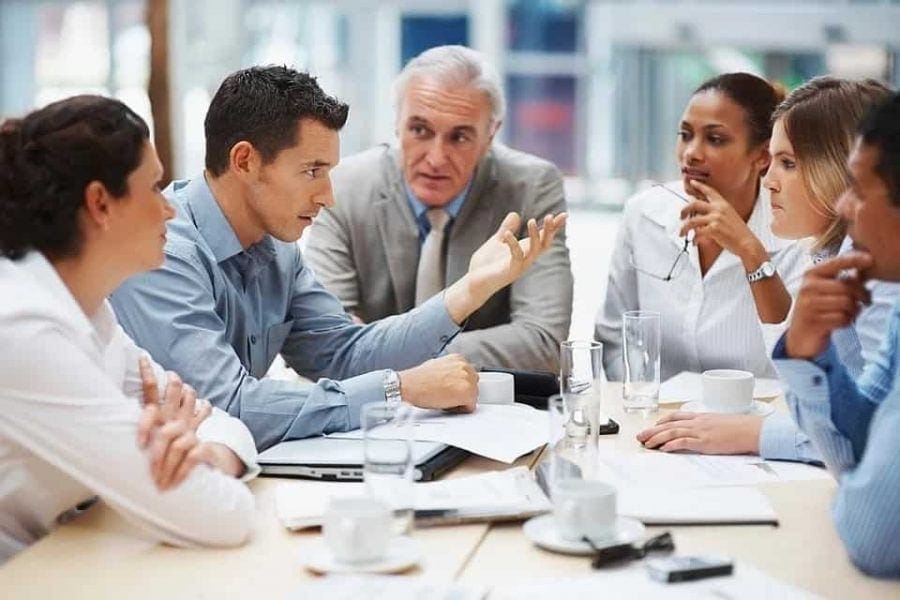 It can often be confusing when talking about business continuity vs disaster recovery.  Not only is there an overlap in between business continuity (BCP) and disaster recovery (DR), but these terms are often used interchangeably, which further adds to the confusion.
Simply put, the purpose of business continuity is to ensure that critical business functions work continuously with minimal downtime in case of disruption. On the other hand, disaster recovery aims to restore business processes as soon as possible.
Presented below is a detailed explanation of these terms, what they are, how they overlap, and what makes them distinct from one another.
Understanding Business Continuity
Business continuity is a way of temporarily addressing the disruption until the issue can be fixed. In the event of a disruption, to ensure that your organization can continue to operate, you need to undertake business continuity planning exercise.
As an example, say your office experiences flooding. A business continuity plan (BCP) details the actions, processes, and responsibilities required to secure your essential assets, continue your critical business processes, and ensure staff still have somewhere to work from. Such steps may include the setting up of a temporary office or arranging for your employees to work from home.  
Business continuity plans usually focus on business applications and online systems, network and telecommunications services, and network and server access. Effective business continuity plans can enable a business to get its systems back up and running promptly, limiting damage to your organizations' productivity. 
Business continuity planning starts with a risk assessment, and business impact analysis (BIA) to determine the scope of the plan, regulatory, and legal obligations. These first two steps form the foundation of the BCP, allowing you to gauge the risk and impact of any potential disruption to your business.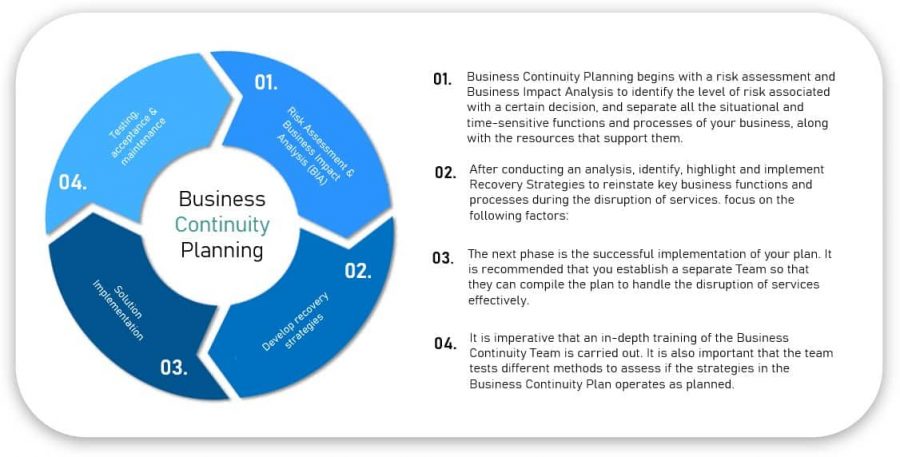 A business continuity plan must have an alternative to maintain customer service in case of disruption. These alternatives can include data backup, emergency office locations, and emergency IT administrative rights. Moreover, the BCP must outline clear risk management strategies and set clear objectives for measuring success.
What is Disaster Recovery?
The process of dealing with interruptions in business operations due to natural disasters, power outages, and human errors is called disaster recovery (DR). DR focuses on the immediate mitigation of any damage caused by a disaster.
When it comes to business continuity vs disaster recovery, disaster recovery is the process of resolving a disruption by identifying the incident source and applying a way to fix it. As such, most disaster recovery plans (DRP) focus on specific deadlines that must be met, and are very technical to prevent significant damage in the event of a catastrophic incident.
Disaster recovery plans will include RTOs (recovery time objectives), which state how soon a product, service or activity must become available following an incident. The failure to meet the RTO will result in the levels of disruption escalating.
In the previous example of a flood: your business should address any likelihood that your computer systems may become water-damaged.  As such, you may mitigate this by restoring your systems from a backup to new computer hardware. The RTO will be duration it takes to restore the data to new hardware, which could be from a couple of hours, to up to a few days or weeks.
In this scenario, your business will need to find a way to continue to operate without its systems for the duration of the RTO, i.e. the time taken to restore your data to new systems.  There will likely be other issues too, such as addressing the cause and any broader damage.
Business continuity plans are determined according to the estimated recovery time. BCP is no longer in operation once the business can return to its original setup, having fixed every part of the organization that is impacted.
What is the difference between Business Continuity and Disaster Recovery?
When it comes to business continuity vs disaster recovery, the key difference between business continuity and disaster recovery is when the action plan takes effect.
Disaster recovery forms a part of your overall business continuity plan (BCP), a subset of your broader BCP, forming part of the "mitigate" and "recover" portion of your business continuity plan.
For example, in business continuity, you have to keep your processes functional during and after the event. On the other hand, disaster recovery focuses on how to return to normal when the event has been completed.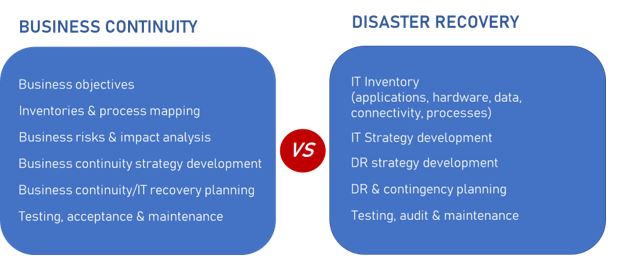 Business continuity aims to keep your business operational in the event of a disruption, enabling a return to full normal business operations after the end of the crisis.
BCP, or business continuity planning, focuses on preserving the functionality of the overall business, through continuous improvement in both internal and external operations, including the set up of preventative controls and management of customers and employees.
Disaster recovery aims to restore your operations and IT systems as quickly and efficiently as possible following a catastrophic incident. Disaster recovery includes the IT contingency methods and mechanisms, such as data backup, for your critical business applications and functions.
Disaster recovery planning aims to minimize business downtime, maintaining, where possible, access to your critical IT infrastructure and operations, such as data, hardware, software, networking equipment, power, and connectivity, to get your business back up and running.
How do they work together – Where Business Continuity and Disaster Recovery overlap
Your business continuity plan provides the necessary steps for your business to respond and recover from an unforeseen incident or event.
Business continuity planning establishes the blueprint to enable you to maintain business processes and procedures as close to "business as usual".  Disaster recovery planning, on the other hand, focuses on the tools and solutions needed to restore your affected technology and data.
While disaster recovery is a component of business continuity, there instances when disaster recovery plans can be activated without invoking your broader business continuity plan.
For example, if you experience a power outage, you will have a reliable disaster recovery plan in place, allowing you to failover to a secondary site and be back up and running with minimal disruption to your employees and customer. In such a scenario, your entire business continuity plan would not need to be activated.
Provided any incident has not impacted your data, IT systems or IT infrastructure, business continuity can be invoked independently of your disaster, in certain instances.
If, for example, your business is facing a public relations crisis, you may need to issue statements to both internal and external stakeholders, to come out of the crises. Since there is no impact on your IT infrastructure, only your business continuity plan will be activated.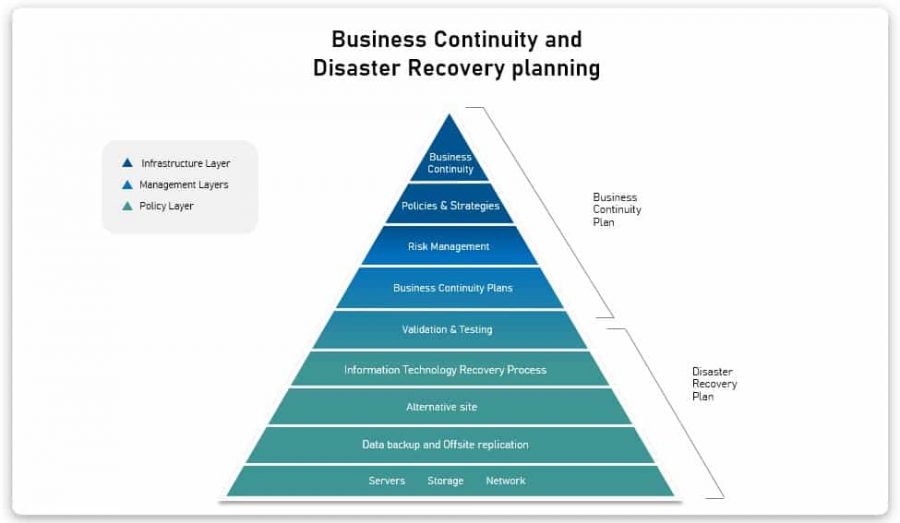 Of course, as in the flood example given earlier, your business continuity and disaster recovery plans can overlap.
Business Continuity vs Disaster Recovery – Does your business need one, or both?
Having understood the differences in disaster recovery and business continuity, it now becomes clear that you need both.
Having a business continuity plan, without a disaster recovery element to it, will cause most businesses to scramble to try and fix the technology crucial to your business operations.
The lack of a disaster recovery strategy will take you longer to identify and implement a fix in the event of a catastrophic incident, significantly impacting your business.
On the other hand, while a disaster recovery strategy will enable you to fix and restore your technology and data quickly, the lack of a broader business continuity plan will hamper productivity and communication, severely impacting your ability to manage your teams proactively to ensure the maintenance of service, consistency, and recovery from a disaster.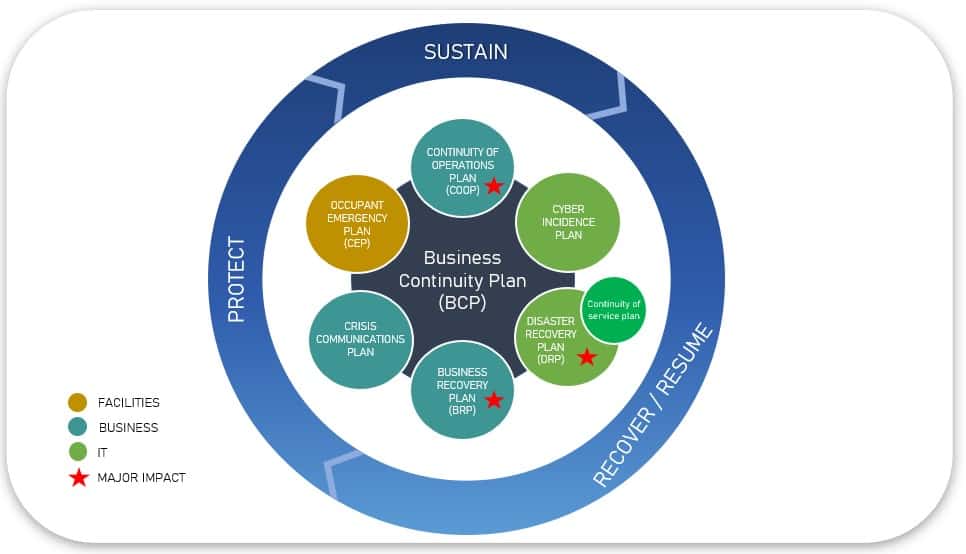 Business Continuity: Risk management
Most of the time, business continuity risks are manageable. You can quickly identify natural disasters, but it's not easy to identify cyber events. It depends on your business location; for example, your office or business is in an area where the risk of a hurricane is always there, so you can expect business interruptions from a hurricane.
You also need to take IT risks into account. DDoS attacks are on the rise, and these attacks cause servers to slow down or stop working. Regardless of the service you provide, these attacks can interrupt your business. So there should be a proper plan for risk identification and mitigation.
Business Continuity Planning: Risk assessment
It is similar to other risk identification processes, and you need to understand the IT infrastructure. It would help if you considered the following questions.
What software, systems, information, and networks are critical for maintaining business operations? How are all these connected?
Which cyber attacks threaten this software, systems, and networks?
How could natural disasters affect these systems?
Which third-party vendors are critical for maintaining business operations?
What action plans and measures are in place to prevent cyber risks to our software and systems?
What measures are in place to prevent third-party vendors from affecting our business operations?
Do we have a data encryption system in place for remote access in case of a business interruption?
Do we have a data backup and recovery systems in place?
Can we maintain the endpoint encryption in case of a business interruption?
Is there a system to maintain emergency administrative authorization to keep business running?
All these questions can help in the risk identification process.
How to start Disaster Recovery planning?
When you have created a risk list for potential software, system, network, and third-party outages, you need to establish a policy to recover from these interruptions and get back to normal. For disaster recovery planning, you need to consider the following questions:
Do we have a detailed written plan and chain of command for recovering from these interruptions?
Who will do the recovery tasks?
Do we have any specific timeline for disaster recovery?
Which documentation is required for full recovery?
How to recover business data?
How to get back to normal operations once the event is over?
How can we measure our compliance with user authorization policy?
How to measure the efficiency of event response?
How to document all the corrective actions?
Is there any process to interview individuals involved in the process of disaster recovery?
These questions can help create a proper disaster recovery plan.
A disaster recovery plan provides assurances to the survival of your business, both during and after a disaster.  When formulating your disaster recovery plan, you should consider, and include both RTO and RPO, to ensure your business can recover effectively from a disaster.
Recovery Time Objective (RTO) – helps to calculate how quickly your business needs to recover IT infrastructure and services in the event of a disaster or incident to maintain business continuity.
Recovery Point Objective (RPO) – this is the maximum tolerable amount of data your business can 'afford' to lose. RPO is a useful metric for determining how often your business should perform data backups.
For instance, you identify an RTO of 4 hours for your business, and your systems are capable of a 2 hour restore time. Consequently, it would be unnecessary to make a large investment in hardware/software to decrease the restore time to 1 hour, as the existing capability of a 2 hour restore time meets business needs.