Data-Driven Advertising: Using AI to deliver Programmatic & Targeted Advertising
Data-driven advertising is clever advertising. In today's digitalized world, there is no reason for not knowing what your customers need. The days of mass, un-targeted broadcasting is long gone. They have been replaced by data-driven advertising, underpinned by artificial intelligence, that delivers a widened reach and pinpoints targeting accuracy.
Data-driven advertising streamlines and optimizes your advertising to deliver an increase in revenue growth and overall improvement in the performance of marketing campaigns.
Artificial intelligence is a tool that allows marketers to gather, cleanse, and interpret large amounts of data in real-time. It promises to boost data-driven advertising so that they can improve their strategies.
What is Data-Driven Advertising?
Data-driven advertising uses automation, AI, and computers to automate and scale the delivery of personalized communications or messages to customers. It considers all available data on client behavior and utilizes it to create more meaningful encounters.
Data-driven advertising uses consumer behavior and demographic information to provide customers with customized experiences. Because they are personalized to customers' interests, likes, and dislikes, advertisements that arise from data-driven advertising campaigns have a more considerable impact.
RELATED: How Artificial Intelligence (AI) is used for Data Analytics
In the advertising sector, data-driven advertising eliminates any uncertainty. It also provides several advantages. Typically, data-driven advertising is executed as follows:
Programmatic Advertising
The traditional way to buy and sell online advertising space is through requests for proposals, tenders, quotes, and negotiations. On the other hand, programmatic buying uses software algorithms to buy and sell online advertising space.
Transactional or workflow automation uses a set of rules carried out by software and algorithms. Data feed these rules. These tools, often called "programmatic advertising," make digital advertising more effective and efficient.
RELATED: Creating a Comprehensive Digital Marketing Strategy
Programmatic advertising makes it possible to measure and change the performance of ads in real-time, providing users with the technology to get ads in milliseconds.
People's attention is split between many different websites and apps when they are online. Programmatic advertising links up different media properties, like newspapers, and collects the advertising supply from all of them.
In this way, publishers who want to make money from ads can join the market. This also allows smaller publishers to compete for advertising money they wouldn't usually be eligible for.
Targeted Advertising
Targeted advertising allows marketers to show customers ads based on their specific characteristics, interests, and shopping habits. Usually, this is done by using customer data to divide audiences into groups based on basic demographics, shopping interests, or browsing behavior and then making different ads for each group.
Behavioral data, such as on-site and off-site browsing, purchase behavior, and signals of intent, enables businesses to tailor advertising messages to customers, reaching them when their message is most relevant.
This makes advertising more beneficial to the consumer and less annoying and helps the advertiser reach more people. As people's tastes, cultural ties, and life paths have become more varied, the old ways of dividing consumers into groups (based on age, income, or occupation, for example) no longer work.
Advertisers can use behavioral data to find and describe new consumer groups, like "auto intenders" who want to buy a car. This cuts down on "waste," or advertising to the wrong people, makes people happier, and makes sure they see products and messages that are useful to them.
Improving the ROI on your Data-Driven Advertising
Access to clear information, including click-through rate and conversion tracking, has revolutionized how we evaluate the efficacy of campaigns. However, some marketers fail to see the usefulness of this information (as well as other data sources).
Here are five ways display advertisers may improve ad performance by combining data and imagination:
1. Employ heatmaps to aid your design
Heatmaps employ color to visualize data, combining statistics and creativity in a visually attractive way. For instance, clicks and user engagement with a display advertisement or landing page. The more interactions there are, the more vivid the color.
Heatmaps are helpful to design tools because they give real-time feedback on copy and design decisions. They
Using heatmaps, designers may make educated, creative decisions and optimize banner advertising based on the performance feedback of individual elements inside an ad.
Campaigns should always include ad optimization. In addition, understanding which things get the most clicks through data may enhance future campaign effectiveness and ROI.
2. Optimize through A/B or Multivariate Testing
A/B and multivariate testing compares the performance of different ad content or creative elements. It may involve two variants (A/B testing) or several variants (multivariate testing) of the same advertisement.
Essentially, you post advertisements and evaluate their performance to determine which version is superior. The process is repeated with another advertisement element.
A/B testing is a simple method for utilizing data to improve design and copy. However, the more exact the modifications, such as micro-copy, the more evidence is required to demonstrate a beneficial or harmful impact.
A/B and multivariate testing are the most effective approaches to optimize design using data and increase ROI.
RELATED: A/B Testing: Using Split Testing to drive Conversion Optimization
3. Apply dynamic content and data feeds
You may show different consumers unique text or ad creativity by utilizing dynamic content backed by data feeds. For instance, geolocation data may inform a data stream, displaying a live and in-banner offer based on the customer's location.
Data feeds make your display advertising relevant and compelling. They provide the capacity to give users dynamic material ranging from selected items to offers, all using live or spreadsheet-based data in-banner.
Utilizing dynamic content and data streams increases the relevance and individualization of your advertising to the customer.
Ads may also be extended with interactive and creative aspects, which is a further advantage. For instance, a different video background may represent the time of day when the advertisement is watched.
4. Create user journey targeting campaigns
User journey campaigns present customers with advertisements tailored to each sales funnel stage. From the top down, from recognition to retention. You only display viewers ad variations with the appropriate message and visuals.
User journey targeting uses your first-person customer data to display distinct ad versions, with design and text tailored to various audiences. Meaning you can target certain audience segments with interesting advertisements.
RELATED: 4 Steps for Scaling your Ecommerce Brand
For instance, you may re-engage site-leavers with only the items or offers they have demonstrated interest in. Using client data to create more engaging advertisements is a terrific method.
5. Set up dynamic creative optimization (DCO)
DCO is the most efficient and successful approach to being data-driven and creative in display advertising. These ads are hyper-relevant to customers and employ personalized advertising creativity.
A DCO advertisement displays the optimal copy or design variant for a particular customer based on accurate data points. It combines A/B testing, targeting, and dynamic content to provide personalized advertising.
Dynamic creative optimization entails presenting the correct advertisements to the right individual with the most compelling creative mix.
The most effective DCO campaigns utilize more than just copy, picture, and CTA changes. Additionally, they employ other creative alternatives, including rich media and video. Ultimately, improved ad creativity increases conversions.
DCO is the finest approach to be both data-driven and creative in display advertising at the moment. It delivers unrivaled performance and creative targeting capabilities.
Using DCO technology enables a variety of data-driven and creative possibilities for the same campaign. It provides a method for measuring performance, but the approach and content must be original.
RELATED: Creating a Data-Driven Workplace Culture to deliver Digital Transformation
Must-Have Data-Driven Advertising Tools
Data is essential for improving traffic, engagement, sales, and return on investment. Here is a list of must-have data-driven advertising tools businesses need to employ.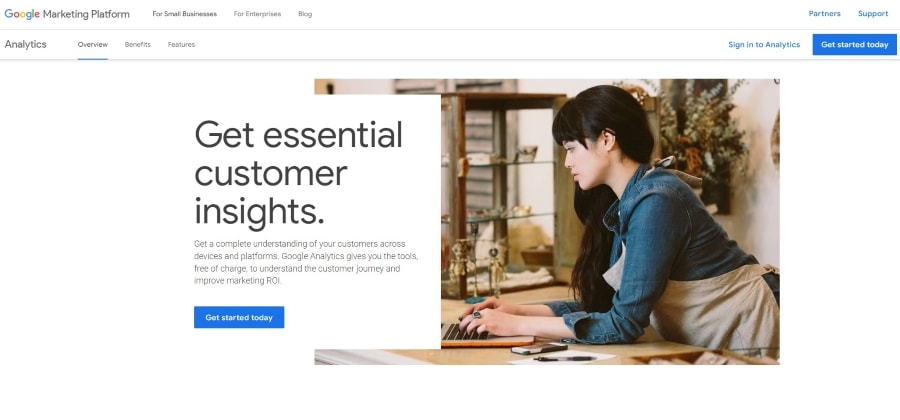 Google Analytics is a well-known marketing tool that is based on data. It keeps track of how people use websites and gives brands actionable information about visitor activity, engagement, and traffic.
You can increase your return on investment (ROI) by using Google Analytics to determine which web pages get the most traffic, engagement, sales, and bounce rates.
With this information, you can improve your landing pages that don't work well and promote your landing pages that do work well to get more conversions and sales.
Google Analytics is free and has tools that can be customized to help different kinds of businesses do well.
Visit the Google Analytics Website for more information
HubSpot is a one-stop shop for data-driven marketing. It lets marketers use multiple channels and platforms to improve their brand. HubSpot helps your business grow by increasing traffic, engagement, sales, and return on investment (ROI).
With five main hubs (Marketing Hub, Sales Hub, Service Hub, CMS Hub, and Operations Hub), you can use hundreds of tools and integrations to gather data and increase conversions.
HubSpot has free tools, but you must pay to use certain "Hubs." The cost depends on which Hub you choose and how many marketing contacts your business has.
Visit the Hubspot Website for more information
When you think of data-driven advertising, graphic design is unlikely to be the first thing that comes to mind. But Canva is a must-have for digital marketers who want to boost brand engagement and return on investment (ROI).
Canva is most often used to make visually appealing posts for social media. It has a simple drag-and-drop interface and templates to make it easy to use, as well as hundreds of tools to help you improve the look and feel of your brand.
Canva is free to use. However, you can pay to access even more great tools, like a library of high-quality stock photos and a tool for scheduling posts on Instagram. Their "Pro" package costs $119 a year or $9.99 a month.
Visit Canva's Website for more information
Speaking of email marketing, AWeber is a tool that helps you optimize your email to gain even better insights and increase ROI strategically and quickly. AWeber integrates with many popular email marketing platforms.
Although email marketing is effective, it takes the perfect combination of the right message, the right time, and the right audience for email to increase ROI. AWeber helps with all of that and more, starting at $19.99 per month.
Visit AWeber for more information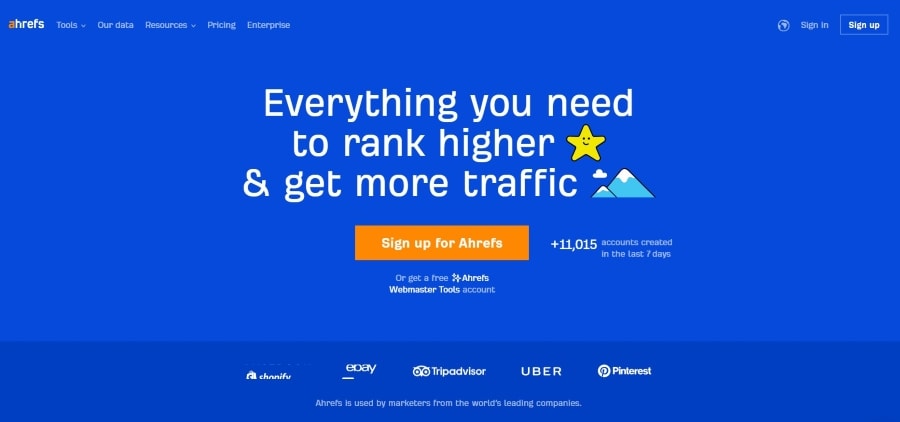 Ahrefs is an SEO data-driven marketing tool. SEO (search engine optimization) keywords help people find your content, products, and services. Ahrefs enables you to find the right keywords for your content so your target audience will find you when searching for you online. However, they offer many other valuable SEO tools to strengthen your strategy and rise above your competitors. Their basic package starts at $99 per month, and you can add additional tools as needed.
Visit Ahrefs for more information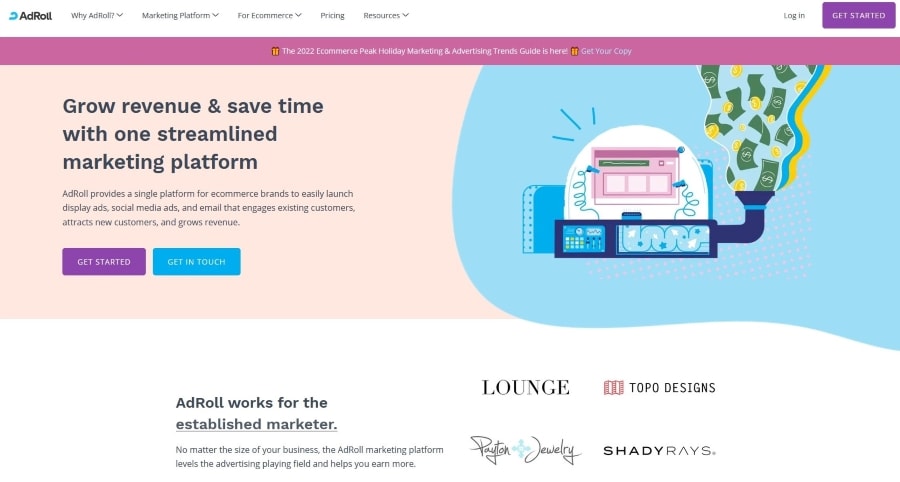 AdRoll is a marketing platform that gives you different ways to collect data and use it intelligently to increase your return on investment (ROI).
With AdRoll's advertising solutions, you can find more customers and reach them more effectively. With AdRoll, you can start building your brand today for as little as $0 per month.
Then, start growing faster than your competitors for as little as $19 per month. Find out more about AdRoll's marketing solutions based on data here.
Visit AdRoll for more information
Next Steps
Programs based on AI may be used to produce tailored advertising campaigns and more effective creatives. AI may enhance conversions and interactions, make performance optimization easier, and assist marketers in enhancing their advertising strategy.
Emerging technologies that are yet largely undeveloped and unknown, such as blockchain, are beginning to influence the landscape of digital advertising and customer acquisition. The significance of these technologies will only increase in the future.
Your organization will benefit from understanding how these high-potential technologies will impact your digital advertising in the following years.