Amazon Inventory Management: 10 of the best tools for managing your Amazon inventory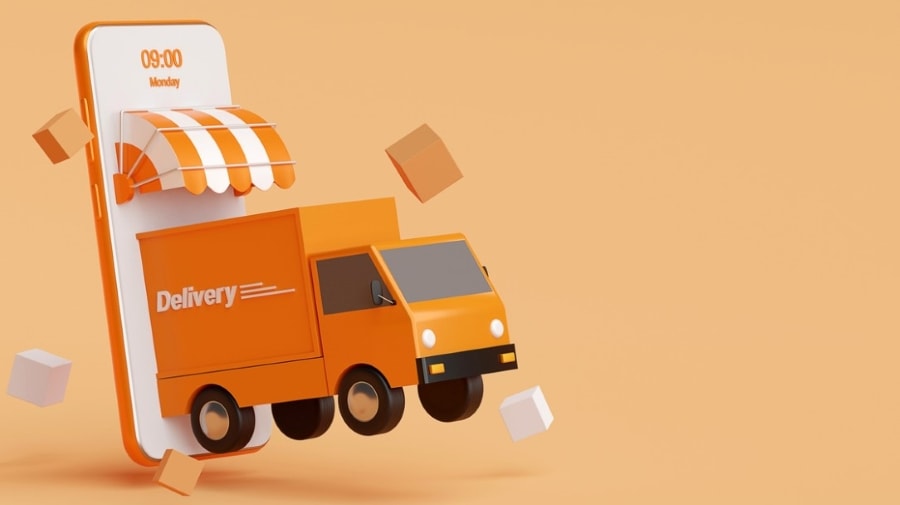 Amazon Inventory Management: Selling on Amazon is an excellent method to grow your company, increase the number of customers you serve, and increase the amount of money you make.
Amazon is the most successful online retail company in the world. The online retailers operated by the retail platform recorded a combined total net sales of $122.99 billion in 2018.
Do you have no excuse not to want a piece of the action? Because doing business on Amazon differs from doing business on most other marketplaces, you must ensure you are well prepared.
You have to realize, primarily, that inventory management is the most crucial factor in determining your level of success on Amazon. You have access to a large customer base when you sell on Amazon, yet, it might be easy to fail if you do not utilize the appropriate tools.
RELATED: Getting started with Amazon FBA
Managing your Amazon Inventory
The opportunity costs associated with poorly managed inventories can be significant. Customers using Amazon anticipate that products will be available to them at all times and that they will receive their orders quickly.
You are obligated to deliver these two fundamental components; otherwise, the clients would look elsewhere for a better vendor to meet their requirements.
If you're considering competing in the Amazon market, you need to be aware of the following inventory problems that are almost certain to arise:
Increased order volume, which makes manual operations challenging and complex
Rapid depletion of inventory
Increased order volumes are likely to necessitate complicated fulfillment tactics
Amazon will suspend poorly performing accounts
Possessing sufficient inventory for consumers is a crucial element of a successful retail operation. You shouldn't be too proud of the "sold out" label on the image of your goods.
By effectively managing your inventory, clients will be provided without waiting for you to refill.
RELATED: Crucial Tips for Selling on Amazon that every Seller must know
What Benefits does Amazon Inventory Management Software provide?
Given how far along you are in this process, you might be thinking about the advantages of using Amazon inventory software other than simply enhancing your bottom line. The following is a list of benefits you will obtain from these software solutions.
H

igh Inventory Visibility:

Inventory visibility refers to real-time inventory tracking.
With enhanced inventory insight, you can monitor how specific items and SKUs are performing and make decisions based on real-time data.
You'll also know where your inventory is, how much you have per location, and which channels are selling well.
Increased Efficiency and Productivity: The software for managing your Amazon stock will also help you be more productive and save time.
By automating inventory management processes and getting timely and accurate reports, you can focus on making better decisions instead of digging for data and numbers.
Enhanced Customer Experience to Cultivate a Bigger Client Base: Customers make a business profitable. Amazon offers vendors several opportunities to attract new customers, but if you can't match their expectations, they won't return.
Amazon inventory management software can help you create a better customer experience by always having popular products in stock and ensuring customers get the requested product.
Better customer service increases repeat business and word-of-mouth. A good customer experience will attract more customers.
Make Strategic Decisions Much Faster: Amazon inventory management software's analytical features make significant decisions easier.
Instead of manually sifting through data and sales numbers, Amazon software can generate easy-to-read reports.
With this knowledge, you can make better, faster judgments. You'll miss fewer opportunities.
Automation: Amazon inventory software automates tasks. These tools will save you from constantly checking stock levels and Amazon payments.
Amazon inventory software can monitor stock levels across different channels, inform you when stock is low or you have surplus inventory, and restock items when particular thresholds are met.
Lower Operational Costs: Amazon inventory management software might save you time and money.
Inventory software reduces staffing needs. Automation reduces staffing needs. The software also facilitates unnecessary carrying expenses and out-of-stock sales.
Business Intelligence: Inventory management software helps you make faster, more informed decisions and boosts company insight.
Business intelligence "uses software and services to translate data into actionable insights."
By adopting Amazon inventory management software, you'll have more data. With this knowledge, you can spot possibilities and problems ahead.
Improve Customer Service: Amazon inventory management software improves customer service. These solutions will enhance your consumers' purchasing experience by managing inquiries and returns, collecting product reviews, or ensuring you have the desired products.​
Top Ten Amazon Inventory Management Tools
When the orders begin to pour in, and you are unable to keep up with the demand, things have the potential to become tricky.
Trying to catch up becomes a huge source of stress when you opt to manage your inventory instead of using an automated system manually. Access to an inventory management system can be helpful when faced with a situation like this.
RELATED: How to dropship on Amazon and eBay
This tool will help you decide what to order if you have many SKUs and need to manage your cash better, so it doesn't get stuck in slow-moving stock.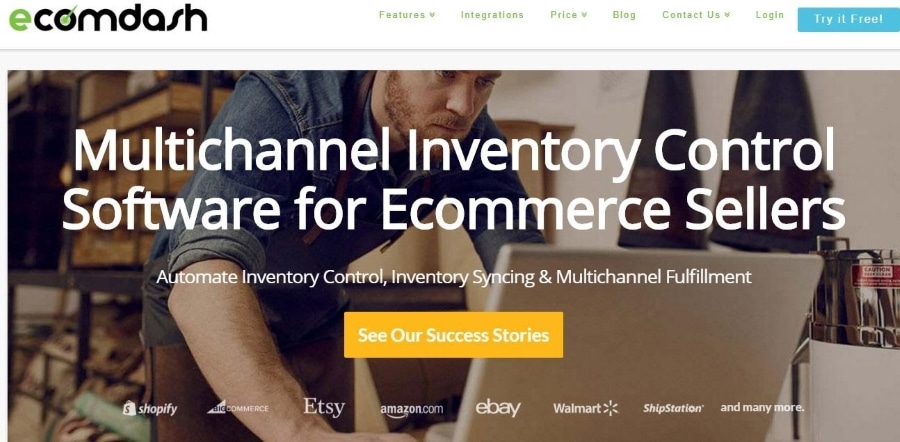 Ecomdash is an automated inventory management solution designed specifically for sellers on Amazon who also sell on other platforms.
It accomplishes this by consolidating the seller tools' inventory, listings, sales orders, and shipping requirements into a single, more easily accessible site.
This e-commerce automation system enables customers to sell more products across various channels by synchronizing real-time data.
Visit Ecomdash for more information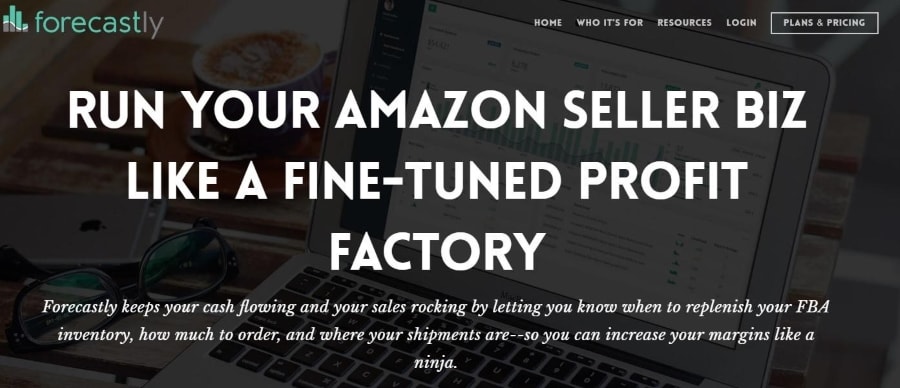 Forecastly was created to assist you in improving the efficiency of your business operations and increase the number of sales you make on Amazon.
It does this by employing its unique algorithms to streamline the FBA replenishment process, resulting in fewer stock-outs and more profitability.
It is offered for sale in the marketplaces of the United States of America, the United Kingdom, Mexico, and Canada.
Because it considers inventory lead times and the fluctuation of client demand, the software can make accurate forecasts regarding replenishment.
This helps you build a more accurate forecast of future demand and improves your inventory management ability.
Visit Forecastly for more details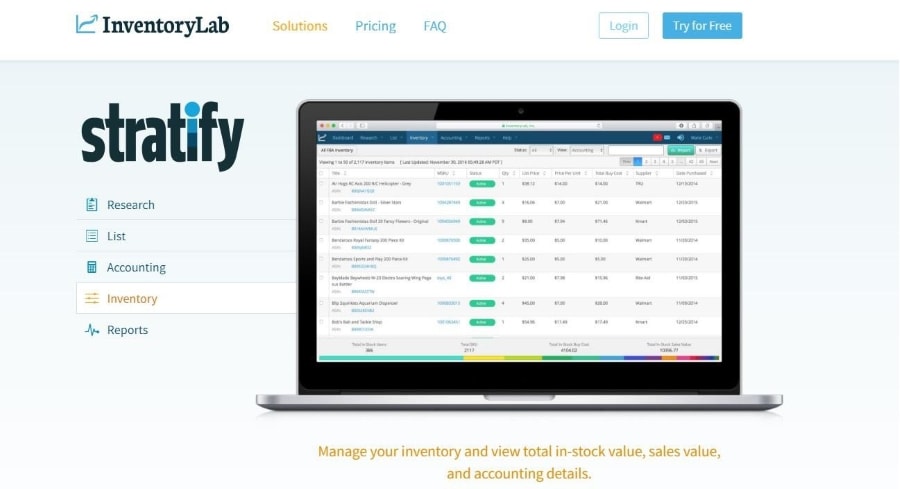 You can study products, competitively display your items, keep track of your spending, and better handle your inventory if you use Stratify from InventoryLab.
In addition, detailed statistics show which vendors, product categories, and product types generate the most revenue for your business.
This application is also accessible on mobile devices, allowing you to source your inventory while moving around.
Visit Inventory Lab for further information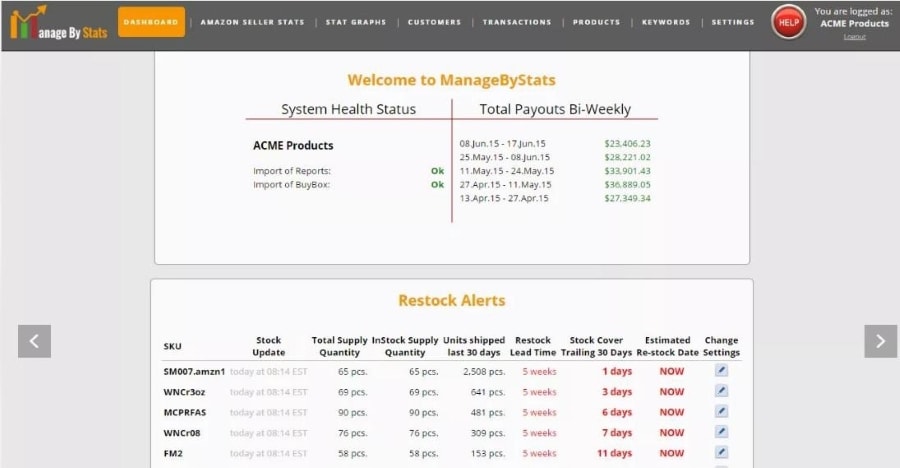 If your needs exceed Excel's capabilities when managing your inventory, you should consider looking into Manage by Stats as an alternative.
It is considerably easier to use than Excel. It provides precise estimates of future demand, which helps you avoid the dreadful scenario of running out of stock.
You can quickly and easily observe what customers are purchasing because of its comprehensive dashboard, which enables you to place orders based on what your customers truly desire. Overall, this software is a superb automation solution for managing smart inventories. It is one of those solutions you should consider using.
Visit Manage By Stats for more information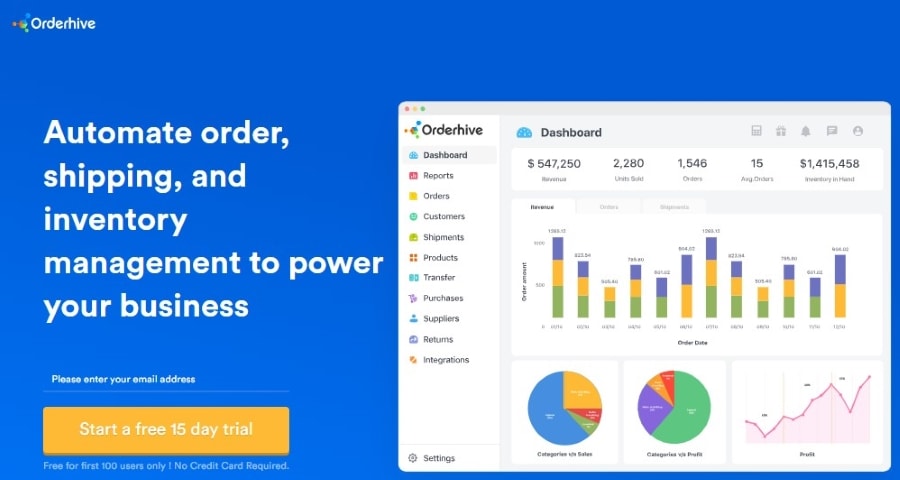 Orderhive is the most accurate real-time order, shipping, and inventory management software.
It consolidates multi-channel operations into a single dashboard, assists sellers in maintaining inventory logs, and monitors shipments on the move.
Orderhive's inventory management is accurate to the last bin, and shipment tracking is performed to the last mile. The software integrates with more than 300 distinct integrations, including marketplaces like Amazon, storefronts, payment gateways, CRMs, shipping & tracking applications, and many others.
Orderhive assists you in avoiding underselling and overselling, increases the effectiveness of your operational teams, and provides you with reliable reports that can be used for product forecasting and acquisition.
Visit Orderhive for more details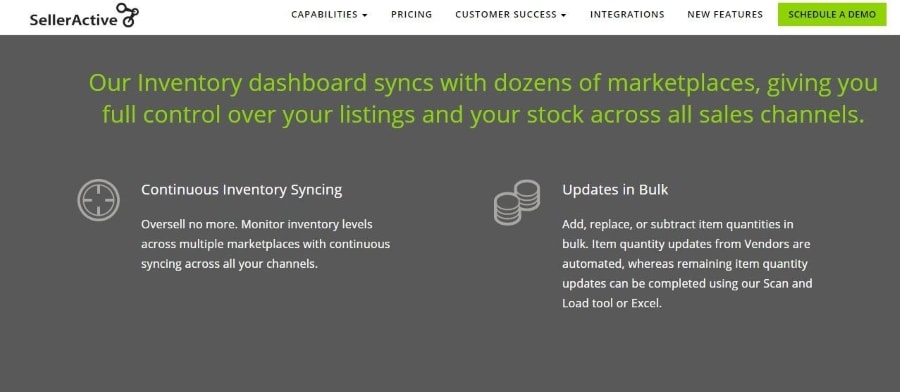 SellerActive is geared toward assisting businesses of all sizes, particularly those operating on the Amazon marketplace, to improve their inventory management.
Because it is a straightforward web-based dashboard that doubles as an all-encompassing sales management website, its experience welcomes users.
SellerActive provides innovative shipping solutions and will automatically find you the most competitive shipping rates for the products you sell. In addition, it monitors the pricing techniques employed by your competitors, keeping you abreast of any modifications made to product listings.
Visit SellerActive for more information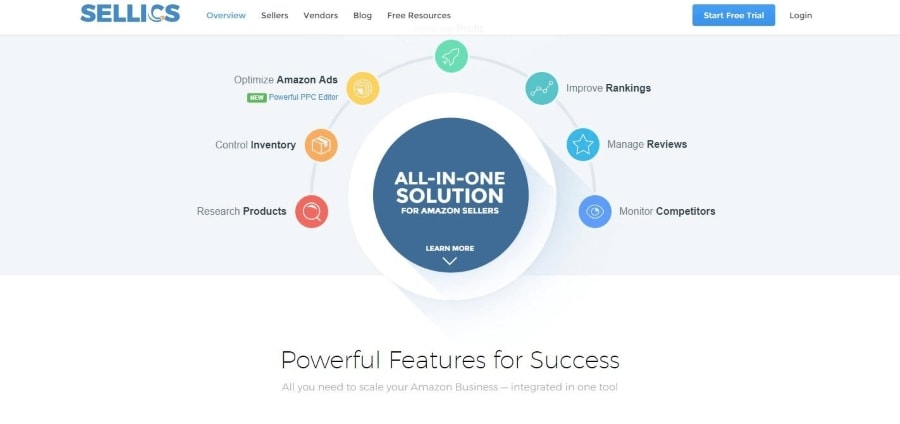 This Amazon inventory management software has a user-friendly interface and comes packed with a variety of valuable functions.
The Profit Dashboard is handy since it shows you how much money you make through Amazon in real time.
You will have no trouble optimizing your campaigns and cutting sales expenses using the PPC Manager.
In addition, it keeps track of and improves your product listings based on keyword rankings, in-depth product research, and monitoring of your competitors. It is one of Amazon's most effective inventory management solutions.
Visit Sellics for further details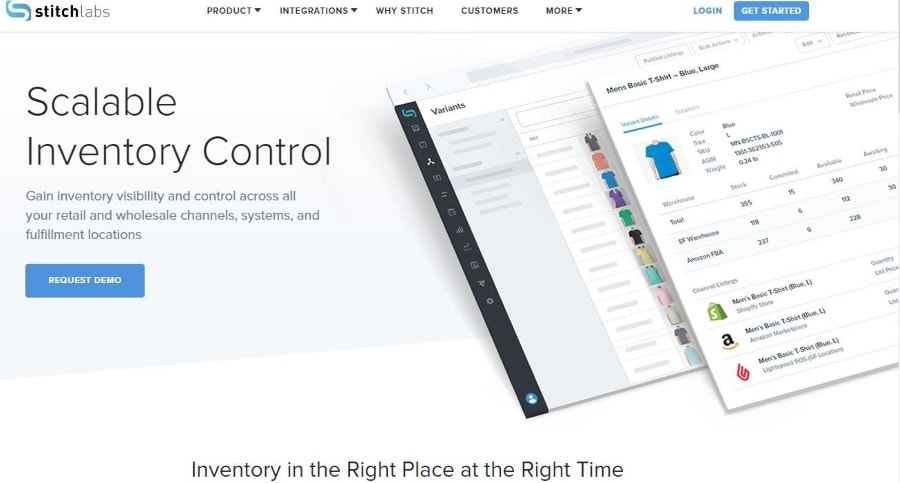 Stich Labs can perform its function by automating, simplifying, and centralizing the inventory and operations of several channels onto a single platform.
This gives retailers the control, visibility, insights, and collaboration they need to scale their businesses and increase their profits.
Automation brings about a considerable reduction in the operational risks that are there, and it enables enhanced forecasting and overall planning.
You can build client trust and make better judgments with the app's help because it delivers deeper insights and detailed reports.
Visit Stitch Labs for more details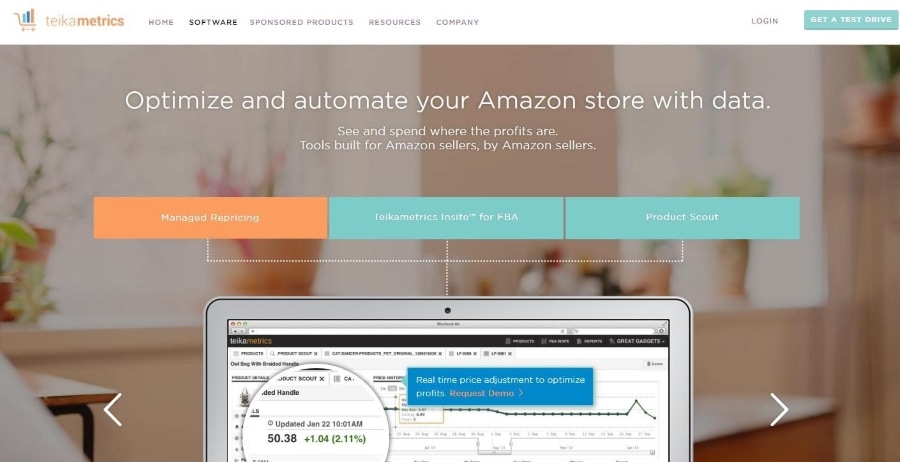 This app is optimized for FBA (Fulfillment by Amazon). It assists Amazon sellers in building and implementing intelligent inventory management systems.
Their capabilities include product scouting to help you expand your inventory, re-pricing techniques to help you compete more intelligently, and vital insights regarding sales velocity and sales ranks.
To accomplish better restocking, decrease stock-outs, and boost profits, Teikametrics also sorts out restocking possibilities based on predicted earnings. This helps to reduce stock-outs.
Visit Teikametrics for further information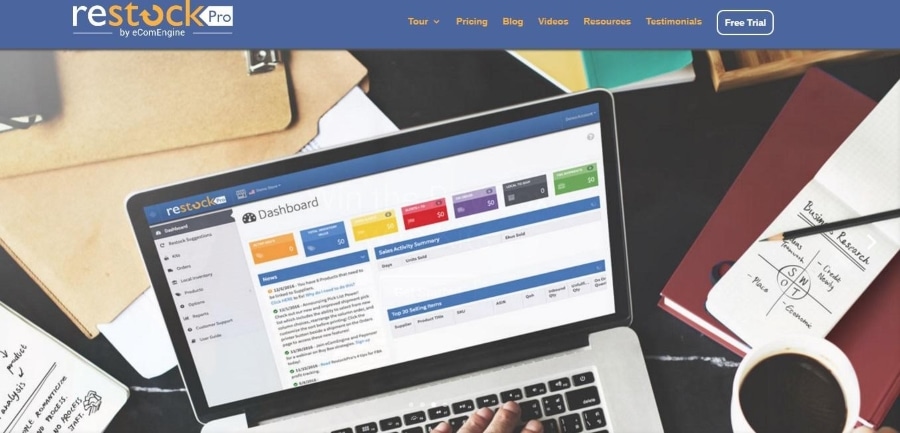 This inventory management tool is a fantastic method for maintaining product margins and quantity.
It is important to note that the FBA data is required for this app to function correctly.
Despite this, it provides intelligent inventory features that enable you to track sales velocity and predicted margins, generate competitive product listings, and do much more.
Additionally, it provides recommendations on the activities you should take about the supply chain, including timely warnings regarding the required quantity and the appropriate time to replenish.
Visit RestockPro for more details
Next Steps: Choosing an Amazon Inventory Management tool for your business
Keeping track of your inventory by hand is not only hard work, but it also makes you more likely to make mistakes. It's much easier to work with a system that helps you keep track of your inventory and is designed to handle the challenges and needs of the channels you sell on.
It will also help you figure out how often to order stock so you don't have too much or too little and your customers are happy.
The key is finding a way to automatically manage the inventory that works for you and your business. If you're aiming to scale your business and move into new markets, you should find a platform that helps you sell on Amazon and other places.