Office Relocation Checklist: Key steps to follow for a Successful Office Relocation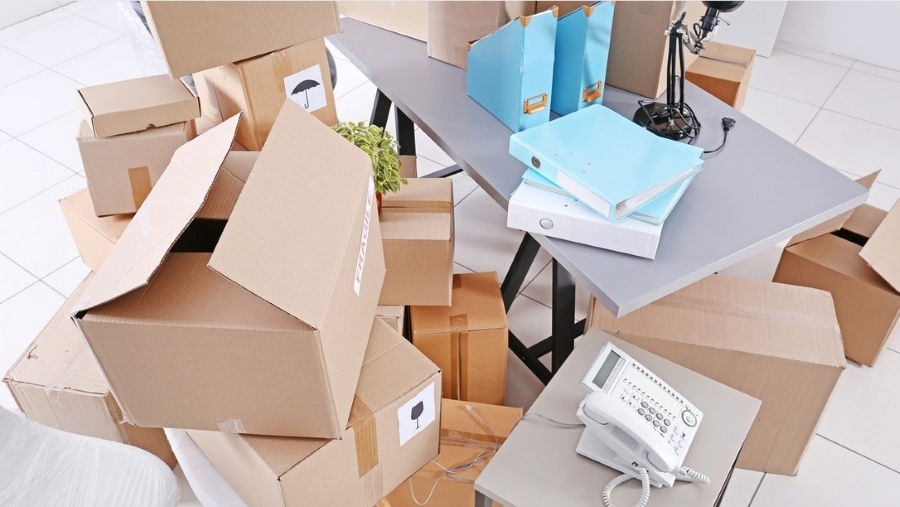 Relocating your office can be quite a challenging task. The relocation may include growth, expansion, better area, etc. However, the challenges are pretty much the same- planning the relocation, preparing it, and executing it flawlessly. Several moving parts in such a large project need communication and careful coordination. Having a handy office relocation checklist can help make relocating your offices less challenging.
There are many costs when relocating your company. The ones that may catch your eyes most are the cost of moving supplies, hiring professionals for moving, and setting up the new offices. But, the downside cost is the one you should be most concerned about. How will your company operate during this relocation period and immediately after it?
How to plan an office relocation?
So, the critical element in determining a successful relocation is Time. The faster and more efficiently you move from Location A to Location B and prepare your office – the better.
RELATED: What is the primary goal of business continuity planning?
This is why our main focus in this office relocation checklist is on the actual-move and IT considerations for the new office, rather than location moving, hiring movers, etc., activities.
Here is a checklist with all the critical elements needed for a successful office move.
Office Relocation Checklist #1: Steps to complete before your Office Move
Plan the relocation
Set a timeline for the move. Take 3-4 months to plan every detail of the relocation.
Do not take too little time because the added stress may make you miss important things. Again, do not take too much time, as that will make you lethargic.
If you plan to hire professionals, list them, choose them, and contact them.
Take the inventory
Your inventory will move before anything else does. Before moving your inventory, determine what is truly in your stock. Then, differentiate useful from useless.
You should not move unnecessary items to the new location. Ensure you also follow the IT security process and wipe the data if you have something to donate.
Make the office floor plan
It is time for you to decide on a strategic, most efficient layout for the office floor. This requires you to determine which server or conference room will be.
Furthermore, you also have to decide where to keep the IT devices like printers, copiers, networks, and Wi-Fi equipment. You can determine what will work best if placed close to each other.
Select the ISP (Internet Service Provider)
Stable internet is the most crucial necessity for a company. Therefore, look for ISPs in the new location and select the best package with the best service for yourself.
It is best to choose two in case the primary ISP goes down. If maintaining two ISPs is impossible, consider MSPs (Managed services providers).
RELATED: How to choose the best Internet service for your business
Check the Wiring and the Outlets
Your new location should have the wattage required by your equipment. Furthermore, you have to check the electrical wiring and the number of outlets- are there enough? In addition, your should plan how you will layout your IT and network infrastructure, including:
Cables & ports
Router locations
AP locations
Work stations
Printers & scanners
UPS requirement
Office Relocation Checklist #2: Day of the office move – What you need to do
You may feel overwhelmed on the day of the move but remember that you have planned everything carefully, and you should have faith in that. Just follow through with your plan, and you should be fine.
Determine the key individuals that need to be present
While more people may seem like your advantage, it can quickly become a disadvantage. The more people – the more chaotic the move will be.
So, focus on keeping only a few key people who will have assigned tasks. Let the employees work from home if you are not moving on a holiday.
Prioritize IT setup
Currently, the IT department is the most crucial department in any company. It is also the department that others will have to adjust.
The first thing anyone checks when they enter is Wi-Fi connectivity. Therefore, it will be clever to set the IT department first and prioritize the following things:
Comms Room/Risers/Maintenance Rooms/Demarcation Areas/Server room
Network infrastructure
Routers and APs
Work stations
UPS
Printers & Scanners
Conference Room
When relocating your offices, you'll need to protect your organization from unanticipated events that may occur during an office relocation, which is why a Business Continuity Plan is essential to minimize your exposure to an IT Relocation disaster.
Set up other key departments
List all the departments, sequencing them from most important to the least. It is necessary to work on setting up the key departments first and the supporting ones later.
Focus on setting up the departments that can run the company as quickly as possible – the aim is to reduce any further downtime.
Office Relocation Checklist #3:Things to do after the Move
Have you done everything on your office relocation checklist? It's time to check the list after getting the IT and other departments up and running. Here are a few essential things:
Are all the equipment plugged in and set up?
Is the IT infrastructure working?
Are Printers, scanners, and copiers online and working?
Are Conference rooms working?
There is never the wrong time to start cleaning if everything is done. Clean both the new and old locations. Remember to clean your e-waste following proper IT security processes too.
Move into a new office – A better office
As long as you plan your relocation and continuously communicate and coordinate throughout the process- the relocating will not be as overwhelming as it initially seemed. It may also be the best time to address your 'technical debt.'
New and quick decisions regarding purchasing new equipment, technology, etc., can cause more harm than good right now by increasing your costs. While an intended office move cannot be classified as a disaster, it can affect your organization's daily operations. That's why we would recommend conducting a business impact analysis.
RELATED: Understanding the purpose of Business Impact Analysis
Any effective office relocation necessitates meticulous planning, scheduling of the moving date, and the employment of a competent moving company with extensive experience in office relocation. Moving an office is never straightforward because it takes meticulous attention to detail.