Best DSL Modem Routers for Business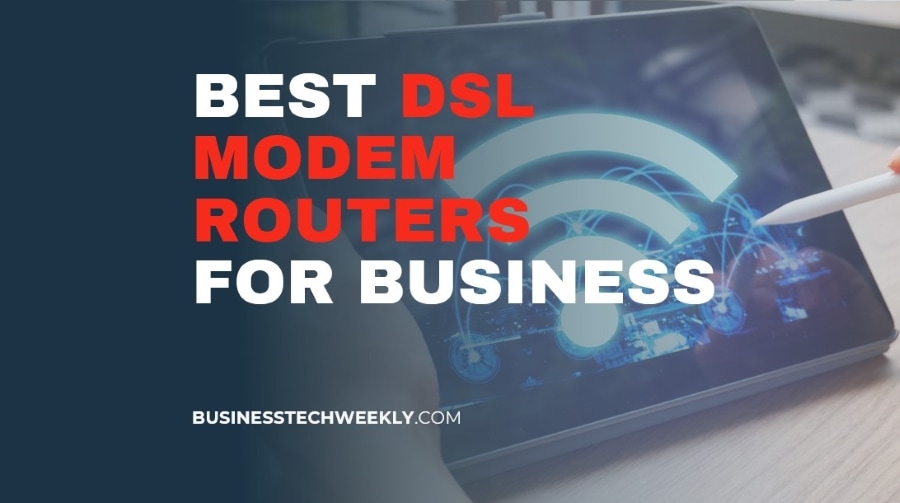 Whether you are running a small home-based business or setting up a home office, you need a robust DSL modem router to deliver reliable wired and wireless internet connectivity.
Sharing your WiFi connection across multiple devices, such as laptop, tablet, mobile, can take a toll on the quality of your online experience.  If you are working from home and are sharing your internet connection with family members, the WiFi service can degrade significantly.
Replacing your existing modem, network router, and WiFi router with a single device, such as DSL Router Modem, significantly reduces the number of cables and hardware footprint.
DSL routers come with a phone jack (RJ11) connection, and since these devices are packed with the latest technology, they can vastly enhance your wired and wireless internet capabilities.
What is a DSL Router Modem?
DSL, or to use the entire term, Digital Subscriber Line", is a set of technologies that allow high-speed data transmission over standard twisted-pair telephone lines. Typically, you would need a modem and a router to connect to your DSL internet service.
A DSL modem router combines these functions and more into one unit.  In addition, a DSL modem router combines four functions into one device:
DSL Modem – Connection to the Digital Subscriber Line Service (DSL)
Network Router – Directs network traffic to and from your local network and the internet
Network Switch – Ethernet ports to allow the distribution of the internet connection service via a wired connection
WiFi Router – Wireless capability to allow WiFi devices to share the internet connection
All the devices reviewed in this article are combination devices, offering all of the functions listed above.
What is the difference between a DSL modem router and a cable modem router?
From a user/customer perspective, both types of devices perform a similar function to one another. The primary difference between a DSL modem router and a cable modem router is the type of internet connection:
| | |
| --- | --- |
| DSL modem routers use an RJ11/phone jack type connection | |
| Cable router modems will have a coaxial (coax) connection | |
The connections are physically different, and the type of internet connection you have will depend on your internet service.
Looking for a Cable Modem Router Combo?
If you need a cable modem router with WiFi, in our opinion the best device available currently available is the Motorola MG7700. This device works with most major cable internet providers and provides internet speeds up to 600 Mbps.
Do I need a DSL, ADSL, VDSL or a VDSL+ router?
Digital Subscriber Line, or DSL for short, refers to a group of standards for delivering internet services over telephone lines:
Asymmetric DSL:ADSL, ADSL2, ADSL2+, RADSL, VDSL, and VDSL2/2+
Symmetric DSL:SDSL, HDSL, SHDSL
In Asymmetric DSL, the bandwidth allotted for upstream, the data transfer from the user to the server (e.g. uploading an image to a website), and downstream, data transfer from the server (e.g. viewing a website) is unequal, with a higher downstream than upstream.
In contrast, in Symmetric DSL, both the upstream and downstream are equal.
Most small business and home internet services are Asymmetric DSL. Some modern DSL router modems are capable of supporting multiple DSL standards.
Why do I need a DSL Router Modem?
In most cases, your internet service provider (ISP) would have provided a DSL router as part of your subscription to a DSL-based internet service.
These devices may be limited in some way, such as the number of ethernet ports, wireless range, number of supported devices, or may not offer wireless capabilities.
Furthermore, the model of your DSL router may no longer be supported by the manufacturer, and therefore it will be challenging to maintain, potentially causing internet connectivity issues.
We have carefully evaluated and presented below the best DSL modem routers currently available on the market from the leading manufacturers.
Replacing or upgrading your DSL modem router with one of the models below will enable you to reduce the footprint of internet hardware, increase the number of wired and wireless devices connecting to the internet, and provide improved WiFi connectivity throughout your premises.
Best DSL Router Modem – The Top 5
What is the best DSL modem router? While the global DSL market is diverse, we found several manufacturers focusing on particular markets.

Consequently, the main manufacturers may not support or sell the same DSL router modem combo in every market.
Nonetheless, we have evaulated the best devices currently available in each of the major markets:
Here are the top 5 DSL Modem Routers from our evaluation:
DSL Modem Router

Features

 

 

ASUS DSL-AC68U

AC1900 Dual-Band Wireless VDSL/ADSL 2+ Gigabit Modem Router

Buy Now

Netgear D6220-100AUS

ADSL2+/VDSL Wireless-AC Modem Router

From $149.00
4 LAN + 1 WAN + 1 RJ11
Up to 1200 Mbps
Dual-band WiFi

Buy Now

Motorola MD1600

VDSL2/ADSL2+ Modem plus AC1600 WiFi Router

From $399.99
4 LAN + 1 WAN + 1 RJ11
Up to 100 Mbps
Dual-band WiFi

Buy Now

Cisco RV132W

ADSL2+ Wireless-N VPN Modem Router

From $86.99
3 LAN + 1 WAN + 1 RJ11
Up to 100 Mbps
Dual-band WiFi

Buy Now

TP-Link AC2800

Dual Band Wireless VDSL/ADSL Modem Router

From $235.00
4 LAN + 1 RJ11
Up to 2800 Mbps
Dual-band WiFi

Buy Now
What are the Benefits of DSL Router Modems?
There are numerous reasons to use a DSL modem router combo because it offers innumerable benefits.
Save Money – In some cases, in addition to the monthly charge to use the internet service, ISPs charge a monthly rental for a DSL modem. You can save this monthly rental charge by purchasing a DSL Modem Router.
Reduced footprint – Since all the devices featured here are combo devices, you not only save on space, but power needs too, eliminating the need for a separate Modem/Router and WiFi Router by purchasing a single DSL Modem Router with WiFi capability.
Easy Management – A single device is easier to manage, troubleshoot and maintain. You no longer have to manage different modem and Wi-Fi routers. In case of any issues, you deal with one support line, making troubleshooting potential issues easier.
Versatile connectivity – DSL modem routers support DSL, Fiber/Cable. If equipped with a USB port, it can provide 3G/4G connectivity to serve as backup internet access, ensuring you can always get online.
Best DSL Router Modems – The complete list
Asus DSL-AC68U
ASUS DSL-AC68U AC1900 Dual-Band Wireless ADSL/VDSL 2+ Gigabit Modem Router
Pulling out all the stops, this Asus DSL router modem combo exceeds where other router combos fail.
The inclusion of a proper VDSL2 modem is the real talking point, supporting speeds well above 100Mbps. The built-in Dual-band Wi-Fi router provides reliable strong short range and long range WiFi.
$235.00
4 LAN + 1 RJ11 + 1 USB
Up to 1900 Mbps
Dual-band WiFi
What we think
Unlike the majority of routers, it has an integrated VDSL2 fibre optic modem, meaning the DSL-AC68U is a single box router modem devices for your ISP-supplied router and one that comes with a barnstorming AC1900 wireless spec.
This Asus DSL router modem checks all the typical boxes – Gigabit WAN, 4x Gigabit LAN, WPS and WPA/WPA2 security, and IPv6 compatibility. It can also function as a wireless extender in bridge mode, giving the router a second life.
The DSL-AC68U is a strong contender with outstanding all-round performance and extensive options. You'll definitely pay for this privilege, but it's one most will be happy to pay for.
Support for both ADSL2+ and VDSL2 standards
Strong short and long range wireless performance
Intuitive setup
Ageing UI
Edged out by dedicated AC1900 routers
Netgear D6220-100AUS
Netgear D6220-100AUS ADSL2+/VDSL Wireless-AC Modem Router
The NETGEAR D6220-100AUS WiFi High-Speed DSL Modem Router delivers blistering WiFi and Gigabit Ethernet speeds.
Featuring next generation Wi-Fi with dual band technology, this modem router lets you simply browse the internet, watch HD videos, or play online games with incredible reliability.
$149.00
4 LAN + 1 RJ11 + 1 USB
Up to 1200 Mbps
Dual-band WiFi
What we think
The Netgear D6220 offers extremely high performance dual-band wireless coverage, ideally suit for large homes, giving you 3x faster access than with similar 802.11n technology, with download speeds of up to 300+900 Mbps.
The simultaneous Dual-Band WiFi provides two separate WiFi networks at 2.4GHz for legacy devices, and 5GHz which is less interference-prone for media streaming, enabling you to stay connected with your devices, media, and your friends.
This modem router combo is Netgear's affordable all-in-one. By marrying AC1200 802.11n WiFi with an ADSL2+ modem, Netgear's offering is appealing for those looking for a neat, mid-price single box solution.
VDSL/ADSL Auto Detection for DSL Support
Beamforming+ for faster and reliable connections
Seamless installation
Competitively priced alternatives available with better capabilities
Motorola MD1600
Motorola MD1600 VDSL2/ADSL2+ Modem + WiFi AC1600 Router
Our vote goes to the Motorola MD1600 due to its ability to support and auto-detect VDSL and ADSL standards, and its compatibility with a wide range of ISPs.
Suited to services such as those from Frontier, CenturyLink, TDS telecom, Fairpoint, and Windstream, the built-in Dual-band Wi-Fi Gigabit router provides reliable internet speed to all of your Ethernet and Wi-Fi devices.
$399.99
4 LAN + 1 RJ11 + 1 USB
Up to 100 Mbps
Dual-band WiFi
What we think
The MD1600 packs a punch. In addition to bundling a DSL modem, network router, and WiFI router into one unit, the device also comes with a firewall, WPA and WPA 2 security.
Capable of supporting both IPv6 and IPv4 protocols, the DSL router modem also has Virtual Private Network (VPN) capability. The USB 2.0 port makes it easy to use the unit as a NAS (Network Attached Storage) supporting DLNA media sharing.
The setup is straightforward with helpful setup wizards for easy and quick installation. Delivering a speed of up to 100 Mbps for your wired and wireless devices, the MD1600 is more than capable of sharing your DSL connection with all your devices such as computers, game stations, smartphones, HDTVs, and more.
Support for both ADSL2+ and VDSL2 standards
Dual-band WiFi (2.5 GHz and 5.0 GHz) connectivity
Compatibility with a wide range of ISPs
Easy setup
Priced at a premium due to advanced capabilities
Not recommended for AT&T or Verizon Internet service
Netgear N600
Netgear N600 Dual Band Wi-Fi ADSL/ADSL2+ Modem Router
The Netgear N600 is the ideal solution for those looking for high-end compatibility with the standard ADSL2+ standard. It has a fast transfer rate and is compatible with ADSL internet service providers.
This DSL modem router comes with ReadySHARE USB and DLNA compatibility, providing easy wireless access to USB printers from your smartphone or device.
$300.00
4 LAN + 1 WAN + 1 RJ11 + 2 USB
Up to 600 Mbps
Dual-band WiFi
What we think
The Netgear N600 features 1 WAN and 4 LAN ports, which are all Gigabit Ethernet. In addition, there is an ADSL2+ port (RJ11) and two USB 2.0 ports (for storage devices).
The gigabit fast wired connections allow for easy video and gaming. Moreover, the powerful dual-core processor and simultaneous double bands offers an enriched delivery of video streaming, music, and images to an HDTV.
The best feature is that it can act as both a DSL modem and a router. The modem, router and WiFi capabilities all provide decent results and will satisfy any users looking for a robust DSL modem/router combo.
WiFi Speeds up to 600 Mbps (300 + 300)
Dual-band WiFi (2.5 GHz and 5.0 GHz) connectivity
Compatible with ADSL Internet Service Providers like AT&T, Verizon, Qwest, & CenturyLink (TM)
Easy setup
Only supports ADSL/ADSL2+ standard

Does not support AT&T U-verse and CenturyLink VDSL
Cisco RV132W
Cisco RV132W ADSL2+ Wireless-N VPN Router
The Cisco RV132W-A-K9-NA ADSL2 + wireless VPN Router is simple to use, set up, and deploy. This adaptable router delivers exceptional efficiency and is ideal for home offices and limited deployments.
In addition, two service provider connections support business continuity, and the high-capacity VPN feature allows offices and other remote workers to connect to your network.
$86.99
3 LAN + 1 WAN + 1 RJ11 + 1 USB
Up to 100 Mbps
Dual-band WiFi
What we think
This DSL modem/router device offers integrated 3-port Fast Ethernet switch and 802.11n WiFi connectivity, and is capable of supporting both Ethernet and ADSL2+ Internet connectivity.
Being a Cisco device, the unit comes with a plethora of security features and management capabilities, including IP Security (IPsec) VPN support for highly secure site-to-site connectivity.
Easy to use, configure, and deploy within minutes, the Cisco RV132W-A-K9-NA ADSL2 + wireless VPN Router is ideal for deployment in a small business, home office, remote working, retail, office, restaurant, or small branches.
Dual-band WiFi (2.5 GHz and 5.0 GHz) connectivity
Business-class router modem with VPN and firewall
USB 3G/4G/LTE
High-capacity VPN capabilities allow remote connections to your network
Only supports ADSL/ADSL2+ standard
TP-Link AC2800
TP-Link AC2800 Dual Band Wireless VDSL/ADSL Modem Router
The top-of-the-range TP-Link Archer VR2800 is brimming with features and loaded with the very latest wireless capabilities, along with solid, reliable performance and great ease of use.
The TP-Link Archer VR2800 modem/router supports ADSL2+ and VDSL2 connections, the fastest wireless standards (802.11ac-2013) currently available, and provides 4 Gigabit LAN ports and a couple of USB 3 ports.
$235.81
4 LAN + 1 RJ11 + 2 USB
Up to 2800 Mbps
Dual-band WiFi
What we think
This premium DSL modem router can deliver blistering speeds up to 2,167Mbits/sec over 5GHz. While over 2.4GHz, speeds of up to 600Mbits/sec are attainable with compatible devices and adapters.
The USB ports can be used for 4G connectivity, a printer or storage (NAS), and the user-configurable QoS allows assingments on a per device or application basis. Thanks to OpenVPN support, guest networks are straightforward to setup.
The TP-Link Archer VR2800 has unimpeachable performance for a single DSL modem/WiFi router combo, all within a reasonable price considering the features it offers. In short, this is a fast, robust, all round DSL router that is an excellent choice as an upgrade to your existing ISP supplied router.
Fully compatible with VDSL2/ADSL2+/ADSL2/ADSL standards
Up to 2800Mbps
Latest WiFi standards
Only available in the UK and Europe
What to look for when buying your Router Modem Combo
Choosing the correct DSL modem is essential to help ensure reliable internet connections. Because of the vast array of DSL modem products available in the market, it is critical to consider the features needed.
When buying a DSL modem router, you should consider the following factors:
Type & Compatability
When choosing a DSL modem, the first factor you should consider is whether it is compatible with your type of DSL service. ADSL2+ and VDSL2 are the two primary forms of DSL technologies.
Check with your DSL service provider to see what kind of service they provide, and then ensure that the DSL modem you buy supports that technology.
Ports
The type and number of ports on a DSL modem are essential since they determine which devices can link directly to the modem.
DSL router modems will have at least one Ethernet or LAN port (RJ45) to allow a wired network connection and one RJ11 (phone jack type) port.
While you won't need more than one RJ11 port, the more LAN ports you have, the better, since wired connections are more reliable and quicker than wireless connections. In addition, having spare Ethernet ports will allow you to connect IPTV, Wi-Fi boosters, or a gaming device directly either now or in the future.
Having a USB port is also useful. These can be used for sharing files across other devices using your network.  Some devices are capable of supporting 3G/4G as well – typically via a USB 3G/4G dongle.
Ideal for businesses, having this capability allows you to continue sharing a 3G/4G connection with all connected devices, offering some resiliency if your broadband connection were to fail.
Wireless Network Standards
All the devices reviewed in this article include a modem and router and provide WiFi. Most routers these days are dual-band, offering both 2.4GHz and 5GHz wi-fi networking.
Broadly, the lower-frequency 2.4GHz offers a longer reach, and the more modern and higher frequency 5GHz can move more data around faster.
While most modern DSL modem routers are dual-band, it is always a good idea to double-check to ensure that your existing wireless devices are compatible.
In addition, the wireless network speeds provided by the modem are often dictated by the types of wireless standards supported.
Extras
Finally, the extras that come with the modem can be valuable to many users. For example, many DSL modems with built-in routers have extra features such as built-in VPN (Virtual Private Network) functionality and QoS (Quality of Service) and firewall support to increase the protection of your Internet connection.
If any of these features are significant to you, you should make sure that the DSL modem you choose has them.
How to set up your DSL Modem Router
Physically setting up your DSL modem routers is straightforward. All you have to do is:
1. Connect the hardware:
The device depicted below is only for illustrative purposes. Refer to your device's User Guide for detailed instructions.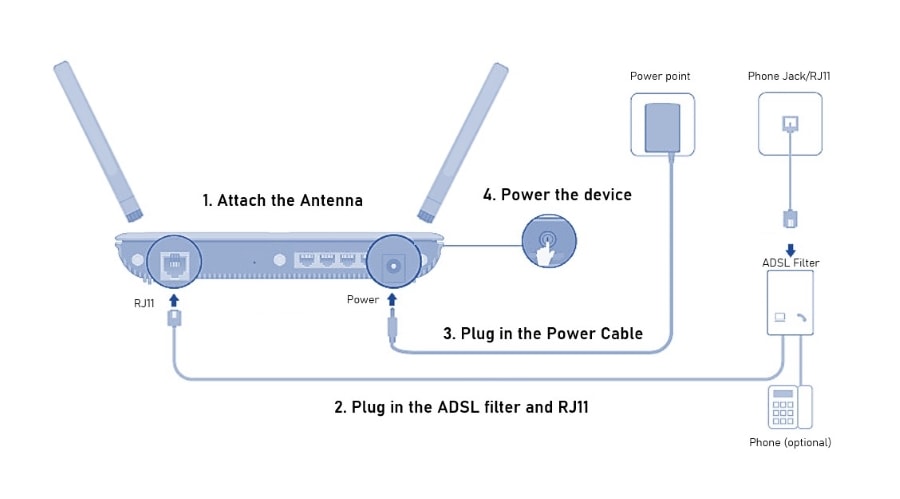 2. Launch a web browser and type in the local IP addres:
In most cases, this will be 192.168.1.1 or 192.169.0.0. Refer to your device's User Guide for detailed instructions. You will then be presented with a GUI (graphical user interface), through which you can complete the setup by following the on-screen instructions or referring to the User Guide.
Frequently Asked Questions
Does the modem affect your internet speed?
Yes.  However, your modem cannot increase your internet speed beyond what your service provides. Consequently, even if your modem is capable of higher speeds than your ISP's broadband speed, the full speed you can attain will never exceed that provided by your broadband.
For example, let us assume you have a 250 Mbps internet connection. If your modem supports 350 Mbps speeds, you will likely achieve 250 Mbps, but you will not see any higher speed. However, if your modem only supports a maximum speed of 150 Mbps, you will only ever attain a maximum speed of 150 Mbps, not 250 Mbps.
What is a modem and router combo?
A modem acts as a connector and translation device, converting one transmission medium to another.
Your internet service could be provided via phone lines (DSL), optical fiber (FTTP), or coaxial (cable), each providing a different transmission medium conforming to different standards. A modem would convert the transmission medium from your ISP to an ethernet standard.
The type of modem you require will depend on the service you subscribe to from your Internet Service Provider (ISP).
The router is responsible for directing data traffic to and from specific internet-connected wired and wireless devices. For example, the router will direct traffic from your laptop to your email server or web address (URL).
A modem and router combo is simply a device that combines both the modem and router functions in one unit.
All the devices reviewed in this article include a DSL modem, a network router, and a WiFi router.
What is a Wi-Fi Router?
A Wi-Fi router directs traffic to and from wireless-enabled devices.  A wireless router also referred to as a WLAN (wireless local area network) device, or sometimes a Wi-Fi hub, routes and manages the inbound and outbound data from the wireless devices to the internet.
You might send and receive emails, download files, or stream online video during a typical day. These activities require different amounts of data transmission, which the wireless router manages.
All the devices reviewed in this article include a DSL modem, a network router, and a WiFi router.
What is dual-band Wi-Fi?
Dual-band Wi-Fi is a feature where wireless routers transmit the signal over two separate radio frequencies simultaneously, in this case, 2.4 GHz and 5 GHz.
Using dual-band Wi-Fi improves wireless network speed by dividing the available bandwidth through two frequencies instead of one.
What does Mbps mean?
Megabits per second (Mbps) means 'one million bits per second.' The bandwidth unit is the primary unit for measuring internet speed, which indicates how much data travels through the link in a second.
One Megabyte (MB), the unit for file sizes, is equivalent to 8 megabits (Mb). So, if you want to download a 10 MB file in one second, you will need an 80 Mbps link.
What is the difference between Cable and DSL internet?
The majority of people who have high-speed Internet use one of two forms – Cable or DSL:
DSL is an abbreviation for digital subscriber line, which provides access to the internet using telephone cable.
DSL is the most widely used internet connection globally, accounting for more than 60% of all broadband connections.
DSL bandwidth, unlike cable bandwidth, is not shared. However, the distance between you and your ISP affects DSL internet speeds. As a result, the farther you are, the more likely you are to experience the slower speeds.
DSL links are classified into two types: asymmetric and symmetric. Asymmetric provides faster download speeds than upload speeds, while symmetric provides equivalent download and upload speeds.
Cable internet sends data over a coaxial cable.  In the U.S., this is the same type of cable used to provide to the cable television network.
Cable is usually faster than DSL. However, its main drawback is that you must share bandwidth with neighbors who share the same cable line. As a result, your speeds would be significantly slowed during peak hours when many people are online. On the other hand, unlike DSL, the distance between you and your ISP has no impact on cable internet speeds.
Cable Internet, in most regions, has more bandwidth. As a result, although cable is a shared medium, many consumers report better performance. As a result, cable companies charge more.
DSL technologies are more prevalent in UK and Europe, and Asia.  In the U.S., while there are some DLS providers, cable internet is more common.
If you have a good DSL option (speeds/price) available in your area,  it may be worth considering.