Alibaba vs AliExpress: Which is Best for Dropshipping?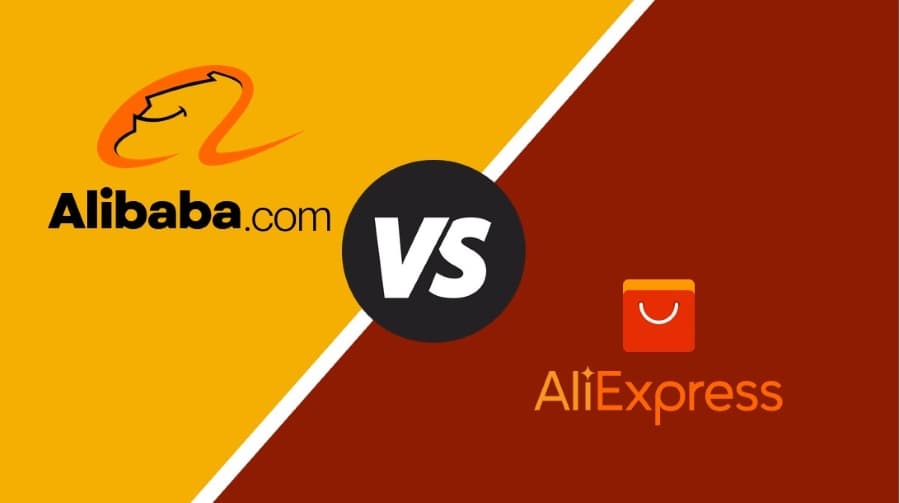 Alibaba Vs AliExpress: Alibaba and AliExpress are two of the best platforms for product sourcing. These have acquired a vast portion of the online B2B and B2C segments for the past few years.
Though both these platforms have their perks and limitations, eCommerce retailers are often confused about which of the two they should use for their dropshipping model.
Below, we compare Alibaba and AliExpress to help you understand which platform is the best for dropshippers.
What is Alibaba?
Alibaba is one of the world's biggest B2B platforms for wholesale trade that connects Chinese manufacturers and suppliers to small and medium-sized businesses around the globe.
It has not only revolutionized the eCommerce landscape but has introduced the concept of dropshipping, helping suppliers discover a global audience for their offerings.
Alibaba operates three further sites – an English site and two Chinese websites where it lists a large number of products under more than forty categories, including electronics, clothing, accessories, and more.
Buyers from across the world visit the websites to find the products they need. Small-to-medium business owners, including dropshippers, head to Alibaba to find suppliers.
How does Alibaba Work?
Unlike Amazon, Alibaba does not hold an inventory of products. It is a B2B marketplace that sells items in bulk and works as a middleman between buyers and sellers.
The platform is free to use, making money by charging a small commission on every transaction and a subscription fee for premium features.
Sellers don't pay anything to list products on the platform, but it offers some features and upgrades for a fee.
It also makes money by charging for the 'Gold Supplier' feature that gives a chance to appear on the platform's first search results page. This label is particularly beneficial to suppliers who sell to international buyers.

What is AliExpress?
AliExpress is also a popular marketplace that allows buyers from across the globe to get products from distributors and manufacturers in China.
It is also a leading global shopping destination that works like other eCommerce stores allowing buyers to order as little as they want and pay using various methods available.
How Does AliExpress Work?
AliExpress is known to offer products at a much lower price than Amazon and other stores as items are made and shipped directly from China.
Shipping charges are either free or low though it takes longer for the order to arrive, and tracking details are generally not available. However, there is no risk of losing money as the platform refunds the payment if the supplier turns out to be a scam.
Buyers can choose from various products across categories, including toys, electronics, fashion, beauty products, jewelry, and more. Bigger items like cars, furniture, and motorbikes are also listed.

Alibaba vs AliExpress: The Differences
The biggest difference between Alibaba and AliExpress is that Alibaba is a solely B2B platform, while AliExpress also includes B2C transactions and lets consumers buy items directly from manufacturers and sellers.
RELATED: Selling on Etsy vs eBay vs Amazon: Which is the Best Online Marketplace?
Another difference is that Alibaba offers lower prices for products as it sells in bulk.
AliExpress, on the other hand, sells individual products at moderate prices though cheaper than most other retail stores.
While both the platforms serve similar functionality, Alibaba and AliExpress are owned and operated by the same company, and most sellers list products on both websites.
Alibaba vs AliExpress for Dropshipping
With a dropshipping business model, you take the product's image from the supplier page and upload it on your storefront, and the supplier handles the fulfillment for you.
There is no need to take care of inventory or shipping.
When it comes to dropshipping, Alibaba and AliExpress work in different ways.
RELATED: Pros and Cons of Dropshipping
Both of the platforms offer dropshipping suppliers to let you source products. However, there are some vital differences between these platforms that dropshippers should be aware of.
Alibaba Dropshipping
Technically, Alibaba is a B2B platform, so the users are buyers intending to buy products in bulk.
Every supplier has a minimum order quantity on this website, and you buy an inventory. However, you can find a few suppliers with a minimum order volume of 1. As they offer individual product purchases, they can be used for dropshipping.
The platform has removed several barriers faced by dropshippers and offers wholesale prices with no restrictions on where the products are listed.
Pricing
On this platform, you can negotiate the product's price with the supplier. You get the option to bargain in the ordering process on the website.
Products
Alibaba lists more than 20 million items across categories ranging from small essentials to buses and trucks.
However, the costs for dropshipping are lower than AliExpress if shipping charges are not considered.
Ratings
You cannot rate products on this platform but can rate suppliers. Alibaba uses supplier ratings to rate products on its website.
It offers a form you can fill out to rate your experience with a supplier. Once the buyer submits the rating, it checks the supplier site.
Suppliers with a higher trade volume and verified product line get a rating of 'Verified Supplier'.
Shipping
Alibaba does not offer free shipping, so you should add it to your product price. Also, it doesn't let you track the shipment.
You need to contact the supplier to get the details of your order. There is an option under product detail to get shipping quotes for products.
Payment Method
Alibaba supports multiple payment options, including Western Union and credit cards.
This means dropshippers should not find any problem with payment when using Alibaba as the platform.

AliExpress Dropshipping
AliExpress offers a reliable way to dropship, helping you present a large variety of products directly to customers at a lower price than other marketplaces like eBay and Amazon.
Also, there is no risk of losing money when you dropship with AliExpress as it has policies in place to protect dropshippers.
All the products listed on AliExpress have clear pictures, descriptions, and instructions, so you should find no problem getting started.
Moreover, it does not charge anything to start dropshipping on the platform, which means you can easily experiment with product options and pricing without any risk.
To dropship with AliExpress, you require a functional website for your business. You can then use one of the plugins to automate the entire process.
Pricing
AliExpress offers affordable pricing on products. Every item listed on the website is priced differently based on the supplier offering it.
Products
The platform serves across categories so that you can find anything from a pencil to car accessories and a lot more.
These products are manufactured in China and Hong Kong, so you can expect the shipping cost to vary.
Ratings
AliExpress has a robust rating system to help check the reliability of sellers on the platform. Buyers who have purchased from a seller in the past rate the seller.
The company also offers three rating levels for sellers as Bronze, Silver, and Gold.
Shipping
A big reason people choose AliExpress for dropshipping is its ePacket shipping facility. Sellers also offer free shipping on the platform, allowing you to save on your business.
Payment Method
This is something that makes AliExpress better than most others in the area. It offers a variety of payment options, including American Express, Mastercard, Visa, Web Money, Western Union, and more.

Alibaba Vs AliExpress: Which is Best For Dropshipping?
There are several considerations when looking to choose the right platform for dropshipping.
Let us look at some of the factors to compare Alibaba and AliExpress.
Payment Options
As Alibaba is a B2B platform, it offers fewer payment options than AliExpress, which also serves consumers.
Alibaba focuses on global markets with payment methods optimized for more significant amounts, while AliExpress offers several payment choices like credit and debit cards.
This can make it difficult for small sellers to access quick funds and maintain cash flow. Selling a small number of items with a more considerable profit margin on AliExpress is preferable in this case.
Complaints and Issues
There are instances where the products sold on AliExpress fail to match expectations in terms of quality and sizing. It isn't easy to determine whether stores on the platform are verified.
So, dropshippers using AliExpress should check seller ratings, look at the product feedback and read reviews when selecting a supplier on this platform.
Failing to find reputed sellers on the platform can result in disappointment for your customers and negatively impact your eCommerce business over time.
Alibaba, on the other hand, lets you order samples before making a bulk purchase to avoid such problems.
Shipping Time and Costs
Though many sellers on AliExpress offer free shipping on products, you can expect a longer turnaround time of anywhere between a week to up to a month or two as items ship from China.
As shipping time is an essential consideration for customers, you should see how it impacts your business.
You might not mind paying a higher shipping charge on Alibaba if your customers demand quick delivery.
Exchange and Returns
When ordered from AliExpress, it can be challenging to send the products back to the original seller for an exchange or refund.
Depending on the problem, the platform offers a refund when a dispute is filed by the buyer. However, it is good to discuss with the supplier how they would process returns before deciding to work with them.
AliExpress offers a quicker and simpler route to dropshipping as it is set up to serve dropshippers. Alibaba does not have so many suppliers offering this model as the website is intended for B2B wholesale.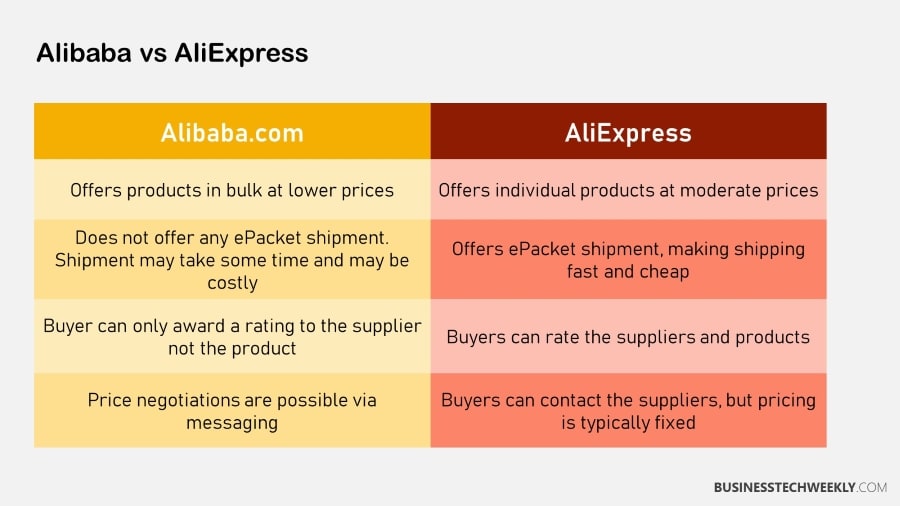 Final Thoughts
Both Alibaba and AliExpress offer quality products from reputed suppliers. The right platform for your dropshipping depends on your personal preferences and requirements.
You can look for the products and suppliers on these platforms to decide what suits your eCommerce business.
In the end, you want to offer high-quality products to your customers at reasonable prices with a decent margin.