HR software selection: 5 tips for choosing an HR solution for your business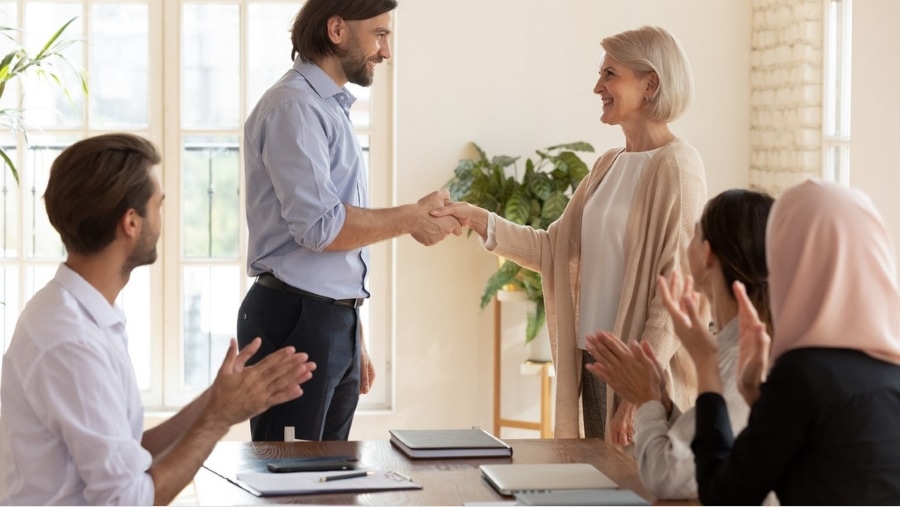 HR software selection: As HR departments' responsibilities grow, so does the need for a comprehensive HR software solution to meet the expanding requirements. Human Resources software can help make personnel-related tasks much more manageable.
A critical step in HR software selection is determining your business needs. The process can be challenging and time-consuming for smaller HR departments or professionals who have never done this before.
If you're unsure which features you need and which are most important to help your operations run smoothly, you'll have a much more difficult time knowing what to look for in a Human Resources software solution.
By fully embracing digital transformation, human resources can achieve superior efficiency, effectiveness, and stakeholder experience. Here, we provide five tips for choosing HR software and what considerations should be made in the HR software selection process.
What does HR software do?
HR systems encompass several disciplines for which software developers have developed individual or vertical solutions.
You can manage employee records using these tools from a desktop application, a web browser, or a smartphone app. Some allow you to connect to applicant tracking (AT), benefits administration, and performance management tools to track your employees' success from recruitment to retirement.
Cloud-based or SaaS offerings are often less expensive than older on-premises solutions. They are typically simple to use and easily connect to other back-office SaaS tools, such as accounting and enterprise resource planning (ERP) applications.
RELATED: Cloud Computing: An Executive Overview
A few of the most common goals of these systems include:
Work progress reviews can be automated
Employees' working hours are being tracked
Keeping track of pay history, including overtime and bonuses
Keeping in touch with applicants, potential hires, and current employees
Benefits administration and tracking
Reporting on progress toward career and employee objectives
Identifying workforce requirements

Types of HR Software: HRIS vs HRMS vs HCM
HRIS, HRMS, and HCM (human resource management systems, Human resource information systems, and human capital management, respectively) are terms that are frequently used interchangeably.
HRMS and human resources (HR) solutions evolved into a more data-driven HRIS, which led to today's more comprehensive and strategic, employee-focused HCM.
However, due to the advancement of more sophisticated technologies, there are subtle differences between the three.
Human Resource Information System (HRIS)
HRIS provides a centralized repository for employee data and other features required to manage core HR processes and administrative functions.
Absence management, benefits administration, employee records management, payroll, reporting, analytics, organizational charts, job descriptions, and employee and manager self-service are the most common.
Some talent management processes, such as training administration, performance management, recruiting, and applicant tracking, may also benefit from an HRIS to help with essential documentation and administrative tasks.
Human Resource Management System (HRMS)
HRMS is built on the HRIS to provide a more comprehensive software suite for organizations to manage internal HR functions. HRMS is used to describe HR software suites in the early 2000s when on-premises systems were the most common type of software.
An HRMS assists professionals in managing a more modern workforce by providing information on recruitment, benefits, training, talent management, employee engagement, and employee attendance in front of the people who need it.
Although the term HRMS is still used to describe systems now hosted in the cloud, it is less commonly used when referring to natively built cloud applications. HRMS and HCM are still used interchangeably, and a web search will yield results for both.
Human Capital Management (HCM)
HCM is a comprehensive set of practices used for employee recruitment, management, and development.
HCM extends beyond core HR's primarily administrative functions to include more strategic "soft" disciplines such as talent management and employee engagement.
It regards employees as valuable assets that leaders must strategically manage. HCM practices assisting HR teams in determining how to act proactively rather than reactively.
HCM is also the name of the most comprehensive category of HR software – HCM suites integrate core HR with talent management and newer HR tools like employee surveys, engagement, and recognition.

HR software selection: 5 tips for choosing an HR software for your business
Regardless of the term HRMS, HRIS and HCM, when selecting HR software, you'll want to consider several vital aspects.
Does the tool interconnect with your legacy software packages? Can it scale as your business grows? Does its graphical user interface (GUI) offer an intuitive experience that minimizes training?
RELATED: Cloud Computing Security: Ensuring data protection and privacy in the cloud
Once you've determined your HR Software requirements and preferences, you'll be better positioned to approach potential vendors with a wish list.
1. Assemble the right team
Choosing the right software necessitates assembling the right buying team. Depending on the software, you and other HR representatives and IT and cross-departmental representatives may be included.
Each member brings a unique perspective on how the technology will fit into the broader technology ecosystem, the return on investment, and the most essential user experience elements.
Benefits, compliance, Recruiting, onboarding, performance management, payroll, time tracking, and analytics are just a few of the features available from HR software vendors.
When evaluating vendors, the company must understand which features it requires and does not.
RELATED: Supplier Management Best Practices
A representative HR software purchasing team ensures that you ask the right questions to determine whether the technology you're considering meets those needs.
2. Adopt a people-centric perspective
Considering technology first is not a good place to start. Instead, concentrate on the user.
When looking to buy software that is all about people, companies don't typically ask questions about people. View the transformation you want to bring about through a people lens that supports your company's specific business goals.
Here are a few questions to consider:
Can the software assist in identifying potential regional leaders in the company's employee pipeline?
Can the software effectively assist in recruiting and hiring people in a specific region by using the appropriate language, job titles and descriptions, advertising appeals, benefit offerings, and cultural considerations?
Is it possible for my company to use the software to pay? Employees in the correct currency and using the most widely accepted methods in that field?
Can the software be scaled to local cultural considerations?
You may be able to choose an HR software product by matching its features with your company's answers to these questions aimed at achieving a specific business goal.
However, it is not always that easy. A single product is rarely adequate to meet the needs of a large organization. HR software is not a one-stop-shop purchase.
These questions are far more likely to assist a smaller business, but only until the business grows and requires more specialized or customizable features.

3. Assess Organizational Needs
When making a HR software selection for your organization, you should consider your organization's strategic plans.
A company on the verge of aggressive growth will have different requirements than one that is "right-sizing" or condensing operations. Taking these strategic plans into account will help ensure that the system chosen is the best choice for the organization in the long run.
In general, the size and breadth of the HR department's responsibilities will vary from organization to organization. Assessing organizational and departmental requirements will be a company-specific endeavour.
Some departments will be in charge of payroll, while others will not. Some companies will have a fully functional recruiting department with dedicated personnel, while others will not. However, each organization will require a system for gathering, organizing, and securely storing employee data.
Furthermore, the system must provide standardized reports on turnover, terminations, new hires, EEO-1, VETS-4212, and other compliance-related reports.
At this point, the organization's specific requirements will determine which features are required ("needs") and which are desired ("wanted") ("wants").
Many organizations' requirements will begin with either an integrated payroll module or a system that will work in tandem with the existing payroll system.
A benefits module will be required for many organizations due to the ever-increasing complexities of benefits administration. Organizations can use these modules to enrol employees, track and process benefit enrollments and participation, and generate required notices.
An employee self-service (ESS) module works with the benefits and HR modules. Employees can view and update their data in the system using an ESS.
Organizations may want to consider additional modules as part of their HR software, including Performance management modules, organizational chart modules, position control capabilities, recruiting and applicant tracking modules, and e-forms.
Organizations must consider how the system will improve current procedures such as new-hire processing and internal transfers when deciding between needed and desired features.
The greater the module's value to the organization, the more likely it will be considered a need rather than a want.

4. Evaluating features and functionality
It is necessary to ask questions about the HR software to evaluate it.
Once HR has established a master list of requirements and project parameters, it should create a preliminary spreadsheet-rating matrix to assess the product offerings and limitations.
Following that, HR should gather specification and pricing information on the various products on the market and compare it to the parameters it established for pricing and minimum requirements.
When evaluating HR software for selection, it's critical to check the essential boxes, including functionality, intuitive user interface (UI), examples of customers of similar size and complexity, and cost.
Ask if the software can be tailored to your company's needs. If so, confirm if there is a fee for customizing the software. A salesperson may conceal information about additional costs and potential problems behind a broad, generic response. Request specifics so that you can address all of your concerns.
The majority of this information can be found by conducting an Internet search. On the other hand, specific pricing information may necessitate direct contact with the providers or consultants who sell and service various products.
This includes requesting references and other user documentation, such as case studies, as they can reveal a product's legitimacy.
Following the initial elimination of packages and providers that do not meet the organization's needs, it is time to evaluate the remaining options critically.
RELATED: Finding a Technical Supplier for your Business
For example, having an online time-keeping system may be more valuable for a workforce that travels frequently or has many telecommuters. A time clock-based system may be more effective in a manufacturing environment where all employees pass through the specific entry and exit portals and perform all work onsite.
Matching system availability to organizational needs will help ensure a better return on investment.
5. Focus on implementation questions
Another vital aspect to consider when making a HR software selection is how the implementation process will affect your company.
Some essential questions to ask include:
What is my budget?
Who are the members of our implementation team?
What are their roles and responsibilities?
How do we define success?
Effectively, what metrics will be used to determine whether the technology implementation was successful or not?
You won't know if you made the right decision or if you need to restart the process if you don't have clear metrics.
RELATED: How to measure your SLA: 5 Metrics you should be Monitoring and Reporting
Next Steps
When making a HR software selection, organizations should exercise caution and include the appropriate stakeholders in the evaluation and selection process. Many HR Software options are available at various price points and with varying levels of functionality.
Given the significance of the decision, the package chosen should meet the organization's current needs while also being flexible to grow and expand with it in the foreseeable future. Budget, hardware, and time constraints, on the other hand, will influence the decision.
The framework outlined here can help you make the best decision for your organization.