5 Tools to Boost your YouTube Marketing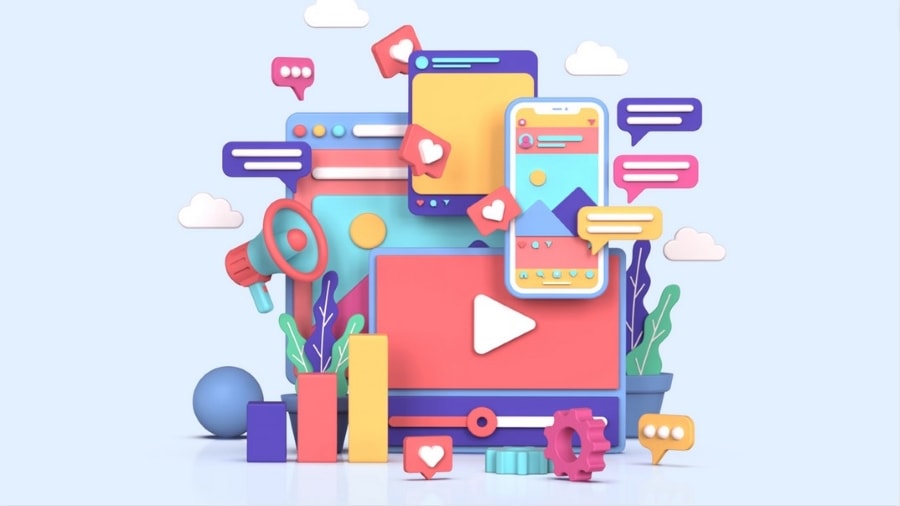 Video is a highly popular and valuable area of social media marketing today. The reason is simple – people love to consume information in the form of video. Videos can communicate emotions and build connections.
This is why brands and marketers are more inclined toward the use of YouTube marketing. A well-planned YouTube video strategy can prove to be greatly effective in promoting a brand and driving conversions.
RELATED: YouTube for Business: Benefits of Using YouTube To Promote & Scale Your Business
However, being the largest video platform with more than 2 billion active users and over 300 hours of video content uploaded every minute, the competition for viewers and subscribers is certainly stiff.
To stand out from others, you must publish high-quality content that catches your attention and proves to be valuable. Fortunately, there are some tools that help boost your YouTube marketing game and grow your audience on the platform.
Let us talk about the top five YouTube marketing tools you can consider for a successful YouTube marketing strategy.
One of the best tools for those who want to grow their YouTube channel, TubeBuddy comes as a mobile app and browser extension to integrate with your channel and keep a tab on it all the time.
With this marketing tool, you get a set of SEO features that help your video content to get discovered and analytics to see what works and what doesn't.
TubeBuddy also offers ready-to-use templates that save you time publishing your videos. It even boasts some advanced productivity tools that simplify video customization.
One of the unique features is bulk processing, using which you can perform tasks like adding cards and demonetizing appeals in batches to save time.
Features
Thumbnail generator – With this tool, creating thumbnails is so simple; you can pick a frame from the video, add an image to it, and get your attractive thumbnail ready in no time.
A/B testing – It lets you compare the performance of multiple videos to see what type of content can help you reach a wider audience.
SEO – TubeBuddy lets you manage SEO for your YouTube videos to improve their ranking on search engine results.
Auto translator – With this translation feature, it is easy to translate the description, title, and other details of your YouTube video to other languages so that your content provides value to more and more people.
Visit tubebuddy.com for more information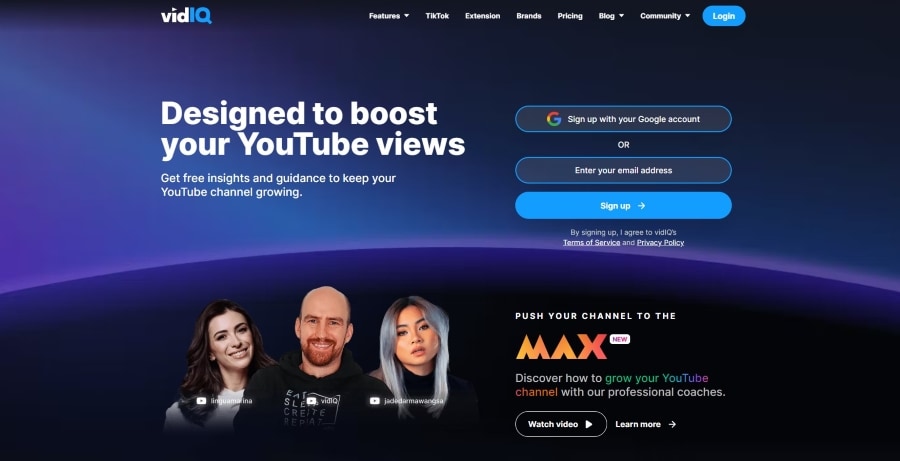 This is a fully-featured YouTube marketing tool that offers a lot of functionality when it comes to growing your YouTube channel. It is a YouTube-certified application that helps brands maximize the potential of their video marketing strategy.
Though the number of channel subscribers is important for most marketers and businesses, this tool presents you in a different way before the audience by focusing on metrics like watch time, tags, social media shares, etc.
With VidIQ, you can benefit from SEO tools, analytics, and channel audits, among other useful features. It also presents you with personalized tips and tricks based on ideas drawn from the most trending videos in your niche. It even provides competitor analysis to let you stay on top of the latest trends.
Features
Keyword research tool – It helps you maximize organic reach by giving you the most searched keywords for the niche and topic. You can add keywords to your tags, descriptions, titles, and playlist to expand the reach.
Thumbnail generator – The tool also lets you create attractive thumbnails to make the channel appealing.
Competitor analysis – VidIQ can be used to access the most meaningful insights from the industry through competitor tracking. It lets you figure out what your competitors are doing to get more visitors.
YouTube analytics support – This feature is extremely valuable when it comes to growing your YouTube channel. You can compare your videos, track their performance, and get real-time feedback on how your content is doing on the platform.
Audit – The channel audit tool helps you analyze what works for your channel and what doesn't. It proves to be useful in improving your video marketing strategy for desired results.
Learn more by visiting vidiq.com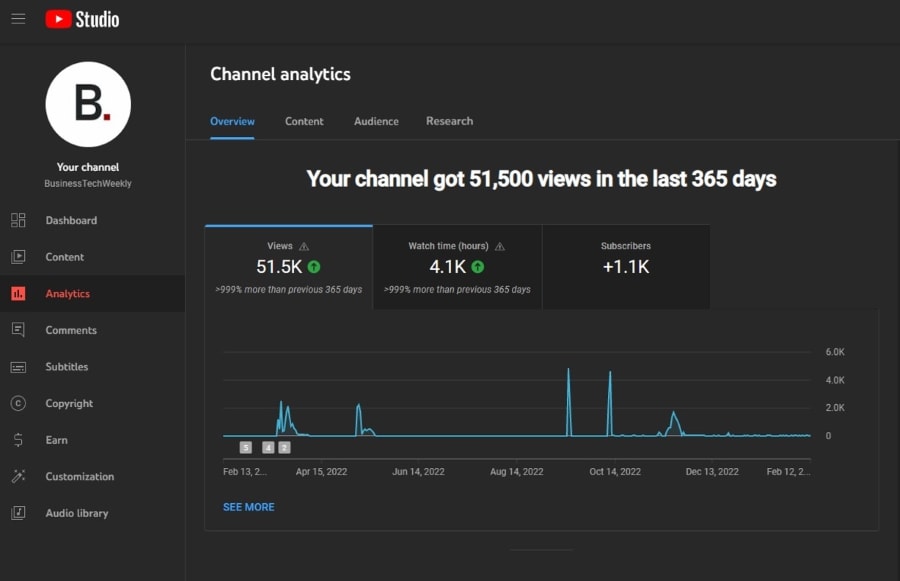 YouTube Analytics is a highly effective tool for those who want to promote video content online. This tool gives you a comprehensive idea of how your YouTube channel is performing. It also helps you understand how effectively a new marketing strategy or solution is working.
This way, you can find the right marketing strategies and tools that deliver the desired results for your YouTube channel and focus your efforts on them.
Features
Demographics – The most important feature of YouTube Analytics is the ability to learn more about the audience, such as their location, gender, age, etc. This will help you create content that the target audience finds interesting.
Impressions tracking – This tool helps you track your impressions to see how viewers are interacting with your content.
YouTube integration – As the tool is integrated with YouTube, there is no need for any setup; you can start using it instantly.
Revenue tracking – This tool even lets you track your earnings from YouTube. You can use it to see how profitable your YouTube channel and marketing strategy are.
Visit YouTube Creators channel for more information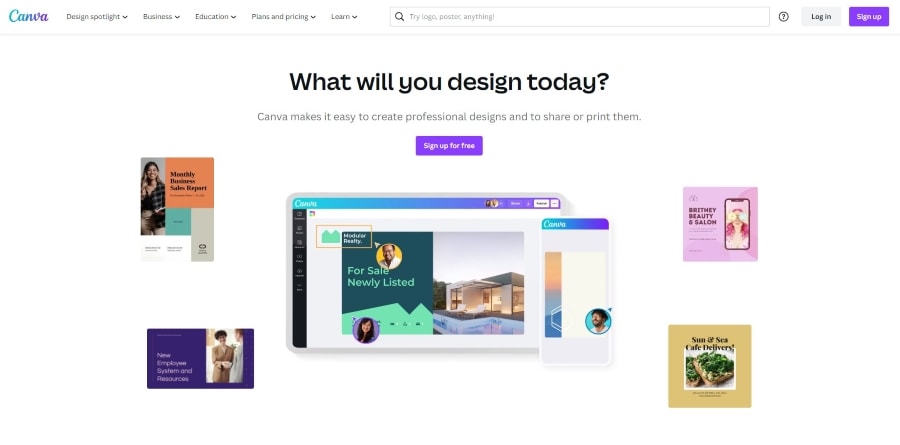 When it comes to promoting your video content, the first impression is the most valuable; with Canva, you can make a powerful one.
Stats suggest that adding a thumbnail can get you up to 40% more clicks! A thumbnail and feature image is quite important to create videos that catch attention.
Canva is one of the best design tools you can use to create impactful YouTube thumbnails and feature images with ease.
Features
YouTube thumbnail templates – The tool offers thumbnail templates specially designed for YouTube. You can use these templates to quickly create thumbnails that appeal to users and encourage them to click on the video.
User-friendly editor – Canva boasts an intuitive editor that lets you make thumbnails with the help of design elements like overlays, blocks, templates, etc. The drag-drop facility makes it easy to create beautiful images for your YouTube channel and customize the branding.
Team projects – This tool also offers an interesting feature that allows teams to collaborate on thumbnail designs.
Visit canva.com to find out more

Lastly, SeedProd is a useful YouTube marketing tool that helps present YouTube content in such a way that it appeals to visitors and convinces them to subscribe.
It is essentially a landing page builder that you can use to create pages that catch people's eyes and keep them hooked.
SeedProd boasts some amazing templates for landing pages that would help your brand grow on YouTube. You can use them to make a lasting first impression on visitors and increase the watch time for your videos.
Features
Video templates – This tool presents you so many templates for video content to help you engage your viewers easily.
Live preview – You also get a live preview of your website, so you have an idea of how things look.
Intuitive page builder – SeedProd's drag-drop builder makes it easy to create beautiful landing pages. You can use pre-designed layouts, blocks, color schemes, etc., to design your pages.
Lightweight and fast – The tool boasts an optimized code that ensures you can make engaging pages quickly. All the pages created with the tool load fast without keeping the visitors waiting.
Visit seedprod.com for more information
Final Thoughts
Growing on YouTube is no small feat. When it comes to marketing your YouTube channel and growing your brand, there are so many tools that prove to be useful.
Nevertheless, having the appropriate YouTube tools at your disposal might be of great assistance. There are several chances to enhance your current presence, ranging from creative editing to in-depth analytics. Hopefully, the aforementioned resources and advice will provide insight into how to achieve your goals.
The tools discussed here should help you optimize your channel, expand reach, increase the number of views, and grow the audience base to get the maximum out of your YouTube marketing strategy.