What is Cyber Resilience?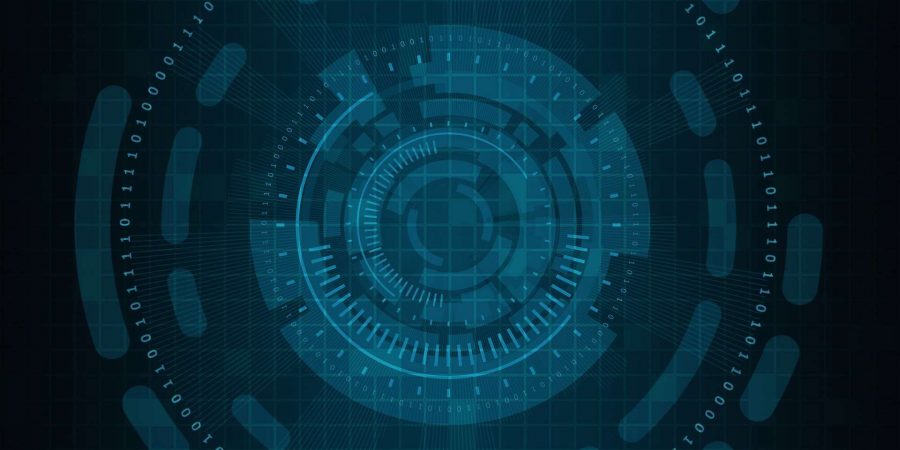 Cyber resilience is the ability to prepare yourself for data breaches and cyber-attacks and how to respond and recover from these attacks while continuing your operations.
An organization can be considered as cyber resilient when they have proper Cybersecurity risk management, solid defense against cyberattacks, and a guarantee of successful business continuation during and after cyber attacks.
Importance of cyber resilience has been increased over the past few years because traditional security measures like security questionnaires and penetration testing are not enough for minimizing the risk of cyberattacks. The main objective of cyber resilience is the continuation of business activities means you are delivering products and services at all times.
Why is Cyber Resilience important?
Traditional security measures are not always enough to ensure adequate network security, information security, and data security.  Nowadays, recovery from cyber breaches is as crucial as it is essential to prevent them.
Four main elements of successful implementation of cyber resilience strategy are:
| | |
| --- | --- |
| | Manage and protect – Developing a process to identify and manage cyber risks associated with network, data, and information systems. Moreover, it also includes the assessment of cyber risks associated with third and fourth-party vendors. |
| | Identify and detect – Identifying and detecting the potential ways of data breaches. It involves the continuous security monitoring of the processes to detect any data breach before any massive loss. |
| | Respond and recover – Implementation of a proper response plan in case a data breach occurs. Moreover, it involves how to keep operations running effectively even after the cyber attack. |
| | Govern and assure – The final element is to make sure that cyber resilience plan is now the part of your business as usual. |
Cybersecurity vs. Cyber Resilience
Cyber resilience amalgamates the concepts of cybersecurity, business continuity and organizational resilience into a single concept.
Cyber resilience aims to achieve an organization which is resilient against cyber attacks and cyber threats based on the collective efforts of the organization.
On the other hand, Cybersecurity is to do with achieving specific objectives, through actions, which will contribute to the overall cyber resiliency of the organization.
Cybersecurity – Cybersecurity covers several information technologies, processes, and mechanisms which are designed to protect systems, networks, and sensitive data from cyber criminals.
For cybersecurity to effective, it must reduce the threat of cyberattacks and protect an organization from the deliberate exploitation of its technologies, networks, and systems. You can read our full guide on cybersecurity for more information.
Cyber resilience – Cyber resilience has a wider scope.  Cyber resilience encompasses both cybersecurity and business resilience practices.
Cyber resilience contributes to organizations recognizing that cyber attackers are likely to have the advantage of inventive tools, zero-day exploits, and the element of surprise.
Understanding and accepting this concept allows businesses to prepare, prevent, respond, and recover from any potential attack to a pre-attack state, whereby business processes and business operations can continue as close to normal as quickly as possible.
How Cyber Resilience Works?
Cyber resilience is considered as a preventive measure to deal with insecure software, hardware, and human error. The main objective of cyber resilience is to protect the company by identifying insecure parts.
It doesn't matter how robust the security control measures are it should be able to identify the loopholes in the security system to prevent data breaches and cyber-attacks.
Cyber Resilience is used to perform these four tasks.
Threat Protection
As technology is evolving, so does the number of cyber-attacks. Hence, the basic security control measures won't be able to protect your company from these attacks organizations need to take the following steps to protect themselves from threats.
First of all, the company needs to have a proper plan against targeted email attacks. Nowadays, simple antivirus and anti-spam software are not enough, and companies need to use endpoint detection and response (EDR) solution.
EDR tools are used for monitoring endpoint events and recording all the information in a central database for further analysis, detection, and alerting. Analytic tools are used for detection, and they identify the tasks that can improve the overall security of a firm by deflecting common attacks and early identification of ongoing attacks.
Recoverability
It is the company's ability to return to normal functioning after the cyber-attack. A well-designed and well-planned Ransomware attack can encrypt all your data and force you to either lose the data or pay for ransom to attackers.
You need to run a simulation of data breach scenario to strengthen your cyber resilience. Ensure that you have complete and regular backups of your data on a separate network. It will ensure that you can restore the wiped data.
Adaptability
As technology is getting smart, it is allowing attackers to use intelligent ways for creating attack plans. In such cases, organizations need to adopt reliable infrastructure to defend against future cyber attacks. Your security team must know how to identify the threat and quickly respond to prevent these attacks.
Moreover, you need to have a built-in administration tracking to identify which users are at risk. It is a vital component of cyber resilience. If your security team is expert and has education and awareness to identify the real threats, and knows how to respond to these attacks, then your company is one step closer to the more cyber resilient system.
Durability
Your IT environment doesn't just dictate cyber resilience. In fact, it is determined by the organization's ability to work successfully after a cyber attack. This component of cyber resilience will be improved when your IT team will make system enhancements and improve regular updates.
The main goal of cyber resilience is to protect your business. The impact of a data breach can be social, financial, and technical. That's why organizations need to integrate cyber resilience with IT.
Improving your approach to Cyber Resilience
Some organizations are already using cyber resilience strategies, but they are not as effective as they should be. You can improve your cyber resilience strategy in several ways:
The first is to conduct a risk assessment to identify threats and attacks. For these assessments, you need to set up a proper communication system in the organization.
Second is to manage these risks. Organizations need to prioritize the risks. An organization needs to assess the probability of the risk occurring and determine the financial loss as a result of a data breach.
Thirdly, organizations should develop a  plan to address any difficult to address risks, remediate their systems and develop business continuity and crisis response plans.
Fourth, assess and measure.  Objective is to reach a benchmark standard for your systems.  This may involve repeating step three to continually assess and measure your cyber resilience.
Finally, manage cost. By taking preventive actions, such as spending on staff training and raising awareness, you can significantly reduce the likelihood of a risk occurring. The alternative way is to get the cyber resilience insurance policy.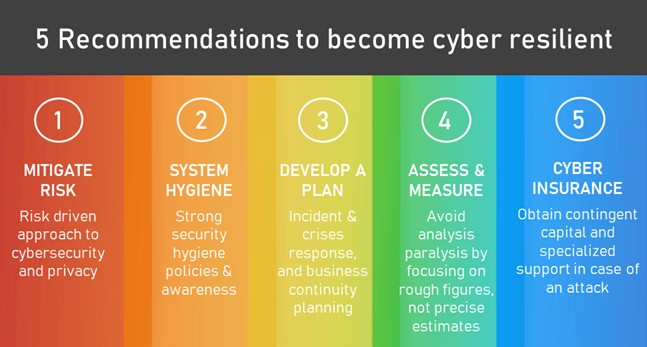 While smart technologies are helping firms to grow their businesses, they often also have drawbacks too. Cyber attacks are becoming increasingly popular, so organizations need to have a proper cyber resilience strategy to deal with these threats.
You need to be smart to deal with the tactics used by attackers. A preventive approach is always better than the corrective process, and it can save your company from massive financial losses.