VDI vs DAAS: Understanding The Differences Between Virtual Desktop Infrastructure and Desktop-As-A-Service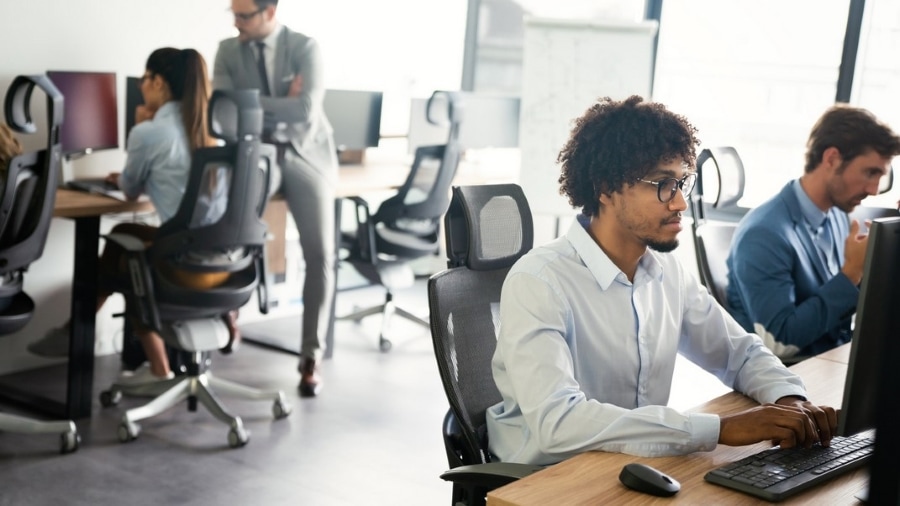 With employees increasingly spread over multiple locations, whether from other offices or homes, organizations may turn to virtual or cloud infrastructure to maintain infrastructure in disparate locations. On the surface, when comparing VDI vs DAAS, these concepts look similar as their fundamental objective is to give access to a remote working environment. Both virtual desktop infrastructure (VDI) and desktop-as-a-service (DAAS) can fulfill these requirements, but does one offer better benefits for organizations than the other?
Virtual Desktop Infrastructure (VDI) and Desktop-as-a-Service (DAAS) allow users to access virtual desktops to eliminate the need to set up operating systems on all the computers in the organization. However, the two have several differences regarding their applications, work, benefits, limitations, and more.
Below, we explore the differences between VDI and DaaS to help you decide which of the two suits your needs better.
What is VDI?
Virtual Desktop Infrastructure, or VDI, is a technology that sends virtual copies of the desktop to end users through a network.
The virtual machines are hosted on the premise or in the cloud and managed from a data center. The end-user devices used to access virtualized desktops can be tablets, laptops, PCs, etc. Users can access the applications on the virtual desktop like a local system.
What is DaaS?
Desktop as a Service, or DAAS, is quite similar to VDI but is offered as a managed service from cloud providers.
Virtual desktops are delivered through the internet to end users. The service can be bundled with other offerings from the cloud vendors and used on a per-user subscription basis.
VDI vs DaaS: Key Differences
There is a noticeable difference in ownership between the VDI and DaaS; an organization's in-house team manages VDI while a cloud service provider handles DaaS.
Let us look at some other primary differences between VDI and DaaS:
Security
Virtual desktop infrastructure is a better choice for organizations that prefer keeping control and security in-house. Companies operating in the financial sector often go for VDI as it allows them to meet compliance standards.
VDI is not feasible enough to upgrade to newer networks and systems and can open up vulnerabilities and risks of cyberattacks.
With a DaaS, you have minimal control over operations and security as everything is outsourced to the provider. However, these services may leverage the most advanced technologies to provide top-notch security.
Cost
VDI deployments generally demand substantial upfront investment, particularly when buying or upgrading data centers and servers.
However, long-term savings exist as the organization doesn't have to pay subscription charges once the hardware is configured. Such a cost is often cheaper than DaaS for growing businesses with predictable resource demands.
DaaS, on the contrary, need no upfront investment but incurs ongoing subscription fees. There are no setup and maintenance costs, but you need to pay a monthly fee depending on the number of users.
Such a model allows scaling operations and makes sure you only pay for the resources you use. DaaS is a more budget-concious option for small to medium-sized organizations with unpredictable requirements.
Tenancy
The virtual desktop infrastructure uses a single-tenant model as resources are dedicated to a single user or organization. Such a model provides control over resource distribution and enhances user flexibility. It also eliminates any chance that the resource demands of other users affect your deployment. However, you don't have any resources available when your data center is down.
Desktop as a service, in contrast, is generally based on a multi-tenant model where the service is hosted on shared data centers and servers.
While the services for different clients are isolated and available only to the organization, the resources are shared dynamically. This means the resource usage or security of others can affect your services. However, there is more resiliency as there are automatic backups for failures.
Control
With VDI, the IT teams have complete control over the servers, including infrastructure, maintenance, configurations, troubleshooting, and updates.
Moreover, as it uses single-tenant architecture, it is easier to make sure that only authorized users access data. You can specify how systems are monitored, what tools are used, who has access, and where data is stored.
On the other hand, DaaS deployments provide less control over the system as the provider takes care of most monitoring, data, and configuration aspects.
Depending on the service provider, you may get minimum visibility into these aspects but enjoy advanced data security benefits.
One of the main benefits of DaaS is keeping critical data like apps, passwords, and files in a secure environment. It can also help businesses achieve compliance with the latest data security regulations.
Flexibility and Scalability
VDI is generally configured and deployed based on the current organizational requirements and can be difficult to modify once set up. Businesses likely to evolve or grow with time demand more scalability and agility than the VDI facilitates.
For example, server resources often restrict flexibility; you must buy and install additional hardware to scale up operations.
On the contrary, DaaS deployments generally take a shorter time to deploy and run. These systems are more flexible because the platform comes pre-configured; you simply need to define users and settings.
Scaling a desktop as a service only requires requesting extra licenses and desktop instances. There is also no need to buy or prepare new hardware when operations evolve.
VDI vs. DaaS: Which is Better?
Deciding between VDI and DaaS may seem difficult as organizations try to adapt their infrastructure to the remote-first landscape. VDI is a better choice for companies with stable growth and a large employee base.
The organizations deploying VDI should be able to bear the costs and resources associated with setup and maintenance. They should also have a good IT admin and support team that can handle the VDI management and help desk requests from end users.
Organizations looking for a more agile solution capable of future-proofing their business would find DaaS a better solution. Desktop as a Service is perfect for businesses that experience seasonal employee spikes or demand, as it is easy to access additional resources when needed.
It also works for organizations with no dedicated IT support teams. DaaS deployment suits startups looking for cost-effective solutions and companies not operating in heavily-regulated sectors like insurance or banking.
Final Thoughts
VDI and DaaS are great options for businesses supporting remote working environments. However, choosing one over the other would depend on the business requirements, nature of operations, budget, and availability of support.