Digital Asset Management (DAM) for Small Business
As globalization advances, small business owners face competition from enterprise-level players in their industry. However, not all of them have the skilled resources to beat their rivals. As such, they look for ways to make the most out of the available budget, talent, and resources they have. Digital asset management is one of the best solutions for small-scale businesses. It improves the efficiency and productivity of the team, helping them stay relevant and profitable.
Choosing an effective DAM solution that suits the business needs can work wonders for any small-scale operation. Below, you can learn how a small business can manage digital assets efficiently by implementing a digital asset management system.
What is digital asset management?
In general, digital asset management refers to the platforms aimed at helping teams organize and manage their digital libraries. It encompasses the practices and guidelines used for handling digital assets like documents, audio, videos, photos, etc. This type of solution also facilitates sharing of digital files among multiple users.
A DAM system is not only something you see upon opening digital files but also everything associated with them, including their metadata and other information. A DAM also governs the cloud systems on which most businesses today store their work data. Thereby enabling the sending digital files to other parties and supporting modern organizations.
Why is Digital Asset Management important for small businesses?
Today, in an attempt to improve their agility, most small businesses have shifted a lot of their information to the internet. However, just like physical storage, poorly organized information can result in missing, lost data. Digital asset management solutions are great for storing, organizing, and sharing media resources of the organization.
Different business teams and departments require storing and sharing digital assets like images, videos, audio, and other documents in various formats to accomplish their tasks. In the present era dominated by remote work and digitalization, effective management of digital assets is one of the critical requirements for organizations looking to streamline their workflows.
Today's economic environment is highly challenging, particularly for small businesses and startups. So, you may want to consider a cost-effective DAM solution with a good ROI to boost profits. It is challenging to convey relevant information to suppliers and clients without adequately managing digital assets. A digital asset management system gives the company a digital storehouse with folders to access the desired information whenever needed.
Benefits of Digital Asset Management (DAM) for small businesses
As the digital revolution drives customer expectations and behavior, tools like digital asset management help businesses engage customers better and stay connected to them. DAM solutions were traditionally not affordable for small businesses. Still, cloud technology has today enabled them to deliver more powerful features at a price that small players can afford.
Let us discuss how digital asset management benefits small businesses.
Ease of Use
Digital asset management solutions are designed to offer all the features in an easy-to-use, intuitive interface. These platforms are simple enough to get easily started with. Most available options give you custom branding features, branded folders, custom login pages, and URLs to help you establish a professional, consistent identity across applications.
Flexibility
Most DAM tools are designed to be flexible and integrate seamlessly into your existing workflow. Integrations help incorporate these components into other platforms used by small businesses. Such modules can effectively equip other tools with asset management features, giving you an easy way to improve file management.
Improved Security
In the absence of a managed system, online file-sharing can quickly become uncontrolled. When managers have no ways to customize permission and access to files for different members, there is a threat to your digital assets. DAM tools ensure the security of the digital library in different ways, ensuring it is always protected against unauthorized access.
A digital asset management system uses regular backups, encryption, and multi-factor authentication to control business assets better and prevent data loss. Team leaders can keep track of who changes what files. This type of transparency keeps the employees accountable and makes it easy to spot any intrusion from attackers.
Cost Reduction
A DAM platform can save the business much money in several ways in terms of time and productivity. Giving the team quick access to digital files saves them time and energy that they can use to focus on other essential aspects of the business. A digital file management system also protects the company from penalties incurred for copyright infringement.
A digital repository of assets also saves the business time and money by preventing redundancy. A DAM lets members edit and access files in real-time to avoid any duplication with version control.
Time-Saving
Once you integrate the DAM software with your existing workflow, everybody can start using the tools without special training. Anybody can log in quickly to find the file they need. Team managers, by ensuring that all the members know where they should look for assets and files, save much valuable time.
DAM platforms also facilitate easy onboarding, giving new employees a quick overview of the assets, processes, and people. This means businesses using DAM can deploy projects faster, bring their products to the market on time, and efficiently meet customer demands.
Digital asset management strategies
Implementing a digital management system is crucial for a small business to exercise more control over its digital assets. However, a comprehensive strategy helps the business harness the full potential of these tools.
Below are some of the essential steps to get started:
Define the goals
Before implementing the system, it is worth focusing on the fundamental reasons and objectives. You should also consider defining an approach to acquiring assets with version control and licensing methods. For example, if you aim to improve the efficiency of your digital communication system, you should learn about the latest cloud communication trends and the benefits of cloud-based assets.
If your objective is to improve your processes, you can benefit from using a process management system that helps manage your business's staff, inventory, assets, and other components. This type of digital platform improves accountability and facilitates expansion, and readily scales with your business growth.
Identify the criteria
You can create a list of criteria by analyzing existing workflows in the organization. Consider how many users will use the system and the need for scaling. Also, explore how many users require access to assets and what system seems to work the best for your company.
Perform an audit
Conducting an internal audit of digital assets would give you a clear picture of the organization has. It further provides insight into how these assets are being used and why they were created in the first place.
Such information helps understand the requirements for the use and management of assets, thereby improving content and providing a better return on investment.
Organize the life cycle of digital assets
There are multiple steps involved in the life cycle of a digital asset. Here are some of them:
Acquiring asset
Verifying that it is added without errors
Quality checking
Entering and updating metadata information
Converting asset formation for delivery
Exporting files
Archiving large files in cost-effective storage locations
Asset distribution
Understand software requirements
DAM software is not a one-size-fits-all solution. It is worth looking at the needs and preferences before investing in a system. Small businesses have different requirements compared to enterprises with multiple departments and locations. See that you pick a solution that caters to your exact needs.
Consider the integrations
Small-scale companies generally use various tools and applications to achieve their goals. It is vital to ensure that the digital asset management platform you choose integrates perfectly with other software used company-wide.
Implement the DAM tools
Start implementing the system in small steps by setting priorities and fulfilling them correctly. Prepare a team that executes the system and plan what works the best for members who will use it. Such an approach enables teams to work together on an effective solution.
Enforce guidelines and best practices
To ensure that digital asset management is executed well without errors, you can train the team on using the software to its optimum. Share the working of the software and goals and build a culture of shared responsibility in the organization.
Set user permissions
It's always sensible to implement the rule of least privilege as it minimizes the impact of an attack. This is why managers should not give users more rights than they require for their daily tasks.
Devise workflows
Rather than involving everybody in every step of the workflow, it is better to allocate specific steps to users. Consider creating workflows around operations like obtaining files, modifying and renaming, adding metadata information, categorizing, organizing, and documenting the process.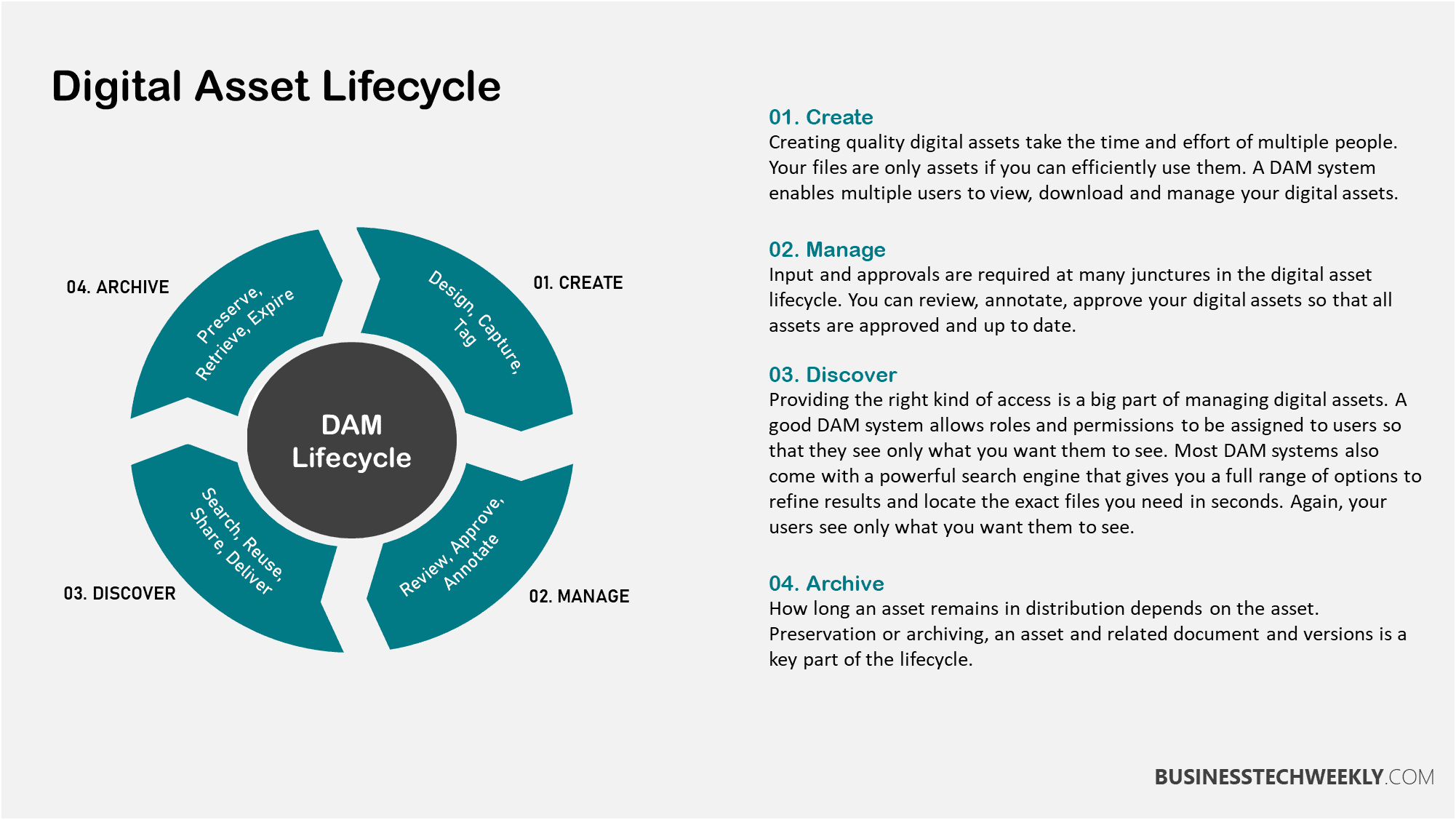 Final Thoughts
Digital asset management is a great way for small businesses to make themselves capable enough to compete with large enterprises. Creating a file organization system is often time-consuming; using a DAM platform is a more reliable and effective way to build a library of digital files.
When choosing a digital asset management solution, it is crucial to ensure all the features you need to create, modify and distribute content. It should be flexible enough to support the business growth and scale as the company evolves.