Ensure Business Continuity by reducing Supply Chain Risks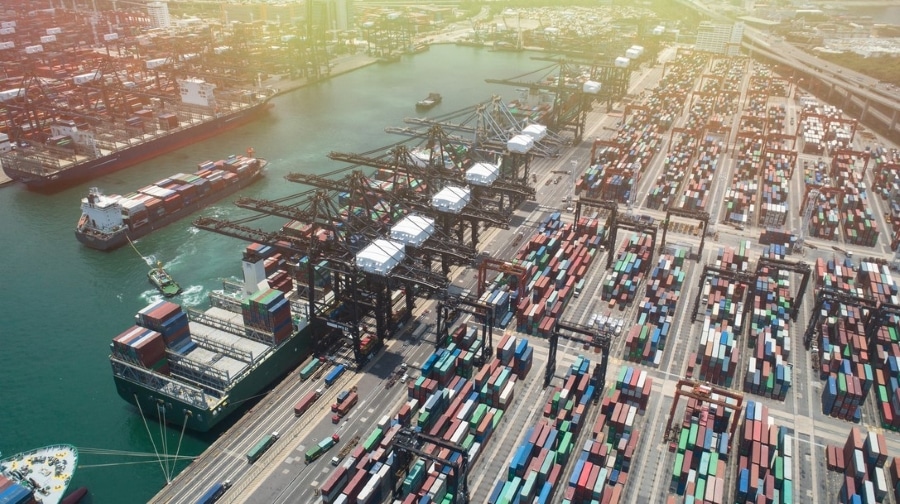 Increasing supply chain risks caused by the unpredictability in the availability of resources have been generated by disruptions in the supply chain, which, in conjunction with new ways of working, has produced an unprecedented predicament for companies.
These dynamics indicate that integration with your supply chain has never been more crucial. Despite many suppliers working diligently to satisfy the increasing demand, firms must prioritize their business activities, with supplier management taking center stage.
Effective supply chains are required to meet the demanding needs of a business, its consumers, and its suppliers. A task made much simpler with the correct digital technologies. This article will explain supply chain management (SCM), how it operates, and how to mitigate supply chain risks and maintain business continuity.
What is Supply Chain Management (SCM)?
SCM, or supply chain management, is the management of the complete manufacturing flow of a good or service, beginning with the procurement of raw materials and concluding with the delivery of the finished product to the consumer.
A corporation builds a network of suppliers (links in the chain) that transfer the product from a raw material supplier to the organizations that interact directly with the end user.
A typical supply chain management systems consist of five components:
Planning: Plan and manage the necessary firm resources to satisfy client demand for a product or service. When the supply chain is formed, set metrics to determine whether it is efficient, effective, gives value to customers and achieves business objectives.
Sourcing: Choose vendors to provide the necessary materials and services to produce the product. Then, develop monitoring and management procedures for supplier relationships. Ordering, acquiring, maintaining inventory, and authorizing supplier payments are crucial operations.
Manufacturing: Organize the tasks necessary to take raw supplies, make the product, test its quality, package it for shipment, and schedule its delivery.
Delivery and logistics: Coordination of customer orders, scheduling of deliveries, shipment of loads, billing, and payment collection.
Returning: Create a system or network for the return of damaged, excess, or unwanted merchandise.
Why is Supply Chain Management important?
Effective supply chain management solutions reduce production cycle costs, waste, and time. Standard in the business is now a just-in-time supply chain in which retail sales instantly trigger replenishment orders sent to manufacturers.
The shelves can then be refilled practically simultaneously with product sales. One option to improve this process further is to examine the data from supply chain partners to determine where additional improvements may be made.
RELATED: What are the risks of dropshipping, and how do you avoid them?
There are three circumstances in which efficient supply chain management increases the supply chain's value:
Identifying potential problems: When a consumer requests more merchandise than the manufacturer can provide, the purchaser may file a service complaint. Manufacturers can foresee a scarcity through data analysis to prevent buyer disappointment.
Optimizing price dynamically: Seasonal items have a short shelf life. These products are often discarded or sold at steep discounts towards the end of the season. Airlines, hotels, and other providers of perishable "items" typically modify rates based on demand. Using analytic tools and comparable forecasting techniques can also increase profit margins for durable items.
Improving the allocation of inventory: The analytical software tools allow for the dynamic allocation of resources and work schedules based on sales projections, actual orders, and promised raw material deliveries. Manufacturers may confirm a product's delivery date when an order is placed, dramatically lowering the number of mistakenly filled orders.
How to Ensure Business Continuity by reducing Supply Chain Risks?
Studies found that 80% of companies surveyed have been affected by a disruption in their supply chain at some point.
So, it's not about 'if' your supply chain will take a hit; it's more likely "when." To ensure continuity, companies can take steps to reduce supply chain risks.
Establish strong suppliers
The strength of suppliers is the foundation of a robust supply chain. Conduct due negligence on companies you plan to do business with. It's also a good idea to perform the same checks on current suppliers to ensure you are working with financially stable vendors with good industry reputations.
Be aware of external economic and political conditions in your vendors' region. They could impact your business. Identifying quality sources that can meet your current supply needs and scale as your company grows is also a good idea.
RELATED: How to measure your SLA: 5 Metrics you should be Monitoring and Reporting
Diversify your supplier base
For the materials that your company needs in large quantities or regularly, having contracts with multiple suppliers can reduce supply chain risk.
Choosing suppliers in different states or countries will also ensure that a natural disaster in one region does not completely disrupt your supply chain. Build relationships with suppliers that can deliver more materials if there is a problem with your primary supplier.
RELATED: 10 Global B2B Wholesale Marketplace Platforms to grow your Business
Having multiple suppliers also gives you the confidence to negotiate competitive rates with all the vendors you work with.
Create solid SOP
Developing standard operating procedures (SOP) for your business, including your supply chain, will clarify your expectations for outside suppliers and your internal employees. Beyond stabling business processes, SOPs should incorporate industry regulations and laws that your business follows.
Well-designed SOPs can add value to your business if you decide to sell or bring in an investor.
Increase important inventory
If your operation can't run without a specific raw material, having safety stock on hand will ensure that operations can continue, even if your supply chain hits a speed bump.
Proactive risk management could make more money for your company in the long run because you avoid a lengthy shutdown while waiting for the next delivery.
Identify current supply chain risks
The difficulty for each company is balancing strategy with risks. Network modeling can improve supply chain efficiency, cut operating costs, manage inventory, and get your products from point to point most affordably and reliably.
By looking at different scenarios where your company's supply chain can be disrupted, you can plan ahead and prepare for disaster.
Conclusion
These strategies can help companies mitigate supply chain risk. They can also be helpful to small businesses seeking to reduce risks in supply chains and ensure business continuity. Now is the time to integrate your supply chain and push responsibility back on suppliers.