Digital Content Strategies: Best Practices for Developing an Effective Digital Content Marketing Strategy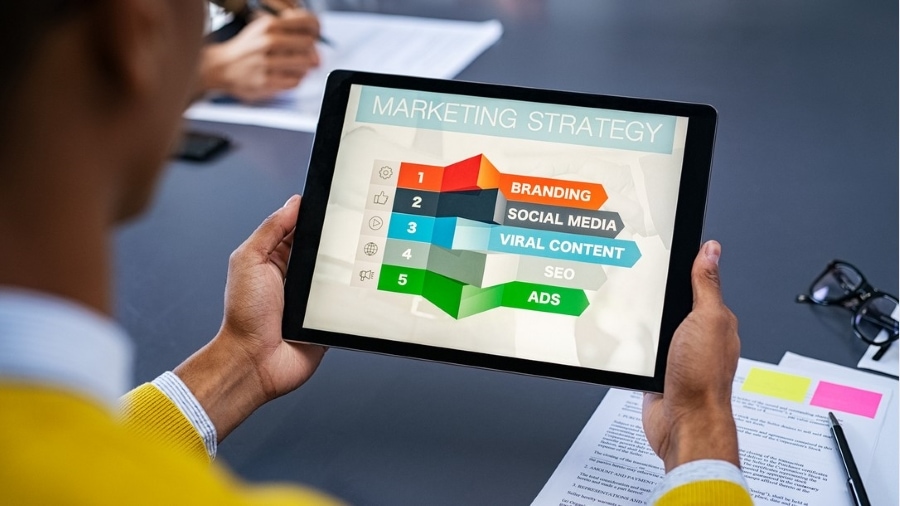 Organic website traffic, brand exposure, lead generation, and revenue are all aspects that your digital content strategy may drive. However, when it comes down to developing your content marketing approach, there is a lot to think about. So, where do you even start?
To help you create a digital content strategy, we've included some essential recommendations in the article below.
Best Practices for Creating an Effective Digital Content Strategy
Digital marketing focuses on generating, distributing, and sharing valuable and timely content online to target a specific demographic and drive lucrative customer action. If you're seeking to expand your business online without a digital content strategy, it is hard to achieve sustainable, long-term growth.
RELATED: Digital Marketing Strategy
Despite the tremendous influence of digital content marketing, many marketers lack clarity on its implementation.
Quality over Quantity
Quantity should never take precedence over quality. Too much substandard material is detrimental to your cause. It may damage your authority and reputation, which is not how to improve your SEO stats.
When you emphasize quality, you establish a reputation as an organization that provides premium content and values its consumers. Creating high-quality content requires more time and effort.
Once you get accustomed to it, you'll be able to produce a tonne of high-quality content rapidly as you discover what your leads value.
Be clear about your Goals
A clear knowledge of your objectives will aid you and your team as you construct your digital content strategy and make other key choices. Getting people to visit your website or blog and then turning them into email subscribers is a common desire.
You may connect with individuals interested in your material and perhaps your products via their emails. Others employ content marketing to promote a cause or way of life in addition to the company's goods.
In addition to understanding your goals, it is crucial to determine how you will evaluate your success.
First, consider the key performance indicators (KPIs) that will be used. Is it the number of visitors to your website? What is the number of leads generated by your blog? How many individuals follow your social media accounts? Determine your exact KPIs from the outset so that you can build your content properly.
The second step is to quantify your KPIs. Set a specific numerical target (such as increasing organic site traffic by 10 percent in the next three months) if you want to build your social media following so that your team can objectively assess whether or not the goal is fulfilled.
Audit your current Content
Thinking about what you need to develop next might cause you to overlook your current needs. The creation of a new digital content strategy relies heavily on an assessment of your existing material.
You can quickly determine what is working and what isn't. You may expand upon high-performing content while eliminating low-performing or irrelevant material.
To conduct a content audit, first, decide on the goals you want to achieve.
Do you want to improve your current system by rearranging your content? Is it possible to improve search engine rankings by updating older content? Delete dead links and web pages? Evaluate the tone and language of the brand. Once again, it's probable that your audit will serve more than one purpose.
Outline the specific sections you want to include after deciding on your goals. To what extent does your website undergo regular audits? What's the name of your channel on YouTube? What you're posting on social media? Perhaps you want to do an exhaustive audit of everything. The audit's scope must be set before work begins.
Plan how you will assess the audited material next. Determine a method for keeping tabs on the audited material, and establish a reliable system for grading pieces. After that, you may start the auditing properly.
Identify your Audience
The key to creating an effective digital content strategy is identifying the perfect audience or those most likely to connect with your brand and buy your products. But without knowing about your target, it is hard to produce content that will appeal to them.
Even while it may be advantageous, there is no need to contact every customer you've ever had. Create a buyer persona with your team, representing the ideal customer who will get the greatest value from your goods.
You should develop a buyer persona document that your team can utilize, considering demographic and psychographic data. Understanding your target will allow you to present them with engaging material throughout the purchasing process.
When executed properly, content marketing avoids overt brand promotion. Instead, it emphasizes regularly publishing high-quality informative and interesting content to your target demographic.
Experiment with different Content Types
The key to a successful digital content strategy is learning best what your target audience and brand respond to.
By trying out various content types and presentation techniques, you may see what works best for your audience in terms of educating them and keeping their attention.
You might try your hand at the following types of material:
Articles/Blog Posts: Articles and blog posts are the staples of digital content. Written content can be added to your blog, website, and social media accounts
Case Studies/White Papers: Case studies and white papers give facts to back up your statements and increase customer trust in your organization and brand
Emails & Newsletters: Your subscribers will get your emails and newsletters directly in their inboxes. This is a great opportunity to have direct dialogue with potential customers
eBooks: eBooks may be offered as a free, one-time download. This gives you the ability to offer your leads additional information while collecting their contact details
Interviews/Q&As: You may introduce your audience to industry experts or enhance your brand's expertise through interviews and questions.
Infographic Images: Images, images, and illustrations are vital forms of digital content and are a valuable way to help visualize ideas and convey large amounts of information
Podcasts: These days, podcasts are huge. You may join the fun and share helpful knowledge about your field or area of expertise.
Presentations: In the form of presentations, infographics, and graphs are ideal for conveying statistical or procedural ideas. You may promote yourself as a thinking leader via presentations.
Videos & Animations: Videos and animations may be used on a blog, website, social networking sites, and YouTube channel.
Webinars: You may educate your audience with webinars and online courses. Similar to videos, webinars are a useful way to increase value for your audience through product reviews, tests, user guides, and walk-throughs
Don't be afraid to reuse your Content
Because it takes time and skill to generate highly relevant and interesting content, maximizing efficiency by reusing current material is prudent. Additionally, repurposing material allows you to interact with new audiences.
Consider the scenario in which your podcasting team successfully published an episode. Why not make a blog post regarding the episode's subject?
Repurposing your content will help ensure that it is seen several times by your audience. Your audience, as much as your readers and viewers, is busy.
It is possible to simply apply a fresh content marketing approach to a piece that warrants reviving. Or maybe you created a popular blog piece; in that case, you may want to consider making a YouTube video on the same topic to attract people who prefer video to text.
Include User-Generated Content
Writing that is produced by a member of your audience is an example of user-generated content.
User-generated content in your digital content strategy saves money and effort, much as reusing and recycling resources.
Your audience will see that you appreciate their comments and are aware of what they are doing to promote your business if you utilize user material in your storytelling strategies. This is an additional benefit of using user material in your storytelling methods.
Focus on SEO
The significance of search engine optimization is well acknowledged. Your search engine rankings are the single most important determinant of how well-known your brand is online.
Remember that Google's ranking variables are always changing. A decade ago, it was acceptable to overuse keywords in blog posts without consequence.
Among many other factors, Google may now evaluate quality and sentiment to filter out spam and promote high-quality results higher in search engine results pages (SERPs). That is to say, there is no way to subvert the rules.
That's great news, by the way! It ensures that your efforts to produce high-quality material will not go unrewarded.
However, this also means you must always be aware of new developments in the field, updated algorithms, and recommendations for best practices.
Employ a Multichannel Digital Content Strategy
A multichannel approach to digital content marketing may boost exposure and clickthroughs dramatically
RELATED: Omnichannel vs Multichannel Marketing. Consider the many avenues you may use to disseminate your own material. Use social media to promote your blog entries, and include your most recent item in the subject line of your email newsletter.
The following are some of the most shared forms of content:
Commentary on current events and news
Facts and statistics
How-to Guides
Infographics
Listicles
Videos
Developing content that is easy to share is another method to propel a multichannel strategy. Increase your brand's exposure with seemingly little actions, such as adding share buttons to your blog or urging followers to share something in your caption.
Create a Publishing Schedule
An important aspect of a successful digital content strategy is developing and adhering to a regular publication schedule. Using a content calendar can help you stay on track, hold yourself responsible, fill in the holes in your content strategy, and produce better material overall.
Many resources are available to assist you in sticking to your content plan. A sensible way to keep track of everything is to use a web-based, dynamic content calendar that also has built-in notifications for easy management.
However, you may get started using free tools and content calendar templates. In addition to being an efficient strategy, making your calendar in Excel or Google Sheets is a great place to start for many companies.
Conclusion
Companies often under-invest in content marketing in terms of both time and resources. Your content, which may be promoted via a good blogger outreach, is the foundation of your website and digital content strategy and the key to a successful inbound approach.