Laser vs Inkjet Printer: What is the difference between Inkjet and Laser printers?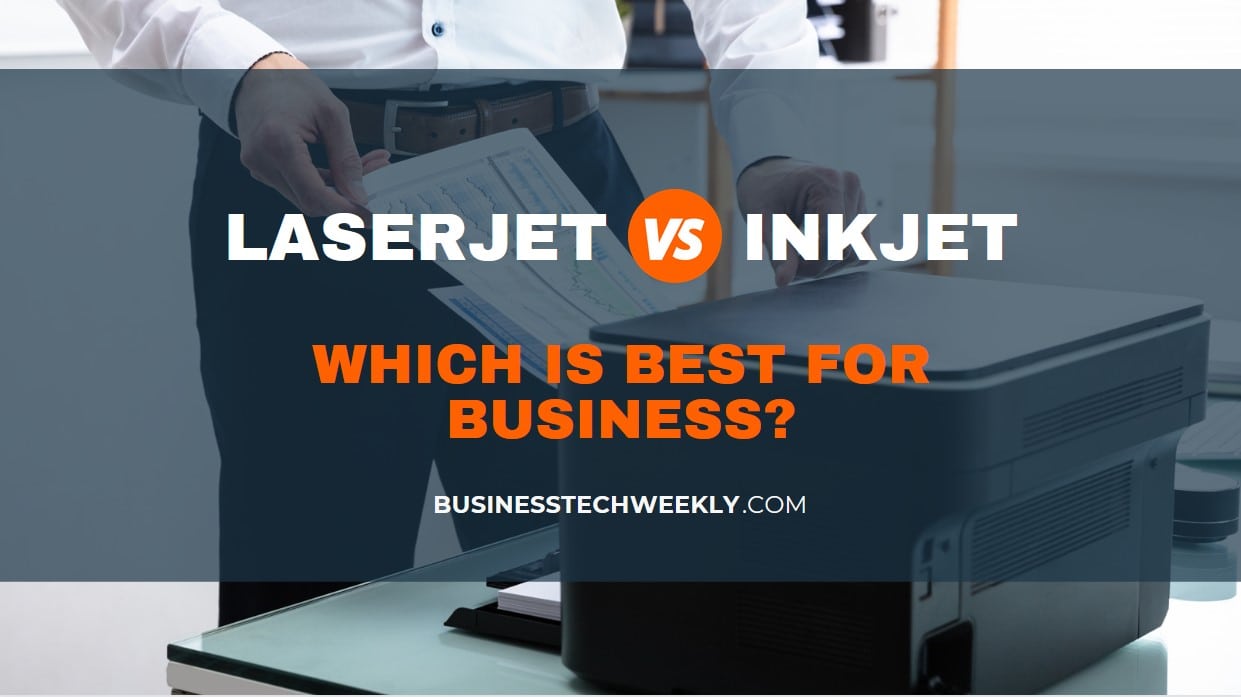 Printers are essential accessories for both the home and the office, with laser and inkjet printers the typical choice for most businesses. Modern printers take care of all your printing needs with efficiency and ease. Deciding between a laser printer vs an inkjet is a vital decision.
Making the wrong choice can lead to decreased productivity and increased costs. These issues become acute for small businesses.
Below, we compare laser and inkjet printers based on various factors and their strengths to determine which is better for your business – a laser printer or an inkjet.
What is a Laser Printer?
Perfect for printing vast volumes of documents, laser printers are generally used in office environments. Laser printers use powder toner to create a digital image on paper.
Laser printers are expensive and use toner cartridges but prove economical in the long run with low cost per page and fast print speeds.
Laser printers can print 600 dots/inch in high resolution.

What is an Inkjet Printer?
The most widely used type of printer, inkjet printers, create digital images from a computer by spraying tiny ink droplets onto the paper.
These printers are available in several forms, from compact, affordable consumer models to more expensive professional versions.
They can be used to print text documents and colored images of high quality. Moreover, they are ideal for low-volume printing requirements.

Laser vs Inkjet Printer: How do inkjet printers and laser printers compare?
Several factors need to be considered when comparing the differences between laser printers and Inkjet printers. Factors such as application, page yield, print volume, and print speed will help determine the best choice for your organization.
Print Speed
Laser printers cater to corporate requirements to print faster at about 15-100 pages per minute. Inkjet printers have a slower print speed of about 15 ppm. Because of the fast speed, laser printers can print more documents than inkjet printers and have a higher print volume per month.
Print Volume
The print volume measures how much a printer can print at a given time. A laser printer can print many documents and is ideal for office use. The print volume of an inkjet printer is low, considering its intended home use.
Page Yield
Most ink cartridges have an ink volume that can print anywhere between 135 and 1000 pages.
However, toner cartridges have a page yield ranging from 2000 to 10,000. While a laser printer seems to have a higher page yield, inkjet printers let users enjoy higher ink volume with ink tanks that repeatedly remove the need to replace cartridges.
Some of the latest models of ink tank printers can print up to 6000 pages with one cartridge. However, such vast quantities of ink in an inkjet printer make sense only if you use it regularly. If you don't want to keep replacing cartridges frequently but are not sure if you will print regularly, a laser color printer is a better option for you. Ink tank printers are suited for those who want to print many documents every day.
Affordability
Talking about cost-effectiveness, there are two factors you should consider when comparing laser and inkjet printers. The first is the upfront investment which refers to the cost of the printer. The other cost is the maintenance of the printer.
Inkjet printers are cheaper as they have simple technology and need lesser resources to design. Laser printers are more expensive to purchase as they involve complex technology. A laser printer from a reputed brand generally costs about $200, which is quite costly for simple printing jobs.
Cost Per Page
The best way to evaluate the cost-efficiency of a printer is the cost per page. It comes down to how much you spend on the ink cartridges and toner. An inkjet printer's ink is generally more expensive than the toner used in a laser printer.
Depending on the model, it costs between 5-10 cents to print a page in black on an inkjet printer. Printing in color costs more, about 15-25 cents per page.
The cost associated with a laser printer is generally less as the toner cartridges are cheaper. Printing a page in black costs no more than 5 cents regardless of the printer model. It costs less than 15 cents per page of color printing with a laser printer.
How do you identify an Ink-Efficient Printer?
The printer's cost per page is used to determine ink-efficiency and can be calculated as follows:
1.       First, identify what ink cartridge the printer uses
2.       Find out the ink cartridge's page yield. This is the number of pages a cartridge can print before becoming empty. Higher page yields Ink cartridges are more cost-efficient.
3.       Divide the ink cartridge's price by the page yield. The result is the cost per page.
4.       Cost per page = Cartridge price $$$ / Cartridge page yield
Looking for an Inkjet printer with the lowest cost per page?
Although there are many factors to consider, many inkjet users praise the HP OfficeJet Pro 8035 All-in-One Printer, which produces black and white prints at around 4.9 cents per page and color prints for about 22 cents per page apiece.
Other low cost-per-page printers include the Epson EcoTank ET-2750 Color All-in-One and the Canon PIXMATS9120
For great deals on printer ink visit HouseofInks!
What is the cheapest cost per page Laser printer?
With a cost-per-page of $0.08c (8 cents), the HP Color LaserJet Pro MFP M477fdw is considered a solid performer among multifunction color laser printers. This laser printer is a a dependable workhorse suited for both office and home/office environments operating at a reasonable printing cost.
However, the lowest cost per page laser printer we found is the Brother Monochrome MFCL2750DW, coming in at around $0.04 (3.75 cents) per page.
Print Resolution
A printer resolution is measured in terms of 'dots per inch (dpi)'. A printer with a resolution of 600 dpi is good enough to print documents of good quality, and 1200 dpi for good-looking colored pictures.
While there is a belief that the higher the resolution, the sharper the print details, in reality, there is hardly any difference in the quality after 1200 dpi. When you want to print professional photographs, you need to think about resolution.
The maximum resolution of inkjet printers is about 5000 dpi. Laser printers generally have a resolution of about 2400×600 dpi though newer models optimize their specifications to provide high resolutions.
Intended Use
A common suggestion for a home office printer is an inkjet model that suits occasional printing. However, there are some issues like ink drying up with these printers. Therefore, it is recommended that you opt for an affordable laser printer instead; the toner used by these printers doesn't dry up.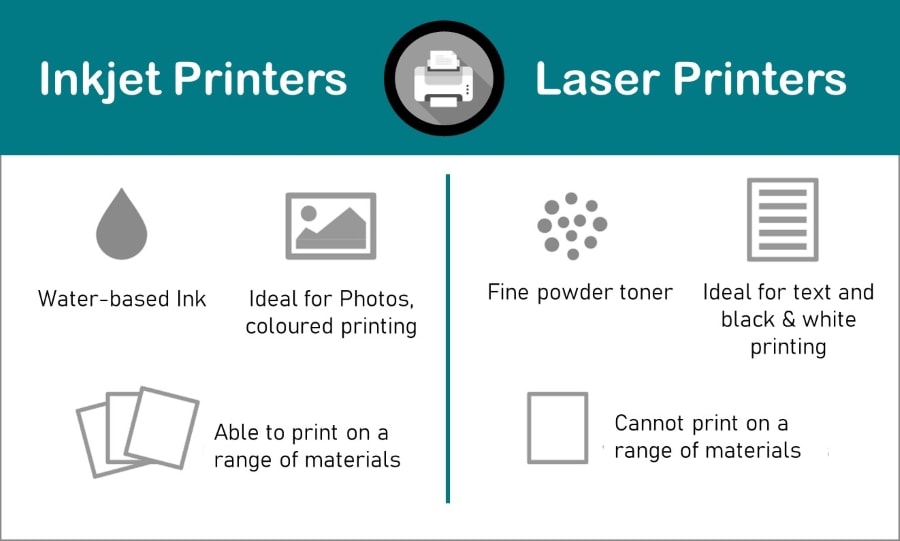 If you need high-resolution colored prints regularly and print a small volume of documents, an inkjet printer will do the job. Laser printers can print vast quantities of documents regularly.
Monochrome printing
A monochrome printer prints only in black and white and need only a black cartridge to run. A laser printer is best if you have huge volumes of documents to handle daily. Though they were originally built for office use, their economic benefits have recently made them popular as home printers.
Color printing
Laser printers are ideal for everyday color printing, but a photo inkjet printer is better for professional photo printing in high quality. Photo inkjet printers are designed to produce detailed pictures with a tonal variety that artists and photographers expect. Several models of inkjet printers use pigment-based ink that works with a variety of art papers and paper sizes.
So, the choice of printer for color printing comes down to your requirements. A photo inkjet printer is a suitable option if you need to print professional-quality pictures. However, if you don't have such demands for quality, depth, and tonal range, a color laser printer is a better choice as it allows printing more pages from a cartridge and does not dry up if left unused.
Size
Laser printers, being more powerful, are usually larger than inkjet printers. However, several laser printer models from different brands are built to be similar in size to inkjet printers.
The difference between a laser and inkjet printer depends on the model you choose, but multi-functional laser printers are generally the biggest. An inkjet printer is the better option if looking for a small printer that fits a restricted area in a home office.
Laser vs Inkjet Printer: Advantages and Disadvantages
Let's review the benefits and limitations of both types of printers. Knowing about the pros and cons of each helps determine the right choice for you.
Laser Printer Pros
Offer faster printing speeds
Regardless of the volume, printing is always smooth
Produce sharp black texts ideal for office documents
Better capable of handling high-volume jobs
More cost-effective for simple prints
Laser Printer Cons
Take more time to warm-up
The upfront cost is more
Can't handle a variety of paper
Toner leaks are a trouble
Generally bigger and heavier
Not ideal for smooth pictures
Inkjet Printers Pros
Ideal for graphics-heavy pictures and documents
More affordable to buy
Can handle a variety of paper and printing materials
Better blending of smooth colors
No warm-up time
Cartridges can be refilled and reused
Smaller, lighter, and easier to maintain
Inkjet Printer Cons
Vulnerable to problems like smudging, fading, and water damage
Cartridges require maintenance
Slower than laser printers
Generally have low capacity trays
Output trays are not available in most cases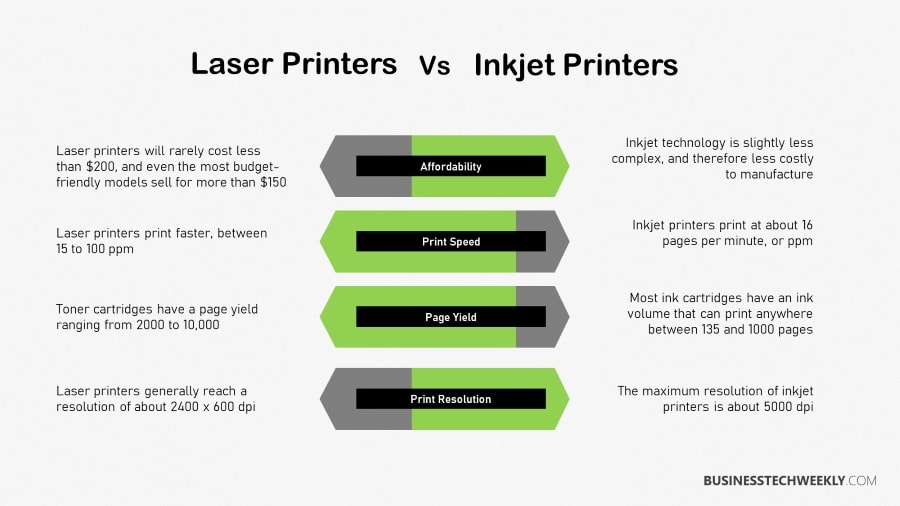 Original or compatible ink?
Compatible (or third-party) inks are unquestionably less expensive than OEM inks, but there are some drawbacks.
Firstly, original inks are of far higher quality than compatibles. Second, printer manufacturers frequently use "automatic upgrades"; when this occurs, compatible inks will not be acknowledged by your printer, leaving you with useless inks and a loss of money.
In addition, the guarantee may not be honoured by the manufacturer if you have been using inks that were not designed for your specific printer, so choose your ink wisely.
Next Steps
Whether you should get a laser or inkjet printer depends on what you want to print, the volume you need to handle, and the price you are willing to pay. Inkjet printers are generally compact, smaller and more affordable, and suited for image-heavy documents.
On the other hand, a laser printer is faster, more efficient, and economical when looking to print huge volumes of text documents.
Though laser printers require a higher upfront investment than inkjet printers, they have a lower cost per page and are more cost-effective in the long run. So, if you print many documents regularly, a laser printer can save you more. Replacing a toner cartridge also costs less in the long run than ink cartridges.
If you are after high volumes and speeds for business, a laser printer is a better choice. However, if you want something for occasional printing needs for your home, an inkjet printer is an ideal option.