What are the Best Types of Business Laptops?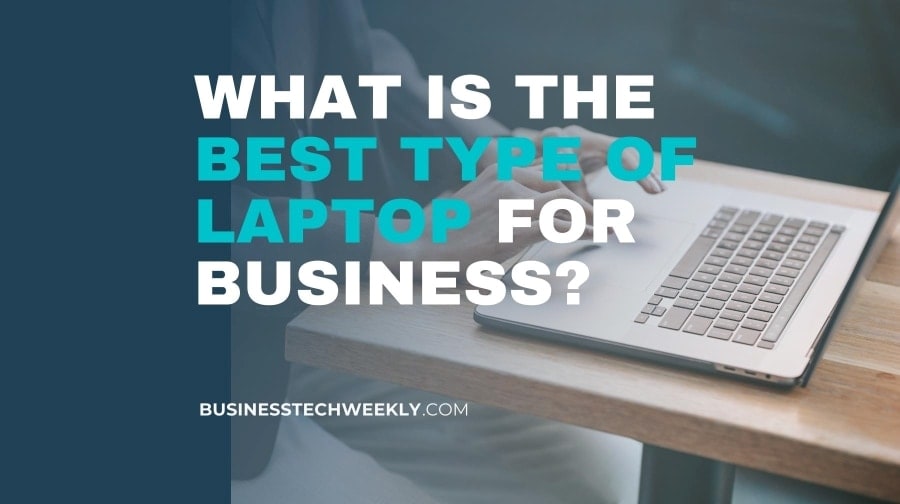 Each year, dozens of laptops are introduced to the market, but selecting the best types of business laptops can be confusing for many organizations.
The distinctions between ordinary computers and those expressly meant for work are becoming increasingly blurred. This is particularly true during the coronavirus outbreak when many activities that would probably be expected on the workplace desktop must be completed from home.
You could be shopping for something else to outfit all of your workers with, or you'll be purchasing for yourself to manage your firm in your leased workplace. You could be buying for tens of thousands of individuals.
Here are the best type of laptops for 2021 with pricing, appearance, functionality, specifications, battery capacity, and applications. All the devices listed are highly recommended, but before you buy, you understand that all the gadgets can perform well.
The best types of Laptop Computer for Business
What is the best type of Business Laptop Computer?  Well, that depends on your business.
The Lenovo ThinkPad X1 Carbon (Gen 9) caters for businesses of all types. For us, it is the best business laptop currently available on the market. Thanks to the 11th Gen Intel CPUs, the X1 Carbon delivers fast performance, long battery life up to 15 hours, powerful quad speakers, a 14-inch display with a 16:10 aspect ratio, and plenty of ports, all in a lightweight chassis coming in at 2.5 pounds.
These are the top choice business laptops to opt for, from under $800 to over $2,000:
What are the different types of Business Laptops currently available?
As a broad description, the words laptop and notebook are frequently interchanged. However, they could be subdivided into smaller sub-categories.
A convertible (2-in-1) ultraportable, for instance, may function as both a tablet or laptop. In addition, many tablets can be converted to laptops with the addition of a keyboard. Others, like Microsoft's Surface line, are built expressly for this purpose.
Chromebook for Businesses: Simple and Affordable
Chrome OS, which originated as a beefed-up version of the classic internet browser, is the only operating system available for these laptops.
Chromebooks are much more feasible alternatives for laptops dedicated to economic activity than ever before, with the internet increasingly becoming pervasive in our computer life at both office and personal life.
Android applications extend Chromebooks' capabilities from the Google Play Store (including the Adobe Photoshop Lightroom and the Microsoft Office applications). However, they typically lack functionality present in Windows-based editions of the same applications.
Businesses that run their primary apps on the Google suite, on the other hand, might consider Chromebooks helpful as internet and messaging platforms in specific scenarios.
If online-based communication is critical to your productivity, a Chromebook may be sufficient, and since Chromebooks don't require sophisticated technology to operate many online programs, they are often less expensive than other corporate laptops.
Many Chromebooks meant for business use feature powerful CPUs and storage. Powerful offerings such as Google's Pixelbook and Pixelbook Go perform and look very much like premium Windows and macOS laptops.
However, our overall conclusion is that, in most cases, they are not ideal for use as core equipment in most enterprises.
The Appeal of 2-in-1 Tablets
The most compelling arguments for a business to choose a Windows-based tablet for the workplace are cost and mobility. Many tablets cost just under $500 and can, therefore, readily be used in a business setting.
Customized tablets have long been utilized in vertical industries such as healthcare. With Apple iPad's widespread consumers are now accustomed to having a computer with no full keyboard and removable and straightforward.
Should you require running in-house or third-party programs designed for PCs, go for a Windows 10 tablet. True enterprise-class Windows 10 tablets are still in development. However, most corporate clients want their working PCs to function similarly to their tablets.
Because a tablet-optimized edition of MacOS does not materialize, Apple enthusiasts would have to make do with utilizing the iPad or iPad Pro for work.
Many Windows tablets are designed to browse the internet, operate Office programs, and undertake other gentle computation tasks. They're also compatible with various security applications, VPN and email, including equipment peripherals like photocopiers, barcode scanners, and network-attached storage.
We wouldn't operate the rest of the company on a tablet. Still, it may be a handy carry unit for an isolated conference or a portable replacement for your 6-pound big-screen desktop.
The industry for corporate Windows tablets is dominated by Microsoft (the Surface series) and Lenovo. Our favorite 2-in-1 laptops include the Lenovo X1 Yoga and the Microsoft Surface Laptop, which offer superb functionality for professionals.
MacBook
The ultra-thin MacBook Air and the elevated MacBook Pro (available in 16-inch and 13-inch versions) are two of Apple's laptop computer generations. The macOS operating system is installed on all of the devices.
The recent MacBook Air models have ditched Intel's technology in favor of Apple's M1 processor (that also powers the Mac Mini), which combines everyone on a microchip.
It allows Apple complete command over the deep integration of software and hardware, resulting in substantial performance and battery life improvements ideal for business people. Laptops and PCs for professionals are likely to follow suit, resulting in high results of efficiency.
Ultrabook
Intel invented the word "Ultrabook" to describe a particular type of ultraportable laptop (hence Ultrabook). Ultrabooks should fulfill several requirements, notably dimension, battery capacity, and processor kind (including built-in safety aspects).
Excellent security and anti-theft prevention integrated into the equipment are vital qualities that make it stand out for businesses and large corporations looking to enhance their safety protocols.
UltraPortable
Ultraportable computers are compact, lightweight laptops built for portability (also frequently called a sub-notebook).
They had to eliminate several capabilities, including bigger connectors and limit the number of connection terminals to sustain a super-slim appearance. The tiniest versions are around a kilogram in weight.
But what makes these UltraPortable laptops an excellent choice for corporations? Their portability. And much more! But focusing on the former, mainly, having portable laptops such as Notebooks can allow you to move places quickly.
Notebook
A full-sized laptop that finds a combination between mobility and performance is referred to as a notebook.
Computer processors, storage capabilities, RAM, and larger screens might differ significantly in total size and specifications. Notebooks are available at several price points, ranging from low-cost budget versions to explicitly designed for greater productivity and gaming.
Netbooks
The term "netbook" referred to a category of tiny, low-cost laptop computers meant for internet-connected productivity (thus the term "netbook"). These small laptops were fashionable over several years since they were inexpensive.
However, the trade-off was that they were sluggish. The cost-cutting was reflected in various ways, including limited RAM, CPU performance, and space.
They utilized Intel's Atomic CPU, which is a low-power processor. UltraPortable, Ultrabooks, and tablets, notably Chromebooks, are more competent alternatives nowadays, thanks to their efficiency and effectiveness to handle all the business work.
High-end, Mid-range, or Entry-level laptop for your Business?
High-end Level – Should you want to have all the capabilities of a desktop computer while also being portable with reasonable ease, you should opt for a laptop with a high performing CPU and enough RAM, a strong graphics card and a high-resolution display,
High-end laptops are designed for professionals who need to drive their computers to their limits with extensive computational activities like audio and video production, coding, and 3D modelling
Mid-range Level – If you're going to be carrying your laptop about a lot, you would like something small, lightweight, and portable. Search for a device that can be taken anywhere (such as Ultrabooks).
Mid-range notebooks are designed for everyday computer users, households, academics, and businesses. They can run many applications and games, but they may suffer from high-end tasks like video processing and game modes which demand quick graphics rendering.
Entry-Level – If you only need an inexpensive laptop for simple chores and infrequent or moderate usage, you could discover sub-$500 "affordable" versions which will suffice.
While such low-cost laptops are low-powered, they can do basic computer activities like web surfing, emailing, and word processing. They are better suited to average consumers and current kids. They can perform many fundamental multimedia activities (e.g. HD streaming video).
The best type of Laptops for Business
While you wouldn't want to spend too much on a model with many cool-sounding features (that you may never use), it's equally crucial not to skimp on features.
That is why we have selected laptops below that are both quick and durable. They are not the cheapest, but they will prove to be good value over time.
Table could not be displayed.
What to consider when buying a Business Laptop
Dedicated work laptops are often not the greatest option, but it only adds to the difficulty of deciding which to choose.
There seem to be particular features, characteristics, and aesthetic traits to look for while managing a successful independent company or selecting a laptop that will function with a vast internal network.
Wi-Fi
The laptop market has seen fewer laptops available with an Ethernet port for wired connections.  While this can be addressed with after-market products such as a third party USB-to-Ethernet dongle, you should ensure that your laptop can achieve optimum Wi-Fi speeds and efficiency.
Search for a laptop that implements the most recent Wi-Fi protocol, 802.11ac, renamed Wi-Fi 5. This is entirely compatible with prior protocols, notably the once-dominant 802.11n, but it is significantly quicker.
Wi-Fi 6 (802.11ax) is a modern laptop technology that is quicker and built to facilitate additional applications than Wi-Fi 5.
Related: Understanding Wireless Networks
Portability
When you're hauling around a laptop for work, size, weight, and durability all matter, in this situation, you'll want to physically "weigh" your alternatives carefully since you may regret picking a large one.
Alternatively, if you intend to use it mainly from your home office, you may opt for a larger size that is less portable.
Battery Life
For an ultra-compact, maintaining a long operating time among charges is critical. Then again, when you have to take the power supply unit plus cord with you to recharge them, they lose some of their mobility.
You should be eligible to function on the go for a whole day without needing to connect it in, but this will rely on what else is connected into the laptop and sucking energy from it.
You wouldn't want to have to drag about the external power supply and cord. These battery life evaluations simulate a high-usage situation to give you a sense of the worst-case situation. At the same time, most users will obtain better results with typical daily usage.
Long battery life and rapid charging time are essential when you plan to go a lot. We additionally track two recharging periods for each laptop. At the same time, it is turned on – up to 80% power and up to 100% capacity.
It's worth noting that once you've reached 80 per cent, the charging pace generally slows significantly. In certain situations, getting the additional 20% might take as much time or longer than getting to 80 per cent.
Because field personnel may not have access to mains power, battery capacity will affect the model selection available. If most of your office workforce is desk-bound for the majority of the day, a three- or four-hour battery capacity will suffice.
However, for workers on the road and do not have access to power outlets, all-day battery life of at least 10 hours is required. Using a laptop only on its built-in battery can significantly impact performance, especially if running software requires a strong CPU running at full capacity.
Graphics Card
Instead of establishing a unique ("specific") graphics card, most laptops would have the graphics chipset pre-installed into the motherboard (dubbed "on-board graphics").
A dedicated graphics processor with its visual RAM might well be found in high-end versions.
Cooling
Computer components could get quite warm, mainly when housed in a small laptop chassis.
Inspect for hot zones underneath the laptop after it has been turned on for a time since these might be irritating when you're utilizing it where the label says. Look for ventilation underneath the laptop. Don't obstruct these if you're using them on your lap, as this may lead to overheating.
Display
If you're a graphic designer or frequently present multimedia or video material, screen resolution and colour will be more important to you than, say, someone who works in spreadsheets or writes code. Additionally, you should determine whether you would benefit from a touchscreen, which provides your laptop with a tablet-like experience.
Storage Space
Don't undervalue the amount of storage space you'll require. At the very least, you should ensure you have adequate space for almost all of your existing data and applications. And, unless you plan to make substantial use of Cloud-only storage, you should also plan for the rapidly expanding collections of files.
Solid-state drives (SSDs) have primarily replaced hard disks as the primary storage mechanism throughout many laptops. Thanks to lower SSD costs that have made this ultra-fast storage media increasingly accessible. Laptops with a standard hard disk drive (HDD), typically a 1TB (terabyte) disk, are still accessible in lower variants.
SSDs are much faster than HDDs and could significantly improve a laptop's actual quality and prolong its usable working career. A 128GB SSD is an excellent place to start for a general-purpose laptop. However, many people will benefit from 256GB or more.
Look to see if the laptop or tablet could be extended using a micro SD card to provide up to 1TB of solid-state memory to the system.
Most laptops, particularly thin-and-light ultra-portables, don't let you update internal parts later, so don't save on RAM or storage space once. When purchasing, check for upgrade options and invest a little more money upfront on RAM to extend the laptop's service life.
Screen Quality
A tiny screen implies a lightweight laptop, but larger (and significantly higher quality) displays are excellent for visuals, gameplay, and film viewing. Many low-cost laptops have screens with a resolution of 1366 x 768 pixels, irrespective of physical size.
Full-HD (1920 x 1080, 1080p pixels) displays in many laptops geared at the mid-range marketplace. However, greater quality displays are found in high-end laptops.
Random Access Memory (RAM)
Operating many apps, using several web page windows, or performing labor-intensive tasks, a shortage of RAM can cause your business laptop to slow things down.
Even with an inexpensive Windows system, anticipate a minimum of 4GB (gigabytes), but strive for at least 8GB for most general-purpose laptops and 16GB or more for rising versions. Don't compromise on RAM when buying a computer because you won't update or expand it later.
Central Processing Unit (CPU)
The CPU is your laptop's/computer's brain. The number of cores, processing capabilities, and price point are strong indicators of total CPU power.
For longer battery life, laptops often feature low-power consumption CPUs.
When evaluating the Intel line of CPUs to AMD's, remember that the reported speed ratings aren't equivalent.
The same would be true for every company's sub-families – for instance, Intel Core i9, i7, i5, and i3 processors. These are becoming extremely fast even at the same referenced frequency figure in GHz.
The M series processors intended for extremely maneuverable computers are becoming increasing high-performance. The same may be said with AMD's Ryzen processors.
Even at the same transistor frequency, every younger breed of processors is generally quicker than the previous installment. As a result, a 2.4GHz 10th-generation CPU should be faster (and probably more energy efficient) than a 2.4GHz 9th-generation CPU or an older generation.
Ports
You should look for a laptop that includes at least one USB-C connector. This is the newest in connectivity, ensuring compatibility with legacy devices (through adapters) while also providing coverage for future devices. USB-C may be used for data transmission, power, and display connections.
The good news is that computers, even entry-level versions, are increasingly equipped with USB-C.
The lengthier answer is that you want not simply USB-C connections but also those that support, the more powerful Thunderbolt 3 protocol.
Thunderbolt 3 has data transfer rates of up to 40 gigabits per second (Gb/s) over a single connection and supports multiple 4K monitors and external GPU enclosures, significantly increasing graphics performance. Even laptops priced under $1,000 now include Thunderbolt 3 connections.
Additionally, having a USB port is advantageous. These can be used to share files across devices connected to your network. Specific devices can also support 3G/4G – generally via a USB 3G/4G dongle.
This functionality is ideal for companies since it enables you to continue sharing a 3G/4G connection – providing some resilience if your internet connection fails.
Frequently Asked Questions
What processor should I buy?
Today, the most common CPUs for laptops are Intel's eighth-generation Whiskey Lake processors, which comprise low-power Y-series processors and fast and efficient U-series processors.
For the majority of Windows 10 productivity users, we recommend at the very least the Core i5-8265U, which is a very competent CPU capable of handling the majority of productivity activities without slowing down.
Additionally, it is efficient, which means you will get excellent battery life. If you go back to earlier versions of Intel CPUs, you'll notice slower clock rates and fewer cores, which means you'll likely have bottlenecks while multitasking or running multi-threaded apps.
Chromebooks using Google's more efficient Chrome OS can run on slower CPUs, such as an Intel Core i3 or even a Pentium chip, and still function effectively. Few Chromebooks include the fastest Core i7 CPU.
How much RAM do you need for a business laptop?
RAM is the component that has the most effect on the progress of your laptop's functionality, so don't scrimp on it. However, what you'll require is mainly determined by the activities you'll be undertaking.
You can probably get by with 8GB of RAM for everyday tasks. However, when you use numerous apps and frequently have a lot of dynamic pages, you'll want to upgrade to 16GB. Even if laptops with only 2GB or 4GB of RAM, you may be disappointed by the lack of performance.
Should I opt for a tablet or a laptop for my business?
With the availability of hybrid tablets/laptops, the distinctions between tablets and laptops have eroded. The key difference is that tablets are typically smaller than laptops.
Furthermore, while several tablets have keyboards that can be attached, they are intended to be used as touchscreens, whereas laptops always have a keyboard linked.
Another difference would be that laptops are significantly good at controlling all types of specialist commercial applications. In contrast, tablets are typically used for internet activities or graphical representation. There are laptops and tablets available at various pricing points. When you can't decide between the two, a 2-in-1 version may be the best option.
Do I want a traditional or a hybrid laptop for business?
You're probably most familiar with hinged laptops, but it seems there's a new generation of hybrid laptops to explore. Hybrid laptops, often known as convertible laptops or 2-in-1s, may be used as tablets.
The displays on particular hybrid laptops remove entirely from the keypad, whereas others feature joints that move 180 degrees allow you to flip the laptop inside and out and use it as a tablet.
Workers who regularly travel or alternate between a laptop (for writing) and a tablet (for pen and touchpad usage) might benefit from a hybrid design.
A 2-in-1 with excellent specifications, on the other hand, would price more than a standard-hinge laptop with similar features.
Can I travel with my laptop?
Mobility is a big worry for many company owners, while for many, it is a non-issue. If you regularly travel or work from many places, it may well be worth foregoing a more prominent display and keypad in exchange for a smaller laptop. You can always look up a laptop's size and weight in the technological specs section of the website.
Please remember that, like TV displays, laptop displays are calibrated diagonally (edge to edge). In principle, any gadget weighing less than 3 pounds is suitable for business traveling. However, before deciding on an ultraportable, ensure it has the connectors you need and a battery capacity to meet your requirements.
Are gaming laptops good for business work?
Because they are built to deal with complex graphics and interactive games, gaming laptops are generally extremely potent and stylish.
Nevertheless, they are typically heavy, and their battery capacity is not as extensive as those of a conventional business laptop. Therefore, whereas a gaming PC may easily handle your business activities, it isn't perfect for portability.
Next Steps
Take into account the nature of your specific task for a moment. As a result, you must be able to choose the best type of laptop for business. Spending some more now for increased capacity or features would save you time and money later.
Many corporate laptops come with a three-year guarantee, specialist technical support, and a more durable design (made of carbon fiber or magnesium metal).
When your job requires many visuals, a laptop with dedicated visuals is the way to go. While picking a CPU, you must strike a balance between program energy and power effectiveness. When selecting batteries, you must choose between power and lightness. Once you've decided which characteristics are the most important for you, you may narrow your search to laptops that include them.
Last update on 2023-05-24 / Price incl. tax, excl. shipping / Affiliate links / Images from Amazon Product Advertising API