Tablet vs Laptop: Which should you buy?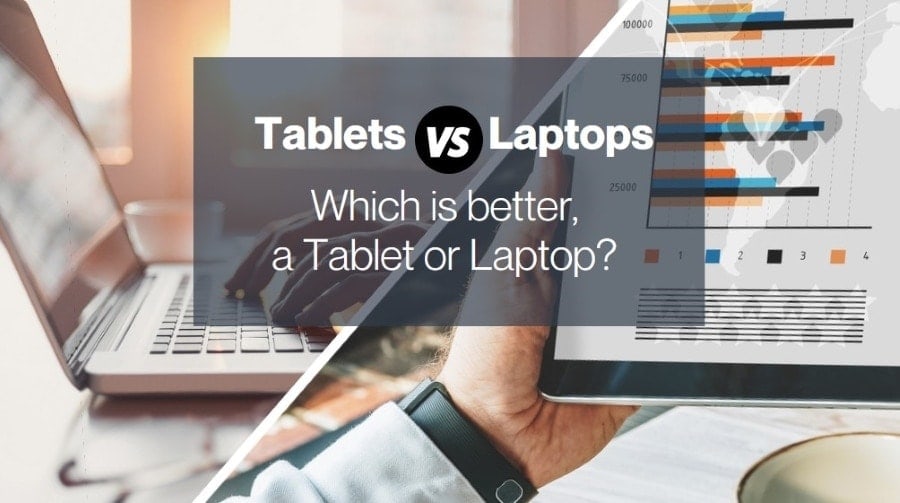 Buying a mobile computing device used to be easy – you got a laptop if you needed a computer on the go. However, with the advent of smartphones and tablets, distinctions between mobile devices are blurred, with tablets and laptops offering similar functionality and competing in the same market. So when it comes to tablet vs laptop, which should you choose?
Whether you're video conferencing with colleagues, checking emails, or simply working from home, either a tablet or laptop could be used in these situations.  But for business users, in particular, does one type of device provide better benefits over the other?
In this article, we compare the advantages of both types of devices, assessing the key features and functionality between tablets and laptops and understanding which device is best for you.
Is a Tablet better than a Laptop?
To determine the answer,  we need to understand what types of devices are currently available. We've assessed business-class tablets and laptops (and laptop type devices) presently available and summarized these in the table below:
iPad Pro 11

Samsung Galaxy Tab S6

Microsoft Surface Pro 7

Lenovo Yoga 920

MacBook Pro 13

Google Pixelbook i5

 

Screen Size

11″

10.5″

12.3″

13.9"

13″

12.3″

Screen Resolution

2388 x 1668

2560 x 1600

2736 x 1824

1920 x 1080 or 3840 x 2160

2560 x 1600

2400 x 1600

Battery Life

10 hrs

15 hrs

10.5 hrs

17 hrs

10 hrs

Operating System

iOS

Android

Windows

Windows

MacOS

Chrome OS

Touchscreen

Y

Y

Y

Y

N

N

Processor

A12Z

Octa-core

Intel i3  – Intel i7 (10th-gen)

8th gen Intel Core i5 – Intel Core i7

Apple M1 chip

Intel Core i5/i7

Intel i7 7th gen

Storage

128GB – 1TB

128GB – 256GB

128GB – 1TB

256GB – 1TB

256GB – 2TB

128GB

RAM

6GB

6GB

4GB – 16GB

8GB – 16GB

8GB – 16GB

8GB

 

A fantastic tablet that is less expensive than the top-of-the-line iPad Pro. The display is stunning, and there is enough of processing power.

With a strong processor, a brilliant screen, and a S Pen integrated, this is one of the best Android tablets for business users.

A tablet first and foremost, but also a versatile one with impressive hardware, even if the essential-feeling keyboard is an optional bonus.

Lenovo's appropriately called Yoga line is known for its flexibility, and is just one of many hybrid laptops that can flip its screen all the way around to function as both a tablet and a laptop.

Lots of power, a fantastic screen, and an upgraded keyboard make this the ideal MacBook for power users, while the Air is less expensive.

Chromebook functions and looks like a MacBook. Although it is less expensive than the i7 Pixelbook, this is still a lot of (high-quality) Chromebook for a lot of money.

Price From

$799

$699

$700

$873.00

$1,299

$1,249

Buy

Buy from Amazon
Buy from Amazon
Buy from Amazon
Buy from Amazon
Buy from Amazon
Buy from Amazon
Comparing Laptops and Tablets
When comparing tablet vs laptops, we can see the specifications are relatively comparable in most cases.
With cheaper prices and easier to use operating systems and applications, tablets may be considered by businesses as an alternative to laptops for some of their employees.
As more and more businesses turn to cloud-based computing, we can understand why companies may be curious to learn the advantages of tablets and laptops.
Before finalizing your decision, it is worth understanding some of the other factors you should consider when comparing tablets and laptops:
Input
Tablets use a touchscreen interface for input, which might be challenging to use while entering text and may differ between devices.
While Bluetooth keyboards and devices with detachable keyboards are available, they fall short of the laptop experience due to their smaller size and, consequently, limited keys.
In addition, using an external Bluetooth keyboard will also result in additional costs and accessories that must be carried with the tablet, diminishing its portability.
Mobility
Even the lightest of laptops, such as the Microsoft Surface Laptop Go, is heavier than most tablets.  In addition, since the components, cooling, keyboard and trackpad all take-up space, laptops also have a more prominent profile and tend to be larger overall.
However, laptops are designed to be portable and convenient to take with you wherever you go, and the vast majority of laptops will fit comfortably in a backpack.
In contrast, due to its smaller size and weight, a tablet is much easier to transport than a laptop, especially when traveling.
Tablets are available in several sizes, but the majority are small enough to fit in a purse or glove compartment, and hence, are easier to transport than laptops.
Battery Life
Tablets use low-power consumption components to ensure energy efficiency. In most tablets, the battery occupies most of the internal space. Combining a large battery with power-efficient components means many tablets can run for up to ten hours on a single charge.
In contrast, laptops are designed to be more powerful – requiring more intensive processing, more storage, and more functionality.  Due to this, laptops have more components, leaving less space for the battery.  In addition, laptop components require more power and therefore are less energy-efficient compared to tablets.
As a result, even with comparable-sized batteries, the average laptop's battery life ranges from four to eight hours.
Storage Capacity
The advent of solid-state disks (SSD) and flash memory contributed to the success of the tablet market, enabling manufacturers to reduce the form factor of mobile devices.
It was only a matter of time before SSDs were adopted for laptop devices.  This adoption has similarly led manufactures to reduce the size and weight of modern laptops.
When it comes to storage capacity, both tablets and laptop are comparable, and most devices are available up to 1TB.
Alternative storage devices, such as USB connections, microSD cards, and even cloud storage, are available on both laptops and tablets.
Performance
For tasks such as email, web browsing, and streaming video or audio, either device will perform equally well.  Since these tasks are online, the burden on your hardware device is significantly reduced.
When it comes to demanding tasks, those that require intensive processing power, such as multitasking, video editing, or HD graphics, a laptop would be more suited.
Whilst you can quickly enter your expenses via a tablet, it will be easier to use a laptop for your annual accounts or five-year forecast.
Software
The agnostic nature of SaaS means that many software vendors provision software via the cloud.  Most graphic, office and work-related applications using this method.  This allows the same software to be available across multiple platforms irrespective of the type of device – laptop, tablet or mobile.
However, not all software providers provide this capability, and you may find that some niche or specialist software is only available on either tablets or laptops.
Laptops vs Tablets – A Comparison

The above comparison is summarized in the table below:
| | | | |
| --- | --- | --- | --- |
| | Laptops* | Tablets | |
| Manufacturers | All major manufacturers, such as Samsung, Lenovo, Apple, Asus, Microsoft etc | All major manufacturers, such as Samsung, Lenovo, Apple, Asus, Microsoft etc | No winner |
| Operating System | ChromeOS, macOS, Windows | Android, ChromeOS, iOS, Windows | No winner |
| Screen size | 10 – 15 inches | 7 – 13 inches | No winner |
| Input | Physical keyboard | Virtual or on-screen keyboard, however, external physical keyboards are available | Laptop |
| Portability | Designed for mobile computing | Extremely portable – designed to be used "on-the-go" | Tablet |
| Typical battery life | 8+ hours | 10+ hours | Tablet |
| Storage Capacity | 256GB – 2TB. Storage also available through cloud, USB, and memory card options | 56GB – 1TB. Storage also available through cloud, USB, and memory card options | No winner |
| Performance | Designed for both light, and intensive processing capabilities | Designed for light processing capabilities | Laptop |
| Software | Cloud software (SaaS) allows applications to be used across multiple hardware devices | Cloud software (SaaS) allows applications to be used across multiple hardware devices | No winner |
*including Chromebooks and Macbooks
Tablet vs Laptop: The Pros and Cons
Despite having evolved from smartphones, tablets have advanced sufficiently in recent years to the point that certain tablets can compete with laptops.
Laptops are designed to be smaller, portable versions of desktop computers, and while they can be transported, they are thicker, heavier, and have larger screens than tablets.
Here we explain some of the benefits and advantages of a tablet vs a laptop.
Tablet Advantages and Disadvantages
Tablets are compact, portable devices and are simple and straightforward to use. If you need a device that you can carry around for light-to-medium use, such as checking on emails, light application usage, or streaming audio and video, a tablet is ideal.
Benefits of using a Tablet:
High pixel density displays – Provides touchscreen capability resulting in convenience and ease of use. Users can pinch, scroll, enlarge the screen to their liking making navigation straightforward
Portability – Due to their lightness, compactness and 8-10hrs of battery life, tablets are highly portable
Quick Start– Tablets turn on faster, transitioning from standby mode to working state almost instantly – simply by pressing the power button
AppStore and Google Play stores – Tablets for iOS, Android, and Windows are readily available. Installing and uninstalling software takes very little time, and the download is done from a trustworthy source. Many software is free, although some are trial versions or stripped-down versions of premium products
Camera – Laptops have them as well, but they are, to be honest, inadequate: they are only appropriate for video communication. Tablets can utilize an excellent front camera with a resolution of 3, 5, or 8 megapixels, while the rear camera can consist of numerous lenses with a higher resolution
Multifunctionality– Tablets are frequently used as a GPS navigator, an alternative to e-books, and other purposes. While a laptop also has this ability, a tablet is more convenient
A mid-range tablet costs the same as most low-cost notebook versions but tends to have more powerful technology.
Drawbacks of using a Tablet:
Processing Power – The reduced weight and size of a tablet mean there is no space for cooling, such as a fan. This limits the type of processors that tablets can use. Consequently, the processors in tablets offer less performance than their laptop counterparts. As such, tablets are not as effective as laptops for resource-intensive tasks.
Complexity of the repair and Upgradability – Tablets are difficult to repair or upgrade (except via memory cards). This is partly due to their the sealed casing, which can only be opened with specialist or proprietary tools.  In addition, the small form factor means that the components are part of the mainboard, meaning that factors such as the processor, memory, graphics cannot be upgraded.
Laptops Advantages and Disadvantages
A laptop chassis provides enough space to construct a more effective and productive system than a tablet. Laptops' key advantage is their high performance and processing power, which can already be found in middle and upper-tier models.
Benefits of Laptops:
Comfortable keyboard – Most laptops have a comfortable-sized keyboard. This makes it much more convenient and easier to type text and manipulate data
Able to use resource-intensive applications – Laptops are generally, on the whole, more powerful than tablets. Laptops can be used resource-demanding applications such as graphical and video software
Larger screen– Laptops can come in several screen sizes, providing greater since you do not have to focus on a small screen or use zoom
More connectivity interfaces – Outputs to an additional external monitor, USB for connecting various accessories and devices, memory card readers, Ethernet port for wired Internet connection
Storage capacity– While cloud storage has become commonplace, modern laptops frequently provide local storage capacity exceeding 1TB
Upgradability –Most laptops can be upgraded somehow, such as memory, local storage, CPU, or graphic components.  Small & lighter laptops may have integrated circuitry limiting the ability to upgrade the device.
Easier to maintain– Most laptops casings can be opened, and therefore both the hardware and software are easy to maintain and repair
Can replace your desktop PC– A good quality laptop can easily replace a desktop PC, providing equivalent performance, storage without affecting productivity
Drawbacks of using a Laptop:
Portability –While laptops are designed to be portable, they can be pretty hefty and tiring to carry around.
Battery Life – Laptop battery life isn't always great, which means you need to carry the charger and the laptop.
What is better, a Tablet or Laptop?
Comparing tablets vs laptops, we can see that while there are powerful tablets available on the market, many cannot compete with the processing performance of a comparable quality laptop.
Tablets are generally suited to straightfoward cloud-orientated tasks such as streaming videos, scrolling through social media, checking emails, and browsing the web.
However, laptops offer a significant advantage in word processing, running numerous apps simultaneously, and business use. Since laptops have significantly more computing capability than tablets, making them better and faster at multitasking.
Laptops can cost from $150 up to $5,000, depending on the device's specifications. However, a good quality laptop can be obtained for less than $1,000.
Deciding between buying a laptop or tablet comes down to what you intend to use it for:
You should opt for a Tablet, if:
You perform in fieldwork or industrial sector – If you're conducting fieldwork, you might prefer to use a tablet because it's smaller, more maneuverable, and won't get in your way as much as a laptop. In addition, if you have a tablet that can also function as a cell phone, it will be much more beneficial when working outside of the office.
You require a note-taking device -If you're a student looking for a simple, lightweight gadget to take notes on – particularly one that you can quickly throw into your backpack or purse on your way to school – a tablet might be an excellent option for you. If you need to take notes on math equations or drawings, the touch screen interface can be helpful.
You should opt for a Laptop, if:
You require full keyboard functionality – If you do a lot of typing or require/prefer a physical keyboard, a laptop would be more suited to your needs.
You use intensive applications – Creative professions frequently utilize software that relies significantly on a computer's subsystems and necessitates a significant amount of computing power to execute. Laptops are designed with the necessary functionality to support heavy applications. Unfortunately, many of those creative apps aren't even available on tablets since they aren't powerful enough to operate.
You need auxiliary devices – A laptop is built with lots of inputs, so if you use them frequently – or simultaneously – then a laptop should be your choice. In addition, a laptop is better adapted to dealing with external devices.
What is the best Laptop/Tablet to buy?
If you are looking for a high-performance tablet, we would suggest the fantastic Apple iPad Pro.  Able to outperform many laptops, the iPad Pro has powerful bionic chip and is excellent for note-taking out in the field.
For those wanting to use their tablet primarily as an entertainment device, or f you are on a lower budget, we recommend the Galaxy Tab S7.
Microsoft's Surface Pro 7 runs Windows and provides familiarity for those accustomed to laptops and desktop PCs. However, for those looking for a more laptop-like experience, there is the option of a detachable keyboard.
One of the best laptops currently available is the Apple MacBook Pro. Suited for video editing, music recording and other creative pursuits, in addition to your standard office aplications, this device provides fantastic all-round performance.
For those with a preference for the Windows OS, an excellent choice is Dell's Inspiron 17, which provides an impressive 17″ screen and amazing specs despite the lower price.
The Lenovo Ideapad 3 is ideal for those on a budget, providing more versatility and speed than many tablets.