Microsoft Office 365 vs Google Workspace: Which Office Productivity Suite is Better for Your Business?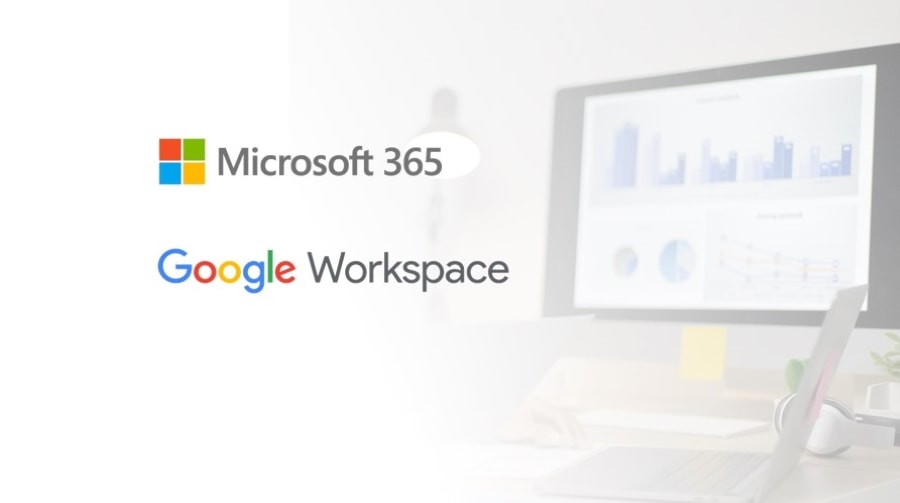 Microsoft Office 365 vs Google Workspace: Employees are increasingly working from home and in remote locations as a way to be more flexible with their work hours. This trend suggests that organizations need a flexible approach to connect with and collaborate across different teams.
SaaS environments are a natural outcome of businesses needing to collaborate across borders and be productive. The cloud is the best way to do this because workers can log in to email, documents, spreadsheets, and other applications with one sign-on, regardless of where they are located.
Both Microsoft and Google are leading providers of office productivity suites, but which is better for businesses?
Microsoft Office 365 vs Google Workspace: An Overview
Microsoft and Google are the two leading players available when it comes down to small business productivity suites.
Microsoft Office Suite dominated the market for many years until the late 1990s and early 2000s.
Google introduced Docs and Spreadsheets to the market in 2006 and combined them with other business services to create the Google Apps suite, later known as G Suite.
| | |
| --- | --- |
| | Ideal for companies who want advanced features, administrative controls, and the most storage in lower-tier plan plans. It also includes world-class email software with top security. |
| | Formerly G suite, this is the best option for small businesses that want to collaborate with external and internal stakeholders on documents, presentations, and spreadsheets. It's also great for remote or hybrid teams. |
Comparing Microsoft Office 365 vs Google Workspace
Google Workspace and Microsoft 365 are fully-featured office productivity suites that provide small business tools.
Both offer great solutions for what you and your team do every day, including email, cloud storage, and the creation and sharing of different types of documents.
Before delving into a detailed comparison, let's take a head-to-head look at Microsoft 365 vs Google Workspace:
| | | |
| --- | --- | --- |
| | | |
| Starting from ($) | $6 per user per month | $6 per user per month |
| Storage |  1TB | 30GB – 5TB |
| Word Processing | MS Word | Google Docs |
| Spreadsheets | MS Excel | Google Sheets |
| Presentations | MS PowerPoint | Google Slides |
| Video Conferencing | Microsoft Teams | Google Meet |
| Team Intranet | SharePoint | Currents |
| Business Email | Outlook with 50GB storage | Gmail with 30GB storage |
| Administrative Tools | | |
| Calendaring | | |
| Browser-based Versions | | |
| Mobile App Versions | | |
| Desktop Versions | | |
| More Information | Visit Microsoft 365 | Visit Google Workspace |
Microsoft Office 365 vs Google Workspace
Microsoft 365 and Google Workspace both offer cloud-based collaboration as well as productivity solutions to meet this need.
However, choosing between the two productivity suites can often be challenging, particularly for small businesses.
Here, we take a look compare Microsoft Office 365 vs Google Workspace based on the following features to determine which productivity suite is best for businesses:
Affordability
Ease-of-Use
Business Email Features
Productivity Apps
Collaboration
Security
Affordability
Microsoft 365 plans start at $6 per person per month. Plans for Google Workspace start at $6 per user per month.
However, the base plans of Microsoft 365 and Google Workspace aren't entirely comparable. Microsoft 365 has more storage (1TB) than Google Workspace (30GB). Both services offer web-based productivity apps.
Workspace users have access to all the available features. In contrast, Microsoft 365 users must upgrade to gain desktop apps with all their attributes.
Overall, Google Workspace is the most affordable plan. It offers comparable apps and plans at a fraction of the cost. Plus, Google Workspace plans are not subject to an annual contract. Microsoft subscriptions, however, require a monthly commitment.
Microsoft 365: Monthly Pricing Per User
Basic: $6 to 1TB cloud storage, OneDrive, and 300-participant video conference. Also, web and mobile versions for Outlook, Word Excel, PowerPoint, Microsoft Teams, Exchange, and Sharepoint.
Business Standard: $50 to add desktop apps with premium features or additional apps (Access, Publisher)
Business Premium: $22 for advanced cyber threat protection, phishing, ransomware protection, device management, and security. You also get premium administrative, information technology, and billing support
Google Workspace: Monthly Pricing Per User
Business Starter: $6 to get business email, 30GB cloud storage, and Google's suite of business productivity apps
Business Standard: $12 to include cloud search, 2TB storage, and an archiving vault
Business Plus: $18 for enhanced security, eDiscovery, and retention, as well as increased storage up to 5TB
The Most Cost-Effective: Google Workspace
These office productivity suites are almost identical in terms of features and cost. The main difference is that Google's cloud-based ecosystem is designed for collaboration. Multiple co-workers can collaborate on the same document, presentation, or spreadsheet.
Google Workspace has the advantage of having all the features at its lowest tier, leading us to believe it is the best choice for small businesses. However, it all comes down to your preferences and how your team works.
If your team is looking for the best software to help them collaborate on documents or presentations or a tool to manage a hybrid workforce, Google Workspace might be the right choice. Microsoft 365 may be better if you want advanced security tools.
Ease of Use
Both Microsoft 365 and Google Workspace have the advantage of being familiar to most users. Google Workspace is similar to Gmail, and Microsoft 365 draws on the software many business users have used for years.
Google Workspace is easier to use if you haven't used it before. Its features aren't as advanced as Microsoft's office software. Its features are sufficient for small businesses.
Microsoft 365
Office has the advantage of having a long history. This may be why it tends not to be all things to everyone. Microsoft stacks every feature it can, sometimes at the expense of user experience.
This is particularly true for PowerPoint, Excel, Word, and Excel desktop versions. Mobile app and browser versions are simpler and emphasize the essential tools.
For the same reason, heavy users might prefer the more feature-rich Microsoft apps desktop version.
Google Workspace
Google tends to prioritize function over form. This can sometimes mean its design isn't as appealing as Microsoft's. Google Workspace features are seamless behind-the-scenes, which is a favorable tradeoff.
Google Docs documents are automatically saved to your Google Drive. It doesn't matter if you name the document first. The program also saves your work continuously in the background, so your files remain up-to-date.
Google Workspace focuses on the core activities users use most. It doesn't suffer as much from feature bloat as Microsoft 365.
Google Workspace apps lack some of the more advanced features that you will find in Microsoft Word and Excel. However, it has a simple interface that makes sense.
The Most Easy-to-Use: Google Workspace
It all comes down to familiarity regarding ease of use. Your selection will primarily be driven by you and your staff's familiarity with one solution's user interface than the other.
If you haven't used Microsoft's interface before, Google Workspace is more easier to learn than Microsoft 365.
Best Business Email
Outlook and Gmail are both widely accepted business email applications. Both allow you to set up email in your domain easily.
They also integrate with other productivity apps such as Microsoft Office, making it simple to collaborate and share documents from any application.
Outlook Business Email
Outlook Microsoft 365's business email client has a limit of 5,000 per calendar day and a limit of 50GB storage (higher than the 30GB with Gmail).
Your email attachments won't take up any space in OneDrive because this limit is not part of your total cloud storage. However, this limit is not available to all email storage users.
Microsoft 365's Outlook business email works better for larger companies, mainly when working in person. This allows you to grant advanced permissions to users, which is vital if administrative staff manage multiple calendars and need to book conference rooms.
It's simple to create email accounts on your domain using Outlook and to sync and manage multiple devices. Outlook's business features and Microsoft security outperform Google and Gmail.
Outlook offers advanced email handling, time-saving automation, and many other third-party integrations.
Gmail Business email
Google users have 30GB of mailbox storage. They can easily set up Gmail email at a business domain and enjoy all the features of Gmail.
Google Drive allows you to share files up to 25MB in attachments. You can send up to 2,000 emails daily and receive more than 86,000 daily.
Best Business Email: Microsoft 365
Outlook is the clear winner in business email. Outlook is more user-friendly for small businesses and has more mailbox storage.
Best Office Productivity Applications
Microsoft 365 and Google Workspace offer software to create documents, spreadsheets, or presentations. Both provide browser-based versions as well as Android and iOS apps.
To get the desktop versions of Microsoft's software and its advanced features, Microsoft users must subscribe to either the Premium Apps for Business or Business Standard plans.
Microsoft Word Excel & PowerPoint
The comparison of the Microsoft and Google office suites is not apples to apples as with Outlook. Microsoft 365's office applications, Word, Excel, and PowerPoint, are available as desktop software or browser-based apps.
Microsoft first released Word in 1983 (as Multi-Tool Word), followed by Excel in 1985.  Consequently, Microsoft office application users have a wealth of templates, and advanced features, such as integrations and automation, available for use.
Google Docs, Sheets & Slides
Google Workspace's applications such as, Docs, Slides, and Sheets are browser-based. All have mobile app versions available. All Google users can access all apps and features, regardless of their plan tier. As a SaaS, to create or edit files, you will need to be connected the internet. There are no desktop versions.
However, Google Workspace does allow you to use Google Docs, Slides, and Sheets even when you lose internet through it's Google Docs Offline Chrome Extension.  When you reconnect to the internet, your changes will be automatically updated. As a cloud-based application, Google Workspace doesn't require constant updates.
Best Office Productivity Apps: Microsoft 365
Microsft 365 is a better app than Google Workspace because it offers more templates and niche features such as charts.
Some may prefer the cloud-based apps Google offers. This is because all features can be used on any device, regardless of the plan.
Most Collaboration-friendly
Microsoft 365 and Google Workspace are both designed for team collaboration. They offer great tools for video conferencing, live team chat, and document sharing.
.Both platforms have their unique way of facilitating teamwork. It all boils down to your company's expectations and needs regarding collaboration tools.
Microsoft Office 365
The collaboration benefit of Microsoft 365 lies in its widespread usage throughout the business world. With the assurance that they can be opened at the other end, sales agents and their teams can send Word documents, Excel spreadsheets, and PowerPoint presentations to clients.
It offers advanced features, including built-in AI services that help users create better documents. Microsoft users have 300 participants, while the 100 and 150 participants on the first two Google Workspace levels offer higher video conferencing limits.
Google Workspace
Google Office productivity software has one of its strongest features: multiple users can simultaneously work on the same document or spreadsheet.
They can also work together without needing to save files, email, or keep track of versions. You can see the changes made in real-time and decide whether to accept them.
Most Collaboration-friendly: Google Workplace
Google Workspace is more suited to today's remote-hybrid workforce requirements. Google Workspace is the best choice for companies that collaborate on internal projects.
Business users who collaborate with others outside their company can benefit from Microsoft 365 everyday use in the business world. Microsoft may be preferred over Google by those who require higher video conferencing limits on lower plan tiers.
Security
Microsoft 365 and Google Workspace meet strict data privacy and security requirements. They are kept secure by being regularly updated.
Microsoft 365 and Google Workspace enable platform administrators to create security protocols to restrict user access and permissions.
Microsoft 365 Security
Microsoft 365 provides email protection against spam, malware, and other threats through Exchange Online Protection. This robust solution offers over 1,000 privacy and security controls to help you comply with industry standards.
You can protect your business information against unauthorized access with the security groups and custom permissions.
Microsoft 365 Enterprise editions provide advanced threat protection features such as identity and access management, data loss prevention for email and files, and Microsoft Security and Compliance Center.
You can also access Microsoft Defender Antivirus and Microsoft Device Guard to protect your Windows devices from viruses, spyware, and other malware.
Google Workspace Security
Google Workspace provides spam and phishing protection for your email, offering two-factor authentication, group-based policy controls, and Advanced Protection Program.
Endpoint management is also available. The Business Plus edition includes Vault, which can be used to store, archive, and search data.
You also have access to Secure Lightweight Directory Access Protocol (LDAP), which allows you to connect your LDAP-based services and apps to Cloud Identity and Google Workspace.
Google Workspace Enterprise edition offers premium features such as data loss prevention, security center, and Secure/Multipurpose Internet Mail Extensions S/MIME encryption.
Head-to-Head: Microsoft Office 365 vs Google Workspace
Why should Businesses use Microsoft 365?
Microsoft 365 offers the best solution for small businesses that need to collaborate with outsiders. The apps offer more advanced features, security, and premade templates.
It also provides more video conferencing capabilities than the other plans.
Why should Businesses use Google Workspace?
Google Workspace is the best choice for small businesses or teams collaborating on document creation.
It is ideal for business users who want to take advantage of all the integrations between Google apps.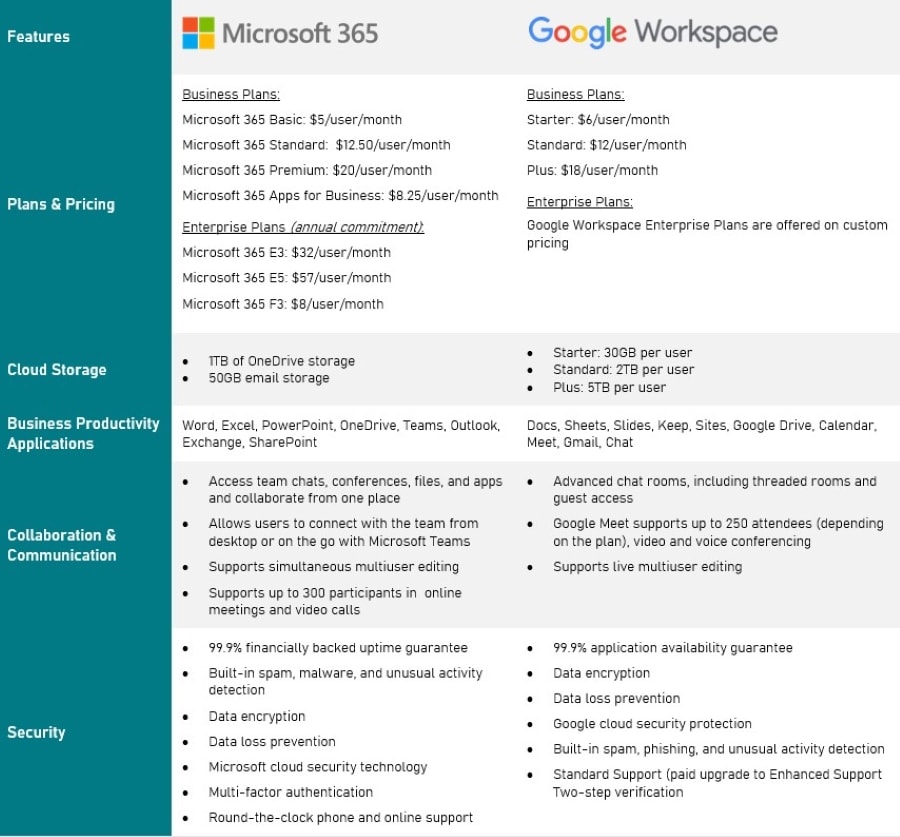 Which is Best for Business – Microsoft 365 or Google Workspace?
Google Workspace offers the features solo entrepreneurs, startups, and small businesses require, which we believe is the best option for small businesses. Its cloud-based software is perfect for distributed and remote work environments and collaboration teams.
Depending on which features and capabilities are most important to your business, Google Workspace offers the best document collaboration. However, Microsoft 365 offers more security and productivity features for small businesses.
Before deciding, you may want to consider the following factors too:
Your file and email storage needs
Your existing working environment (are your users accustomed to MS apps or Google apps?)
Budget
Scalability
Collaboration needs
Implications for your wider IT estate