Should you be Outsourcing your Technical Support?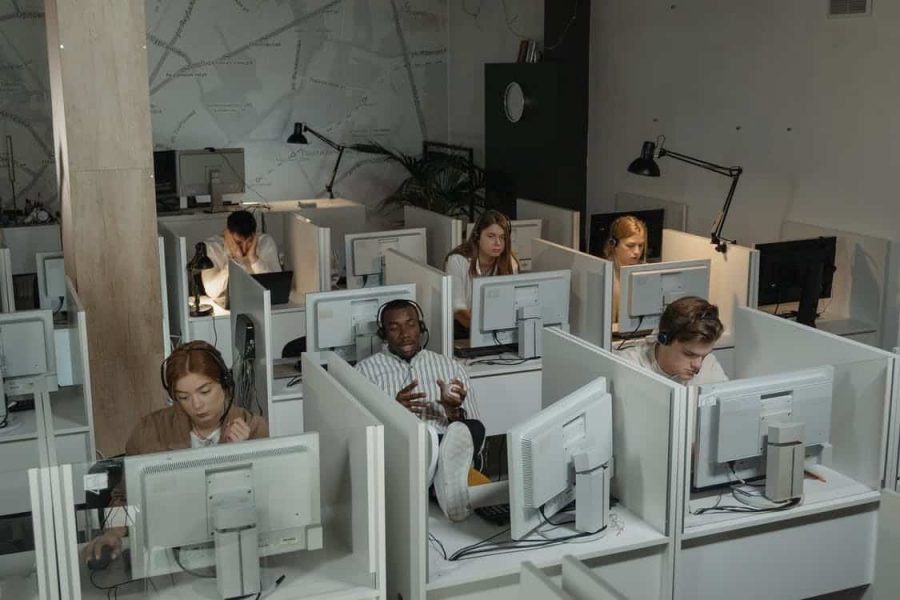 As small and medium organizations rely more and more on technology to conduct business, the costs, as expected, needed to maintain several IT systems has also increased. It is therefore easy to understand, why small businesses consider outsourcing either their IT services or just technical support to gain significant savings without losing competitive advantage.
Technology, such as computers, mobile devices, printers and applications, is complex.  The nature of technology means that a business will inevitably face an issue with either hardware and software at some point.
What is Technical Support Outsourcing?
Outsourcing is the business practice of engaging with a third-party provider to contract out specific business functions and processes. Outsourcing benefits can be substantial, ranging from increased competitive advantage to efficiency gains and cost savings.
However, outsourcing your technical support or systems does come with risk, such as loss of control. Organizations seeking to outsource their technical support or IT functions should need to consider the pros and cons before deciding carefully.
Types of outsourcing
Cloud computing – Entails engaging with an external service provider to provide IT services via the internet, including Infrastructure-as-a-Service (IaaS), Platform-as-a-Service (PaaS) and Software-as-a-Service (SaaS).
Managed services – Involves contracting with a 3rd party to provide network management functions. These include IP telephony, messaging and call centres, virtual private networks (VPNs), firewalls and networking monitoring and reporting.
Nearshore outsourcing – This involves sending any IT-related work to a company in a country adjacent with your own. Theoretically, this makes travel and communication between the two organizations simpler.
Offshore outsourcing – Offshore outsourcing entails contracting with a foreign-based company, located typically in India, China or the Philippines, for IT-related work. These countries offer political stability, lower costs and tax savings.
Onshore or domestic outsourcing – This involves contracting an external service provider, located in the same country as you, to provide IT-related work, remotely or on-site.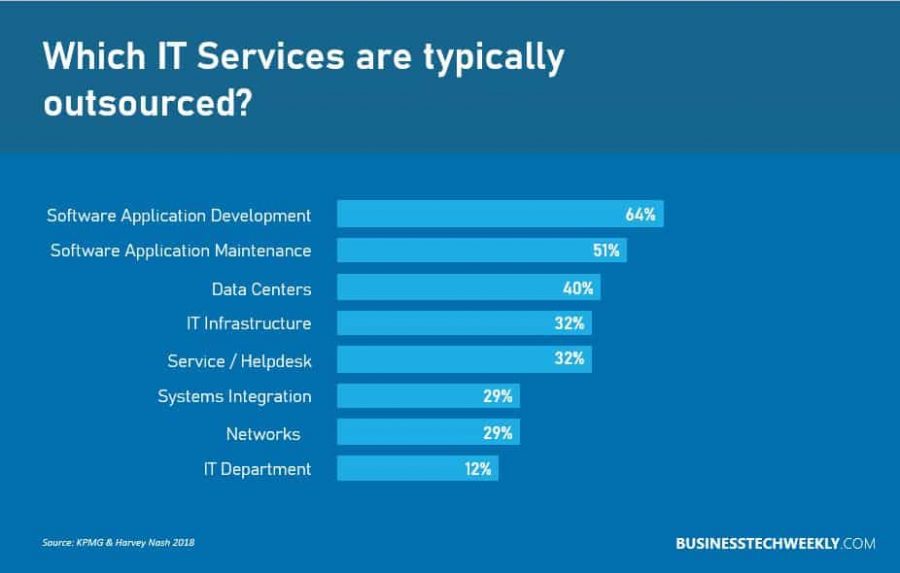 In-House Technical Support vs Outsourcing Technical Support
The most significant advantage of giving in-house technical support is that issues can be dealt with quickly, and proactive support can be easily provided. However, recruiting dedicated specialist technical support may not be cost-effective for most small and medium organizations.
When compared to in-house support, outsourcing technical support to a third party is often more cost-effective.  This efficiency is simply due to economies of scale leveraged by the technical support outsourcing provider.
| | | |
| --- | --- | --- |
|   | In-House Technical Support | Outsourced Technical Support |
| Costs | Salaries, initial and ongoing training, maintenance and monitoring equipment | Predictable low monthly fee |
| Technical Support | Available when your staff are available | Up to 24 hours a day, seven days a week, 365 days a year |
| Expertise | Depends on internal staff capabilities, knowledge and experience | Access to a pool of trained, qualified and experienced resources across multiple technologies |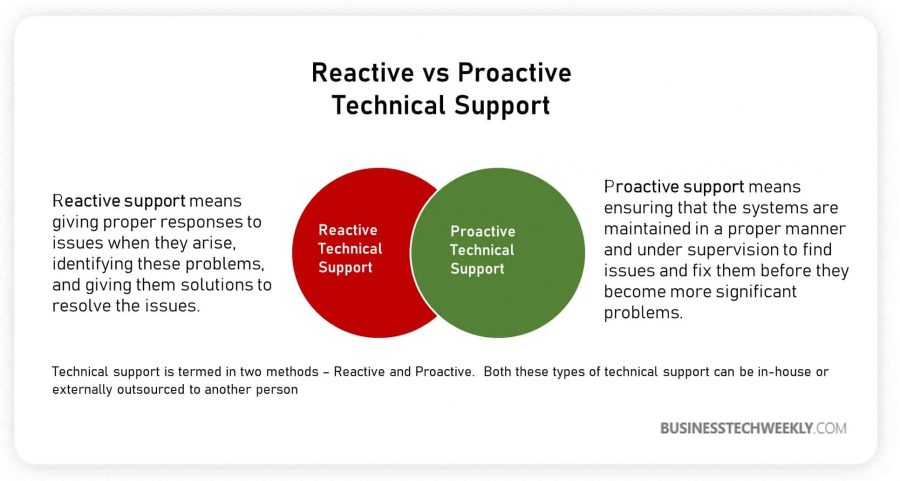 Benefits of Outsourcing your Technical Support
There are several reasons why an organization, particularly small and medium businesses, may opt to outsource their IT services.
For smaller organizations, outsourcing can help their business become more flexible and agile, by quickly adapting to market conditions and challenges, while simultaneously offering cost savings. Some of the recognized benefits of outsourcing technical support include:
Control costs – Outsourcing technical support allows you to convert fixed IT costs into variable costs, allowing you to budget more effectively.
Reduced labor/employee costs – Recruiting and training staff can be costly, while temporary employees may not always meet expectations. Outsourcing technical support allows you to focus your recruitment efforts where you need them most.
Access to qualified, and certified resources – Training employees in technical support can be expensive. Most professional technical support and administrative certifications require several courses and re-certifications. For small and medium businesses, the costs associated with such credentials may not be the most effective use of investment funds.
Advice and insight based on experience – For many 3rd party technical support providers, few problems are new. Since these providers may have several customers with similar systems and technology, they are likely to see related issues multiple times.
Increased efficiency and competitiveness – Organizations that attempt to retain technical support in-house have much higher research, development, and implementation time. All these factors lead to increased costs and are ultimately passed on to customers.
Quickly deploy new technology – A quality outsourced technical support partner will have the resources to start new technology projects immediately. Attempting to manage the same project in-house could involve weeks or months to hire the right skills, provide training to cover and skills gap, and ensure the right experience.
Remain focused on your core business – Small and medium businesses have finite resources. Technical support outsourcing allows your business to stay focused on core functions, limiting distractions from complex technical issues.
Reduced risk – Every business investment carries an amount of risk. Technologies, regulations, markets, financial conditions, and competition all change very quickly. Technical support outsourcing providers, with industry insight, and security and compliance knowledge, can assume and manage much of this risk for your organization.
Level the playing field – Most small and medium organizations, cannot afford to match the in-house technical support services that larger businesses maintain. By opting for technical support outsourcing, smaller organizations can gain access to similar technology, and expertise enjoyed by the larger competitors. In particular, due to economies of scale, your business may gain a competitive advantage.
Compliance and Security – Changing market conditions, for example, the impact from Brexit and the pandemic, along with an increase in cyber-attacks has required the need for several standards, regulations and frameworks. Examples include GDPR, PCI DSS, or the promotion of remote working guidance.  By opting for technical support outsourcing, organizations can benefit from valuable industry insight, obtaining the latest information and knowledge with the regards to the latest standard, regulation or framework.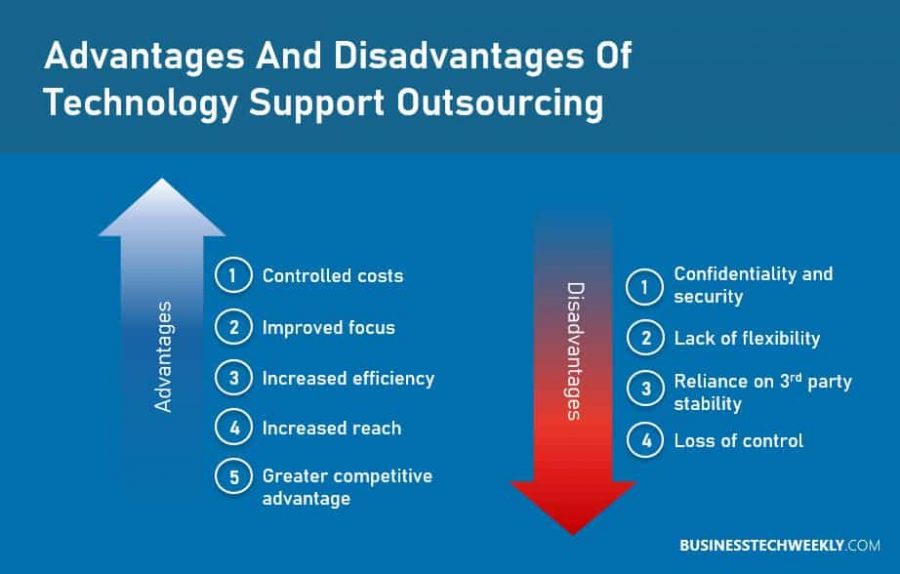 Evaluating the need for Technical Support Outsourcing
Technology outsourcing is growing exponentially as businesses continually strive to reduce their cost structure while maintaining core business functions. These days, vital core services, including legal, payroll, accounting and benefits administration are among the first to go out of business.
Outsourcing IT services has become a much sought after solution to these problems. However, IT outsourcing requires careful management and can have many negative implications for your business. Many organizations struggle with IT outsourcing because they do not know how it will change their business model and ultimately affect their bottom line.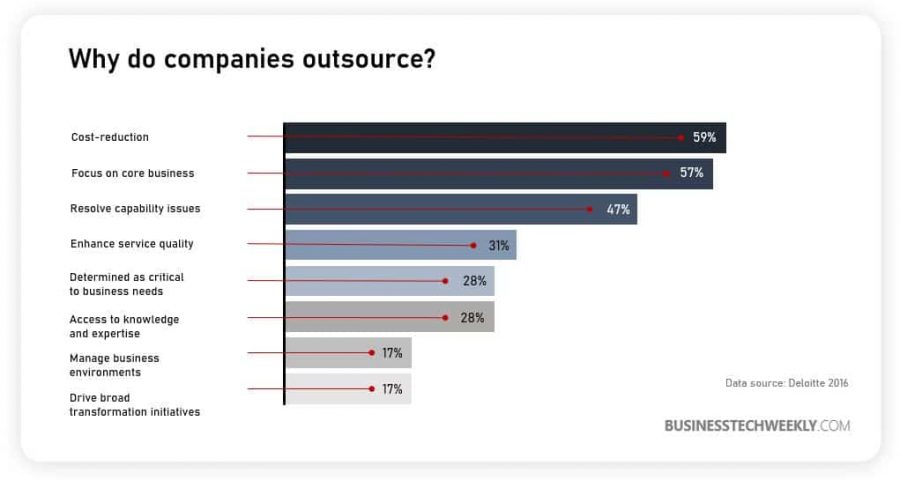 As an organization grows, so does the need for more technology. Therefore, the costlier it is to maintain and manage the system. As more technical support staff are added to the payroll, your budget for salaries also increases. To decrease these costs, organizations look to outsource their technical support to a third party which are cheaper and more efficient than full-time in-house resources.
While technology support outsourcing allows organizations to focus on their core competencies, it is crucial for an organization to select the right technical support outsourcing partner.