SaaS Benefits and Limitations: What are the advantages of Software-as-a-Service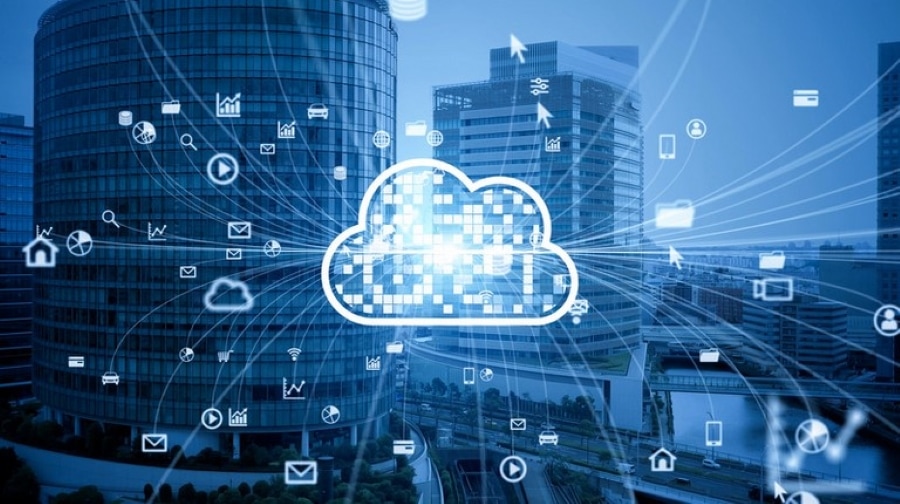 Cloud computing adoption has proliferated over the past decade, particularly software offered as a service, such as a subscription or pay-as-you-use method. Software-as-a-Service, also known as SaaS and On-Demand software, delivers software applications over the internet to end-users. SaaS offers many benefits to businesses, including flexibility and lower costs.
SaaS allows you to access the most recent technology within a pre-determined budget, allowing your company to save money while still being flexible.
However, SaaS has many disadvantages, including a lack of control. These should not be overlooked.
Below, we explore the advantages and benefits of SaaS and further explore the disadvantages SaaS solutions may provide. Finally, we compare SaaS with other alternatives, such as on-site solutions.
What's Software as a Service (SaaS)?
Software as a Service (SaaS) is delivered to end-users via the cloud. It's cloud-based, on-demand software. It is a software licensing model with many benefits if implemented in your company. SaaS can be accessed via an internet browser and is subscription-based.
RELATED: SaaS vs. PaaS vs. IaaS: Which is suited for your business?
SaaS refers to a software delivery model that licenses and delivers software.
Licenses are usually on a monthly or annual subscription basis
You can have your centrally located website hosted in the cloud
Accessible via a browser on an internet connection
SaaS can be an alternative to traditional on-premise software installations. SaaS has been used to deliver many business applications, including:
Software for office and communication
Payroll and accounting programs
Software for customer relationship management
Software for HR Management
enterprise resource planning programs
Suites for corporate performance management
Mobile applications
Software-as-a-Service (SaaS) Benefits: Understanding the Advantages & Disadvantages
SaaS can offer many benefits that will allow you to eliminate traditional on-premise software models. Its importance will be apparent the more you know about it.
Advantages of SaaS
SaaS has many advantages over traditional business software installation models, such as:
Lower upfront cost – SaaS generally has no up-front licensing fees and is subscription-based. SaaS providers manage the IT infrastructure used to run the software. This means that initial costs are lower, thereby reducing costs for software maintenance and hardware repairs.
Easy setup and deployment The SaaS application has been installed and is configured in the cloud. This reduces the likelihood of delays caused by traditional software deployments that can take a long time.
Simple upgrades – SaaS providers handle software and hardware updates. They deploy upgrades centrally to hosted applications and take this responsibility and the workload off your shoulders.
Accessibility All you need for SaaS applications is a browser and an Internet connection. SaaS is accessible from almost any device and anywhere in the world. This makes it more accessible than traditional business software installations.
Scalability SaaS providers usually offer many subscription options and the flexibility to change subscriptions when necessary, such as when your business grows or when you have more users.
Disadvantages of SaaS
For most organizations, SaaS and, more broadly, cloud computing offers value for money from their IT budget while still being able to access the best technology and professional support. Before making a decision, consider the possible disadvantages.
Control issues: In-house software applications give businesses more control than hosted solutions managed by a third party. Everyone must use the most current version of the software application. You cannot delay upgrades or modifications to the features.
Security and data issues: Access management and privacy are important considerations when using cloud or hosted services.
A limited range of applications: While SaaS is growing in popularity, many applications still don't offer a hosted platform.
Connectivity requirement: Since SaaS is based upon web delivery, you'll lose access to your data or software if your internet service goes down.
Performance: SaaS can run at slower speeds than server or client applications. It's essential to note that your software is not hosted locally.
5 Benefits of SaaS Software as a Service
SaaS has proven to be a viable option for applications in the multiple sectors. Here are some of the benefits SaaS can provide:
1. Cost-Effective
SaaS can lead to significant savings for many reasons. SaaS eliminates upfront costs such as purchase and installation. SaaS also eliminates ongoing costs such as maintenance and upgrades. SaaS is a low-cost, easy-to-download, virtually maintenance-free alternative to spending large amounts on hardware resources.
Second, SaaS's pay-as-you-go model allows businesses to cut costs by only paying for the software they use and not wasting money on licensing.
SaaS can be a boon for small businesses. This is because it allows SMBs to access high-powered software that is otherwise unattainable through traditional methods due to budget constraints. SaaS subscriptions eliminate the risk associated with expensive software.
The SaaS vendor manages the complex IT infrastructure. SaaS allows users to deploy business applications without worrying about the resource-consuming maintenance of their hardware or choosing the right OS. Typically, the SaaS vendor will take care of all this, which allows businesses to focus their resources on other tasks.
2. Accessibility and Scalability
SaaS also offers excellent flexibility. SaaS software is hosted externally by the vendor, so businesses can easily change their usage plans without giving advance notice. SaaS solutions are web-based and can be accessed from anywhere via an internet connection.
SaaS makes it possible for users to access their data from any location. This is great news for home workers and those working at multiple locations.
3. High compatibility
Updates can be costly and time-consuming in the traditional way of installing software. Version discrepancies among employees can cause compatibility issues.
With SaaS, users log in to the most recent version of their SaaS solution. The SaaS provider manages any updates and upgrades. This eliminates the need to install patches.
SaaS ensures that end-users have the latest software version at all times. Software as a Service eliminates issues like software maintenance or incompatibility. This will allow your company to be more focused and produce higher productivity.
4. Guaranteed Service Levels, Backups, and Data Recovery
SaaS offers a guarantee that the software will work, unlike traditional software. Many SaaS providers guarantee that all applications will be accessible 99.5% of the time.
It is well-known that data backups can be labor-intensive with traditional software unless an automated solution is implemented. SaaS solutions allow businesses to eliminate this task, as they support automated backups that are not subject to user intervention. This ensures data integrity.
5. Amplified security
SaaS solutions are more secure than traditional software in most cases. SaaS solution providers tend to have multiple data centers that are located in different locations. These data centers contact the IT infrastructure to deliver SaaS applications. If an obstacle occurs in one of the data centers, the other data centers continue to provide services.
Differences Between SaaS and On-Premise
Most traditional on-premise software can be purchased with a usage license by paying upfront for the entire package. Software licenses can only be used by one person or device. This applies whether the software is purchased with hardware or separately.
The user must pay a large amount once to start with the traditional software. After that, he can continue using the software on his device.
SaaS software allows users and businesses to subscribe monthly or annually without paying hefty licensing fees. SaaS has a significant advantage over traditional software delivery models because users or businesses can cancel their subscriptions anytime.
This saves users and companies from being tied to long-term contracts or licensing issues. SaaS is operated over the cloud. This allows users and businesses to save valuable resources.
SaaS is an exception to the traditional purchasing of software. However, it can offer significant benefits to enterprises that use it.
Software providers worldwide are adding SaaS capabilities due to the increasing popularity of cloud computing. This has led to enormous benefits for companies who adopt the service.
Conclusion
SaaS is a promising option for businesses because of the benefits it offers – ease of use, low costs, and scalability. Many small and medium enterprises want to "rent" software instead of investing in hardware or traditional software licenses.
SaaS eliminates the need for businesses to worry about updates, patches, or seamless deployment, and through its greater flexibility and scalability, it allows enterprises to scale as they grow.
Cloud computing is the future. SaaS, in particular, offers an excellent opportunity for businesses. SaaS implementation, when done correctly, can help businesses grow and achieve higher and more sustainable revenues.