Benefits of Cloud Computing: What are the Pros and Cons?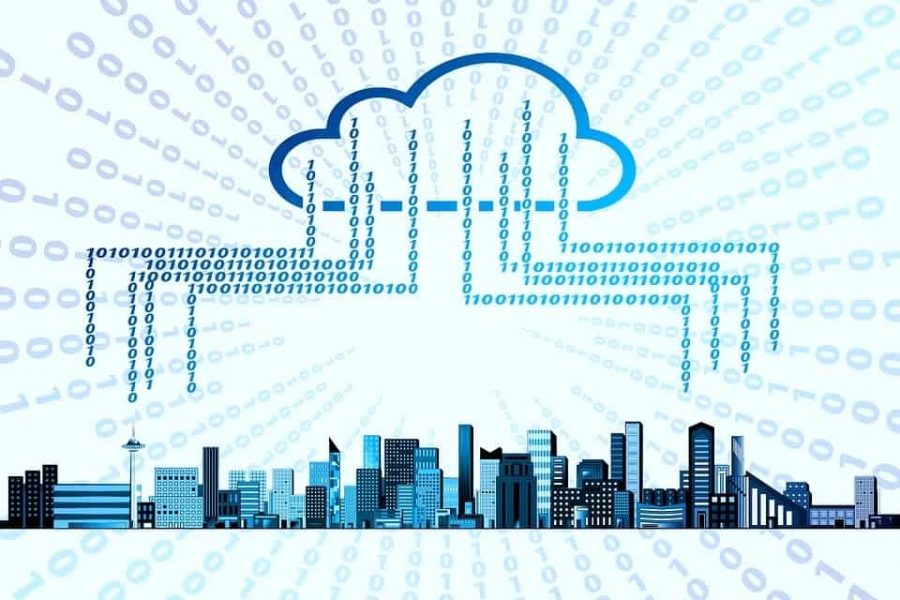 Cloud computing has been steadily gaining popularity since its inception.  The success of cloud computing has been due to the numerous benefits it offers organizations. But while businesses may be aware of the concept of cloud computing, what exactly are the pros and cons of using cloud technology, and how does this benefit your organization?
Cloud computing is a great way for businesses to access data and applications via the internet, without having to maintain physical infrastructure. Due to this value proposition, many businesses have benefited from cloud computing, primarily by reducing costs and focusing on their core business competencies rather than IT problems.
Despite the general hype surrounding this technology, there are disadvantages, particularly for smaller operations. Presented here are the pros and cons of cloud computing to help you understand and contextualize the advantages and disadvantages.

Cloud Computing definition
Before presenting the pros and cons of cloud computing, we need to understand how cloud computing is defined.
Cloud computing, or simply the cloud, is often used to describe remote data center resources accessed via the internet. More specifically, cloud computing is the on-demand access of data and remote computer resources, via the internet, in real-time.
Cloud technologies consist of four key components:
Internet-enabled user hardware, for example, laptops, tablets, or mobile devices
Broadband Internet connectivity
Services consisting of software and hardware resources obtained online
Remotely located physical servers, typically hosted in a data centre
While the first two components are the responsibility of your business, the latter two components can either be deployed as a dedicated service, shared service or a mix of the two.  These modes of deployment are typically known as the private, public and hybrid cloud deployment models.
See also Choosing the right business broadband and best business broadband providers.
The licensing and delivery models for the latter two components also varies according to specific needs, and include:
Software as a Service (SaaS) – Such as Google Apps, Dropbox, Salesforce, Cisco, Concur, GoToMeeting, Slack
Platform as a Service (PaaS) – Examples of PaaS includes AWS Elastic Beanstalk, Windows Azure, Force.com, Google App Engine, Apache Stratos
Infrastructure as a Service (IaaS) – For instance, Rackspace, Amazon Web Services (AWS), Microsoft Azure, Google Compute Engine, Magento 1
Read more about SaaS vs PaaS vs IaaS: Which is best for your business?
For most business, a hybrid deployment model offers far more advantages than disadvantages.  A hybrid model will offer flexibility for an organization when selecting off-the-shelf SaaS software, such as online accounting software.  In conjunction with SaaS accounting software, the business may, for example, opt to have a CRM system that may have specific server requirements.  The servers for the CRM system can be provisioned as IaaS.
In this example, SaaS software is a public cloud mode of deployment.  Depending on the business, the server may be provisioned either via a private cloud deployment model to ensure security or via a public cloud service such AWS.

Using remote cloud infrastructure has many pros and cons.  Cloud computing services can save a lot of money and allow organizations to continue to have access to the same applications and data from anywhere in the world.
However, while you only need an internet connection to access the data from wherever you are, concerns such as security, privacy and user training need to be addressed.
The pros and cons of cloud technologies
Cloud computing provides the opportunity for organizations of all sizes to leverage core benefits at affordable costs. The organization can save significant capital expenses with no dedicated server, hardware and software requirements.
Bearing this in mind, when considering cloud services, for most organizations, the pros far exceed the cons. The use of cloud technologies will provide a significant impact on a wide variety of businesses. Cloud computing will help companies to:
Cut down costs related to hardware and software.
Support flexible working schedules
Scale the computer systems
Cut down the need for computer support in-house.
Perform reliable and robust backups of business-sensitive data.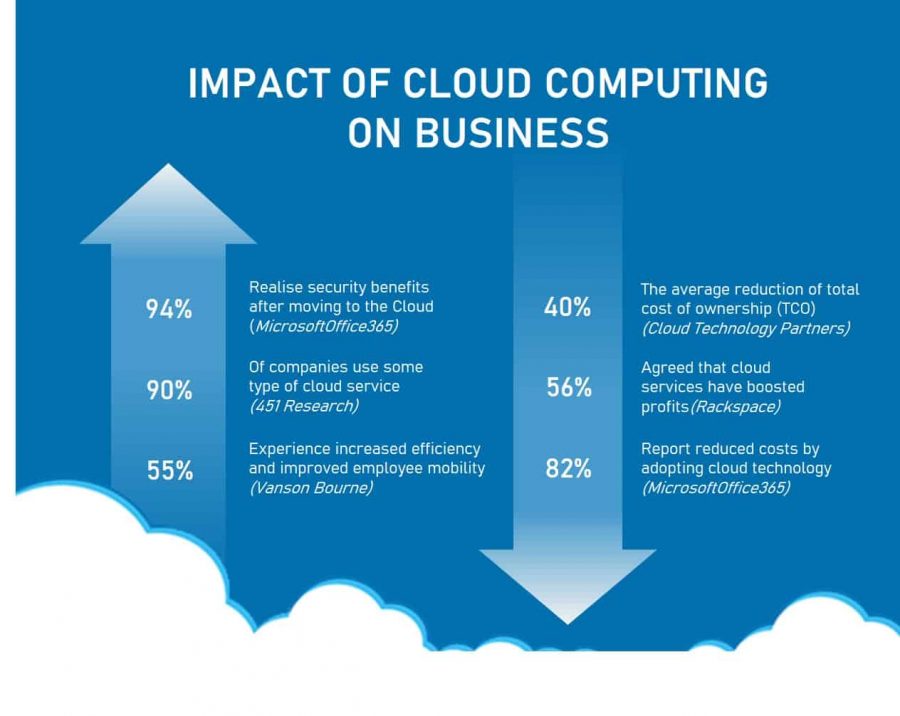 For organizations, the pros and cons need to be considered carefully when selecting cloud technologies.  The specific benefits realised by an organization will be determined by this selection process and the requirements for each business. What remains constant is that cloud technologies have now become an integral part of businesses and enterprises.
The benefits offered by cloud computing can be categorsied into three areas:
Flexibility – An umbrella term covering scalability, customization, and emote access to the cloud from anywhere and on any device. Most cloud technologies operate on pay as you go plan.  For smaller entities, or intiatives, a single person operation can scale up to a multi-person, and multi-region operation quickly, acquiring storage, compute power, IT resources, to drive this growth via cloud computing technologies.
Efficiency – With the cloud, enterprise users are able to take their applications and/or products to market quickly. The combination of scalability, and low initial costs, allow organizations to experiement with new products and markets wihout having to worry about the underlying costs of infrastructure and maintenance.
Strategic Value – Strategic value is the right combination of flexibility and efficiency leveraged by a specifc organization to meet its business objectives, ultimately resulting in competitive advantage.
Cloud computing offers many features to not only start-ups and SMBs, but also to larger and established organizations. Some of the features include unlimited storage space, unlimited processing power, multiple users, and other features.
The benefits outlined above, are some of the main reasons why organisations choose cloud services, providng their business with an advantage.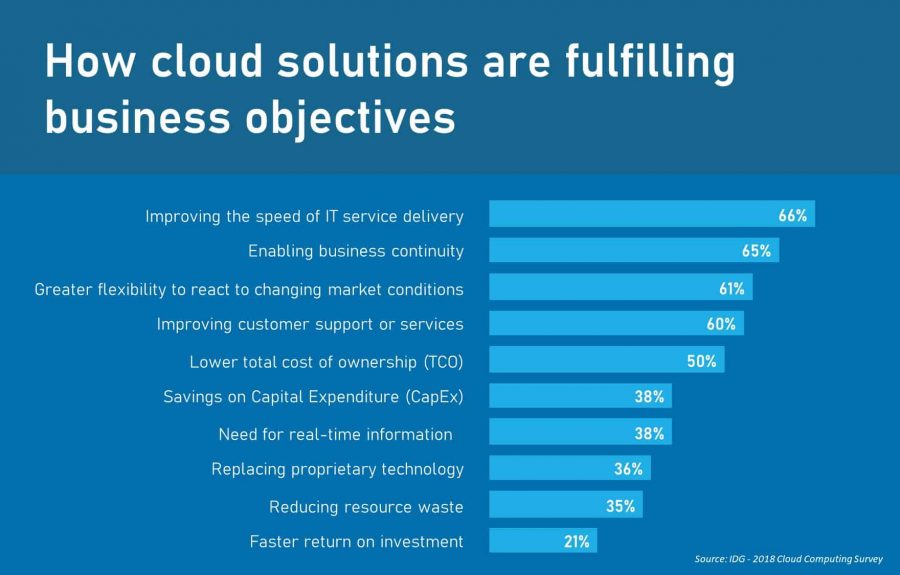 Advantages of cloud computing
Many organizations take advantage of the agility, scale, and pay-per-use billing that cloud services offer. Here we look at some of the advantages of cloud technologies in more detail.
Lower Computer Costs
Cloud computing cuts costs by negating the need to maintain or upgrade computer systems and apps. For example:
Having all the business apps produced on the internet means you do not have to install and correctly set up the software yourself.
Maintenance and different upgrades are properly managed off-site by the service provider.
Operational cost savings can be attained by cutting down levels of in-house technical experts that you need – which allows you to focus on the business.
Greater Scalability
Cloud computing allows the business to easily upscale or downscale the computer requirements when it is needed. For example, most cloud service providers will let you upgrade from one package to another to accommodate different business needs or changes made to the market condition. This will then help your business grow without incurring expensive extra costs to your current computer systems.
Access to the Latest Technologies
Cloud computing will help to make sure that you always have the best technology at hand. You do not have to worry about updating the software and getting newer technology – as the service provider will do all of this on your behalf. It also gives the user access to software or hardware and computer functionality as it is rather costly to buy right off.
More Flexibility
Cloud computing will let the employees have more flexibility, both in the workplace and out of the workstation. Workers can access files using devices accessible to the internet, like mobile devices, laptops, and android tablets. The ability to continuously share documents and other data across the web also helps to support both internal and external work together.
Enterprise-level Backing Up
Cloud services also give the business with a backup on the enterprise. While there are a few things regarding data protection, cloud computing will be able to get your business access to a substitute professionally for all the company's information.
While cloud computing will benefit many businesses, it does not occur without its disadvantages. Read about all the downsides of cloud computing.

Disadvantages of cloud computing
Despite having many benefits of cloud computing, it is not without any problems. Businesses keen to move significant portions of their operations to the cloud should be aware of the pros and cons, in particular, some of the challenges.
Cloud Security and Data
Many cloud service providers integrate security standards and industry qualifications to make sure the cloud environment is safe. However, keeping proper data and business files in online data centers will expose you to many risks.
Common risks are:
Data loss or theft.
Leakage of data
Account hijacking
Interfaces that are not secure.
Service attacks
Technology vulnerabilities.
The proper security levels are achieved and maintained adequately by different service cloud providers. You have to correctly pick the service provider and make sure the provider is stable and reputable and produce proper terms and conditions of the service. Read more about these things here.
Cloud Downtime
Like any other computer service provider set up, the cloud service provider might still have to go through specific problems like computer rebooting, network outage, and downtime. All these incidents can destroy business operations and different processes, which can damage the business.
You also have to properly plan for maximum downtime to minimize impact and how the occurrence occurs and make sure there is a maximum service given to the clients and staff. Read more relating to cloud downtime and business continuity.
Limited control and flexibility
The cloud service provider, however, definitely still own and manage the whole cloud infrastructure. As the client, you will have minimal control over it. You will be able to handle all the apps, data, and services operating on the cloud, but you do not have access to other administrative tasks, like updating firmware, etc.
To control tasks, you might want to assess to analyze the computer risk before you give any control to the service provider.
Vendor lock-in
Easy switching between service providers has yet to mature, and organizations may experience challenges when migrating their services from one vendor to another.
Differences between vendor platforms are likely to cause difficulties in migrating from one cloud platform to another, which could result in additional costs and complexities. Compromises made during migration could also expose your data to additional security and privacy vulnerabilities.

How your business can benefit from cloud technology
As with new technology, there are pros and cons for cloud computing. However, cloud computing is what the business world would call a "no-brainer".
While each cloud computing service has its own pros and cons, organizations can simply choose the service that best meets their requirements, thereby leveraging cloud services to obtain cost-effective, secure access to IT resources without buying infrastructure or hiring trained staff.
Cloud technologies offer enhanced security and stability, lower costs, while providing greater efficiency and flexibility. These are beneficial when organizations have to navigate through the ever-changing terrain of doing business.