Best Multi Line Phone Systems for Small Business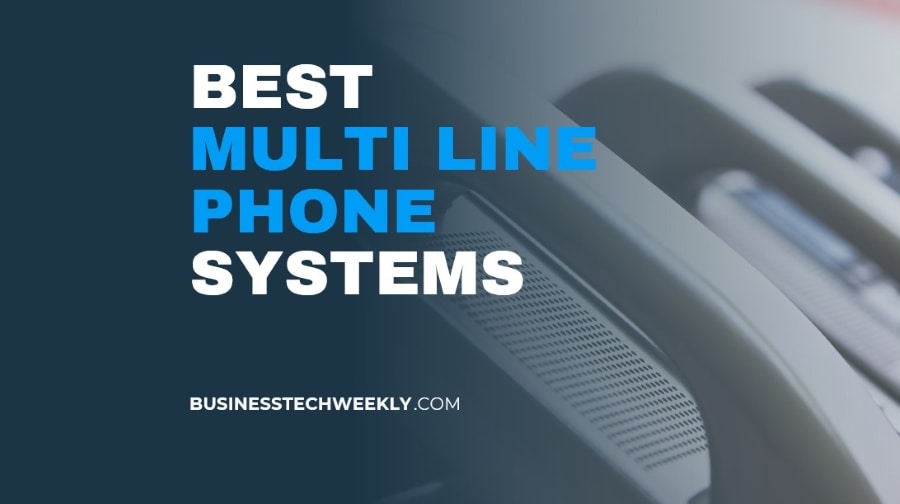 Multi line phone systems are ideal, particularly for small businesses, to improve communication and productivity, allowing ease of communication with customers and colleagues.
Multi-line phone systems include 2-line and 4-line business phone systems, allowing more than two people to communicate on the phone simultaneously.  Multi line office phone systems can be either internal to help you communicate with colleagues and employees or external to communicate with your customers.
Modern multi line phone systems provide vast flexibility and call quality without the need for significant amounts of equipment. In this guide, we present the best options for traditional multi-line phone systems, examining the best 2 line and 4 line phones available on the market.
Why your business needs a Multi Line Phone System
As your business grows, you're likely to increase the number of customers and the number of staff you employ. For such a growing company, communications are vital, and a multi-line phone system could suitably meet your communications needs.
A multi line phone system allows organizations to connect numerous people at a time. As such, multi line phone systems enable swift internal and external communications and shows your business as a more professional and organized vendor, leaving a great impression with customers.
A multi line phone system will be suitable for an organization in the following scenarios:
SoHo or Start-up
Small Office/Home Office users, or those who have established a business from home, may require separate phone numbers for personal and office use.
Micro or Small Business
When you have two or more people, and they want consistent access to the telephone. For example, you need a multi line phone system in the following situations:
You have two customer service representatives (CSR), and they both need a dedicated phone number.
You and your receptionist want to use the same telephone system at the same time.
You have a restaurant, and you receive many simultaneous calls from patrons during busy periods.
Which Multi Line Phone System Do I need – 2 Line or 4 Line?
Multi line phones systems are available as 2 line, 4 line or 5+ Lines.  You can use the following formula to determine the number of lines you need:

The following scenarios will help you in accurately applying the above formula for your business:
2-Line Phone System – A solopreneur working from home has no employees and needs a separate business line, such as: 1 line for business + 1 line for home = 2 total lines.
4-Line Phone System – An insurance brokerage company with two full-time employees and five part-time data entry operators is a perfect example of a 4-line phone system. For example: 2 lines for full-time employees + 1 line for data entry team + 1 line for non-human functions, such as toll-free and fax number = 4 total lines.
5+ Line Phone System – The Realtor office with one owner and three employees is an example of a 5 or 5+ line phone system. For instance: 1 line for the owner + 3 lines for employees + 1 line for fax = 5 total lines.
10 Best Multi Line Phone Systems for Small Business
You're probably wondering what are the top multi-line phones for small businesses on the market right now? Our team has done the research and have compiled a list of the 10 best multi line phone systems for you.
All of these multi line phone systems have the functions that would be likely needed by a growing company, helping take your business communications to the next level.
1. AT&T SynJ SB67158 4 Line Small Business Phone System
With 1 to 4 line connectivity, wireless connectivity on all devices, and DECT 6.0, the AT&T SynJ SB67158 can be used either corded or cordless, making it amazingly flexible.

Designed for ease of use, with a large backlit display, context-sensitive help, a straightforward navigation pad for scrolling through menus and easy-to-read buttons and function keys

All you need is a RJ11 connection and AC power to get started, with the AT&T SynJ SB67158, supporting up to 4 analog lines, and 11 users straight out of the box.

What we liked:

Intercom between handsets, cordless desksets and base station, using Push-to-Talk

Auto attendant for each line, allowing you to customize call handling

3-party call conferencing

Group and individual voicemail boxes for each extension

100 number capacity directory to store important numbers

10 speed dials and last 10 number redials
2. Panasonic KX-TG958 2 Line Phone System
The Panasonic KX-TG958 offers advanced 2-line calling for small firms and home office users, and is expandable to 12 cordless handsets.

This offering from Panasonic offers a unique "Link2Cell" function, allowing you to sync up to four smartphones to make and receive cell calls using Link2Cell handsets.

This multi line phone system can also connect to your office PC to make and receive calls from Outlook whilst also offering 3-way conferencing.

What we liked:

Call from Outlook via Telephone Plug-in

Sync 4 Smart/Cellphones using Link2Cell

Group and individual voicemail boxes for each extension

3,000 number high capacity directory to store important numbers

22-speed dials and one-touch dialing for up to 10 most frequently called numbers

3-party call conferencing
3. RCA ViSys 25424RE1 4 Line Expandable Business Phone System
The RCA ViSys offers value for money.  While lacking a Digital Answering Machine, this DECT 6.0 multi line phone can be expanded to 16 more base stations, each further supporting its own cordless handset.

Built specifically for small organizations, the RCA ViSys 25424RE1 can be matched with other RCA corded (25423RE1, 25425RE1) or cordless (25420) phones to create a tailored multi phone system.

What we liked:

Base Speakerphone

16 Programmable one-touch speed dials

94 Name/number directory

Intercom

3-Party conferencing

99 names/number caller ID capacity
4. AT&T TL88102 2 Line Cordless Deskphone
The AT&T TL88102 2 Line Cordless Deskphone features DECT 6.0 technology, with dual Caller ID and Call Waiting features.

Supporting a 2 line answer system, this device can hold conference calls with 4 cordless handsets and an outside line.

The phone also has a mailbox for each of the lines capable of storing up to 14 minutes of digital recording on each line.

Also offered as a bundle, with 3 additional handsets, the AT&T TL88102 2 Line Phone Bundle is an excellent choice for a startup company or an organization experiencing growth.

What we liked:

Intercom facility between base and handset

Expandable by up to 12 more handsets

50 number capacity directory to store important numbers

Speakerphones in both the handset and base

10-speed dials and last 20 number redials

Voicemail waiting indicator
5. AT&T 1080 4 Line Expandable Corded Phone System
The AT&T 1080 multi line phone is an excellent choice for small businesses that need a 4 line phone system.

The AT&T 1080 4 Line expandable phone is DSL compatible and has a speakerphone along with a three-person conferencing feature, allowing you to converse with three individuals on three lines with a handy light indicator dedicated for every active line.

The phone can be expanded to a total of 16 stations, meaning you can upgrade your multi line phone systems as your small business grows.

What we liked:

Set a unique ringtone for each line

Large display which clearly shows the caller information and set up text in an easy to read text

Capacity to store 200 names and numbers

Memory loss protection feature

16 dedicated intercom numbers and 32-speed dials

Aux port to connect a headset
6. VTech DS6151 2 Line Phone System
A sound choice for a startup or small business, the VTech DS615 2 line business phone system can be expanded with up to 12 handsets (VTech DS6101) using only one phone jack.

Providing excellent sound quality using DECT 6.0 digital technology, this multi line phone crystal provides clear conversations without any interference with your wireless networks and other electronic devices.

What we liked:

Handset base speakerphone and intercom

Digital answering system (includes a mailbox for each line

50 Name/Number Directory capacity

conference an outside call between phone lines or outside call between handsets

Mailbox for each line and 13 minutes of recording time

20 number redial
7. RCA U1000 Unison 4 Line Phone System for Small Business
The RCA U1000 Unison multi line phone uses DECT 6.0 and supports up to 4 lines.  The RCA U1000 can be expanded with up to 9 more U1100 desk phones or U1200 wireless handsets.

Providing impressive 6-way conferencing ability, the RCA U1000 Unison also offers an onboard Digital Receptionist which can answer and transfer inbound phone calls to the other desk phone extensions.

Equipped with a digital answering system, allowing 200 minutes of recorded memos, the base unit also has an auto-answer intercom function enabling you to monitor a call hands-free.

What we liked:

Onboard Digital Receptionist to answers and transfers incoming phone calls

Intercom and 30 Saved Speed Dials

Expandable up to 10 stations

99 Phonebook Memory

6 Way Conferencing

Up to 200 minutes of recorded memos
8. AT&T ML17939 2 Line Phone
For those in need of a 2 Line Telephone with all the essential functions at a cost-effective price, you can't go wrong with the AT&T ML17939 2 Line Phone.

The most affordable entry on this list, AT&T ML17939 2 Line Phone, has all the basic functionalities of a 2-Line phone, including Caller ID, Call Waiting, 18 buttons which can be programmed as speed-dial, a 100 number capacity directory, and 99 number caller ID log.

With a built-in speakerphone for hands-free calling, the AT&T ML17939 2 Line Phone is an excellent choice for a startup business that doesn't require a high-end multi-line phone system.

What we liked:

100 Name/Number directory

Up to 12 Minutes of Digital Recording Time for Each Line

18 programmable speed-dial buttons

Three way conferencing

99 caller ID log
9. XBLUE X16 Small Business Phone System
The X16 is one of the most economical multi line office phone systems available in the market, providing quality, reliability and value.

Ideal for businesses with 2 to 16 Employees, the X16 multi line office phone system can be expanded to a maximum of 16 telephones & 6 telephone lines.

Featuring Auto Attendant, Voicemail, Caller ID, Paging & Intercom, users can easily place and retrieve calls from hold using the dedicated phone line buttons.

What we liked:

Expandable up to 16 Phones

Automated Receptionist

6 Direct Access Telephone Line Buttons

12 Programmable Buttons for Other Users, Features & Speed Dial

3 Way Conferencing

50 entry Personal Phone Book
10. VTech CM18445 Main Console
The VTech CM18445 DECT 6.0 4 line expandable small business phone allows you to grow into a fully-featured telephone system with up to 10 stations.

This 4 line phone can digitally record incoming messages, memos and outgoing announcements of up to 180 shared minutes. The auto-attendant for each line can answer outside calls and route calls to the correct extension.

A great phone for a small office, the VTech CM18445 offers customizable music on hold by connecting an external music device.

What we liked:

100 name and number directory

50 name and number caller ID log

Page, intercom, and call transfer between stations

32 number speed dial

6 party conferencing
Features to look for in a Multi Line Office Phone System
When choosing a business phone system, take time to consider the following features. Most of these will be invaluable to small businesses and should, therefore, be included with any multi line telephone system you decided to purchase.
Basic Features:
Speaker Phone – You can use the office phone system hands-free
Caller ID – It shows you the number of the caller. Caller ID allows you to see the name and number of the caller on the display unit of your handset
Fax Machine Integration – Enables the use of your existing fax machines and connect them with your multi-line telephone system
Volume Control and Mute Option – Most handsets include mute and volume control. These allow users to control the volume of earpiece audio, ringer, and speakerphone. Moreover, you can mute the microphone as well
Voicemail – Allows your customer to leave a message for you in case you have missed their call
Hold Option – Most telephones offer the ability to put callers on hold. When the call is on hold, the customer enjoys music, and some phones allow customizing the music
Message Waiting Indicator – When there is a voicemail waiting, the desk phone will give you an indicator with a flash red light.
Personal Directory – A directory will allow you to dial a number stored in the phone's memory quickly. The available size of the directory will depend on the telephone system you purchase.
Headset Mode – Many phone systems contain a plug socket to insert a headset for hands-free communication. It allows you to pull up customer notification and take notes when you're on a phone call with a customer.
Special Dial Directory – It makes calling critical numbers easier for your business. You can store numbers for easy access and dialing. The size of the speed dial directory is dependent on the phone model your company use.
Call Transferring – This allows you to call the external number and internal extensions.
Call Waiting – Informs you of any incoming call when you're already on the line. You can use your handset to put the previous call on hold and answer the incoming call. In this way, your company won't miss any call, and the customer will feel valued.
All Page – This allows you to speak to all phones simultaneously by using the speakerphone. Moreover, you can use the intercom to announce or inform your employees about the incoming or waiting call.
Don't Disturb – In this mode, when someone will try to call you, you will receive a voicemail. You can use this mode when you're conducting an interview or attending a meeting.
Advanced Features:
While many of these features may not be included in all the multi line phone models reviewed, it may be worthwhile reviewing these to ensure you are getting the best multi line phone system for your organization.
Wireless Adaptors – Wireless adaptors eliminate the need for wires on each phone in your office
Auto Attendant – It greets callers and directs them to the right person
Conferencing – It allows you to connect with clients and employees even when they're away from the office
Customer Support – Ensure that you have a customer service department and customer support representatives are available to resolve phone issues quickly
Included Installation – Most telephone systems don't include installation. It's essential to ask whether the package contains installation or not. There is a possibility that you'll have to install your multi-line telephone system yourself
Texting – This lets you text your customers from your existing landline number on their mobile phones. You can text to schedule appointments and offer text-only coupons and deals
Warranty – Most telephone systems don't include a warranty. If your company needs a warranty, ask your service provider
Multi Line Phone Systems: Frequently Asked Questions
How much do multi-line phone systems cost?
It depends on the handset and telephone specifications. Usually, 2-line phones cost $50-$200. On the other hand, 4-line phones cost $100-$400. Moreover, you can purchase the phone equipment from a phone company, a local office supply store, and a business phone provider.
What would be the business phone service cost?
This service cost depends on the complexity and setup. Business phone service cost starts from $50 to $100 per month. If you want a budget-friendly option, you can Frontier Business phone service because it starts at around $30 a month.
What is the range of wireless phones?
Many phones have cordless phone options, and you can pick up and dial a call from 40 feet away. This option allows you to move while communicating with your customers and teams.
What happens in the case of a power outage?
It depends on the phone model. Your phone system may not be affected when you have one handset plugged into a phone jack. This telephone can be used to make and receive calls regardless of the power outage.
Is it possible to call an emergency response?
You can dial 911 in case of an emergency. Nowadays, it's easy to track the location and caller's call back number. This automatic location and number identification are then shared with emergency service personnel. If you can't share the information, you will still get an automatic callback.
This safety capability exists in both standard and multi-line phone systems. However, it can be complicated in the VoIP line because the call can be made from any virtual internet connection. If you don't provide your physical address to the service provider, it might be challenging to track the location. Sharing your physical location with emergency service personnel can be helpful in any emergency.
Can I keep my current phone number?  
Yes, you can because many service providers allow you to port your existing phone number.
Is it possible to connect a VoIP phone with a standard phone line?
VoIP uses the internet for voice calls handling. In case you have a slower internet connection, it's not a good option for your business. Moreover, if you need flexibility and portability, then VoIP is the best option. This flexible phone system allows small businesses to grow and access modern calling features.
How to enable shortcode access?
When calling from a PBX phone or a phone with direct access to an emergency number like 9-1-1 or any abbreviated dialing, you won't be able to make a call if you don't have a correctly programmed telephone system. MLTS systems are also known by PBX, and often require dialing 9 to obtain a dial tone for an external line. Without dialing 9, you won't be able to make calls with shortcodes.
Some callers will receive issues, like no dial tone, false disconnected messages, type of call failure, and busy if the system hasn't been programmed correctly for shortcode numbers. These call failures can be because of a lack of software programming for PBX or MLTS systems to recognize short code numbers such as 9-1-1. If a PBX system isn't programmed to allow shortcodes other than 9-1-1, the call will not reach the carrier facilities.
You can get access to services through shortcodes when the service provider programs your equipment. You can contact your equipment provider for help.
Next Steps
When shopping for a multi-line telephone system, you can't make a blind selection. You'll have to consider lots of features for choosing the right system. Moreover, we have covered the concept of different business phone systems. If you want to get advanced features, you will have to pay an extra amount along with the introductory price.
It's essential to choose a suitable multi-line phone system for your small business according to your needs and budget. If you don't do this, you will be paying massive service costs and other charges.