Best WordPress CRM Plugin: Improve customer retention and satisfaction with these leading CRM Plugins for WordPress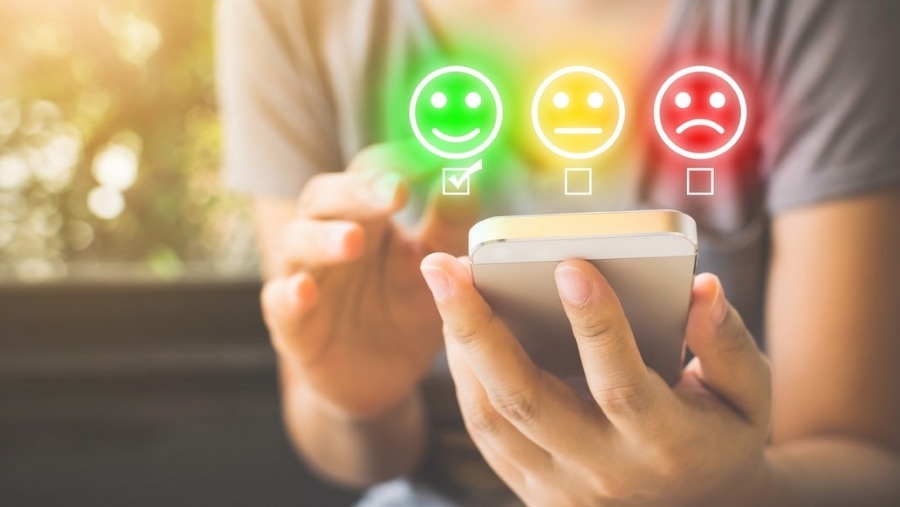 Look no further if you're looking for the best WordPress CRM plugin. This post will cover 9 plug-ins that can increase productivity and help improve customer retention and satisfaction.
Any business owner who needs to keep track of customers and stay organized should have a CRM system.These plug-ins can help you organize your customer data and improve your workflow.
What is a CRM?
These days, CRM systems perform significantly more than simple contact management; they are a vital asset for many firms. Modern CRM systems offer various features, including sales optimization, automatic data collecting, and marketing optimization tools.
RELATED: An Executive Guide to CRM Systems
Here are some motives for your business to use a CRM:
Maintain a central list of all your customer data: Saving and organizing all your customer data in one centralized location makes it easier for your team to gain insights and track every client encounter.
Your customers often interact with multiple team members: Customers see one organization, not a collection of people and departments. Everyone on your team requires customer context to take up where the dialogue left off.
Understand your customers better: Knowing why your clients buy from you can help you develop and optimize your business.
Identify and maintain a relationship with your loyal customers: Your success depends on devoted customers. Repeat customers are loyal customers. Keeping loyal consumers can enhance word-of-mouth and referral business and lower new client acquisition expenditures.
Improve customer service: Measuring customer happiness helps you meet their needs and help generate company and product improvement ideas.
Organize your customer data and improve customer management: Managing a vast customer base can be tricky. CRM systems include various tools and functions that simplify this process.
What's a CRM plug-in? Why should you use WordPress as a CRM?
Customer relationship management (CRM) allows you to manage business-critical interactions and connections with clients and prospects. Leveraging WordPress CRM plug-ins could enable you to integrate customer relationship management directly into a website, maximizing the potential of your customer data.
A WordPress CRM plug-in allows you to collect information from clients quickly.You can then break down your data based on consumer characteristics or filter clients based only on certain traits.These features are included in many WordPress CRM plug-ins and allow you to better understand your customers for marketing and customer service purposes.
RELATED: Data-Driven Decision Making: Using Data Analytics to underpin Business Decisions
The abundance of free options is another compelling reason to use WordPress CRM plugins. In contrast, independent CRM platforms may be cost-prohibitive for small or startup online businesses.
Furthermore, accessing and managing contacts already integrated with your WordPress website will be much easier. Having everything under a single digital roof streamlines your and your employees' workflows.
Lastly, you will likely be familiar with the WordPress environment, so you won't need to adjust to a new interface.
When it comes to WordPress CRM plugins, There are many options. Next, we'll review the leading  CRM plugins for WordPress.
However, before we do, let's take a look at some of the features you should consider when choosing a CRM plug-in for WordPress:
Ease-of-use: The plug-in should be simple to use and understand.It should be easy to use and intuitive.
Flexibility You can customize the plug-in to meet your business's needs.
Integration This plug-in should seamlessly integrate with your WordPress website and any other plug-ins you use.
Pricing: You should find the plug-in affordable and give it a try before you commit to a paid package.
You can still run a website if you don't use a WordPress CRM plug-in. However, you are unlikely to leverage the full benefits of your customer data.
The Best WordPress CRM plug-ins
The presence or lack of automation capabilities is one of the most common differences between WordPress CRM plug-ins.This can save eCommerce businesses time and money as it eliminates the need for repeating procedures.
Another important distinction is that different plug-ins provide insights while others only store customer information.
We've considered these factors when selecting the best WordPress CRM Plugins. Here is the complete list: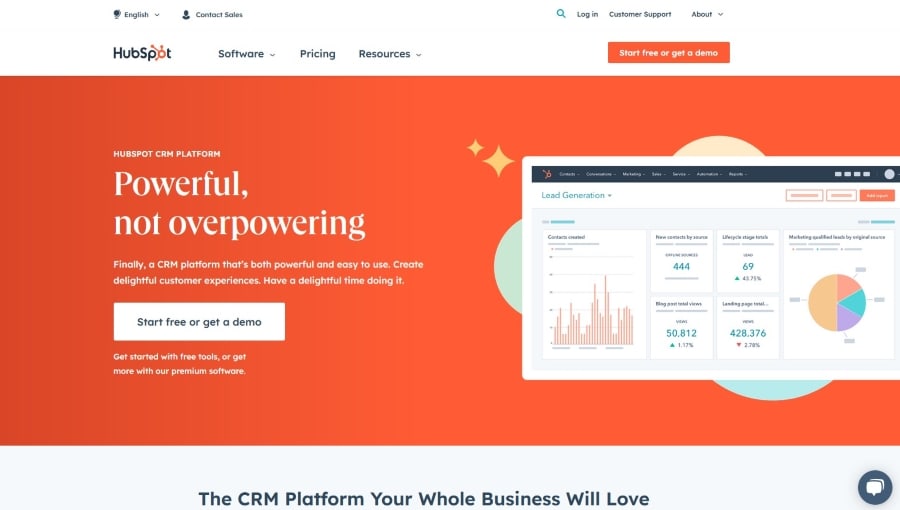 HubSpot provides a complete growth platform that helps organizations grow more effectively.The platform can be used by businesses to attract better, engage, and delight customers.
Many free features are available, such as customer relationship management (CRM), Email Marketing, chatbots and live chat, ad management, and reporting. You can access your contacts from the WordPress dashboard, so you don't have to go to HubSpot whenever you want to do some work.
HubSpot's CRM plugin syncs automatically with any forms you already have on your site, even if you made them with a different plugin. HubSpot will automatically add any emails you collect through these forms to your CRM.
HubSpot also has more than 300 integrations built-in. You won't find a CRM plugin for WordPress that comes close to the integrations that HubSpot offers. However, advanced reporting and marketing automation is not a part of the free plan.
HubSpot's CRM features have always been free has been one of its best features. This also applies to the WordPress CRM plugin, which is also completely free.
Visit Hubspot Website for more information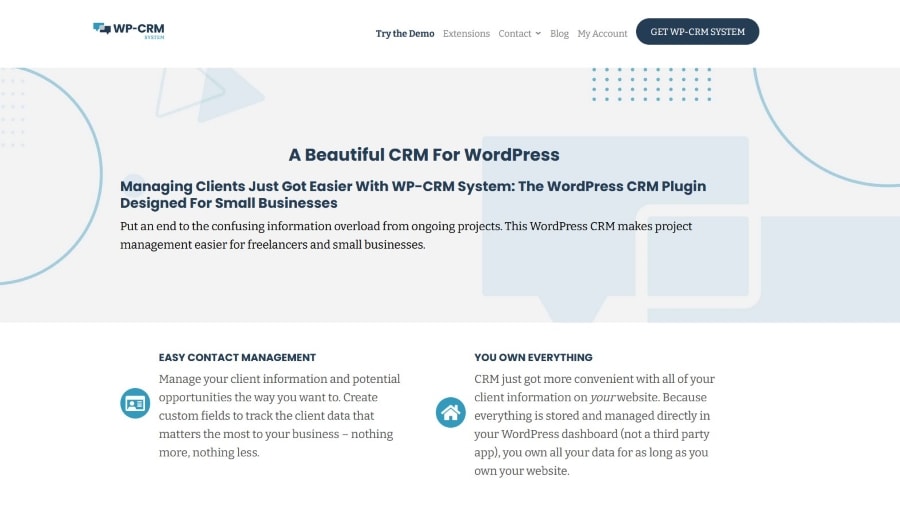 WP-CRM allows you to add a fully-functioning CRM to your WordPress dashboard, adding features like Zapier, WooCommerce, and Invoicing extensions.
Unlimited contacts can be stored in your database with the standard core plugin. The plugin has tools to help you manage projects, keep track of your marketing, and give each worker their tasks. It's also possible to export or import records in other desktop apps for analysis.
Most businesses will likely only need the core plugin. However, you can scale and tailor the CRM plugin to your liking using these extensions to link to Dropbox, Slack, Ninja Forms, and many other plugins.
WP CRM is free to download and use on your site. However, if you require extensions beyond the standard offered, expect to pay a fee, depending on the extension you want. WP CRM also offers a premium version that costs $99 per year and gives you premium support and a set of extensions.
Visit WP-CRM Website for more information
Jetpack WordPress CRM is one of the fastest and easiest WordPress CRM plug-ins. Although the interface isn't the greatest, this plug-in provides standard CRM features such as customer management, custom field inclusion, front-end lead forms, online billing, a client portal, and interaction with Zapier's automation platform.
While it has some automation features, automation isn't the main focus. Jetpack CRM is a good choice if you want a customer-focused CRM that works with WordPress.
Jetpack CRM works with several other WordPress plugins and third-party tools, like WooCommerce, Mailchimp, ConvertKit, AWeber, OptinMonster, Stripe, and PayPal.
The basic Jetpack CRM plugin is free, with plenty of features. You can tailor the CRM Plugin to your needs through extensions. Depending on the extension, each cost between $29 and $129, with the most falling in the $49 and $79 price bracket. Full access bundles with all extensions start at $204 per year.
Visit Jetpack WordPress CRM Website for more information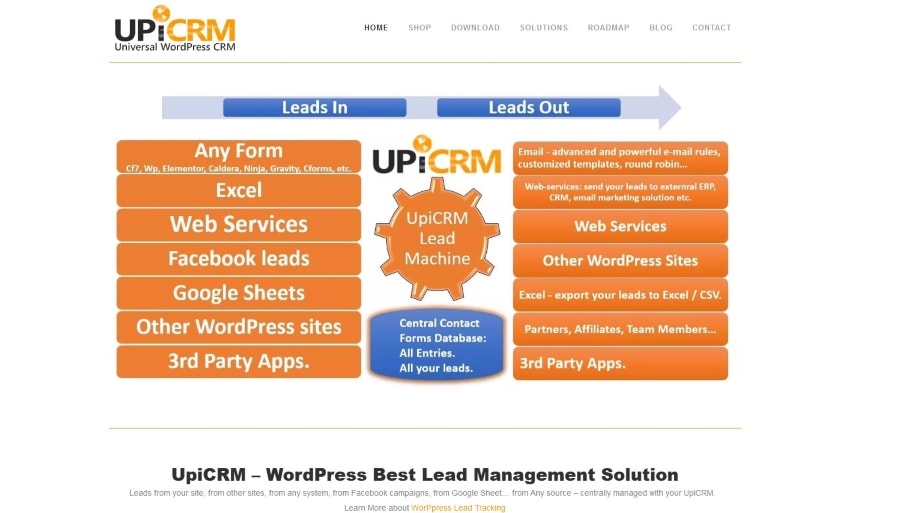 UpiCRM can be used as a standalone application or integrated with contact form plug-ins like Ninja Forms.It has an intuitive sales hierarchy function and can import contact data from many websites into UpiCRM.
UpiCRM doesn't have the most flashy or user-friendly interface but aims to simply provide an essential feature –  collecting leads and assigning them to the right user. If you need a functional free WordPress CRM plugin, UpiCRM can get the job done. It also allows you to manage leads from multiple sites. If your business uses various separate WordPress installations, this could be a big plus.
UpiCRM doesn't offer much in the integration department. The primary integration add-on is for Google Sheets, allowing you to import leads from Google Sheets into UpiCRM.
Workarounds can, however, be found by connecting to other apps via Zapier.
UpiCRM is free. You only have to pay $29 for the add-on that lets you connect to Google Sheets.
Visit UpiCRM WordPress Plugin Website for more information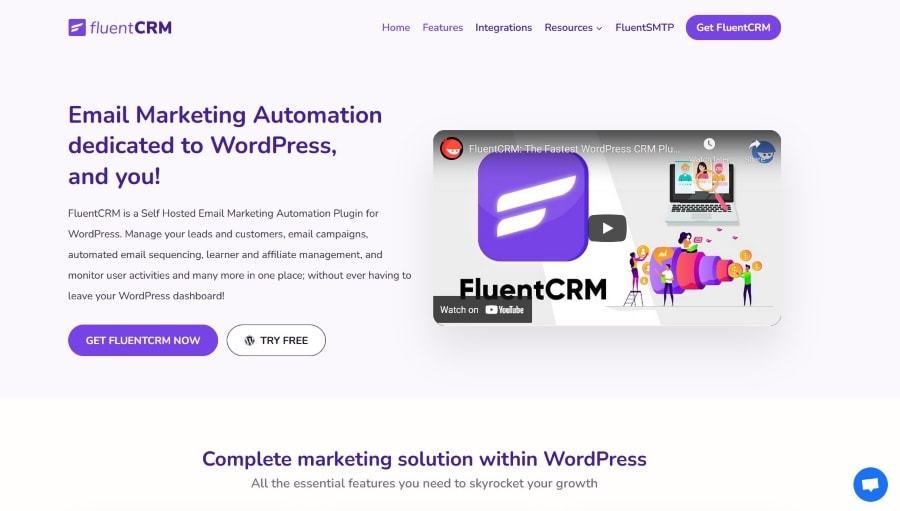 FluentCRM has a complete contact management system, some automation features, and a long list of integrations primarily for eCommerce, LMS, membership, form, and automation plugins.
However, FluentCRM primarily focuses on email marketing, allowing you to run automated email campaigns, categorize contacts for tailored content, and track conversions from leads to customers. Contacts are entered manually via a CSV file, or trigger events can be set up, such as a form fill or a purchase, for contact creation.
FluentCRM is self-hosted, meaning you will be responsible for storing all data generated by this plugin. This WordPress is a good option for eCommerce businesses looking for a contact CRM with some automation rules and the ability for email marketing campaigns.
A basic free version is available at WordPress.org. Premium versions are priced according to the number of sites you have only. These are $129/year for a single-site license, $249/year for a five-site license, or $499/year for a 50-site license.
Visit FluentCRM for more information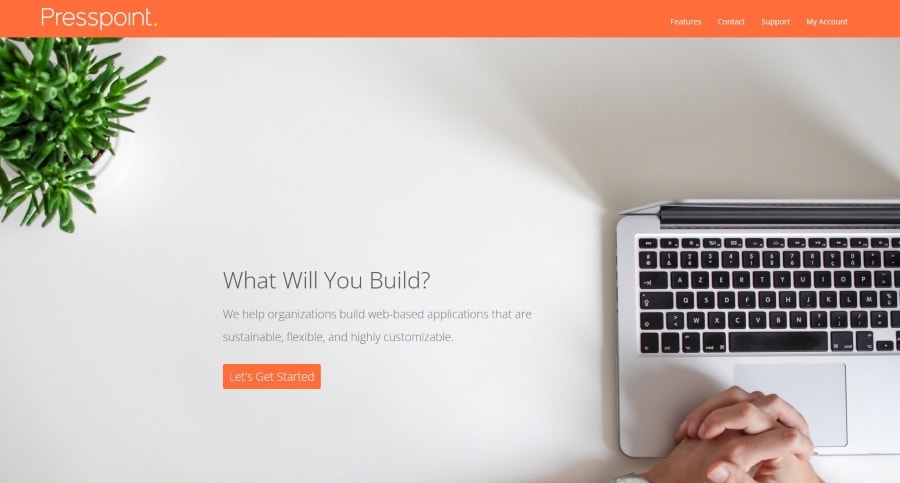 Presspoint offers a variety of features that are not easily found in many free plugins, such as opportunity management, memberships, configurable forms, and email automation.You can also create custom folders and profiles from within the WordPress admin.
This is one of the compelling reasons many eCommerce business owners choose this WordPress CRM plugin over others.
Presspoint lets you do much more than get and store customer information. It also works with ecommerce, email marketing, and more. Not only does the plugin have many features, but you can use reports to look through the data or do things in bulk, like edit or send mail.
The Presspoint CRM plugin is a serious CRM with no free version (except for a demo) or monthly plans. As a premium CRM with many features, you can expect to pay more than $500 per year.
Visit Presspoint CRM for more information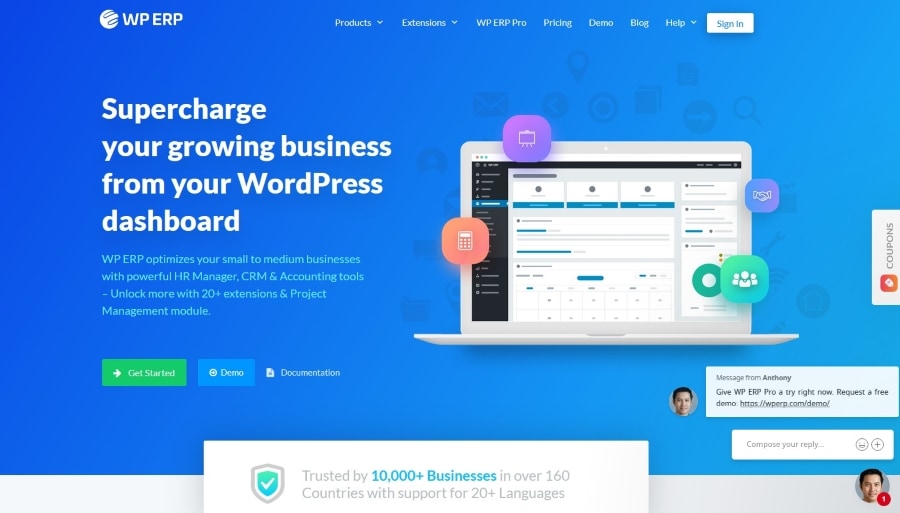 WP ERPcan manage your accounting and human resource management processes.You can add unlimited entries to each of these modules. The tool may also be used for editing your WordPress dashboard.WP ERP can be used to book emails, meetings, SMS messages, and phone calls.
WP ERP is designed to help you keep track of your internal and external relationships. On the outside, you can access a detailed CRM that lets you track leads and talk to customers. On the internal side, you get accounting and human resources (HR) tools, such as managing staff leave.
WP ERP doesn't have the most extensive list of integrations in the world. However, it does work with WooCommerce, Mailchimp, Salesforce, Gravity Forms, and other eCommerce, helpdesk, and other tools.
The main WP ERP plugin can be downloaded from their website. WP ERP Pro costs $12.99 a month to start. You can add premium extensions to the core plugin to make it do more.
Visit WP ERP for more information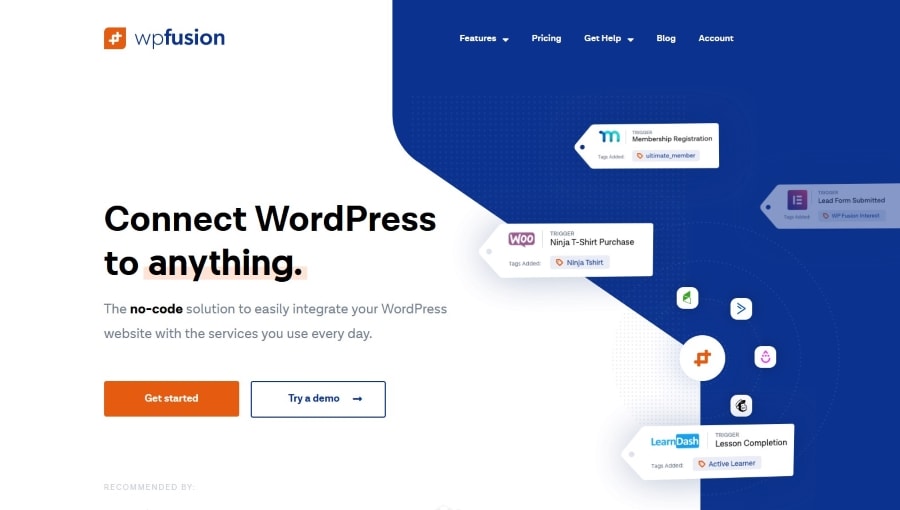 WPFusion plug-in lets you track everything, from how often a prospect clicks on certain links to how long they've spent viewing your video.Advanced users can customize the plug-in by adding extensions, as it is open-source.It can also be used with many popular e-learning and membership applications.
This WordPress CRM plug-in lets you restrict the information you display on your website based on the CRM tags that you have installed.Based on the actions and clicks of clients and prospects, your website may allow you to monitor and track their activities.
The main reason to sign up for WPFusion is if you already have a CRM and want to connect it to your WordPress site smoothly. So, this is a must-have if you use a CRM that doesn't work well with WordPress.
WPFusion is offered in Lite version, which is free. The most expensive ones start at $247 per year. Managing several sites may be costly since the professional add-ons are only available to those purchasing higher-priced upgrades.
Visit WPFusion for more information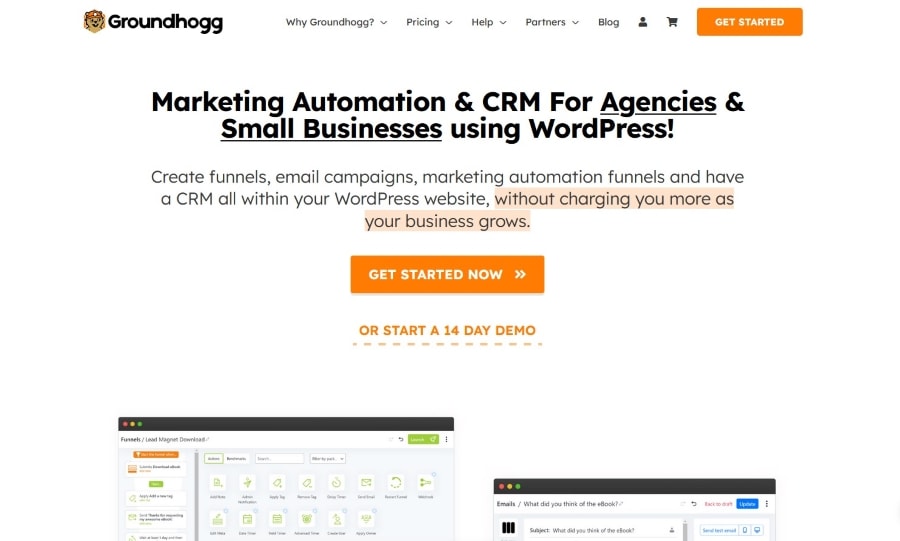 Groundhogg is a self-hosted WordPress CRM plugin focusing on email marketing and marketing automation to help you increase sales and improve customer relationships. This is the best native WordPress CRM plugin for those that want to set up custom funnels and automation sequences while having a simple way to keep track of your contact details.
The Groundhogg plugin can help you get leads, make and send personalized emails and text messages, collect customer data, and automate the whole customer journey.
The CRM works with major plugins and services like Elementor, WooCommerce, WPForms, Gravity Forms, Divi, Elementor, Twilio, and more. You can also buy premium extensions to add more features that fit your needs.
Groundhogg offers a free basic version. However, to use the advanced automation features and integrations, you'll need the paid version.
The premium plans range from $240/year for basic features on a single site to $480/year for all add-ons on up to five sites (or $960 for agency white labeling and up to 25 sites).
Visit Groundhogg for more information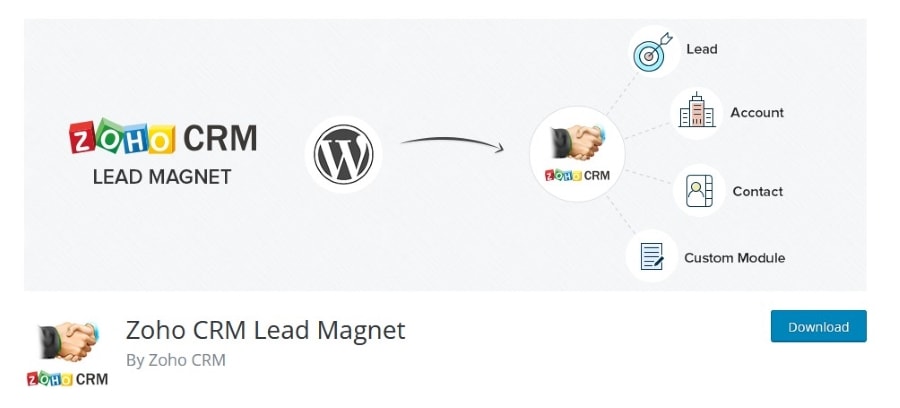 Zoho CRM Lead Magnet is a simple lead capture plugin that is free and easy to use. Zoho CRM can easily connect to WordPress using your preferred form plugin (including Contact Form 7, Gravity Forms, Ninja Forms, etc.).
Zoho CRM is a good choice for both growing and established eCommerce businesses. It contains all the features you would expect a high-end CRM to have, such as AI-powered live chat, automated workflows, and detailed reporting. It's a powerful CRM for sales, with features like lead scoring, deal pipelines, customized dashboards, and more.
But remember, since it's not a native WordPress plugin, the Zoho CRM Lead Magnet plugin won't link your WordPress dashboard to Zoho CRM. You'll have to use the Zoho CRM cloud dashboard instead of your WordPress dashboard to manage your CRM.
Zoho CRM has a free basic plan that allows up to three users and has a limited number of features. After that, you'll have to choose one of the paid plans, which costs depending on how many users you have and what features you need.
If you need a paid plan, they start at $14/user/month for annual billing or $20/user/month for month-to-month billing.
Visit the Zoho CRM Lead Magnet page on wordpress.org for more information
Conclusion
Once you start getting customers through your site, it's important to have a WordPress CRM solution. CRM plug-ins are a great way to improve your relationships with customers and can help drive customer interaction, increase customer retention, and improve customer satisfaction.
The more you know about your customers, the better you can meet their products, services, and customer service needs.
CRMs are essential to any business and a tool every business needs to grow and do well. CRMs continue to automate businesses and make people's lives easier, but they can't do everything.