Performance Management Software Systems: An Introduction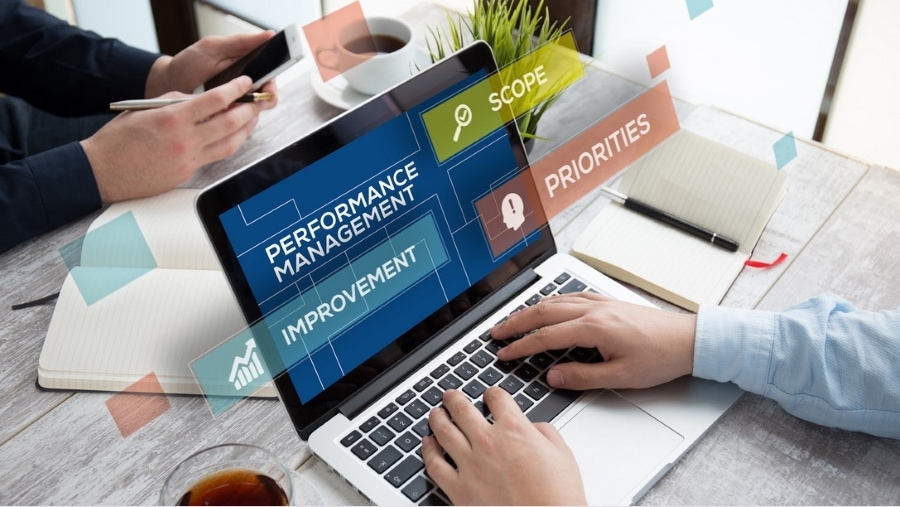 Companies use performance management software systems as a strategic tool to measure and manage employees' effectiveness. To be most favorable, it must work in conjunction with a reliable software system because the way teams and internal engagements are managed will determine the retention rate of employees.
How Does PMS Work?
Performance management is designed to support employee engagement while providing resources to grow the organization. It is used to maintain a list of every key employment role and digitize the whole member review process, which will boost efficiency.
Performance management provides several valuable insights and benefits. It will provide greater consistency for internal processes, enhance employee training by identifying areas that need improvement, and offer accurate feedback based on specific data. It will also improve employee engagement by clearly defining their roles and help streamline performance reviews.
RELATED: Is your HR transformation leveraging the right technology?
With PMS, both the engagement and employee data will be retained within a software system, which increases adaptability. PMS comes in multiple forms, including modular solutions, standalone tools or comprehensive platforms.
Modular PMS – Modular PMS comprises platforms that can add features or tools. This results in a solution that is entirely customized and affordable.
Standalone PMS – Standalone PMS is very convenient since it is designed for specific purposes. However, it is not very scalable and will not be able to accommodate companies as they mature and grow in size. For example, if you use standalone PMS for performance evaluations and you need to expand in the future to include compensation and payroll, there is a chance that the standalone tool won't function adequately, which will make it more difficult to manage data.
Comprehensive PMS – Comprehensive platforms are versatile and capable of meeting any task you need to be completed. Still, these systems are the most expensive and can be outside operating with a limited budget price range.
Performance Management Best Practices
PMS has several critical human resources functions, which involve defining the business roles, ensuring that everyone is aligned with team goals, reviewing and documenting the attainment of individual employees, identifying resources and promotional opportunities, and performing and reviewing exit interviews.
RELATED: What are the effects of technology on Mental Health and Well-Being in the workplace?  
Performance management starts from when an employee joins the organization until their departure. Therefore, it is essential to develop a system that will direct both the success and continued growth of the enterprise.
How you approach PMS should depend on circumstances specific to a given firm, but there are several general best practices that everyone should remember.
Use programs dedicated to employee growth that encourage the development of leaders: While acquiring new staff and retaining existing ones is essential, it is also vital to establish pathways that allow team members to thrive individually. The more qualified workers you have, the more efficient your organization is.
Follow up using suggestions and feedback to monitor employees' progress: Outlining steps for enhancing internal processing while giving employees actionable feedback is a great start, but it must be followed up. Check your team members periodically to determine how they're doing and monitor their projects' progression.
Provide actionable feedback for management: Keeping employees accountable is essential, but the same is true for the management. Employees will work more diligently when those above them set a good example and create a motivating atmosphere. Therefore employees must be allowed to provide feedback on their leadership.
Set directives and goals which are clear and that outline the roles of each member: Employees must thoroughly understand their responsibilities. This will reinforce the team while encouraging each member to fulfill their duties to their best capabilities.
Identify exceptional performance and reward it accordingly: It is vital to recognize when an employee does something exemplary and reward them for it. When this is done, it will motivate them to continue working assiduously and highlight their role in the organization.
Use direct reports to follow up on the progress of projects: A key component of PMS is ensuring that team members are performing their assigned roles. One way to accomplish this is through direct reports for individual projects provided periodically so that nothing is missed.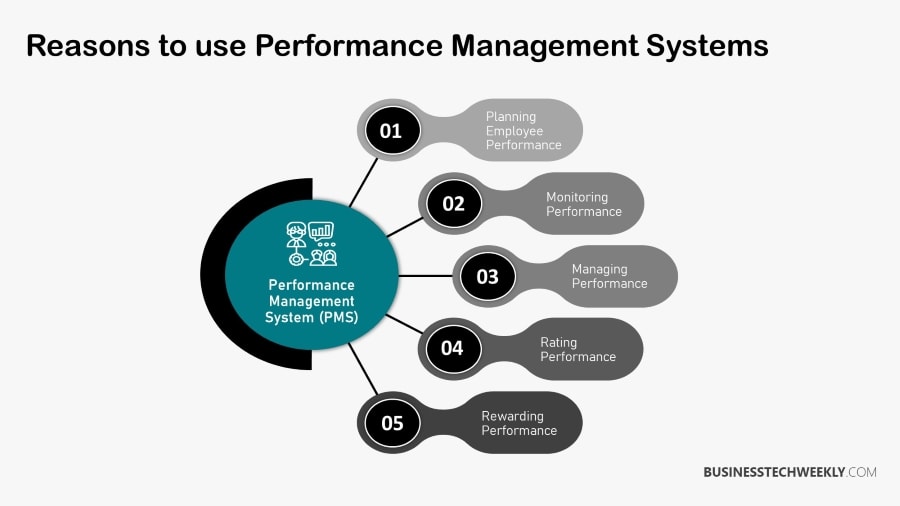 Why a Growing Number of Enterprises are Using PMS
Many organizations worldwide implement performance management because it provides six key advantages: documentation, development, administrative, strategic, and organizational and communication.
Documentation – The forms or feedback must be thoroughly documented and retained regularly by each institution for performance management evaluations. This allows them to plan, establish new targets, and design training programs and development tools to advance employees' careers.
Development – The structural method which is used to relay feedback is essential. It will help improve various areas while aiding in its developmental plans. Managers can utilize multiple techniques for mentoring, coaching and training team members to improve their performance.
Administrative – PMS also plays a crucial role in determining individual employees' salary, termination, transfer, promotion, or demotion. It makes identifying performing and non-performing staff easier while considering their skill level and competency. Thus, it carefully designates the needed administrative roles while supporting the decisions made by management.
Strategic – Any performance managing system that an organization implements should align with its strategic vision. It must also include both individual and departmental goals so that the strategic objectives of the organization as a whole can be connected to the activities that employees and departments perform.
Organizational – The ongoing maintenance of the organization is essential. PMS should be considered the yardstick in this regard, as it will measure the organization's achievements as a whole, departments and employees. It will use various techniques and tools to review their performance and discover gaps that can be filled, which strengthens the institution and each member within it.
Communication – An efficient communication channel allows employees to be informed of their responsibilities, goals, performance standards and deliverables. It should be considered a structural system used to identify areas that can be improved and help team members boost their competency. PMS provides a platform to help employees learn new skills and enhance existing ones.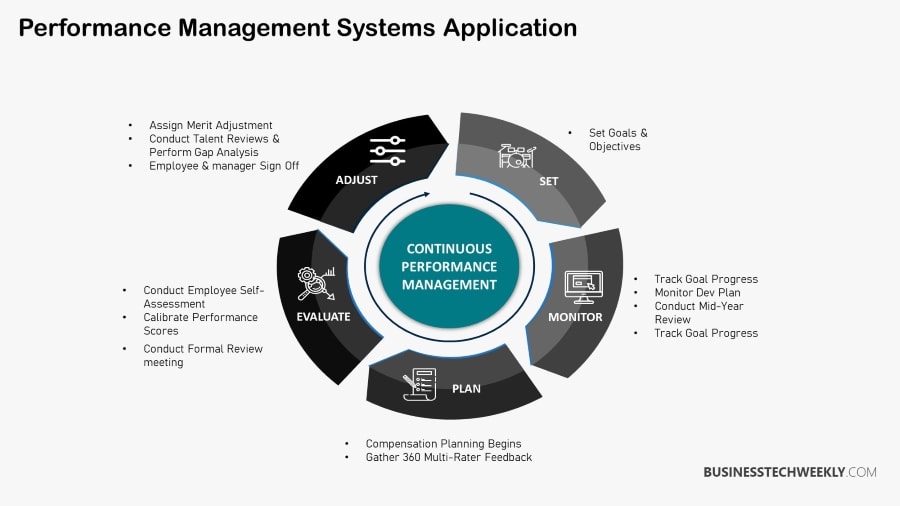 Features Which Appear In the Best PMS Tools
Several features are commonly found in top performance management tools. The first is prior performance details, which enable employees and managers to evaluate achievements and place these successes in the proper context. It also compares past and current performance while establishing directives for the current year.
RELATED: 10 Tips when Learning New Technology Skills
Some organizations keep things casual and straightforward. Goals and objectives are discussed regularly and formally due to continual contact between the manager and their staff. An annual review will provide HR with paperwork about merit and performance raises and bonuses and the official employee file.
360-degree appraisal – A 360-degree appraisal system often includes comments from other sources and a direct supervisor.
Coworkers, clients, other department leaders, and customers can provide additional comments. This provides employees and management with a more comprehensive picture of their performance across the organization.
Self-assessment – Self-assessment is sometimes included in the performance review process; it is often simply one component of the overall performance evaluation and involves people analyzing their performance, reaching goals, and overcoming problems on the job.
Manager appraisal – Like the 360-degree appraisal, assessment for management roles typically includes requesting feedback from team members and employees.
These assist managers and their leadership supervisors better understand how management guides employee projects, performance, productivity, and other factors.
Project review – Managers or corporations will occasionally evaluate employees based on projects they have completed or engaged in.
This is a valuable technique to assess employee growth as it happens – rather than to wait for an annual review, you can review people more frequently while still having precise goals to track success against.
Sales review – Salespeople are frequently evaluated differently than regular employees. They are often significantly more frequent and are held to a robust set of sales metrics that a sales professional is responsible for meeting.
Salespeople are sometimes evaluated for sales targets and overall employee performance reviews.
Whatever performance appraisal system your HR team decides to implement or propose, most reviews should aim to evaluate the following aspects.
Goals: The primary purpose of an employee appraisal is to guarantee that both the employer and the employee agree on the same goals, and managers support them in their job and balance goals and other conflicting priorities.
It's also beneficial for employees to understand how their particular objectives integrate with or support the larger corporate goals and how they'll be evaluated on whether or not they were successful in goal fulfilment.
Review of skills proficiencies: Performance assessments allow you to interact with your employees by providing insight into what they did well.
Your feedback on how they can continue to improve will enable them to highlight any issues they're facing and how the firm can assist. In addition to examining, goals established in previous reviews, soft skills such as time management, client engagement, presentation abilities, and others should be reviewed.
It's also an excellent time to go over any technical skills that employees should work on improving, as well as whether they'd like to take any extra training or perhaps move into a different function.
Listening to feedback: It is critical to solicit input from your employees on their positions, goals, the team, and even your leadership. This aids in the maintenance of positive relationships with employees and the improvement of employee engagement and morale.
Installing a Performance Management System
For PMS to work as intended, it must be installed properly. The first step is to form a plan and project team.
Because PMS will affect every member of the organization, any changes made must be planned with care and should be seen as a formal project. Human Resources should be involved, and employees and line managers so their input can be provided.
The next step is to specify the organizational need. You must know why the PMS is needed and what challenges it will address. Establishing goals and the criteria for meeting them will make it easier to see when the objective has been achieved.
The third step is to document the requirements carefully. This must be done before selecting the software and should be undertaken as a team so that you can get different perspectives.
Requirements should be broken down into desires and essentials since one system won't be able to meet every need. Functional requirements are things you want your system to do, while non-functional requirements are how things should be done. Examples of non-function could include intuitiveness, appearance, usage ease and whether it is cloud-based.
RELATED: HR software selection: 5 tips for choosing an HR solution for your business
Software Selection
The fourth step is to select the software. Each program will need to be carefully assessed to determine if it suits your requirements. Still, other things that must be considered include the system culture, which refers to whether or not it is focused on evaluation and scoring, or will it encourage discussion and feedback, which is qualitative?
Is the system mobile responsive? If it is, the system will automatically adjust to fit the user's screen size, which means it can be used on multiple devices and screen sizes. How good is the customer support? Is it based in the same country as your organization or overseas? Does the supplier truly understand performance management, or are they merely salesman?
The system must also be simple to use and secure. Software that is too complicated to learn will frustrate employees and make it harder to adopt. It must also be encrypted with the latest compliance technology.
Once you've identified a system you want to purchase, you'll next need to perform a buy-in internally. This means presenting the software and implementation plan to upper management for approval and funding. You'll need to persuade essential stakeholders to show them a demo of the PMS as soon as possible.
Once you've finally acquired the PMS, you'll need to test and configure it. The testing should be comprehensive and include new users who must undergo the complete cycle, finishing each online form in its entirety. You'll need to review error messages, field validation, approved emails, reports and printing.
Review the data integration so that you can test the transfer of employee data via the HR system. Finally, you'll need to establish your communications to introduce the software to the team.
Next Steps
The most crucial aspect of your performance evaluation system is working for you. Performance reviews can only be effective if they are used by management and successfully connect with the employees under review. It is critical to ensure that your appraisal procedures are consistent with your company culture and goals.
It may make more sense for start-ups or small businesses to abandon regular annual performance assessments in favour of a different type of feedback and goal assessment.