Data Recovery: Tips and Best Practices for Recovering your Data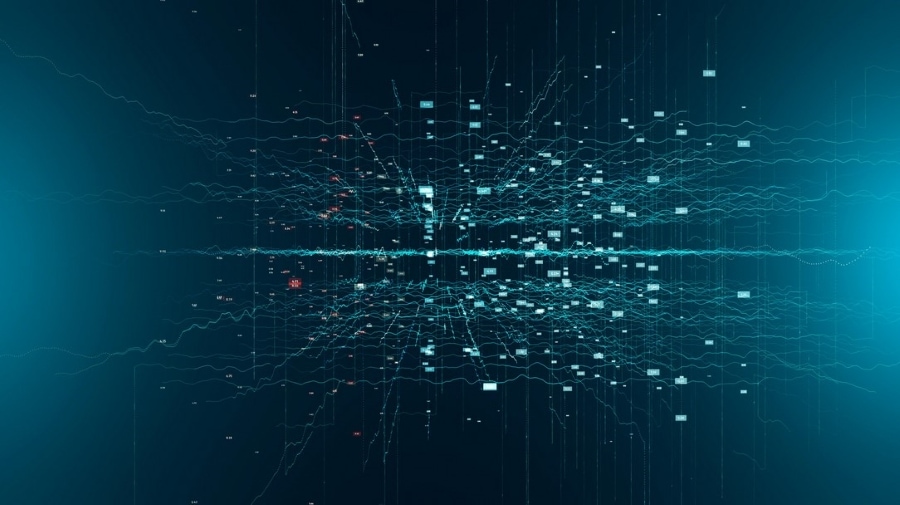 Data loss can occur for several causes, including virus attacks, system failure, physical damage to the storage device, unintentional deletion, and disc formatting. The only strategy that guarantees the recovery of lost data is to maintain a backup in a location disconnected from your primary storage. However, even if you did not create a backup, their are tools and techniques available to aid you when recovering some or all of your lost data.
Although we are constantly reminded of the importance of creating multiple backups of essential data, most individuals assume they will never be required, or they put off the creation of their backup system indefinitely. This post will discuss steps you may take to increase the chance of data recovery.
Best Practices for Recovering your Data
Data loss, regardless of the reason, can be devastating. However, there are tools and techniques available that can help recover some or all of your data.
If you do experience data loss, here are some best practices you follow when recovering your data.
1. Cease any 'write' operations
Contrary to widespread assumption, deleting a file does not instantaneously remove it from existence.
File systems are designed to preserve hardware resources. Because active file deletion consumes resources, it is usually avoided (although the software is available for those who want to erase all traces of their activity if necessary).
The system simply removes the file's entry from the system; the file remains in situ but is no longer connected with its original name. As long as the file is not further damaged (usually due to overwriting), it stays intact and can be easily recovered using any reputable data recovery program.
So, if you want to boost your chances, immediately cease all "write" operations for the storage device in question: file creation and editing, data transferring to the device, temporary file creation, and so on.
If the lost data were kept on the system partition and are critical, the best course of action is to cut off the power (do not do a regular shutdown because it may involve "write" activities), remove the hard drive, and recover them on another computer.
2. Never reboot the damaged storage drive
If the files you've lost were saved on the system disc, you should refrain from restarting the computer.
The situation will get increasingly dire with each additional try, and the likelihood of a successful recovery will decrease accordingly.
3. Don't defragment the storage
If you realize that data has been lost, you should not defragment the drive in issue since doing so makes it extremely unlikely that the data can be recovered.
4. Be realistic about your skills and data importance
If you know what you're doing and the data isn't too necessary, you can quickly try to retrieve it yourself. A plethora of data recovery software allows you to get decent results without computer skills. However, suppose the data you wish to recover is critical.
If your data is vital, find a renowned recovery company to recover data from mechanically failed or physically damaged discs. Even the most basic data recovery techniques may leave your data unrecoverable.
Experts know what they're doing and can frequently recover all of the data even if the drive has been physically damaged and isn't recoverable in any other manner.
Avoid "home treatments" you may have heard about on the internet, such as freezing a non-spinning hard drive or striking it on its side. Many of these solutions are wrong. While some claim success, they may damage the device and result in irreversible data loss. We advise you not to risk your valuable data.
5. Don't install data recovery software on the same drive where you've lost the files on
Again, this may sound like an obvious piece of advice. However, if you have decided to try and recover your files on your own, you should avoid installing the software you intend to use on the same drive as the files that need to be recovered.
Doing so could cause the files in question to be overwritten. Install the program on another system's discs instead by slaving your drive into another operational computer.
6. Act immediately if the drive is corrupted
If you didn't delete the files accidentally and the problem is in the hard drive itself, don't wait. Use recovery software or take it to a lab as soon as possible.
The longer you wait, the more significant the risk of further data corruption and damage. If you act within the first few hours, you can hope to restore most of your lost data. With every passing hour, your odds are getting worse.
7. Have plenty of free disk space at all times
If you just cannot be bothered to create backups regularly, the very least you can do is ensure that the disc on which you save crucial data always has plenty of unused space available.
This indicates that the risk of the system overwriting your vital data with anything else is lower if it is erased compared to the likelihood that it would do so if it had fewer choices to select from. Therefore, check to see at least 20 percent of your disc space.
8. Don't physically tamper with the drive
Even if you think you're brilliant at technology, you will worsen things. Only skilled engineers should perform such procedures in a dust-free environment.
Even if you assume that replacing a circuit board is all required to fix the drive, don't do it since it may result in a firmware conflict, rendering the drive wholly inoperable.
Best Data Recovery Software
So much important information is stored on hard drives or in the cloud by businesses today. However, may still rely on USB sticks or an external hard drive to save some of your data. Many types of data backup and disc cloning software can make the data recovery process simple and easy.
However, if you don't have anything like this in place, you will need dedicated data recovery tools to help you get back your lost files and folders if your hard drive crashes or gets corrupted.
For good reason, Stellar Data Recovery is one of the most widespread data recovery services for businesses. The platform has several scan choices, allowing you to customize the scan to the type of data loss.
This saves time if you accidentally erase a vital file and discover right immediately, eliminating the need for a thorough system scan.
The software also has powerful search features, making it simple to locate and extract the most critical data.
Stellar Data Recovery also supports all file types and discs, a significant feature. It is a versatile service that can recover data from internal and external hard drives, memory cards, flash drives, and optical media such as CDs and DVDs.
On the other hand, a license must be purchased annually rather than monthly, with prices starting around $80 / £80 / AUD$120.
Why should you buy it?
+ Recover data from multiple types of devices
+ Quick and deep scan options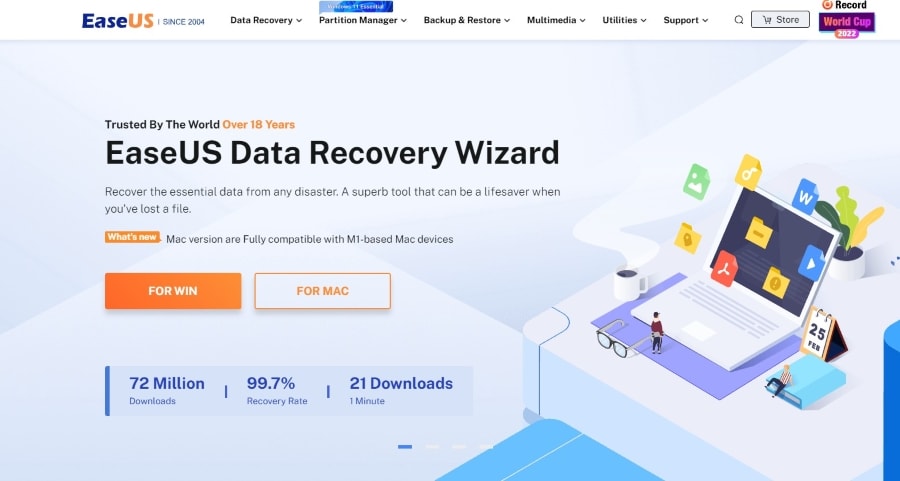 EaseUS Data Recovery Wizard is simple, guiding you through the recovery procedure. If you run EaseUS Data Recovery Wizard Pro fast enough after a disaster, it can resuscitate almost everything, from accidentally lost partitions to virus-damaged files.
The package remains one of the cheapest methods for recovering crashed RAID configurations we've encountered – several programs conceal this feature in their premium editions.
While there are more complex recovery kits available, as well as those that are less expensive, this is the one we'd have on hand for those less-than-special occasions.
There are several pricing choices, ranging from monthly to yearly, or a Lifetime upgrades license, starting from $80 / £80 / AUD$120.
Upgrading to a premium license is a little pricey. However, a large number of features you gain for that investment means that it represents excellent value for money.
You have a clear winner when you combine the app's excellent performance, EaseUS's immediate customer care, and a well-designed user interface.
Why should you buy it?
+ Fast deep-scan function
+ Highly advanced data recovery tool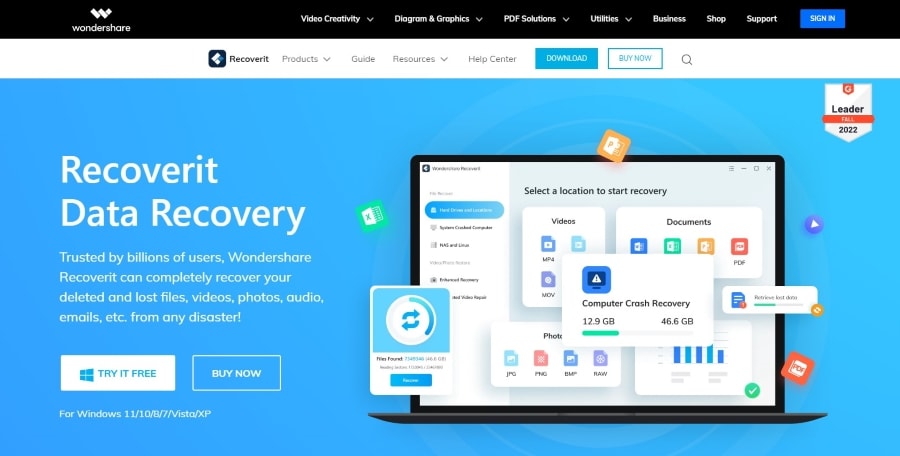 The data recovery program has an excellent interface. Behind it is a substantial collection of functions that can recover photographs and video. And, if you're willing to pay for higher levels, you'll also get video restoration choices and bootable recovery tools.
If you own a business or simply need data recovery for personal files, Wondershare Recoverit is simple to install and use.
Recoverit assists you in safeguarding your data so that it is not unintentionally deleted or stolen.
The Premium version takes all those functions and adds extensive video recovery, combining, and restoration tools.
That plan costs $89 / £107.03 for a year of access or $160 / £171.26 for a lifetime subscription, but it supports two PCs instead of one.
Why should you buy it?
+ Simple to use
+ Supports a wide selection of media types and files
Buy Recoverit
Next Steps: Make it a learning experience
Data loss can be a frustrating experience for most businesses. Data loss can disrupt business-as-usual operations, causing reputation and financial harm. With so much at risk, organizations must have a genuine interest in securing their data, preventing data loss, and having a strategy in place for recovering their data for the inevitable.
Make sure that this experience teaches you to create frequent backups of your critical data. Keep crucial files on the cloud or a separate storage device (or devices), and refresh backups regularly (as often as you feel necessary but no rarer than once in a couple of months).
Recovering 100% of your data is uncommon – if the information is gone, expect to lose some of it forever. Following these guidelines, however, can increase your chances of getting at least part of your files back in working order — so make sure you remember what to do the next time you realize you've lost anything important.