Internet SLAs: Best Practices for Internet Service Level Agreements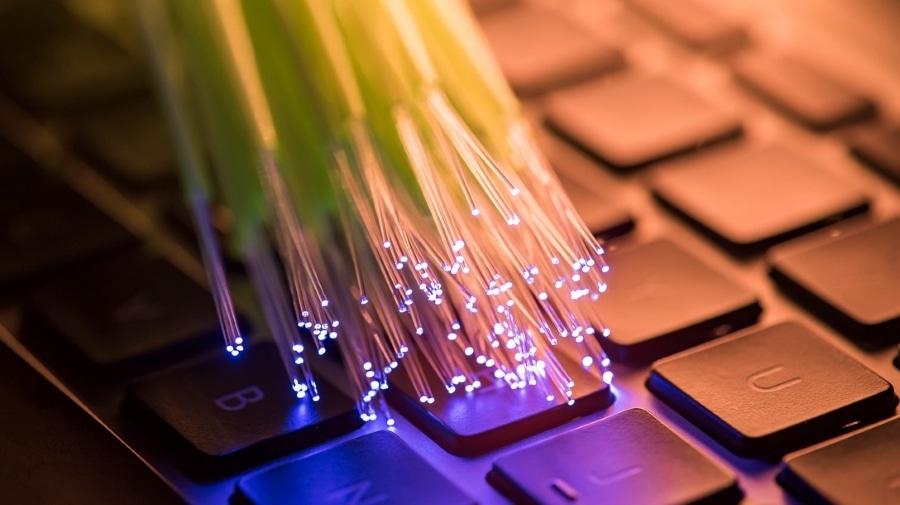 As the world shifts to digitalization, businesses seek the best companies to serve their network, software and internet requirements for desired efficiency and reliability. There are several ways a good internet service provider stands out from others. Whether an internet provider meets the service level agreements (SLAs) is a significant consideration. An SLA is an agreement created to specify what level or quality of service a customer can expect from a service provider.
Below, you can learn more about Internet service level agreements (SLAs) and some of the best practices that should be followed.
What are Internet SLAs?
An internet service level agreement is a legally binding contract between an internet service provider and a client, created to establish the terms and conditions of the internet service offered.
The agreement defines the level of service and standards a provider should deliver. A failure to meet these levels or quality subjects the provider to penalties as specified in the SLA.
Using internet service level agreements has several benefits. They help you set the expectations about services at the agreed price. They establish comprehensive, straightforward, measurable terms and expectations and give peace of mind to all the parties involved in the transaction. An SLA also provides legal documentation that proves useful if any dispute arises in the future.
Internet SLAs protect the rights of the customers and providers. A mutual understanding of the conditions of service put down on paper helps foster a positive relationship. SLAs also improve communication and productivity and help avoid serious conflicts.
RELATED: Mastering Service Level Agreements: Best Practices for SLAs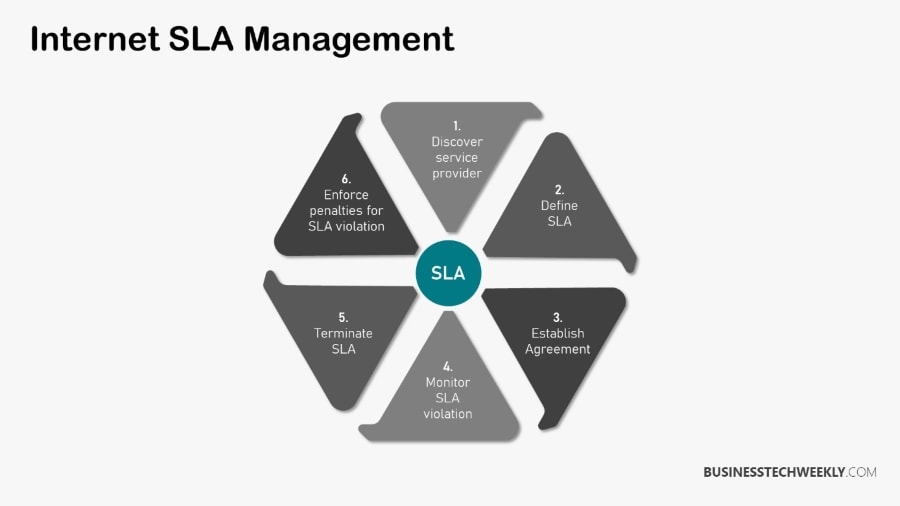 Key Components of an Internet SLA
There are many vital terms in an internet SLA that one should be aware of. These metrics help understand the level of service you can expect from the service provider during the contract. Here are some of the key components of an internet service level agreement.
Latency
Latency describes the time data packets take to travel and is expressed in terms of milliseconds. An internet SLA also comprises a specific level of latency that you should receive. It can be stated either for the company network or the combination of company and business networks.
Uptime
Uptime refers to the timeframe when internet services are available. Internet SLAs guarantee a specific amount of uptime for businesses and enterprises. An uptime of 99 per cent of the service per year means you can expect a maximum downtime of 87.6 hours from the internet service provider in a year.
Packet delivery
This metric describes the packet transmission rate as a ratio of data packets. Most business services offer a standard rate of 99.5 per cent for packet delivery.
MTTR
Mean Time To Repair is a term that refers to the average amount of time the provider takes to respond to outages and other service issues. The internet SLA states this metric as agreed upon by the two parties, helping businesses know how long to wait before an issue can be resolved.
Remedies
An internet SLA should cover practical remedies that can be enforced when a service provider fails to meet obligations outlined in the agreement. The SLA should clearly define how service credits are calculated, any limitations, and rights for the customer to terminate the contract if failures persist.
An SLA typically limits the remedies to termination rights and service credits, allowing IT teams to litigate against the provider for damages caused by failures.
Other Key Terms in Internet SLA
Depending on the type of service used and how the provider offers it, your agreement can have dozens of terms and definitions. It is important to define key terms – failing to do so can result in misunderstandings and disagreements. The internet SLA can be open to legal interpretation if key terms are not explained well.
An internet SLA for a business addresses service level metrics and network performance a provider delivers to enterprises. It also specifies the eligibility for qualifying for refunds and credits if the company fails to deliver the performance standard specified by the SLA. Some of the key performance indicators included in an internet SLA are:
Category of services provided
Customer support and service performance levels
Network usage stats
Reporting for network issues
Response and resolution schedule
Penalties for non-compliance with standards
The service level agreement defines these terms:
Uptime or availability
Outage
Mean-time to respond
Degradation
Mean-time to recover
Performance standard
Mean-time between failures
Packet loss
Though many of the terms are common across service providers, others are specific to companies. The IT team must understand the SLA terminology properly to benefit the most from this agreement.
Moreover, some metrics like uptime are measured annually, while others are measured quarterly. An SLA should also identify what elements are not covered in the agreement.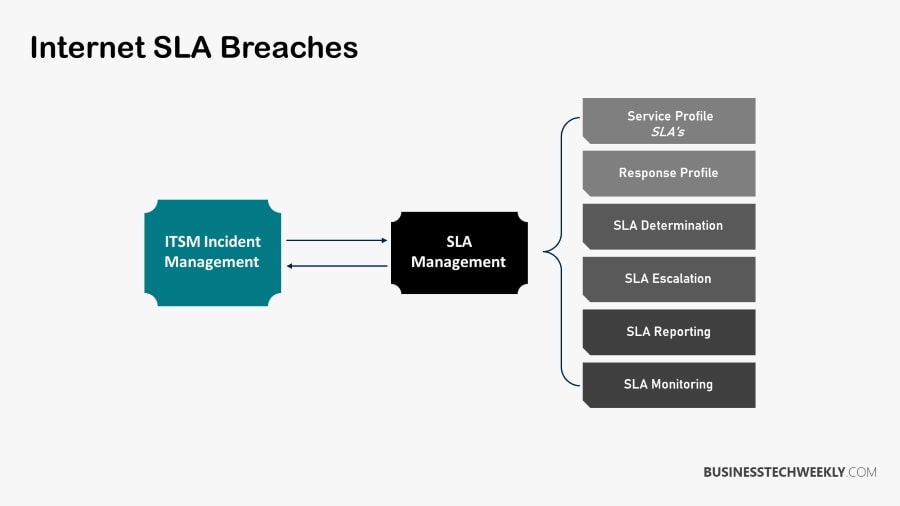 The SMART Model of Creating Internet SLAs
Internet SLAs should be easy to understand and complete enough to cover situations that may arise. Moreover, they should have measurable terms that set objectives which both parties can understand.
A SMART framework should be used when creating SLAs. Every service level should be outlined in a way that is:
Simple – It should be easy to understand everything in the agreement clearly. The language used in the SLA should be direct and clear without any chance of misinterpretation. The agreement should be free of complex definitions.
Measurable – Metrics should be set in the SLA to measure how efficient the services are. Some of the most common parameters for internet service are uptime, defect rates, packet loss, download and upload speed, and more. A provider may promise an uptime of 99.99% uptime in the SLA; monitoring the site's uptime helps understand whether the promised service level is available.
Achievable – Both parties should be realistic when setting performance goals that can be met. If the goals are too hard to reach, it will raise expectations and result in dissatisfaction.
Relevant – Everything in the internet SLA should apply to your needs and objectives. Aligning the SLA with your business strategy would ensure both parties can work together to achieve the optimum results.
Time-bound – IT teams want that internet services are always quick. So, time limits are essential for setting up internet SLAs.
RELATED: How to measure your SLA: 5 Metrics you should be Monitoring and Reporting
Internet SLA Best Practices
IT services are complex and widespread. Confusion can arise when the provider and business use one term to refer to different things. Internet SLAs help the ISP and business IT departments remain clear and confident and work together without conflicts.
An important best practice is to keep the SLAs clear. As they are legally binding agreements, any confusion can result in expensive losses.
Here are some other best practices for internet SLAs.
Align with the desired outcome
Internet SLA provisions should align properly with your business outcomes. Nothing is worse than dealing with a situation where all the SLA metrics are met, but the SLAs don't help the business achieve the desired results. Every service outlined in the agreement should be aligned with the outcome you aim for.
As every business is different, they have different goals and need different services. This is why the internet SLA for one business will differ from another. However, there are some key provisions that any internet SLA should contain.
Uptime
Nothing matters to IT teams more than uptime. A lot of consideration goes into describing what level of uptime is acceptable for a business, how it is measured, and the consequences of failing to meet the standards for uptime. This is an area where numbers matter, and every single digit used in the calculation is significant.
Off Hours Troubleshooting
This is something that deals with problems occurring after business hours. An internet SLA should have a provision for support and resolution outside regular service hours.
Agreements made between service companies and businesses generally provide a remote hands team consisting of qualified technicians capable of handling such unexpected problems.
Transparency
Both the parties should know how to verify whether the standards set in the SLA are being met. A metric promise holds no meaning if the IT team cannot see how well the provider lives up to the promise. Transparency is specifically critical for certain areas like network traffic and uptime.
Review and Update Periodically
SLAs can get ineffective if not updated at regular intervals. The agreement will need to be modified whenever new practices are introduced. Old SLAs and metrics may no longer suit your changing business needs and methods. Continual improvement should be suggested to the SLAs to meet the demands and changes in the business operations.
RELATED: IT Support Contracts: What should be covered in your IT Support Agreements?
Final Thoughts
Internet service level agreements can be challenging to work with but are an asset for providers and businesses. They set the foundation for a long-term relationship between IT teams and service providers. They help improve service quality, avoid conflicts and build trust.
Without a well-designed internet SLA in place, enterprises would lack the focus and find it challenging to maintain the efficiency of their operations. With some best practices, IT personnel in an enterprise can ensure they make the most out of these agreements and stay on top of the internet services.