ISO 27001: What are the benefits?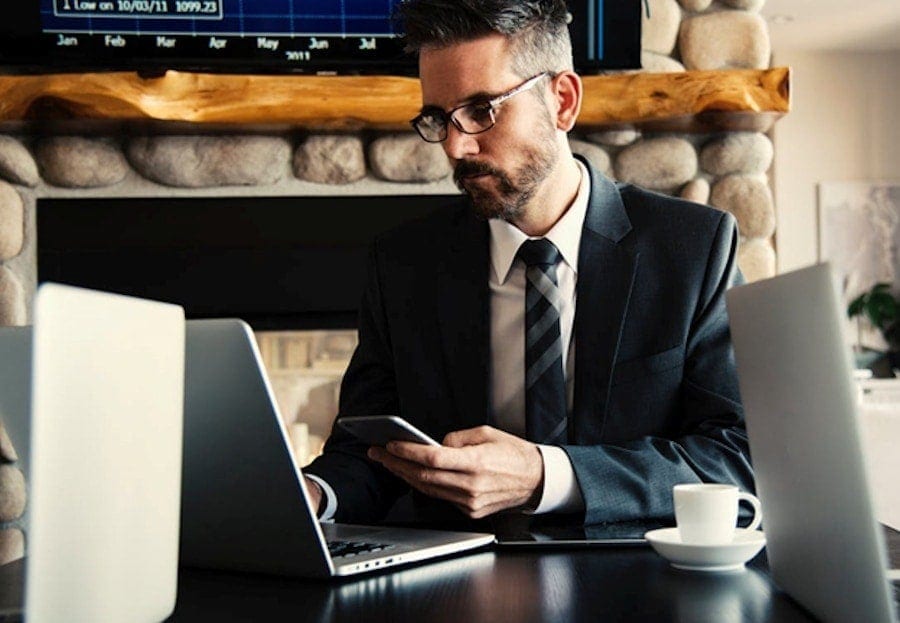 You may be wondering what the benefits of ISO 27001 exactly are for your organization.  After all, the ISO 27001 standard is not yet mandatory in many countries.  So, what are the advantages for your business in undertaking the effort and bearing the costs to implement an information security management system?
What the ISO 27001 offers
The ISO/IEC 27001 standard offers a structured risk-based approach to information security.
The pathway allows organizations to implement a robust Information Security Management System (ISMS) and become internationally certified to the ISO/IEC 27001 Information Security Standard.
It does this through the application of 14 controls, which cover a wide range of Information Security areas, information asset identification, risk assessment and treatment, and a 2-stage audit.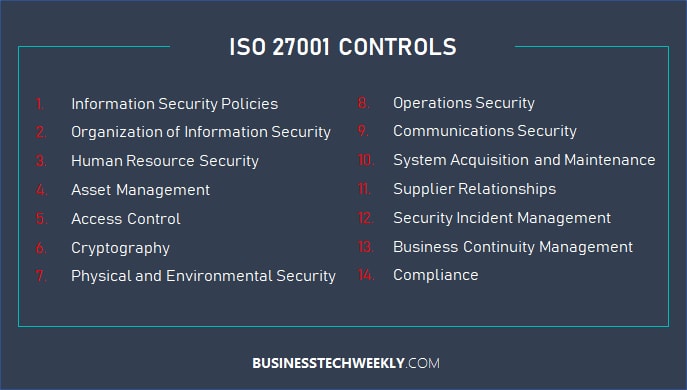 The main benefit of ISO 27001 certification is that it demonstrates that your organization follows information security best practices to protect customers, clients, and suppliers' sensitive information.
In an increasingly globalized market, this is a significant advantage. Since an internationally recognized ISO 27001 certification offers both new and existing customers confidence in your ability to protect their data.
Learn more: What is ISO 27001?
Why is ISO 27001 advantageous for your business?
Before we explore the benefits of ISO 27001 in detail, let us understand the advantages of the ISO 27001 standard.
Organizations that implement and certify to the ISO 27001 standard position themselves to protect their information security assets from threats successfully.
Such an undertaking puts an ISO 27001 certified organization in an enviable position, allowing them to maximize measurable benefits offered by ISO 27001.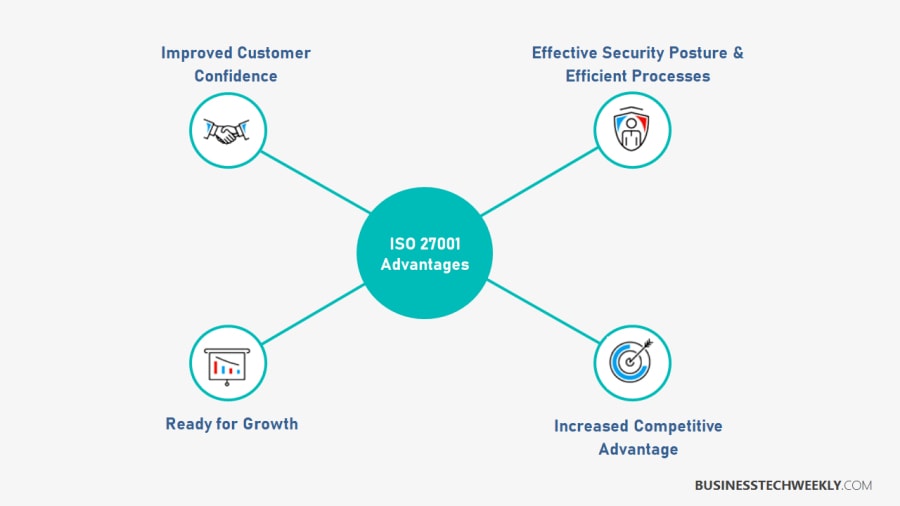 Businesses adopting the ISO 27001 standard stand to gain the following advantages:
Effective Security Posture & Efficient Processes
ISO 27001 is a risk-based methodology for implementing ISMS to protect the confidentiality, availability, and integrity (CIA) of an organization's data assets and systems.
It does this through a set of 14 controls covering various aspects of information security.  It further stipulates the need for an information security policy and other mandatory documentation.  Finally, constant improvement is at the core of ISO 27001. Through the Plan–Do–Check–Act (PDCA) management method, ISO 27001 seeks to improve the security posture of an organization constantly.
Consequently, by implementing ISO27001, businesses can ensure effective information security and efficient IT risk management processes.
Improved Customer Confidence
When dealing with a supplier, customers want assurance and surety that their decision to conduct business with an organization was correct.
From a cybersecurity perspective, a customer would want to know their data is safe from external attack and employee error or malicious practices.
ISO 27001 certified companies instil trust in both new and existing customers through their commitment to information security best practice and continuous improvement.
Consequently, ISO 27001 accreditation provides the necessary reassurance to customers by demonstrating a firm's commitment to keeping their customer data safe.
Increased Competitive Advantage
As an ISO 27001 certified business, you can showcase that you have met stringent information security measures.  Thereby differentiating yourself from the competition and significantly adding to your status in the marketplace.
Holding an ISO 27001 certificate will be beneficial to your sales team, making it easier for them to convert prospective clients, as well as completing tenders.
Ready for Growth
As your business grows and evolves, your business can become increasingly exposed to cybersecurity vulnerabilities and threats.
In a period of growth and expansion, it is easy for ad hoc procedures to be created.  However, such practices can lead to a fractured and inefficient approach to information security. Consequently, this can result in high costs through repeated or unnecessary processes and gaps emerging in your security.
An ISO 27001 based ISMS can be easily scaled to match your growth, so you won't need to worry about inefficiencies or gaps in your security.
The Benefits of ISO 27001
Following a top-down approach, ISO 27001 offers organizations the opportunity to improve risk management and information security by standardizing how information security is managed.
The advantages offered by ISO 27001 provides several benefits for all types and sizes of businesses intending to adapt to the standard.
Many of these benefits are measurable, allowing for easy tracking. Presented below are the key benefits of ISO 27001:
Reduce the Risk of Cyber Attacks
The primary benefit of ISO/IEC 27001 is the reduction of successful cyberattacks on your firm.
While ISO 27001 won't reduce the number of attacks your organization suffers from cybercriminals, it will reduce the chances of those attacks succeeding.
Part of the implementation of ISO 27001 includes documenting policies and processes.  It also encourages firms to regularly identify and address areas that need improvement.
Consequently, ISO 27001 benefits companies by helping them to find any weaknesses in their security and taking steps to strengthen their cybersecurity defences.
Compliance with several regulations and standards
A key benefit that ISO 27001 certification provides is evidence of your compliance with information security to international standards.
In addition, ISO 27001 certification can prove to regulators that your business is compliant with the information security requirements for several legislation and regulations, such as GDPR, SOX and Data Protection Act (2018).
For those businesses intending on bidding for UK Government contracts, you can benefit from your ISO 27001 certification through compliance with the new Minimum Cyber Security Standard.
Reduction of Operational Costs
Another significant benefit that ISO 27001 offers is the reduction of operational expenses.
Inadequate or ineffective information security practices can lead to unnecessary processes resulting in a substantial amount of money being spent to recover from security incidents.  Some examples of incidents can be malicious acts by employees, data leakage or breaches, and interruption in service.
By implementing a risk-based and standardized approach to information security, such as that offered by the ISO 27001 ISMS, businesses can expect to decrease such security incidents, benefiting from financial savings.
Prevents Loss of Reputation and Fines
Firms which do not take data security seriously, or don't have a robust approach to information security, are likely to fail regulatory compliance and face the possibility of a heavy fine. In addition, such companies are likely to face reputational damage, and as a result, losing trust with their customers.
In contrast, firms that are ISO 27001 benefit from an improved reputation.  Furthermore, the firm's culture benefits from an information security-centric approach, allowing the organization to quickly adapt to any changes to, or the introduction of, future regulatory or legislative requirements.
Retention of Customers
Retaining existing customers is easier and less expensive than gaining new custom.
Companies can benefit from their ISO 27001 certification by taking the opportunity to inform existing customers of their accreditation.  This step will instil trust with your customers and increase confidence by seeing the information security measures you've implemented and your commitment to the highest standards of information security.
Customers confident in your information security approach will be more trustful of your organization, helping you retain customers and potentially win new business from your existing customer base.
Winning new business
Potential customers will favour an organization with a demonstrable commitment to information security than one without.
In particular, if you are aiming to expand to new international territories and win new business, compliance with a global information security standard, such as ISO 27001, will be a significant benefit in gaining new international custom.
The international reputation of an ISO 27001 certification means that potential customers will recognize that your information security meets the highest standards, instilling confidence that they can trust you with their information and custom.
Spend less time completing tenders
The international reputation of the ISO/IEC 27001 certification acts as a helpful shorthand for demonstrating your competence when submitting tenders.
Rather than preparing evidence demonstrating that you meet all of the tender's information security requirements, businesses can include their ISO 27001 certification details.
Changes in culture and awareness
A significant benefit of implementing ISO 27001 is the shift towards a more transparent organizational culture focused on information security, with improved communication and local accountability.
ISO 27001 deployment typically involves several administrative areas, including support functions such as HR, IT and Finance. The deployment of ISO 27001 across several business functions creates heightened awareness leading to greater visibility of events, incidents and emerging trends.
What next?
With an increasing number of products and services reliant on data processing, information security is not limited to IT professionals and upper management. Consequently, several of your employees will have some level of access to the data you process for your clients.
Adopting the ISO/IEC 27001 standard within your organization brings several advantages and benefits, such as a vastly improved cybersecurity posture, competitive advantage, risk-based approach to data security.
To get started with deploying ISO 27001, you can read our guide to ISO 27001 Implementation.